Monthly report summary
"Investor Research": 70% of digital asset investors are profitable or flat in June 2019, and nearly 50% of investors believe that BTC prices will fluctuate between US$1 and US$150,000 in July.
"Secondary Market Quotes Overview": In June, the global blockchain digital assets increased by 27.9%, and the transaction volume increased slightly by 0.97%.
"Primary Market Financing Analysis": In June, there were 38 global public offerings, of which the number of corporate service areas was the highest and the soft top was the highest.
"Analysis of chain data and Dapp activity": In June, the average daily trading volume of Bitcoin increased, the number of ETH active users increased the most, and the accumulated transaction volume increased by 113.21%.
"The biggest hot spot of the month": Facebook currency Libra, Sun Yuchen took Buffett Charity Lunch for $4.56 million
Investor research
In June, OK Research conducted a survey of open-ended users, setting a total of five questions, including the current month's earnings, BTC price expectations for the next month, and investors' views on hot issues. A total of 1960 valid samples were recovered.
In terms of revenue, in June, the income of digital asset investors was basically the same as last month. Among them, the basic flat, small profit and large profit accounted for a total of 68.77%. In addition, large and large losses accounted for only 31.23%. However, the proportion of investors in the short position is decreasing, which shows that investment enthusiasm has risen.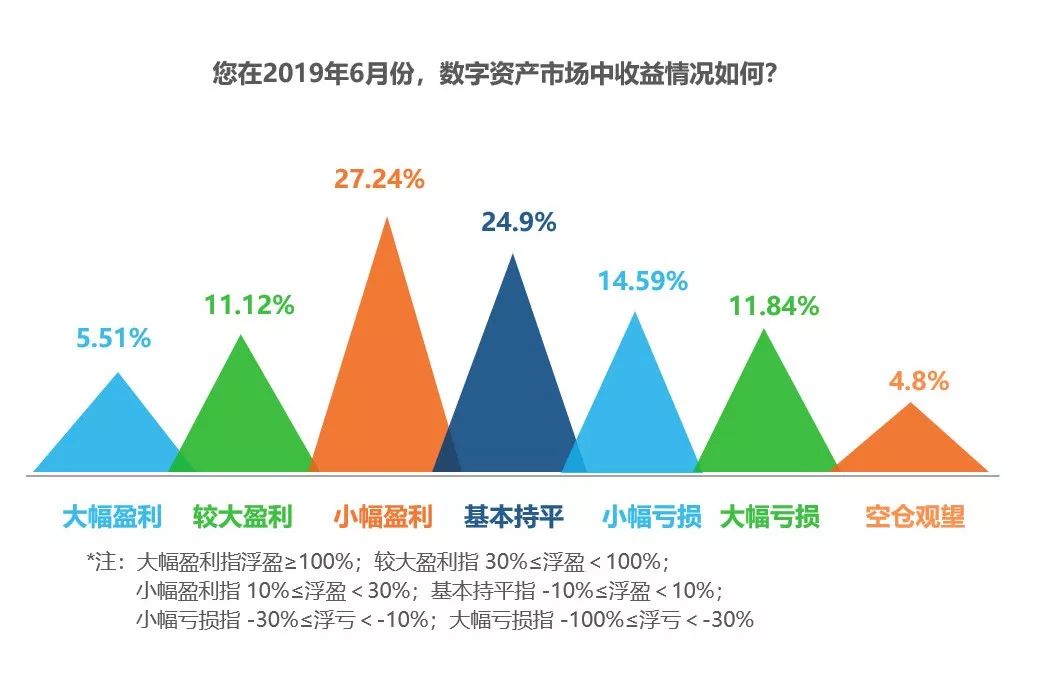 In terms of expectations for the digital asset market next month, 49.2% of investors believe that BTC prices will remain in the range of $1 to $15,000 next month; 36.32% of investors believe that BTC will fall below $10,000; 14.49% of investors believe that BTC will exceed $15,000.
In June, 55.71% of investors believe that the G20 summit will enable multiple countries to harmonize regulatory standards for digital currencies; 44.29% of investors believe that it is difficult to reach consensus standards.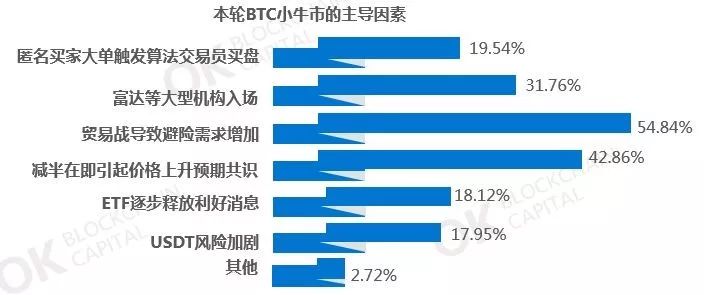 In June, most investors believed that Facebook currency is good for promoting blockchain, improving digital currency payment infrastructure, and urging countries to improve cryptocurrency-related bills.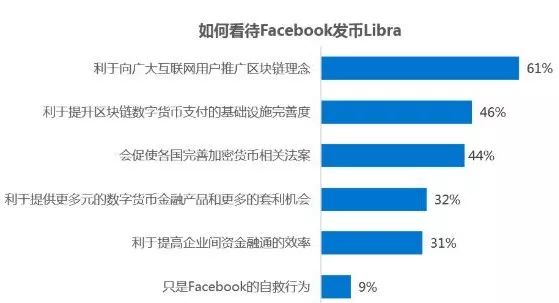 In June, based on the survey of Sun Yuchen's survey of Buffett's charity lunch at $4.56 million, most investors thought that this was only Sun Yuchen's speculation, but it could raise public awareness of the blockchain.

Source: OK Research June Questionnaire
Secondary Market Quotes Overview
In June, global blockchain digital assets were averaged daily due to global interest rate cuts, Facebook's favorable currency, asset hedging, institutional funds, and the US Commodity Futures Trading Commission's approval of LedgerX's bitcoin futures contracts for physical settlement. The market value has risen sharply , but the average daily trading volume is basically the same as that in May. Specifically, the average daily market value in June rose to 289.162 billion US dollars, up 27.90% from the previous month; the average daily trading volume rose sharply to 74.083 billion US dollars, up 0.97% from the previous month.

In the digital assets of the market value of TOP200 in June, Qihua bloomed. Among them, LINK rose the most, with a monthly increase of 275.3%.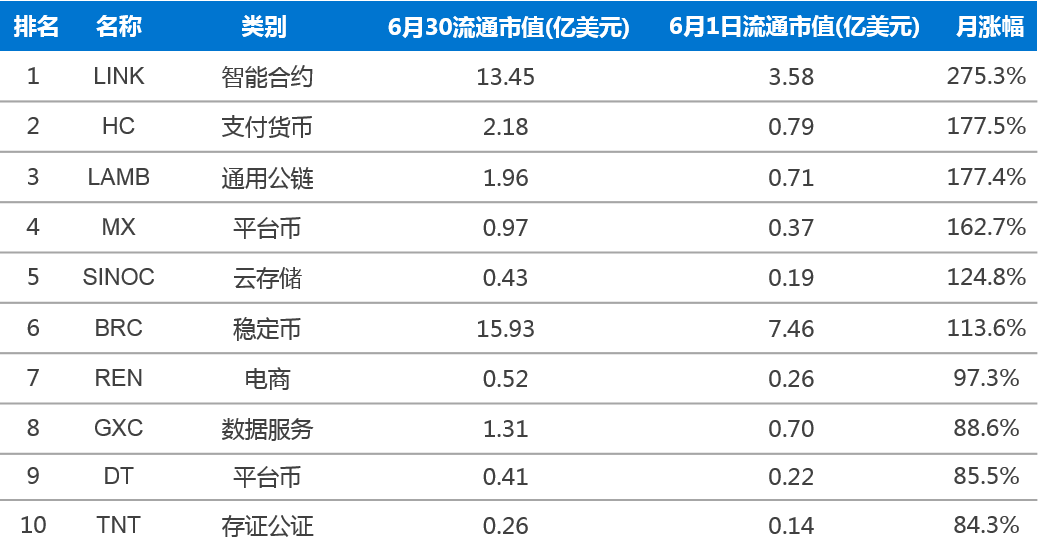 In June, the overall weekly market value of Top200 digital assets increased by 18.79% from the previous month. According to the classification of payment currency, general public chain, industry public chain and industry application, the four major sectors rose this month, led by BTC, and the largest increase in June was in the field of cryptocurrency and payment, with an increase of 28.97%.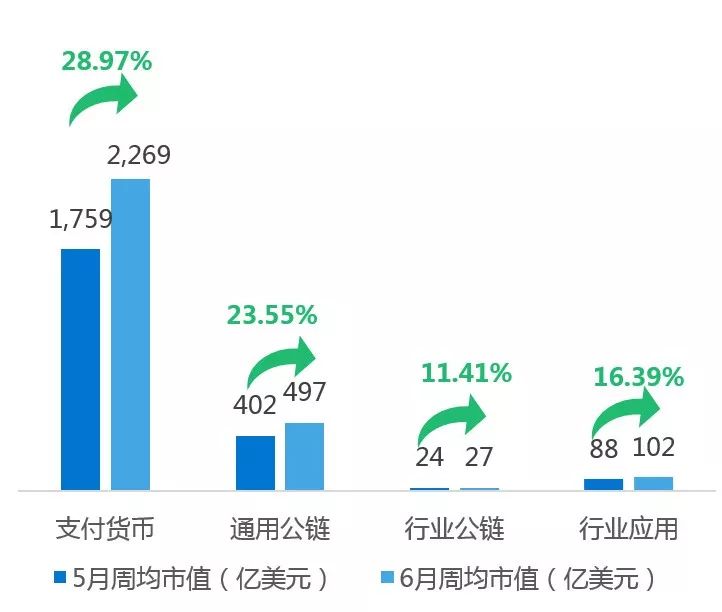 Primary market financing analysis
In June, there were 38 global public offerings, a 64% drop from the previous month. The total soft fund of project financing exceeded US$625 million, down 28% from the previous month. In terms of quantity, the categories of public offerings completed in June were mainly concentrated in the fields of corporate services, finance and platform coins. In addition, project financing in the enterprise service sector has the highest soft top.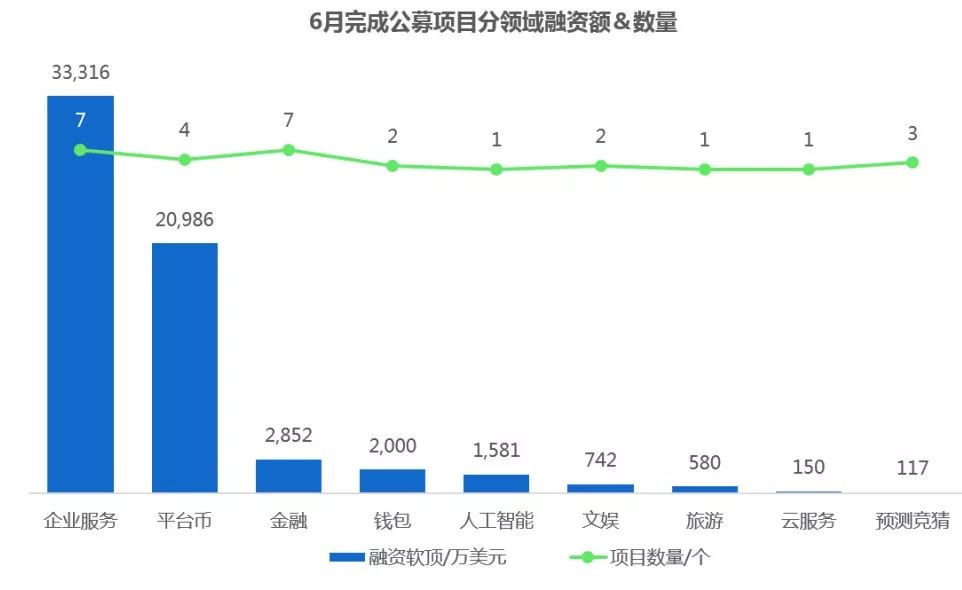 21 projects completed equity financing, with a total financing of US$1 billion.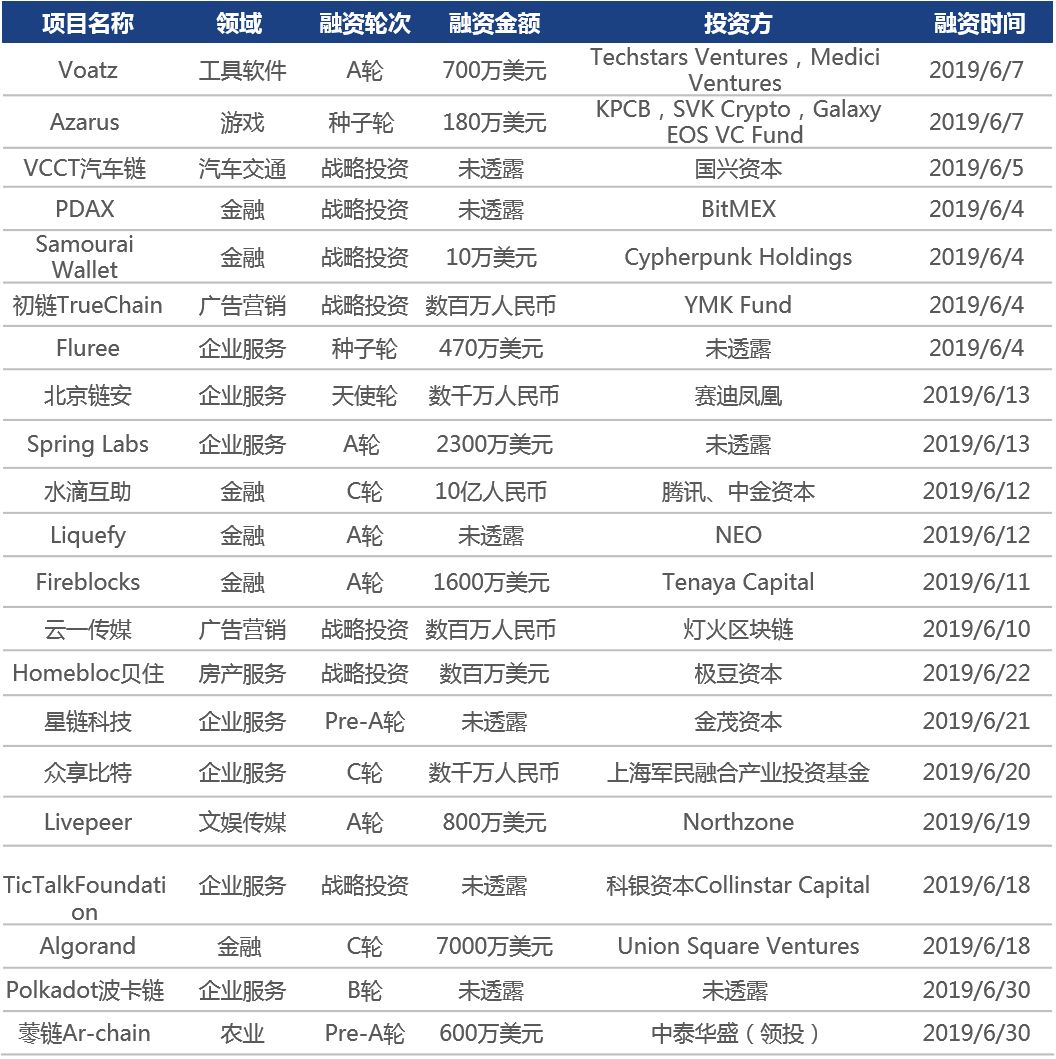 Link data and Dapp activity analysis
The average daily active address of Bitcoin in June was 730,000, up 52.60% year-on-year and 3.89% month-on-month. The average daily chain transaction volume was 350,000, up 82.37% year-on-year and 5.82% month-on-month. It was 15.8 billion U.S. dollars, up 89.84% year-on-year and 72.06% from the previous month.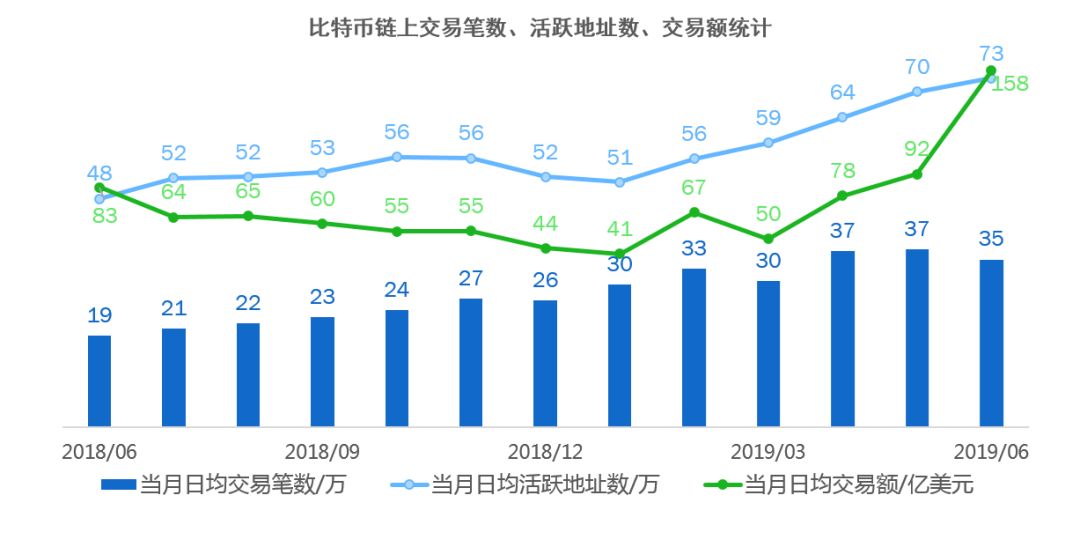 Source: https://bitinfocharts.com
In the statistics of the cumulative online Dapp of the three major public chains in June, the proportion of Dapp on ETH continued to decline, and EOS and TRX both rose slightly.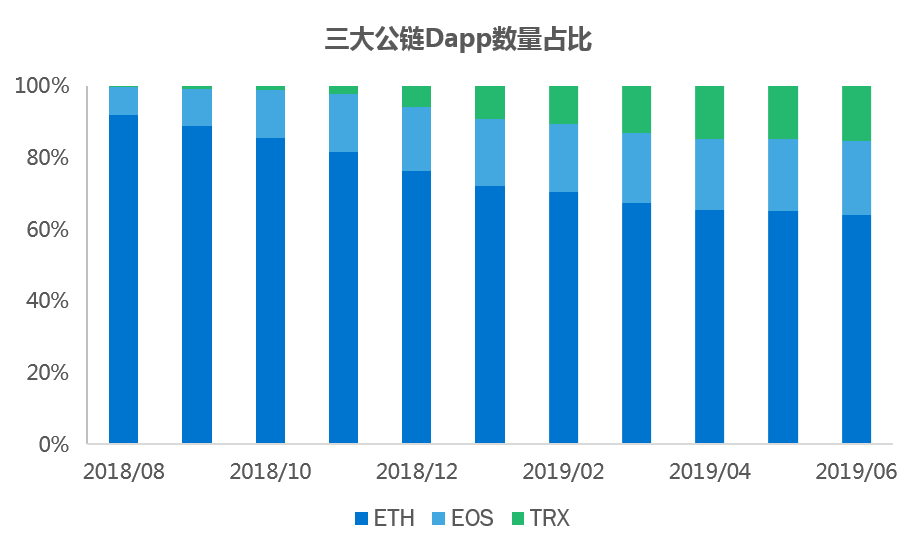 Source: https://spider.store
In June, ETH performed brilliantly. On the one hand, Ethereum actively improved and improved. On May 7th, Ethereum 2.0's beacon chain test network was officially launched; on the other hand, it was supported by large companies (such as JPM, Microsoft and Samsung).
Among the daily average Dapp active users in the public chain, the number of EOS active users was the highest, reaching 111,000. In addition, the number of ETH active users increased the most, reaching 21%.
In the three major public chains, Dapp's accumulated trading volume decreased by ETH, and ETH rose by 113.21%, surpassing EOS for the first time. EOS fell the most, reaching 24.9%.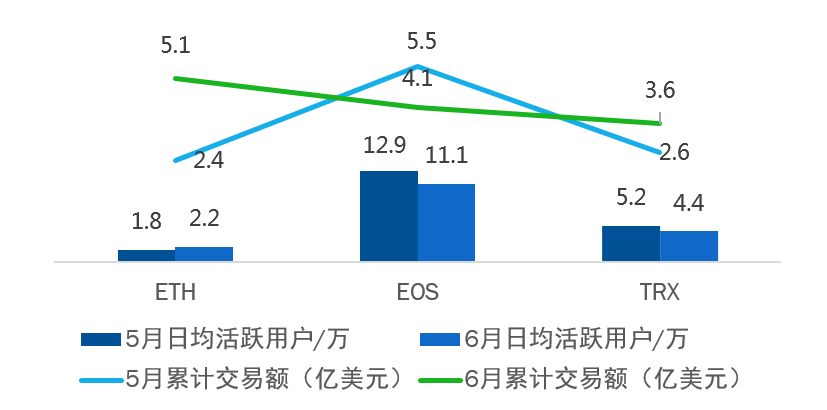 Source: https://spider.store
Note: The above data was jointly written by OK Capital in conjunction with OKEx.
List of important global policies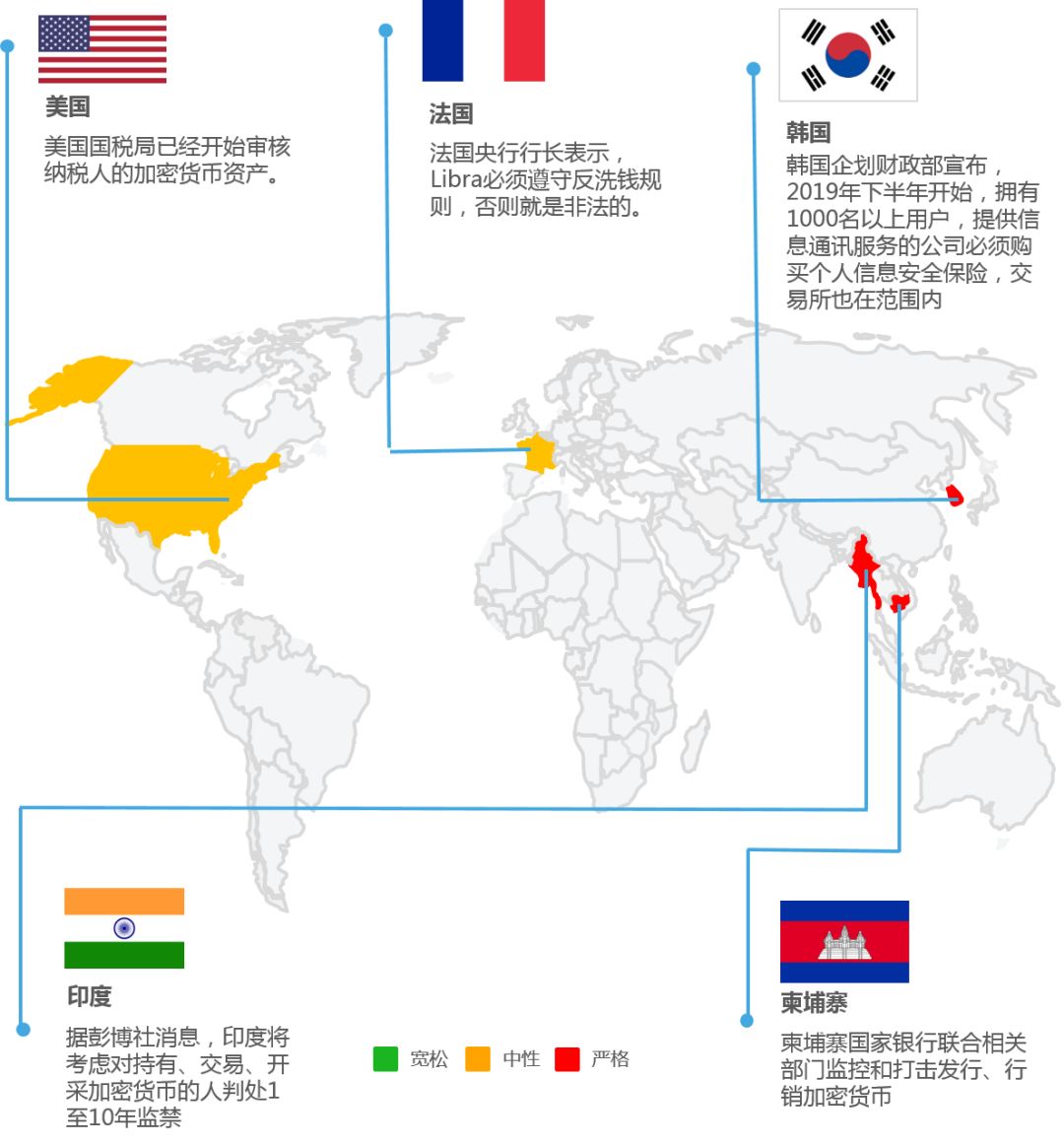 Giant layout