Recently, the Taiwan Financial Supervisory Commission ("the Financial Management Association") issued a regulatory notice on the issue of Security Token Offering (STO). According to the letter 6 of the Securities Exchange Act, it is determined that virtual currency has securities attributes. It is a securities, subject to Taiwan securities trading regulations, and is managed hierarchically.
"The amount of funds raised is NT$30 million (inclusive) (about 6.6 million RMB), and the obligation to declare is waived; if the amount of funds raised is more than 30 million yuan, the sandbox experiment should be applied according to the "Finance Technology Development and Innovation Experiment Regulations". The experiment is successful. After the provisions of the Securities Exchange Act."
In response to the introduction of this specification, at the recent Asia Blockchain Summit (ABS2019) held in Taipei, PANews interviewed Xu Junren, a "legislator" who specializes in promoting cryptographic assets legislation in Taiwan. Xu has expressed his views on Taiwan's landing, layout, and law enforcement aspects of blockchain supervision, and has made pertinent suggestions for entrepreneurs in the blockchain.
"Legislative Committee" Interprets New Norms: Limitations
In fact, as early as April 12 this year, the "Golden Management Committee" held a "symposium on the supervision and regulation of securities-based tokens", and discussed the STO regulations with all walks of life.
On June 27th, the "Golden Management Association" issued a press release to explain the "Security Token Offering (STO) Related Regulations". It mainly includes the specification of exemption declaration cases of less than 30 million yuan (including), and the professional investor's transaction limit is relaxed from 100,000 yuan to 300,000 yuan (66,000 yuan).
For the new regulations, Xu Yiren believes that it has two limitations: "First, it is limited to Taiwanese investment , but the blockchain is best to participate in the world. The relevant departments only need to do KYC." Second, it can only be limited to trading on a single platform , only one file a year (so everyone will feel awkward).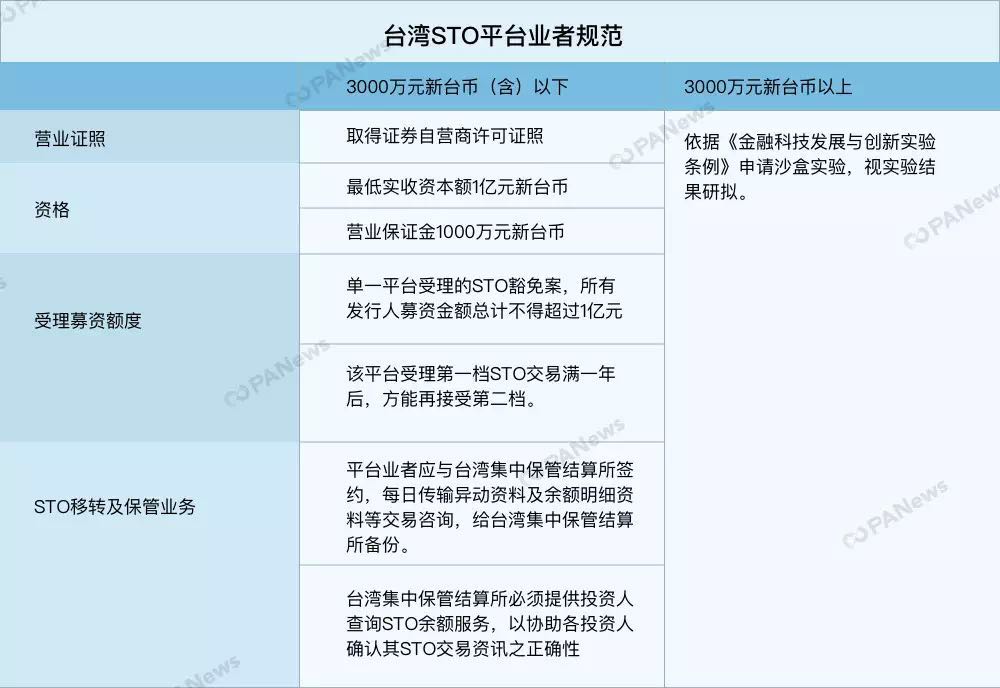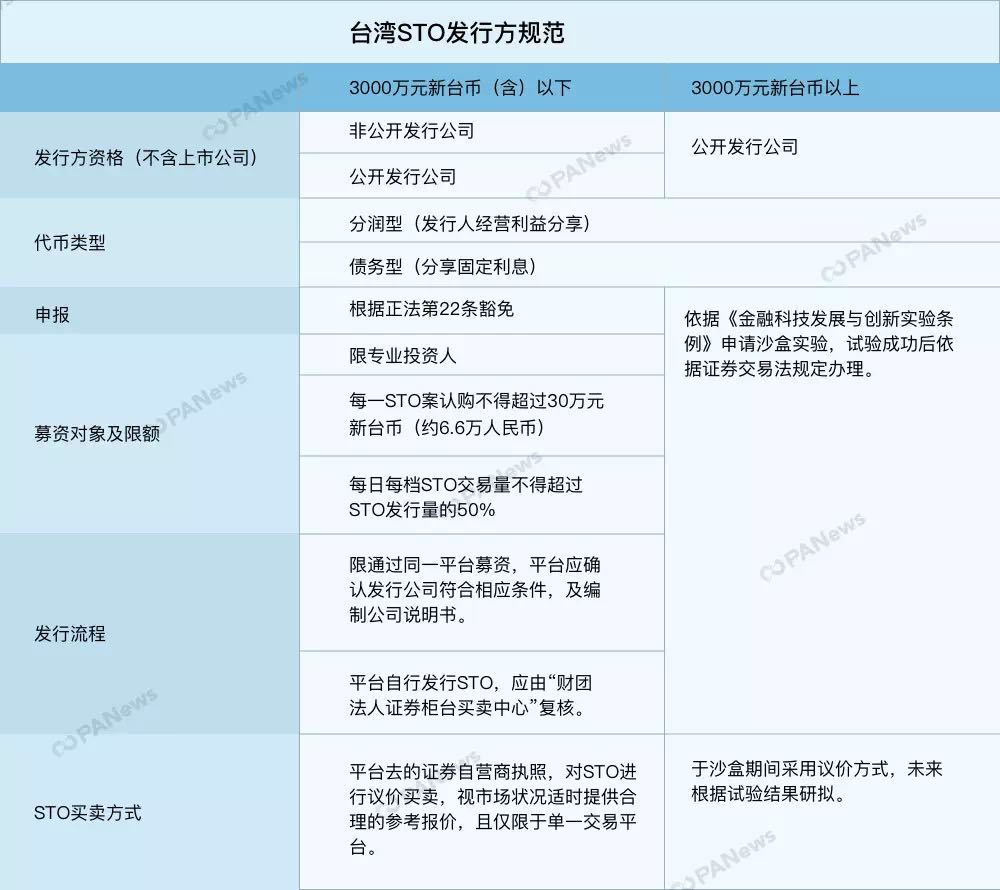 However, he also pointed out that "the STO related specification has a 90-day objection period after the June 27th release, so it is officially released in October. There will be a hearing next week, which is used to collect feedback, we hope Feedback will be in place during the 90-day objection period, and some adjustments may be made later based on external pressure."
When talking about the implementation of supervision and the implementation of the normative policies, Xu Ruren said that the actual implementation work was handed over to the Investigation Bureau of the "Ministry of Justice" and the "Exemption Office" Money Laundering Prevention Office to implement the implementation principles and the recent introduction of the FATF. The 15 resolutions are consistent.
"In addition, the policy in the field of encryption is not a purely legal issue. It also involves technology. Therefore, it will involve many inspection units and money laundering prevention agencies , and these organizations must be able to keep up with technological advances. "The pace." Xu Yuren stressed, "So, such as technology enforcement, science and technology law, investment education training and training, etc., the government must have considerable staffing to assist these supervisors to try technology."
As a "legislator" who is concerned about the legislation of cryptographic assets, Xu Yiren has promoted Taiwan's adoption of anti-money laundering laws and incorporated cryptocurrencies. The anti-money laundering law was passed in October 2018 and has been officially used.
For the overall way of supervision, Xu Yiren also believes that innovation and wisdom are needed. "If over-regulation is carried out, the industry will be suppressed immediately. Of course, it cannot be left unchecked, otherwise it will be wild, so I feel that there needs to be a responsible, Innovative regulation."

Attracting the core elements of blockchain companies: regulatory transparency
In recent years, Taiwan has developed rapidly in the field of blockchain and encryption. From July 2nd to 3rd, Taipei just hosted the Asian Blockchain Summit. The participants included the economist Dr. Nouriel Roubini, the CEO of BitMEX Exchange Arthur Hayes, the CEO of the Dollar Exchange Exchange, Zhao Changpeng, and the development of Bitcoin. The key technology company Blockstream's chief strategy officer, Yong Yongquan, was invited to attend.
In May of last year, Xu Junren, a Taiwanese "legislator", said that he would form a Taiwan Block Chains Association (TPCB). "It aims to unite party politicians to establish a clear regulatory framework to promote the development of blockchain and protect investors." And intends to "make Taiwan become a 'cryptocurrency area' and a 'blockchain island' by introducing global venture capital funds and cryptocurrency exchanges."
Taiwan's enthusiasm for blockchain and cryptocurrencies is bound to attract the attention of encryption companies and entrepreneurs. When asked if there are any overseas projects or projects in mainland China that want to enter Taiwan, Xu said, "In fact, there are always other countries or regions that want to enter Taiwan. I think they have the biggest The problem is still bank account opening . I expect that the account opening process will be shortened after the introduction of the STO regulations, because the trend of bank process management will be consistent with government regulations ."
Xu Yiren stressed that in order to attract more excellent blockchain companies to Taiwan, "the key point is to clearly regulate . Because in fact, this industry is not short of money, policy concessions or benefits may not be attractive enough for encryption companies. However, if Unclear supervision is the biggest problem for investors. Investors will worry that today's investment will be blocked tomorrow. So I have always stressed the need for regulatory transparency, not too vague. What can be done, what can not be done. Make the rules of the game clear, and the businessmen themselves will find their way , especially for those with larger assets, because they may be more afraid of regulatory risks."
As a politician, Xu Haoren said to the blockchain entrepreneurs, "I feel that in this industry, we must look at the long-term, rather than use short-term operations to look at the industry. To survive for a long time, legal compliance as soon as possible. It is the only way . We are currently at a turning point in history. Compared with centralization and decentralization, I think this is the third network revolution, from the so-called information network to the value network, which is a puzzle of human progress. An important piece. And we must have such a moral conscience to guard such a lofty vision. Of course, at present, I think the biggest problem in this industry is that it only makes a few people get rich, but it does not help the world needs to be People who help . As I said in my speech, this industry makes sense when there are ways to solve some of the problems of human existence."
Interview | Alyssa 文 | Niu Niu
Edit | Tong Source | PANews.io