On July 12th, US President Trump said on his Twitter: I am not a fan of bitcoin and other cryptocurrencies. They are not money. Their value fluctuates greatly and comes out of thin air.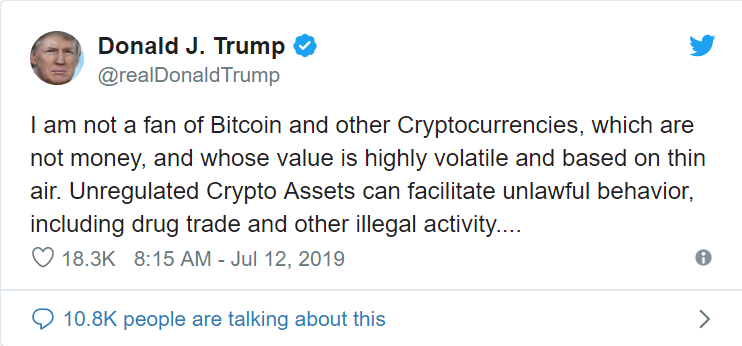 Image source: Twitter screenshot
Unregulated crypto assets can promote illegal behavior, including drug trafficking and other illegal activities. He also pointed out that "again, Facebook's cryptocurrency is also Libra's status or reliability.
There is only one real currency in the United States, and it is stronger than ever. So far, it is the world's most important currency, and it will always maintain this status. It is called the US dollar.
His position?
He believes that since he became president of the United States, the price of cryptocurrency has fluctuated too much relative to the dollar, and it does not have the characteristics of currency in circulation. He criticized Facebook's libra encryption project, which means that the US regulator will regulate it. Yesterday's Fed talk is the first step. On behalf of the US government, he holds a large amount of dollars to control the US and the world economy.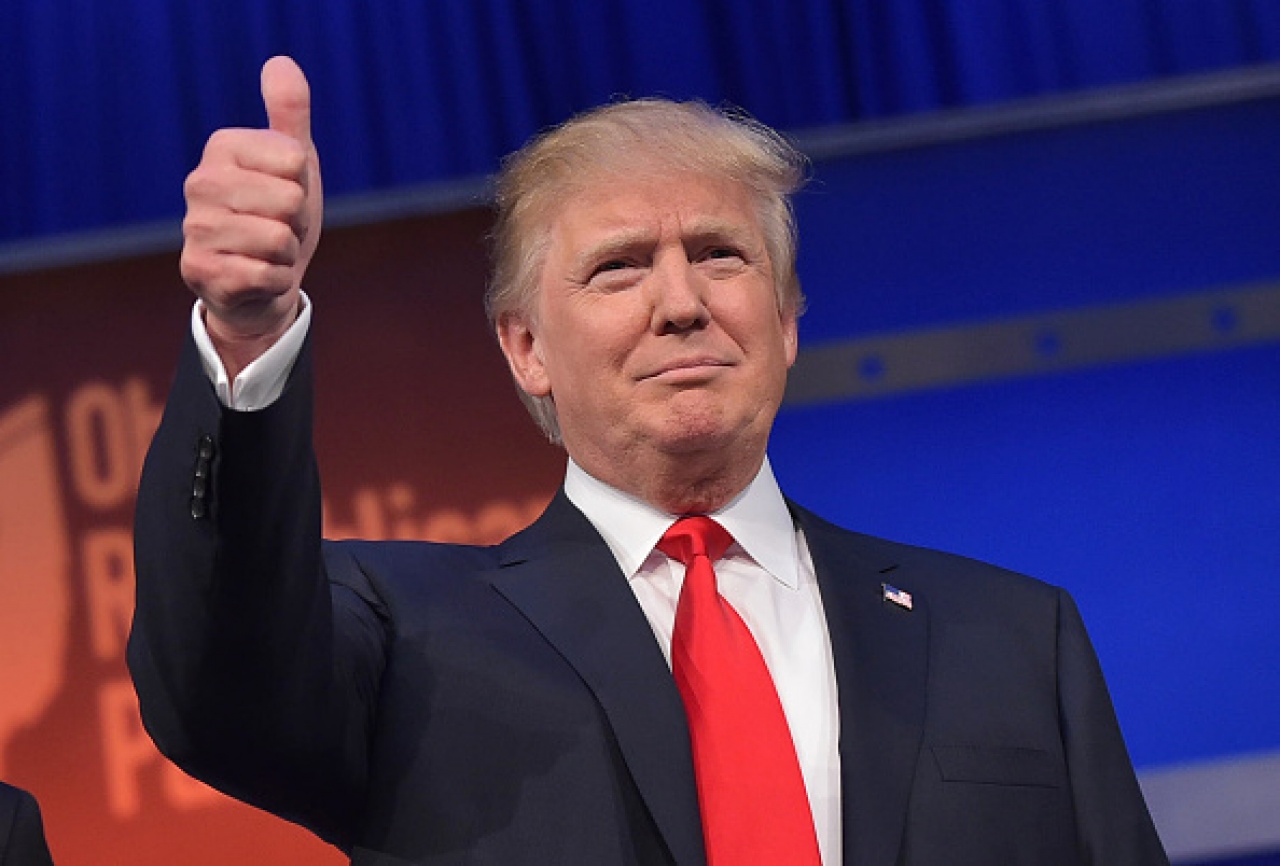 Obviously, no matter from which angle, he will not disperse this power among the hundreds of Libra Association partners, nor will he admit that his dollar assets are about to lose value.
"If Facebook and other companies want to be banks, they must seek new banking regulations and be bound by all banking regulations, just like other banks, whether national or international."
The cryptocurrency project was originally created to prevent government regulation, but now Trump said that if the project continues to move forward, it needs to be bound by traditional banks, which seems to use its power to force stop. In particular, the US central bank has also proposed that it can issue digital currency, but if the American people ask themselves, even if the US government issues anonymity requirements, is this the fundamental needs of the people? There are no names written on the current banknotes, and the requirements for anonymity are also met.
His purpose?
The contradiction between Trump and Facebook goes far back to the question of the US right wing before he campaigned to become the US president. Facebook also used big data to advertise in the Trump election process, inducing people to vote.
Right now, the US elections in 2020 are close at hand. Trump, of course, will not let his opponents sit for the throne of his own US president. He borrows the ideology that cryptocurrency is not recognized by everyone to curb Facebook's influence on the political landscape.
Everything is satisfied with the results of the election, and all other words are showing to the American people.
The famous "prism" plan of the US government has already shocked the world. Now it is also using privacy and illegal mobile phone user data to make a fuss. This kind of state official can only set fire to the people, and it is a bit "not authentic".
The US Senate Banking Committee and the House Financial Services Committee will arrange a hearing next week with Facebook's blockchain director David Marcus.
The blockchain executive responded after being questioned by the US Senate on privacy issues: Facebook does not collect any personal financial credentials from users.
Do the questions they raise make sense?
Have. Remember that yesterday, Federal Reserve Chairman Jerome Powell said that Libra should not be allowed to move forward unless the company solves problems such as anti-money laundering and understanding customer issues.
The eyes of ordinary investment are all on the income, and the focus of the financial economy is on the stability of the system. Powell is nothing more than a question of financial stability.
Trump, he also proposed the use of cryptocurrencies in illegal activities, especially the operation of drug trafficking activities or money laundering projects. "Unregulated crypto assets can promote illegal behavior, including drug trafficking and other illegal activities," but in this regard, I believe that through the power of technology, monitoring of asset anomalies can be done, I also believe in Facebook. This excellent data processing company can do better.
Finally, with regard to Trump's proposal, bitcoin price volatility is not yet a payment currency? In fact, it is ok. However, for the current market size, bitcoin prices are too low. If you consume according to Cong, there is still a long way to go. However, Bitcoin currently has large market price fluctuations. It is not that this financial network can't, but the current bubble of the real economy is too big. A deflationary currency, in the face of an inflation-oriented society, the impact of both is inevitable.
Author: Chain Finance Group