On June 28th, bitcoin cash supporter Javier Gonzalez announced an interesting agreement called the Bitcoin Mining Council (BMP). The theory behind BMP is that Nakamoto Consensus "Minors are Bitcoin executors" and "any rules and incentives needed can be implemented through this consensus mechanism."
Establish a virtual transparent Bitcoin Mining Council
Satoshi Nakamoto, created more than 10 years ago, has changed the lives of many people and even changed the course of history. The technology released by Nakamoto has many advantages, but one of the core innovations of Bitcoin is the China-based consensus. Although this method is not perfect, it still makes the network in an effective consensus. The China Consensus uses workload proofs, block selection and reward structures to motivate network participants to act together.
There is some debate about whether non-mining nodes have power and the concentration of mining nodes is highly concentrated. Gonzalez believes that miners are bitcoin executors for a variety of reasons. The developer launched a new open source agreement called the Bitcoin Mining Council (BMP) and a mining pool called Bmp.virtualpol.com for miners to use the agreement. Currently, the BMP project's readme specification specifies that the platform is still in the early testing phase, but the tool is currently in use; at the time of writing, 124 miners participated in the BMP mine pool, and the interface shows how to use computing power for a certain Some things are voted on.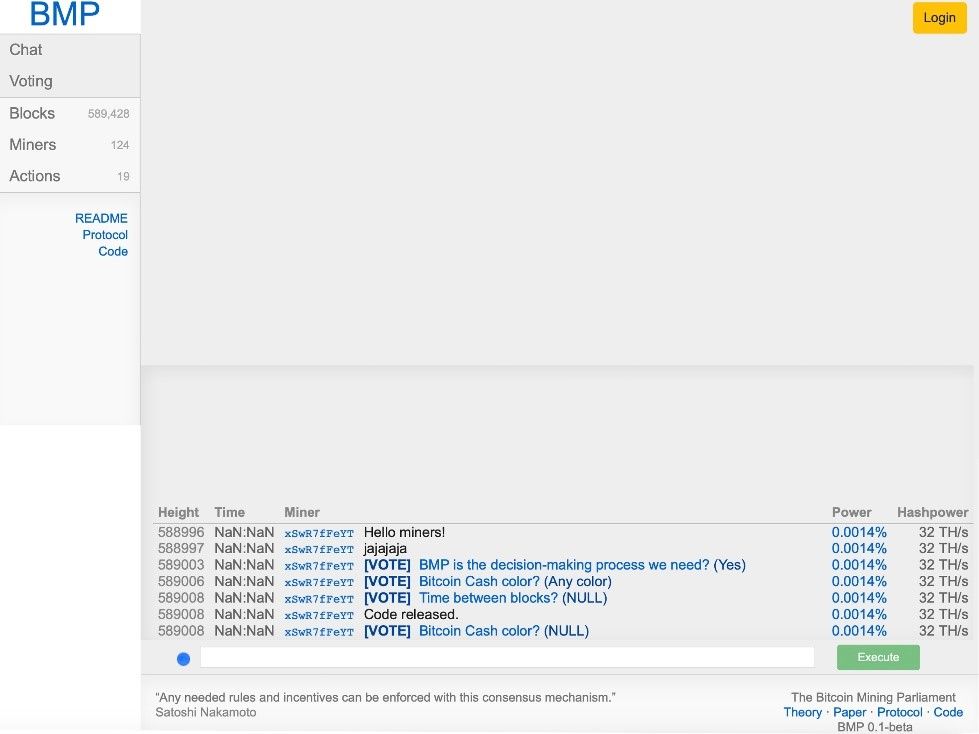 Gonzalez's BMP theory paper explains: "Minors can write in the network blockchain based on work proofs according to their calculation power ratio, and can make extreme decisions with sufficient consensus. Writing legal empty blocks in a chain of minority support (ie, a few must obey the majority) to trigger their collapse is beneficial to the networks supported by the majority and their long-term interests."
The paper further points out that due to the known safest and most reliable voting system, miners can perform very flexibly, accurately and in a timely manner to record their decisions in an open and verifiable manner.
As a result, miners are at the forefront of bitcoin, and they will never act alone because they are a group of allies with no conflict of interest (except for competing power).
According to Gonzalez's BMP theoretical paper, he believes that a "virtual and transparent Bitcoin Mining Council (BMP)" needs to be established. In this parliamentary miner group, each participant has a say and can vote "by percentage"; BMP can agree on certain functions, resolve future conflicts, and even assign legitimate spokespersons to the network; they will Bitcoin users and the developer community build closer, more accurate connections.
China-based consensus ensures that rules and incentives can be enforced
Gonzalez insists that Nakamoto has created the role of a miner because the governance model of the network needs to be entrusted to a higher entity that is stronger than a person or a small group of developers; the miners are rewarded, Gonzalez They believe that their interests will remain the same, and he also claims that understanding this predictable model and relationship is "the performance of the China-based consensus."
The BMP founder's paper explains: "If you ignore this information, then every controversy will make the blockchain more vulnerable. Accepting the consensus mechanism means giving the miners the power to fully exploit their legal power over the blockchain. Come out. "Similarly, accepting this reality can indefinitely guarantee the observance of the last line of the last page of Nakamoto's original paper:
"Any necessary rules and incentives can be implemented through this consensus mechanism."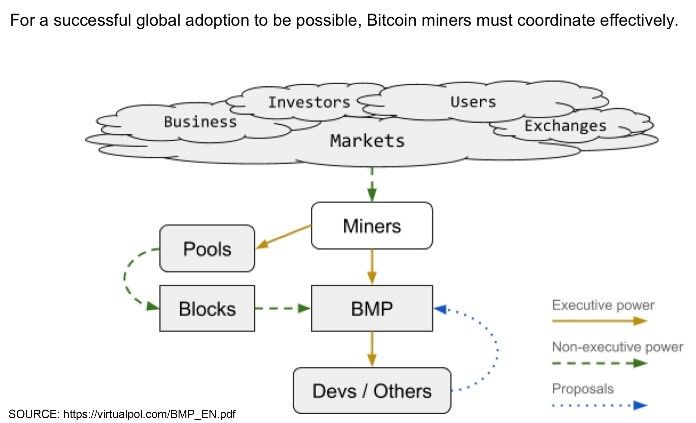 Have we solved the dispute with the China Consensus Test?
Of course, this topic has caused controversy, especially those who do not believe that miners are responsible for network execution. From the perspective of many people, the Nakamoto consensus has not been used in real terms like Segwit2X. For example, the notorious User Activation Soft Fork (UASF) has never happened because Segwit2x was cancelled. More than 80% of the computing power is willing to implement Segwit2X after trying to activate Segwit, and miners have never tested their strength by expanding the block size. This was due to the threat of a large number of short-selling groups in the United States, and the block expansion event (Segwit2X) was cancelled, and this threat has never been reported by social media. So the question remains: Can most miners at that time expand their capacity and avoid UASF problems by using the China-Shenzhen consensus? Only when the China-Japan consensus is used in such differences will we know.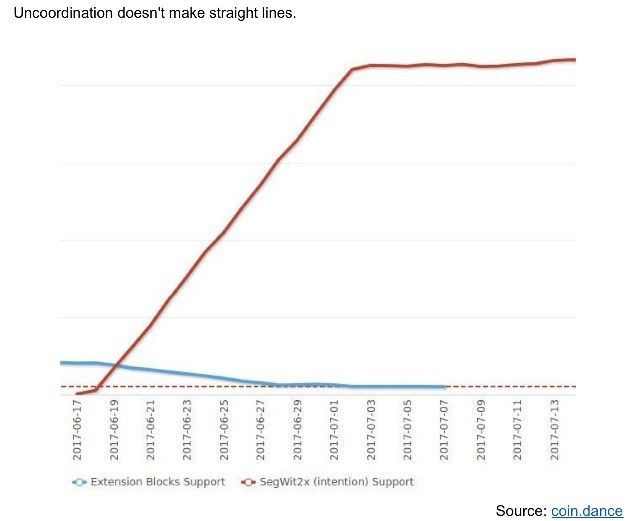 Through concepts like BMP, the mining governance model can basically avoid such conflicts or end the weak minority chain and not give it the chance to survive. According to the BMP white paper, "miners can take responsibility better than anyone else to prevent the risk of such incidents happening again." Gonzalez believes that humans tend to entangle with these conflicts, and "multiple development teams Competition, confrontation is only a matter of time – to solve this problem, miners must assume their executive role." Gonzalez said that BMP will be a binding force when most of the computing power is involved.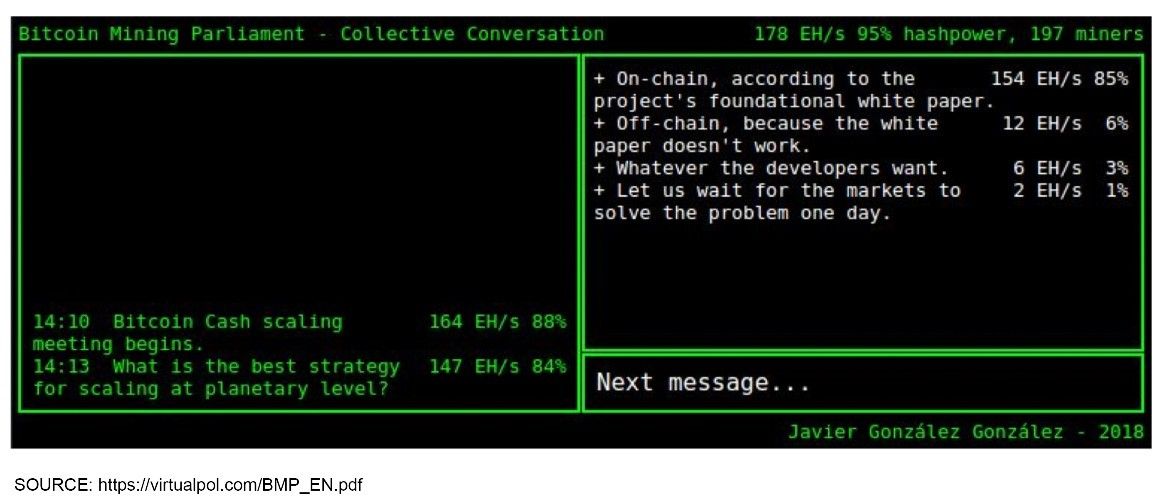 The parliamentary group that manages the miners can work without changing the BCH agreement.
Gonzalez is convinced that BMP's ideas can be implemented in a variety of ways without changing the Bitcoin cash deal or mining business. The basis of BMP is a registered user who can verify its power. Gonzalez explained that in each block's coinbase transaction (which can store metadata for the information in the block reward), the pool will publish "the address of the main miner in multiple outputs, indicating in OP_RETURN that corresponds to each The percentage of the power of a miner." Gonzalez also stressed that BMP is an "open source tool and is not responsible for actions taken by third parties."
A single hash value for each miner is calculated using his quota, which is signaled by the hash value registered in the block. The pool can never control more hash values ​​than shown in its block. In this way, each miner will be able to demonstrate his strength in proportion to his hash percentage outside of the blockchain.
What do you think of the Bitcoin Mining Council (BMP)?
Do you think that the China-based consensus test has been used to resolve disputes?
Welcome message~
Translation: BitcoinCom Chinese Station
Disclaimer: This article is for reference only.

Readers should conduct their own due diligence before taking any action related to the mining tool described above or any of its affiliates or services.

Bitcoin.com or the author is not responsible directly or indirectly for any damage or loss caused or claimed by any use, or reliance on any of the content, goods or services mentioned herein.