The Fed finally made a positive statement.
"Libra should not be allowed to be released before Facebook solves regulatory problems." On July 10, Federal Reserve Chairman Jerome Powell said at a hearing of the House Financial Services Committee. And on the 11th, it was suspected that Facebook was able to launch Libra on its timetable.
It's almost half past July, and it's been nearly a month since the Libra white paper was released. With Facebook and its 29-node endorsement, Libra will face major turmoil in central banks and commercial banks. During this month, central banks and commercial banks have been controversial about how to deal with Libra. The inter-chain pulse counted eight central banks, eight commercial banks, and the Bank for International Settlements' public statements about Libra.
It can be said that some people are happy and some are jealous.
Central banks such as China, the United Kingdom, and Australia, as well as the European Central Bank and the Bank for International Settlements, have placed greater emphasis on Libra regulation. Among them, the central banks of the three countries of the United States, France and Thailand have also established Libra regulatory related working groups.
Libra, which is in the "regulatory storm", is also facing "competition" from US investment bank JP Morgan Chase and the "combination" of the British retail bank Scottish Bank.
(Cartography: Inter-Chain Pulse Institute)
"Libra cannot replace banks, legal tenders"
In view of the influence of social media giant Facebook, Libra's white paper has been awarded the title of "world currency" and even predicted that Libra will replace the bank and subvert the fiat currency. However, the observation of the inter-chain pulse, the relevant staff of the central banks and commercial banks of China and the United States seem to "disapprove".
Former Bank of China Vice President Wang Yongli has repeatedly issued a document stating that Libra, although linked to a basket of legal currency, has somewhat diluted its token nature as a legal tender, but it is still only a fiat currency token. The global cryptocurrency does not equal the real global currency, it cannot replace the legal currency, and it cannot be upgraded to a super-sovereign world currency.
On July 7, Yao Yudong, former director of the People's Bank of China Financial Research Institute, mentioned the Libra topic. He also mentioned that the blockchain-based digital currency is an inevitable trend, but it is only an effective supplement to the French currency and will not replace the legal currency.
While defining the influence of Libra, the relevant staff of the central banks and commercial banks of China and the United States also pointed out that banks and governments also need to make corresponding changes in response to the changes brought about by Libra.
Goldman Sachs CEO David Solomon said in an interview that banks are not expected to disappear due to the emergence of new players such as Libra. Of course, banks will also have to make changes.
On July 9, Zhou Xiaochuan, the former president of the central bank, discussed the release of Libra at a conference, saying that there may be a more international and global currency in the future. It is a strong currency, leading to major currencies and It produces a redemption relationship. It is not necessarily Libra, but from the trend of recent years, there will be many institutions and people trying to establish a currency that is more conducive to globalization.
At the same time, the meeting held that although the digital currency such as Libra cannot replace the status of legal tender in the short term, in the long run, it will inevitably have an impact and impact on the existing international currency and payment fields. China's government and institutions should pay close attention to it. And actively participate in research and layout in related fields.
The central bank of China is highly concerned about this. Wang Xin, director of the Research Bureau of the People's Bank of China, also mentioned it at the seminar on July 8. In his speech, he said that the launch of Libra has attracted the attention of the central bank. It can have a major impact on countries' monetary policy, financial stability and even the international monetary system.
And proposed a way to deal with Libra's challenge. Wang Xin believes that the speeding up of the introduction of central bank digital currency, the issuance of national Libra products by various countries, and the IMF (International Monetary Fund)'s previous proposal to issue a super-sovereign digital currency are all worthy of attention. .
The central bank emphasizes supervision: the central bank of the United States, France and Thailand established the Libra Working Group
According to the Libra white paper, it is linked to currencies in several countries, so Facebook may try to avoid excessive control by any national regulator. The resulting "out of control" of regulation, as well as the privacy, money laundering and financial stability that Libra may cause, have led central banks to pay more attention to Libra's control.
Central banks in the United States, France, and Thailand have successively established Libra-related working groups.
On June 18th, the Libra white paper was released. On June 21st, the Bank of France Governor said that Finance Minister Lemaire will set up a special group of "Stabilization Coins" project, including Facebook's cryptocurrency Libra program.
In early July, Siritida Panomwan, the governor of the Bank of Thailand's payment system policy, said that Facebook had asked to discuss with Libra in Thailand's financial authorities. Currently, the central bank has set up a task force to review Facebook's proposed currency, Libra.
In the speech of the US Senate Banking Committee, Federal Reserve Chairman Jerome Powell said that Libra needs to be thoroughly and publicly evaluated before it is launched. It is clear that the Fed has also established a working group to track Libra development and is working with central banks in other countries.
In addition to the countries that set up working groups, many other central banks and even international organizations attach great importance to Libra's regulatory control issues.
Mu Changchun, deputy director of the Department of Payment and Settlement of the People's Bank of China, said that the emergence and development of such stable currency as Libra cannot be separated from the support and supervision of the central bank from the perspective of monetary policy implementation or macroprudential management. Regulatory cooperation between central banks and international organizations.
Bank of England Governor Mark Carney has repeatedly raised Libra's regulatory issues. He believes that Facebook and its partners need to cooperate with regulators in anti-money laundering and data protection. The central bank will need to consider Libra's impact on financial and monetary stability. Everything must be done before the payment system is officially launched.
When asked about Libra's influence on Australia, Australian Federal Reserve Chairman Lowe also said that there are still many regulatory issues to be resolved in the project, and they must ensure a reliable business case.
After the release of the Libra white paper, relevant staff of the European Central Bank and the Bank for International Settlements also expressed their views on regulatory issues.
"It is impossible for Libra to develop in the regulatory gap of financial services activities. This is too dangerous. We must act faster than now." ECB Executive Board member Benoit Coeure once said that financial institutions need to be fast. Take action to address Facebook's Libra project.
The Bank of International Settlements issued a report on June 23 stating that regulators around the world need to coordinate to ensure a level playing field between large technology companies and banks. Agustin Carstens, general manager of the Bank for International Settlements, said that because of the Libra cryptocurrency, Facebook had to issue its own digital currency in advance, and the Bank of International Settlements would support countries around the world to create digital versions of the national currency.
The Bank of International Settlements believes that Libra can quickly establish a dominant position in global finance and pose a potential threat to traditional financial institutions. Point out that this global cryptocurrency needs to be regulated from anti-money laundering rules.
Competing with it
Facebook's Libra is not only in the "regulatory storm", but also faces the "competition" of the US investment bank JP Morgan Chase and the "combination" of the British retail bank Scotland Bank.
At the beginning of this year, JP Morgan Chase announced the launch of the cryptocurrency "JPM Coin", after which Facebook also revealed the launch of "Facebook coins." JPM Coin and Libra are both stable coins, but there are still some differences between users and users.
After the Libra white paper was released, JPMorgan CEO Jamie Dimon admitted in an interview that the blockchain is real, because JPMorgan Chase also owns its own cryptocurrency JPMorgan Coin, and he also acknowledges that "competition exists."
But apart from the JP Morgan Chase, overall, the investment bank seems to be outside the storm, so Libra's attitude is relatively neutral.
On July 1st, Jan Metzger, head of capital markets and consulting for Citibank Asia Pacific, said about Facebook's cryptocurrency Libra, "We feel that these developments are very interesting, but it will take some time to observe the development."; On July 2, James Gorman, CEO of Morgan Stanley, spoke about Libra in an interview. Indicates that an individual is not interested in a new cryptocurrency exchange or a new form of cryptocurrency.
Relatively speaking, commercial banks are at the center of the Libra storm.
Libra is linked to a basket of legal coins, knowing that it has not abandoned the issuer of the legal currency. But Libra's first 29 nodes did not have a commercial bank to join. BitMEX CEO Arthur Hayes has said that Libra could completely destroy commercial banks and undermine their revenue-generating opportunities.
Mutual Chain Pulse Watch July 10, the Royal Bank of Scotland and Facebook discuss the possibility of joining the consortium responsible for governing Libra. Kevin Hanley, head of innovation at Royal Bank of Scotland, confirmed his negotiations with Facebook on July 9 to discuss the possibility of RBS joining the consortium responsible for governing Libra.
Regarded as spring rain as a thunder
In addition to supervision, competition, and cooperation, the central banks and commercial banks of other countries have different attitudes toward Libra, either as a spring rain or as a thunder.
It is reported that the Bank of Japan has joined the global regulators and expressed concern about the potential risks brought by Facebook's Libra cryptocurrency project. A report released by the Nikkei News Asia Review shows that the Bank of Japan is concerned that Libra will be difficult to regulate and may pose risks to the existing financial system.
The report further pointed out that as Libra users withdraw money from local banks to purchase tokens, Facebook may deposit these reserves in a larger bank in Japan, resulting in more small organizations losing customers.
Bank of Japan Governor Haruhiko Kuroda has said that he intends to "closely monitor" whether cryptocurrencies can be widely used as a means of payment, and how the existing financial and payment systems will be affected; Bank of Japan Deputy Governor Masayoshi Amamiya also said that Facebook must act responsibly and comply with regulations to provide secure and reliable payment services. Central banks are urged to remain vigilant about Libra's impact on banks and settlement systems.
Unlike Japan's vigilance, Switzerland is the headquarters of the Libra Association, and Swiss banks seem to be more optimistic about Libra.
UBS CEO Sergio Ermotti said at a panel discussion that Switzerland should welcome innovation in cryptocurrencies, but it needs to guard against potential abuse by criminals. When asked about Libra, he said that in general it is a positive development, but be cautious.
Central banks and commercial banks have different attitudes toward Facebook's launch of Libra. In general, supervision is the mainstay, and competition is a minority.
In addition to the National Banking Agency, this morning, Trump became the first national leader to express his views on cryptocurrency and Libra on Twitter. In his view, Facebook's Libra will have little reliability; if Facebook wants to launch a related business, it must seek a bank license.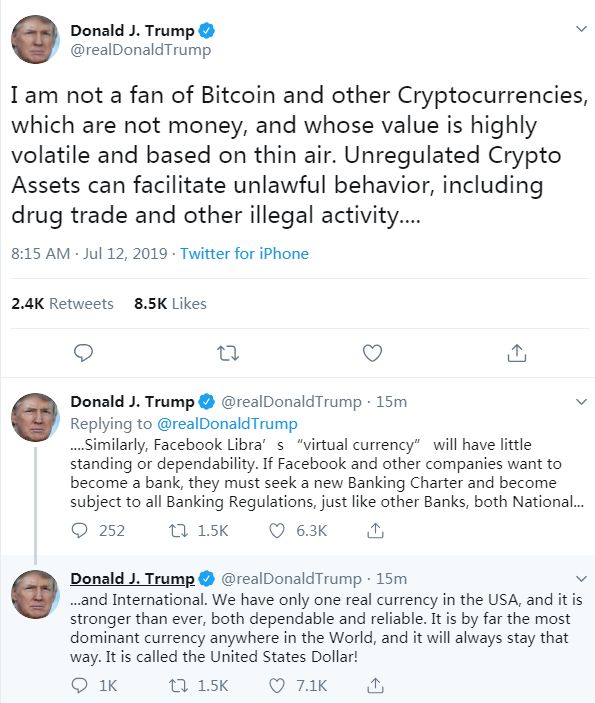 Trump tweet content: I am not a fan of bitcoin or other cryptocurrencies, they are not money, and their value base is out of thin air, and prices change dramatically. Unregulated cryptographic assets can contribute to illegal activities, such as illegal activities such as drug trafficking.
Similarly, Facebook Libra's "virtual currency" will be almost non-binding or reliable. If Facebook and other companies want to become a bank, they must seek a new banking license and, like other banks, comply with all domestic and international banking regulations.
There is only one real currency in the United States. It is stronger, trustworthy and reliable than before. It is the most dominant currency in the world, and it will always be the case. It is called the US dollar!
This article is [inter-chain pulse] original, the original link: https://www.blockob.com/posts/info/18012 , please indicate the source!