According to CCN news, Tether yesterday issued a total of 5.05 billion USDTs in one hour due to human error. After 4 minutes, it was completely destroyed twice in the wave field chain, and then Tether added another 5000 on the same chain. Ten thousand USDT.
Caused by human error
The report said that the reason for this mistake was that the Tether team was originally moving the token from the Omni layer to the Tron blockchain, but due to mistakes in the operation of the decimal point, the original 50 million USDT should be issued. Billions of USDT.
Paolo Ardoino, chief technology officer at Bitfinex and Tethers, explained that his team immediately solved the problem by burning them before accidental tokens could disrupt the global encryption market.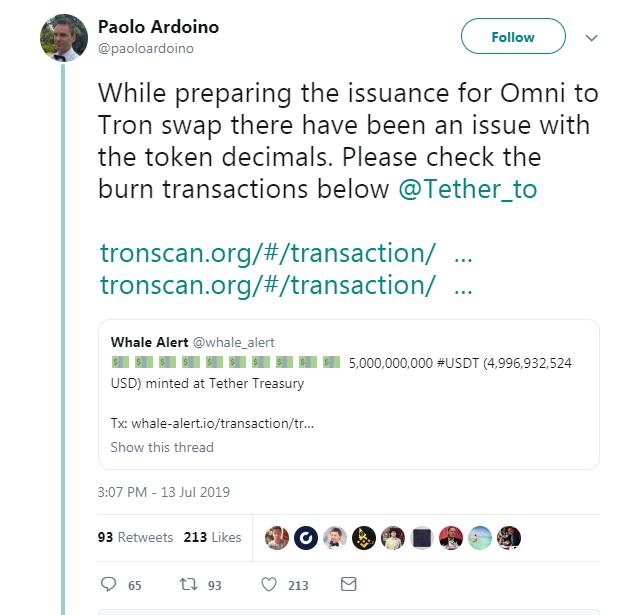 The cryptocurrency exchange Poloniex then clarified on Twitter that it was caused by the request of Tether to assist it in the exchange of tokens.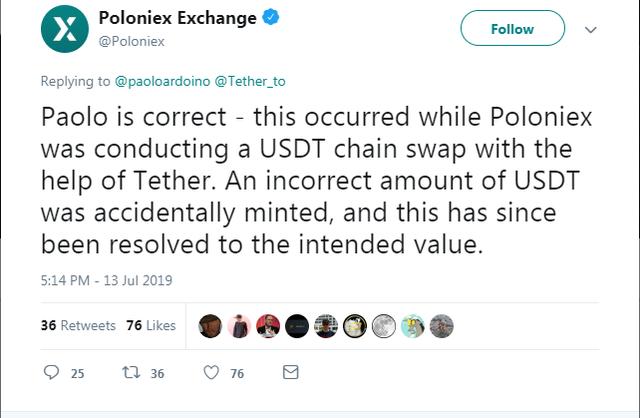 Ardoino explained that because USDT runs on Omni, Ethereum, Tron and EOS, sometimes using multiple blockchains can cause accidents: "Unfortunately, we have to use different tools in multiple [blockchains] Chains sometimes have problems. But in any case, we will try to prevent this from happening in the future."
It is understood that Tether's release of USDT on Omni was originally based on the Bitcoin protocol. However, because Ethereum's ability to support smart contract-compatible tokens provides versatility that Bitcoin cannot provide, Tron and EOS also combine smart contracts with low-cost and fast-moving transactions.
Metropolitan Commercial Bank previously destroyed the Tether account
Tether recently admitted that its tokens are not actually supported entirely by the dollar, but by a basket of other assets.
It is clearly stated on its official website: "Each guarantee is 100% supported by our reserves, including traditional currency and cash equivalents, and may include other assets and guarantees for loans provided to third parties from time to time. , which may include affiliated entities (collectively referred to as "reserves")."
According to previous news, a spokesperson for the Metropolitan Commercial Bank revealed on July 11 that it had closed the account of Tether and its affiliates, after Tether opened the account in the bank for less than half a year. A bank spokesperson said that Tether Holdings LTD, iFinex Inc and Digfinex Inc have accounts at Metropolitan Commercial Bank, but these three accounts have very little activity.