US Treasury Secretary Steven Nuchin holds a press conference on cryptocurrency
After US President Trump Twitter published his views on Bitcoin and Libra in the past few days, today's US Treasury Secretary Steven Nuchin once again held a press conference on cryptocurrency. Let's take a look at it. What?
The reason for the matter:
According to CNBC: The White House said that US Treasury Secretary Nuchin will conduct a live briefing on cryptocurrency regulation at 2 pm EST.

Conference content:
The entire conference lasted for 28 minutes. The full video can be read the original text (over the wall)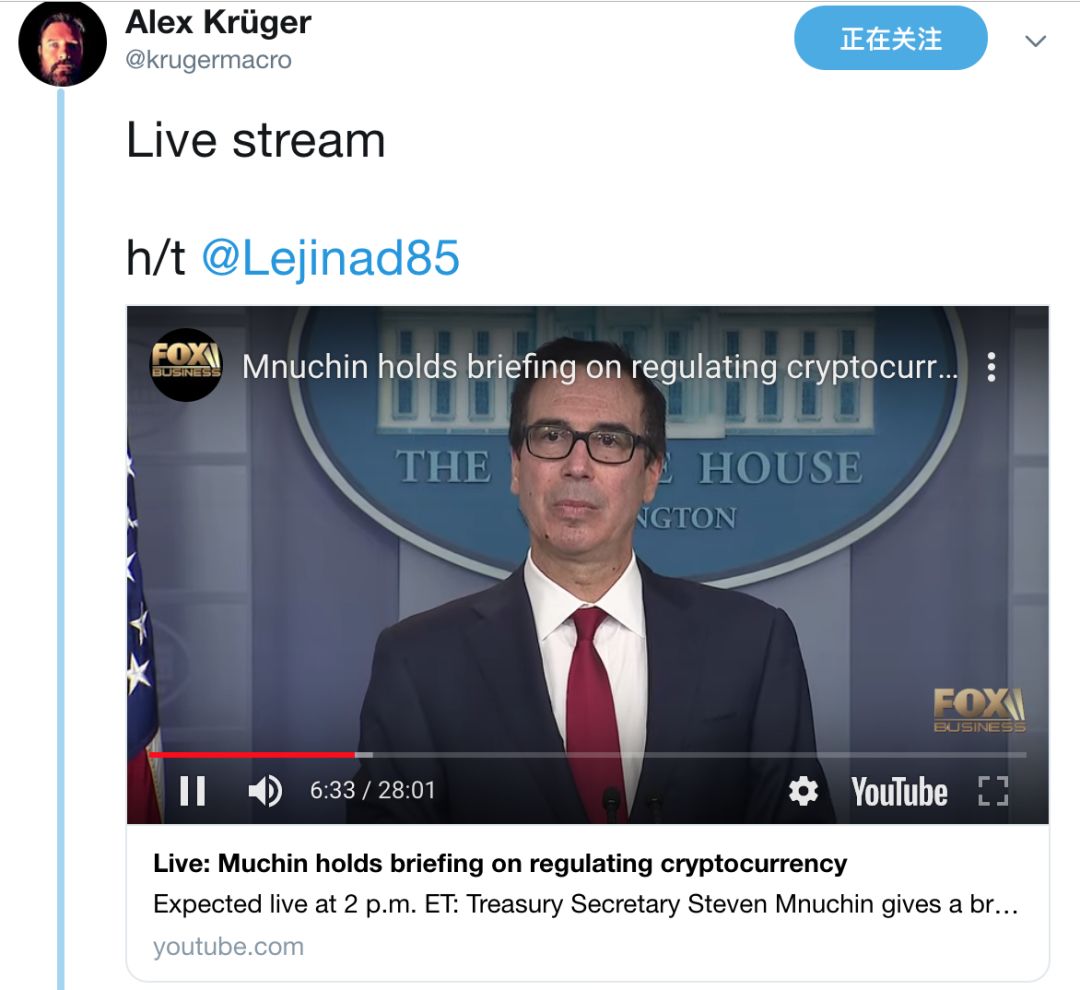 The main content of the conference (the following picture is organized from Twitter, the author has read the full conference video, in line with the facts):
Encrypted currencies like Bitcoin have been used to support billions of dollars in illegal activities

(cryptocurrency issue) is a national security issue

Will not allow encrypted asset service providers to operate under the shadow

Will not tolerate the use of cryptocurrencies to support illegal activities

Bitcoin is extremely unstable and its value is floating in the air.

We are worried about the speculative nature of Bitcoin

We will ensure effective regulation in the United States for a long time.

The United States welcomes responsible innovation, including new technologies that may improve the efficiency of the financial system

The Ministry of Finance attaches great importance to the status of the US dollar as the world's reserve currency

Our number one problem is that we don't want bad guys to use cryptocurrencies.

Cryptographic currency has always been dominated by illegal activities and speculation

We will ensure that the general public understands what they are investing in.

I feel uncomfortable with Facebook's currency issue, they still have a lot of work to do.

There will be a lot (cryptocurrency) illegal activities will be closed

If you want to use (cryptocurrency) for speculation, that's one thing. If you want to use it for illegal activities, you have to weigh the supervision.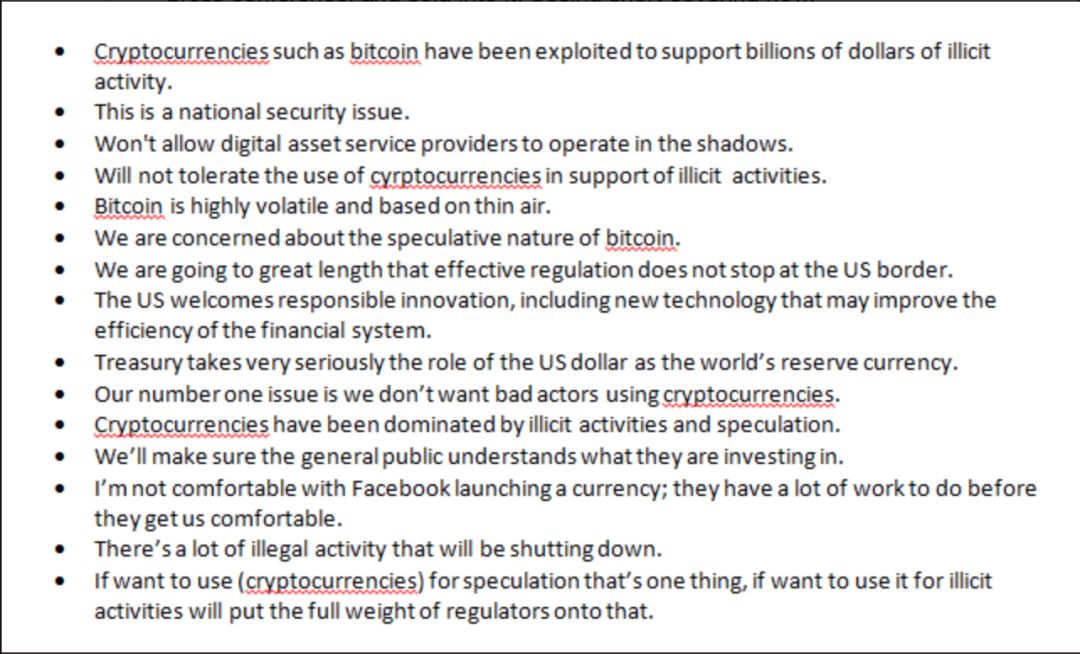 How to look at the coin ring V:
Economist and trader Alex Kruger:
Nuchin warned those who did not comply with US anti-money laundering regulations. Did not talk about (cryptocurrency) ban. It is clear that bitcoin speculation is possible.
According to the sell-off on the weekend, it seems that someone knew the news conference in advance and sold it.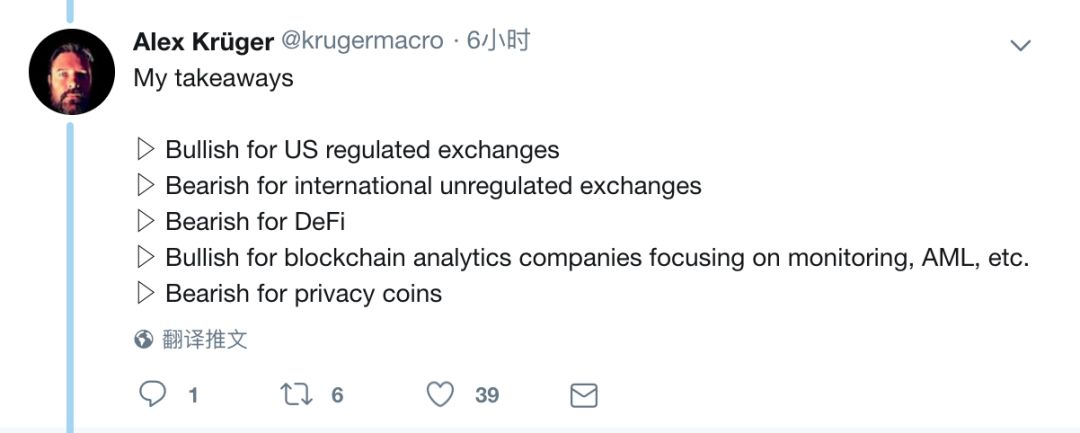 My analysis:
U.S. regulated exchange

Negotiable exchanges that are not regulated by the United States

Negative DeFi (Decentralized Finance)

Blockchain analysis company focused on monitoring and anti-money laundering

Negative privacy currency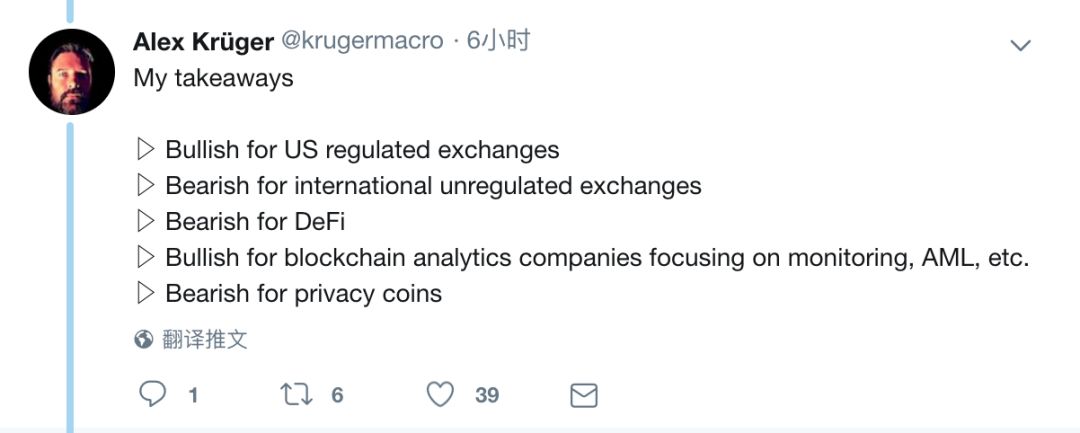 On the positive side, the Bitcoin ban seems to be gone. However, the ban was unimaginable five days before Trump sent a tweet.
On the negative side, Libra (which is positive for Bitcoin) seems to be playing, and at the same time, institutional interest in such assets may be reduced.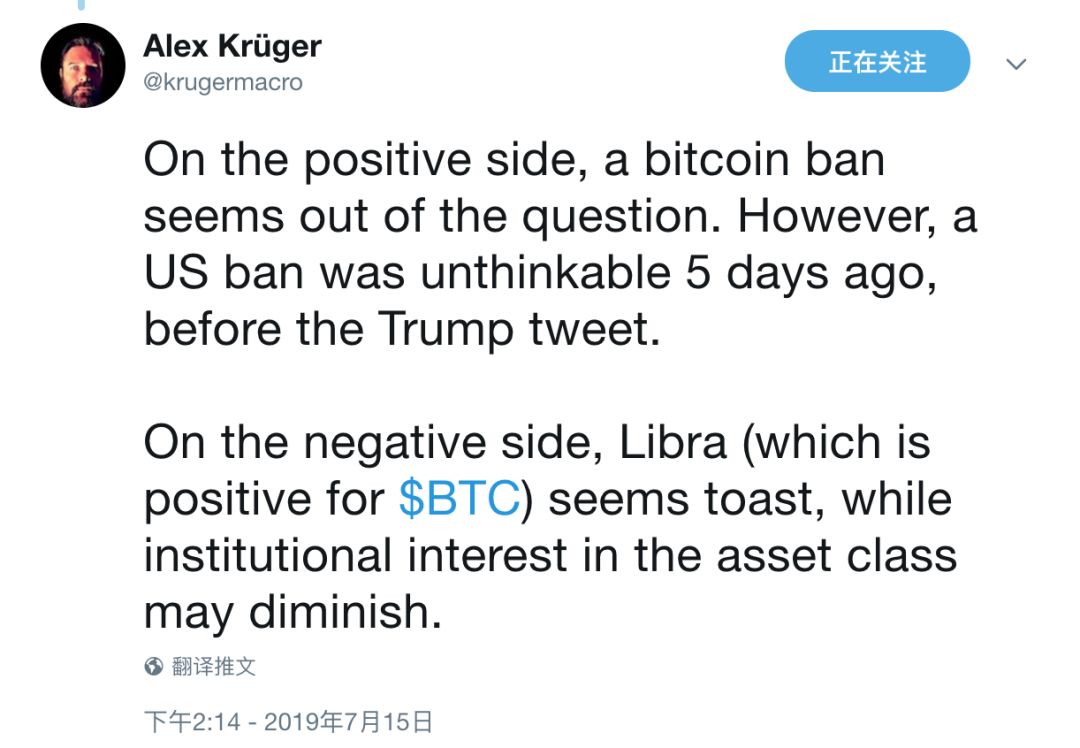 Barry Silbert, founder of Grayscale Investment:
I did not expect that I would see the US Treasury Secretary hold a press conference on Bitcoin and cryptocurrency at the White House so soon.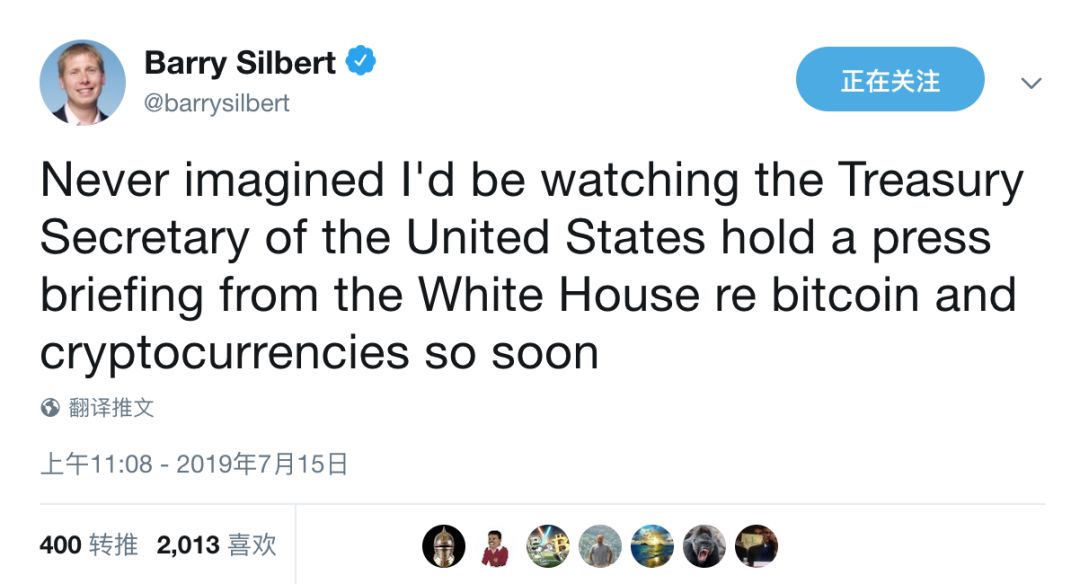 Morgan Creek co-founder Pomp:
The Ministry of Finance Nuchin basically told everyone to follow the rules and not to use Bitcoin and cryptocurrencies to do illegal things.
This sounds like a streetlight for those who want to do the right thing.
Other news in the industry
1. Yesterday, the founder of Ethereum V Shenfa Wen said that short-term use of BCH and ETC blockchain as the data layer of Ethereum could be considered, because the latter has an advantage over Ethereum in terms of throughput and transaction costs.
Today's EOS founder BM said that it is recommended to use the EOS blockchain to expand Ethereum, because the EOS block header can also be verified by the Ethereum smart contract. There is no additional charge.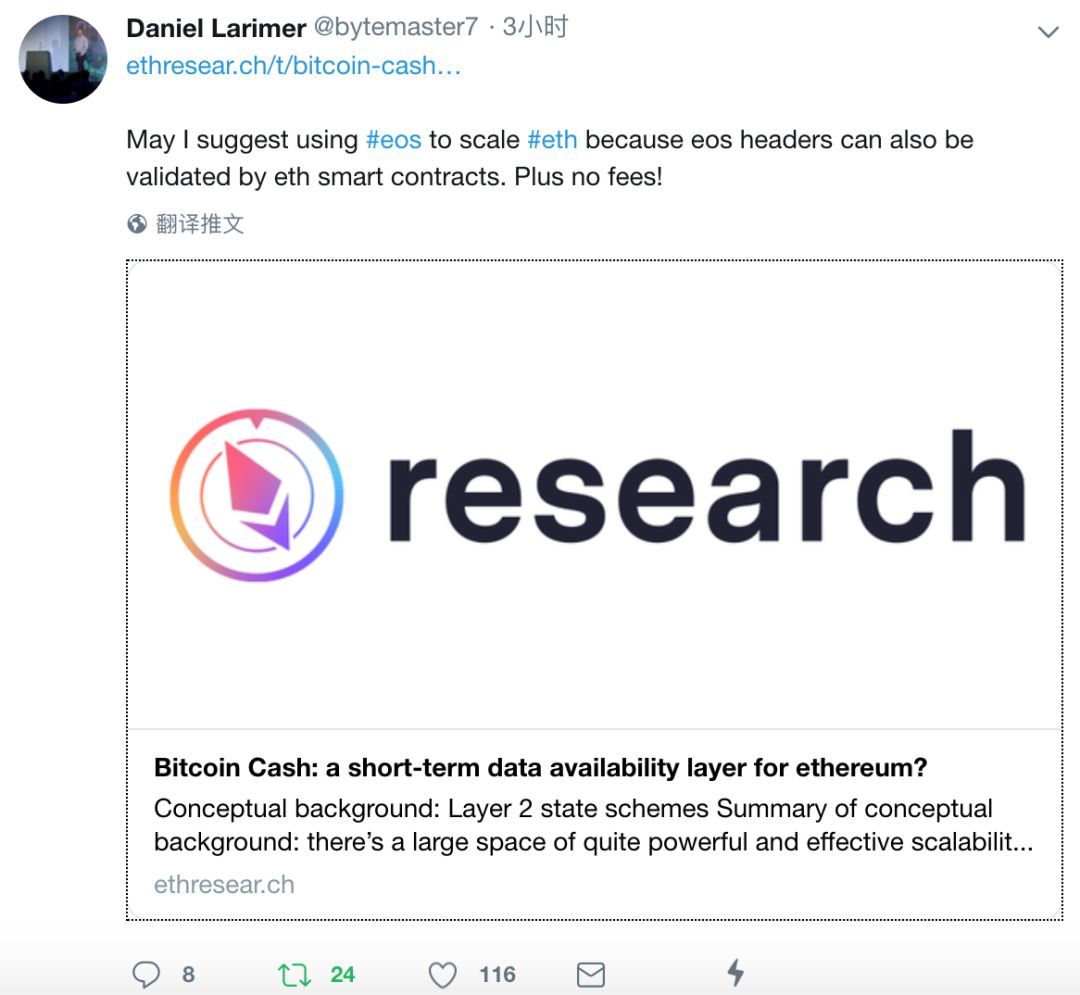 2. Encrypted asset hosting company BitGo announced that Zcash will perform a hard fork on July 18th to create a new blockchain called Ycash.
The announcement also mentioned that due to the lack of official community support for this fork, BitGo will not support this fork.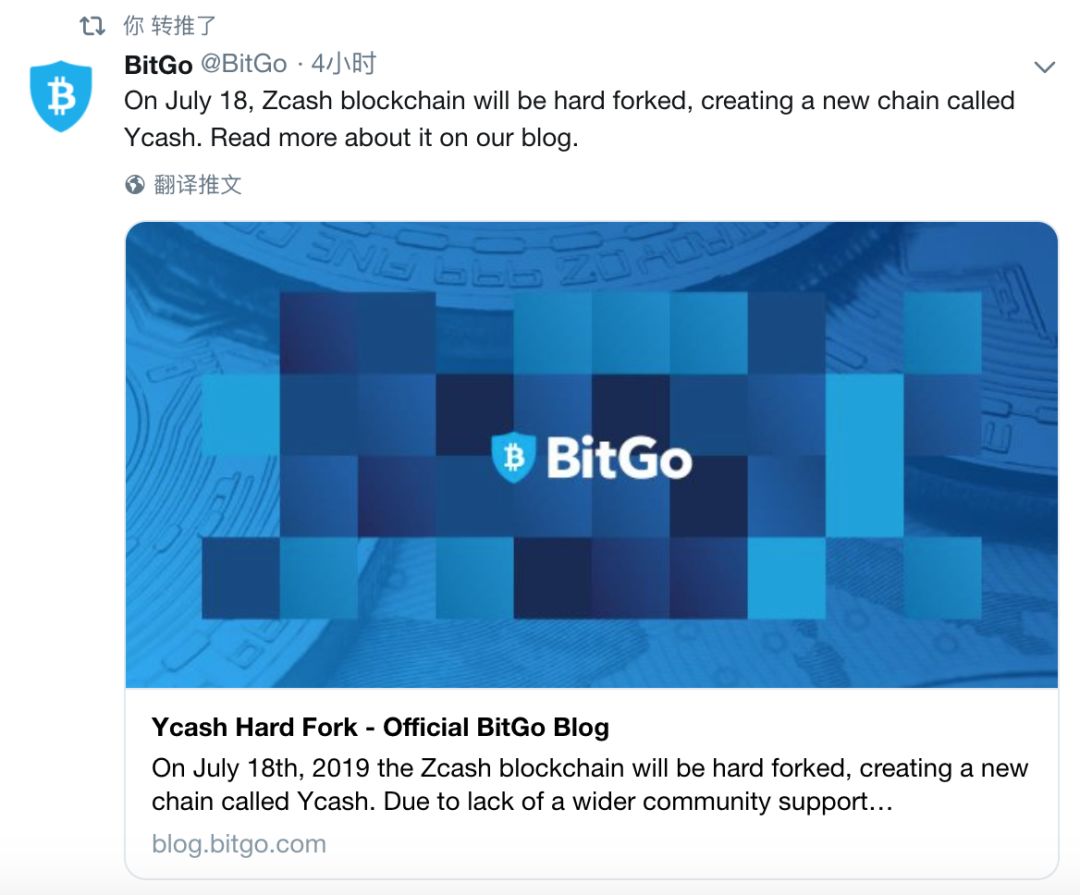 3. According to CoinDesk, South Korean technology giant Samsung is working with six other large Korean companies (including mobile operators SK, LG and two banks) to develop blockchain-based certificates and ID-certification networks.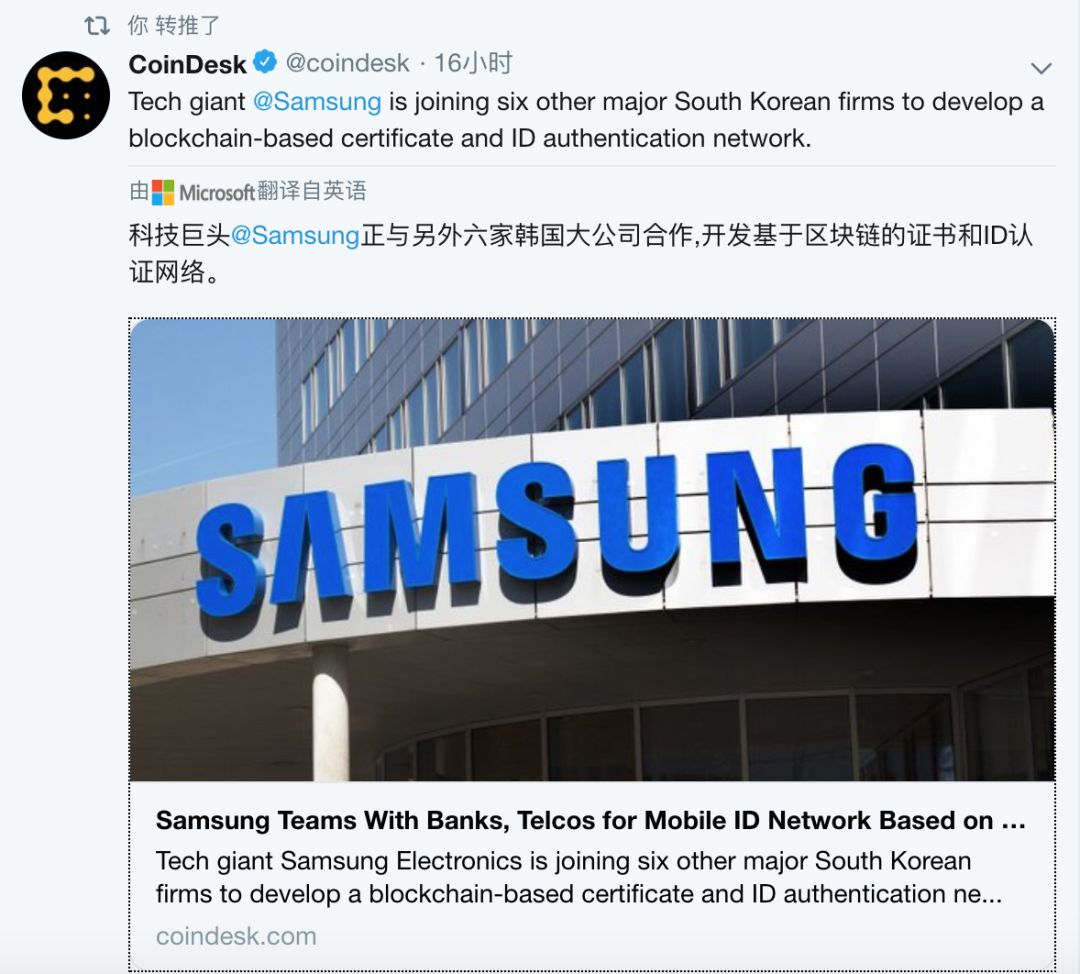 —— End ——
Turn around every day and see the big coffee point of view, bringing you the freshest and most interesting points.
Source: Public No. Wildflowers