Social giant Facebook wants to build a future cryptocurrency, but the first thing it has to do is to whitewash it.
On Tuesday, local lawmakers sent a clear voice to Facebook at a hearing at the Senate Banking Committee: they "do not trust" Facebook. Lawmakers believe that Facebook's biggest obstacle to the world of cryptocurrency and global finance is its reputation.
Facebook's cryptocurrency project is called Libra and has been in development for more than a year. Facebook has an ambitious goal: to provide an alternative financial system that can be transferred globally for a small fee.

Is "no trust"
However, this plan was immediately resisted by Washington.
"Facebook is dangerous," Senator Sherrod Brown of Ohio Democrats said at the hearing. "Facebook says 'just believe us,' but every time Americans believe in you, they seem to be deceived. "
Libra is not the first to create a field of cryptocurrency. At present, the world's most famous cryptocurrency is Bitcoin, which is already widely distributed, introducing a digital currency concept that is free from government regulation.
However, Facebook's efforts on Libra have made cryptocurrency the focus of the world's attention, magnifying the voice of critics. Critics believe that cryptocurrency is worthless and will only encourage speculative investment and illegal transactions, such as online drug trafficking.
When Facebook announced the Libra project in June, it immediately raised questions. Libra's skeptics are wary of the power that Facebook has accumulated. In just a few days, Washington's regulators asked for a hearing on Facebook's cryptocurrency program.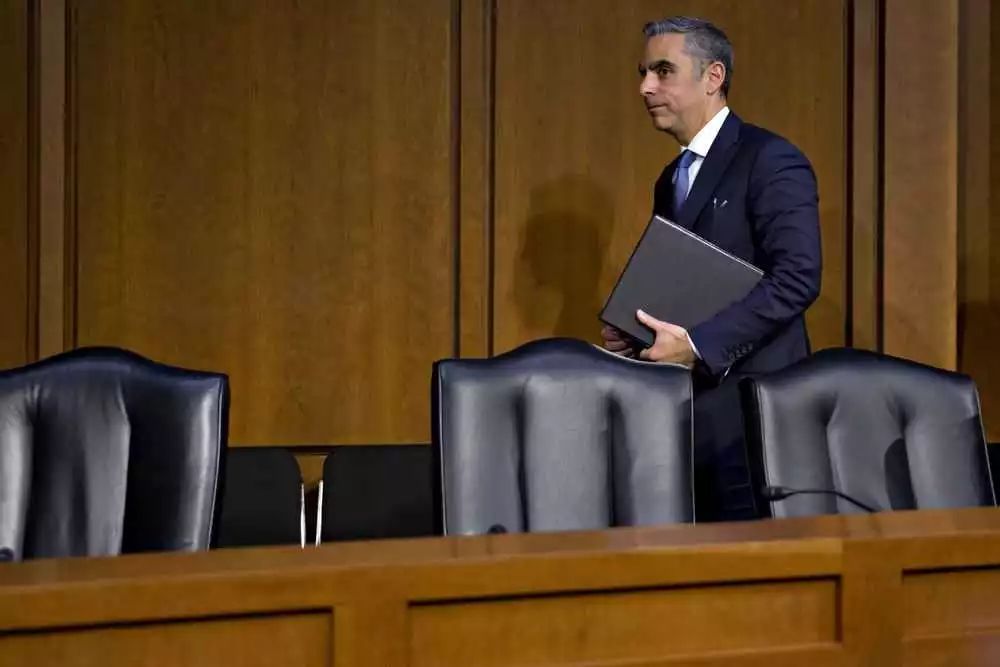 Facebook cryptocurrency project director Marcus
This concern is undoubtedly clear on Tuesday. Members of the Senate Banking Committee continued to fire at David Marcus, the head of Facebook's cryptocurrency program, and questioned him for more than two hours. Marcus was asked about a series of controversial issues in Facebook, from the relaxation of user privacy information to the Russian false information on the platform, to the suppression of conservative views.
"In all the companies in the world, why should this be done by Facebook? " Hawaiian Democratic Senator Brian Schatz asked: "Maybe you should make sure that you are doing something before doing something new. The wrong behavior has changed."
Marcus said in a soothing tone that Facebook will do its utmost to crack down on fraud and win back the trust of more than 2 billion Facebook monthly active users.
"We made a mistake in the past," Marcus said. "We have been working and trying to do better."

The data leak scandal is still fresh in memory
Last year, Facebook's data breach scandal caused an uproar. The political consulting firm Cambridge Analytics is accused of collecting as many as 87 million Facebook users' data through a personality test application. In this regard, Facebook CEO Mark Zuckerberg went to Congress to testify, was subjected to marathon cross-examination, and continued to apologize. In addition to the United States, Facebook has also been investigated in EU countries such as the United Kingdom.
In the end, the scandal triggered a survey by the US Federal Trade Commission (FTC). The survey focused on whether Facebook's sharing of data behavior and other disputes violated the privacy settlement agreement that the company and FTC reached in 2011.
The latest news said that Facebook will pay a record $5 billion fine with the FTC settlement privacy investigation. In addition to fines, the settlement agreement is expected to include other government restrictions on how FTC handles user privacy on Facebook. In addition, Facebook may face 20 years of privacy protection supervision.
The Senate Banking Committee hearing was only the first of a hearing held by the US Congress on the technology industry on Tuesday. At a hearing held on Tuesday afternoon, members of the US House of Representatives also questioned a number of technology industry executives around the competition, which is part of the US antitrust investigation of the technology industry. Google executives will also ask questions at another hearing. The subject of the hearing is whether Google has blocked conservative voices.
Facebook executives must also accept more questions about the cryptocurrency program at the House Financial Services Committee hearing on Wednesday.
Trump shelling, global central bank concern
For some time, some members of Congress and regulators (mainly the US Securities and Exchange Commission) have expressed concern about the legality and effectiveness of cryptocurrencies. The involvement of Facebook has made these discussions even more intense. In the past two years, Facebook has caused a lot of controversy.
Last week, Federal Reserve Chairman Jerome H. Powell said Libra had "serious concerns" about "money laundering," "consumer protection," and "financial stability."
"I just thought that this project could not be advanced until Facebook's concerns about money laundering and other issues were widely recognized," Powell said in a testimony to the House Financial Services Committee.
Officials from China, the United Kingdom, France, Singapore and the European Central Bank all expressed similar concerns.
US President Trump also released a tweet last week to attack Libra and Bitcoin. "I'm not a fan of Bitcoin and other cryptocurrencies. They are not legal tenders. They are very volatile and come out of thin air. Unregulated crypto assets can lead to illegal behavior, including drug trafficking and other illegal activities," he said.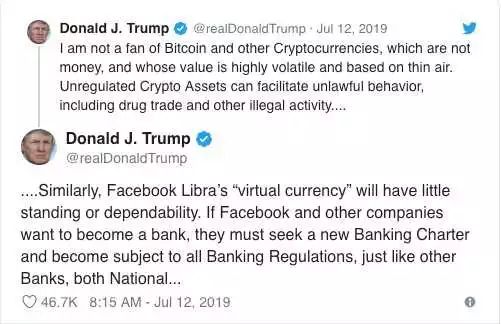 Trump tweeted Libra
He also pointed out that Facebook Libra's "virtual currency" is also unreliable. "If Facebook and other companies want to become a bank, they must apply for a new bank license and comply with all banking regulatory requirements, just like other banks, whether in the US or internationally," Trump said.
At a press conference on Monday afternoon, US Treasury Secretary Steven Mnuchin also questioned Libra and other cryptocurrencies. "Before we are satisfied, Facebook still has a lot of work to do," he told reporters.

Support sound
This issue rarely makes the Trump administration stand with Democrats , not other Republicans. Although the Democratic Party members of the Senate Banking Committee bombarded Facebook, several Republican members expressed support for Facebook and its new cryptocurrency program.
"I just thought we should explore this, not just considering its risks, but also the benefits of it," Pennsylvania Republican Senator Patrick Toomey said. "Advance in advance to kill it in the cradle. It seems too early."
However, not all Republican members are so positive about Libra. Arizona Republican Senator Martha McSally said: "I don't trust you."
Republican Senator Tom Cotton of Arkansas fears that under the Libra system, conservatives will not be treated fairly, in response to the liberal bias of technology companies often discussed by the Republican Party.
As a former executive of PayPal, a payment company, Marcus was selected by Zuckerberg to lead the Libra project. In this project, Facebook's role is played by a subsidiary called Calibra. The company is led by Marcus and other Facebook executives. If Libra grows, Calibra will build a business around providing consumer financial services, including loans and other businesses traditionally offered by banks.
Another entity is the Libra Association, whose proposed board of directors will include more than a dozen partners in the technology and financial industries. Once Libra is officially operational, the Libra Association will manage this cryptocurrency system. Facebook hopes to launch Libra next year.
Brown asked Marcus if there was enough opposition to convince Facebook to give up Libra. "What can the elected leader say to you and Facebook to give up the currency?" he asked.
Marcus said Facebook will not continue to advance the project until it clears the concerns of regulators.
Article reference:
Https://www.nytimes.com/2019/07/16/technology/facebook-libra-congress.html
Produced | Phoenix Network Technology Phoenix News Client
Author | Rain