North drift girl invests in bitcoin: after adding 200,000 yuan, she is ready to borrow millions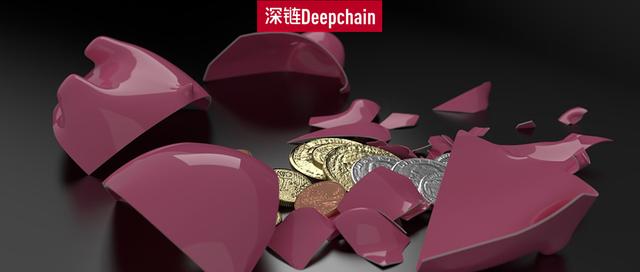 Will Bitcoin rise to $20,000 at the end of this year?
Wang Qingqing will definitely meet.
She has been in contact with cryptocurrency for two years, but the real preparation for admission is in the near future, at the price point of $10,800, she took out $200,000 to add bitcoin. At the same time, Wang Qingqing also prepared four bank cards, each of which can be loaned to more than 200,000. She hopes that the more loans, the better, so that they can buy more bitcoins.
In the view of Wang Qingqing, who has been speculating for half a year, bitcoin will have a big market in the second half of this year. The price of the currency will reach about 20,000 US dollars at the end of the year.
Bitcoin fluctuated repeatedly at the $10,000 mark. People who were bullish to $20,000 chose to open positions, and those who were bearish to $7,000 were still waiting. Different psychological expectations made people make different positions.
4 bank card loans and jiacang
A week ago, Wang Qingqing, who had learned the knowledge of the fried coins in a group of nearly half a month, took out all the savings from the North drift in the past few years – 200,000 yuan, at the price point of 10,800 dollars, plus the bit currency.
After the position was added, Wang Qingqing sold the coins at the price of $11,400 and then picked it up from the price point of $10,800.
What Wang Qingqing didn't think was that on July 16th, the head of Facebook Libra, David Marcus, had not ended in the US Senate. The bitcoin once again opened the waterfall mode, and the "one breath" fell from 10,844 dollars to the lowest. $9,217, a drop of 15% in 10 hours.
Wang Qingqing originally planned to empty the bitcoin again at 13,000, but missed the best time. Fortunately, at 22:30 on July 18, Bitcoin was quickly pulled above $10,000.
Wang Qingqing said happily: "I know that I will definitely go up. I just missed the 9000 point band and it hurts."
Wang Qingqing claimed to be investing in the long-term and occasionally doing the band. In order to be able to "heavy" bitcoin, she prepared four bank cards, namely China Merchants Bank, Industrial and Commercial Bank, China Construction Bank and Bank of China, to apply for loans.
For such a radical investment approach, Wang Qingqing has her psychological expectation. "I actually intend to play the long-term line for about half a year, and at the latest will pay off at the end of next year. There will be a big wave of bitcoin in the second half of this year. To the price of 20,000 US dollars."
Wang Qingqing expects that each bank can borrow up to 200,000-300,000 yuan. But she hopes that the more loans, the better.
As early as the beginning of 2017, Wang Qingqing had already entered the currency circle. In the two and a half years after the conversion of the currency and the bulls and bears, Wang Qingqing has always been "staying like a jade" and never thought of becoming a leek.
Until the beginning of May this year, Wang Qingqing saw that the market began to pick up, decided to study the market, he took out 20,000 yuan, bought bitcoin at the bitcoin price of 5800 dollars.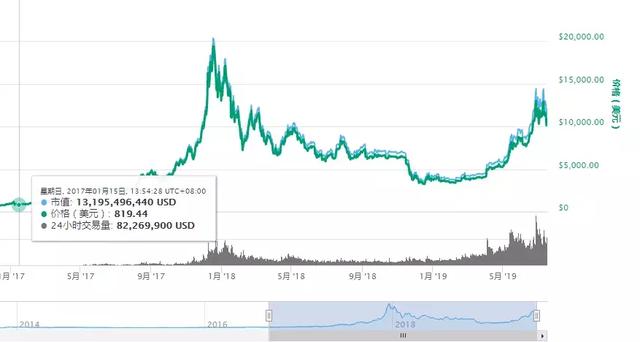 (When Wang Qingqing entered the currency circle, the bitcoin price was $819)
"At that time, I had not studied the market before, and I was confused about the speculative currency. I didn't have my own investment logic." Before Bitcoin broke through $10,000, this was Wang Qingqing's only position.
At 5:15 on June 23, Bitcoin rose from $11,434 to 13:30 on the same day, and its price quickly approached $12,907.96. As of 2:45 am the next day, Bitcoin rose through four stages. It was a new high of $13781.38, an increase of 137.6% compared to the beginning of May.
This stimulated Wang Qingqing.
In early July, she officially studied the trader with a trader and studied the dealer. Wang Qingqing believes that many amateur speculators do not understand the market and buy and sell on their own.
"Bitcoin plunged from $14,000 to $10,000 because there are a lot of new money makers coming in and wanting to sweep the old coins of the currency into their own hands, so they will continue to fluctuate around $10,000. New money is at 10,000. Jiancang, their ambitions should be pulled to 20,000 US dollars." This is the logic of Wang Qingqing's choice to open a position at 10,800 US dollars.
Now, Wang Qingqing will wake up at around 5 o'clock every day. Wang Qingqing told Shen Chain Finance: "Because the morning is a good time for the dealer to take the plate and pull the plate. The fluctuation is too big, the heart can't stand it, it is really sleepy."
"Since Stud has bitcoin, it is very spiritual every day." Wang Qingqing was a little excited.
After breaking the $10,000 bitcoin, I can finally pick it up.
Bitcoin market is unpredictable. At the same time, different people have different expectations for Bitcoin. Many people are willing to take the initiative to take over, and those who are empty are forced to take over.
Wang Qingqing belongs to the former and He Hong belongs to the latter.
Bitcoin began to fluctuate from $137.81. He Hong finally waited for the opportunity to increase the position and added 5 bitcoins at a price of $9,700.
He Hong told Deep Chain Finance that the last time Bitcoin was scheduled, it was still at $5,800 on May 3.
At that time, in the past 31 days, Bitcoin has risen more than 40%. After breaking through $5,800, Bitcoin opened all the way, breaking through $6,900, $8,000, and $10,000, and repeatedly boarded the Weibo hot search list until $137,81.
At almost the beginning of each month, He Hong will buy Bitcoin and Ethereum in a fixed amount. He Hong has been at BTC/3200 USD, ETH/90 USD; BTC/3800 USD, ETH/130 USD; BTC/4700 USD, ETH/160 USD; BTC/5800 USD, ETH/177 USD, 4 The second vote.
"Actually, I think the market is coming too early. I still have some positions that have not been added. After a few waves, I will react." He Hong said that when Bitcoin is $4,000, it should be more than 5000. The dollar and $5,800 are two points that are empty.
In the face of the sudden bull market, Sun Yuchen said in Twitter: "There is no clue."
Other industry insiders have different opinions: "IEO of the three major exchanges has driven the market", "VDS has accelerated the price of Bitcoin," and "asset management company Fidelity Investment cryptocurrency business, Facebook issued stable currency Libra, these Old money and giants are the most critical factors driving the market."
But in any case, He Hong can't buy Bitcoin for $4,000 anymore. He described the mood at the time: "At that time, many people were affected by the bear market theory, and I was as empty as I was, and I went up and waited for a fall, but the result was only up and down."
"I don't want to say it. It's tears when I say more." When Bitcoin rushed to $12,480, the old 王菜王耀斌 collapsed.
On December 15, 2018, Bitcoin fell to the price freezing point of $3,155. The number of TokenFunds has dropped drastically, the project side has almost lost its voice, mining machine producers have lost money, and the blockchain industry has begun to reduce wages and layoffs. The entire market is shrouded in pessimism.
Wang Yaobin has always felt that the bear market should not end so soon, and Bitcoin should fall to $2,000.
On March 20th, Bitcoin broke through 4,000 US dollars. Wang Yaobin, who was caught off guard, began to gradually increase his position and carefully increased his position to Bitcoin 6000 USD.
After Bitcoin broke through $6,000, Wang Yaobin regretted it and added the position too slowly.
Wang Yaobin, who only added 20% of the position, told Deep Chain Finance: "There are so many vacancies, it is not greedy, and it is not enough. It has stepped on the small cycle, but missed the big cycle."
In 2013, the coin was started, and the coin was sold for five years. In 2018, it began to break the currency. When I looked back, Wang Yaobin felt that I still did not beat Bitcoin.
"I later learned that at the end of last year, the price of Bitcoin reached the price of the shutdown currency at the beginning of last year. In fact, it was already the bottom. At that time, everyone thought that the bear market had not ended yet. In fact, it is to pay for the cognition."
Although Bitcoin has fallen below $10,000 several times, Wang Yaobin still has no choice to add positions. "If I don't fall below $8,000, I won't add more positions." Wang Yaobin said.
Coin by time
"A operation is as fierce as a tiger, and looking back at two hundred and five" is the true portrayal of most speculators.
Wang Yang's method of "one person, one currency, one consensus community" is to use the method of "coin by time".
"People who pay by price can never hold back. For example, set a time. After 5 years, regardless of the level, sell directly, so that you can live without it." The reason why there is such a coin experience, because Wang Yang He also sold more than 10,000 bitcoins at 1,400 yuan.
In 2011, Wang Yang, who was a foreign-sponsored game, saw that Bitcoin had a redemption requirement and that it was convenient to exchange. Some people used this feature to speculate. The potential value of Bitcoin allowed Wang Yang to decide to mine.
(Wang Yang's graphics card purchase order in 2011)
Three video cards were equipped with one machine. Wang Yang got 120 graphics cards before and after, and dug more than 10,000 bitcoins at an average cost of less than 10 yuan.
In September 2013, the price of Bitcoin began to surge for the first time. When it rose to 1,400 yuan, Wang Yang sold these bitcoins and sold nearly 14 million yuan. These bitcoins, if they were sold at the highest point in December 2017, sold for $1,9535.7, sold at least $195,357 million.
By November 30 of that year, Bitcoin had risen to $1,149 and Wang Yang was washed off. Wang Yang did not think that the time he was selling the coin was just at the foot of the bitcoin price rising band. Wang Yang, who sold the coins, is prepared to never touch Bitcoin again.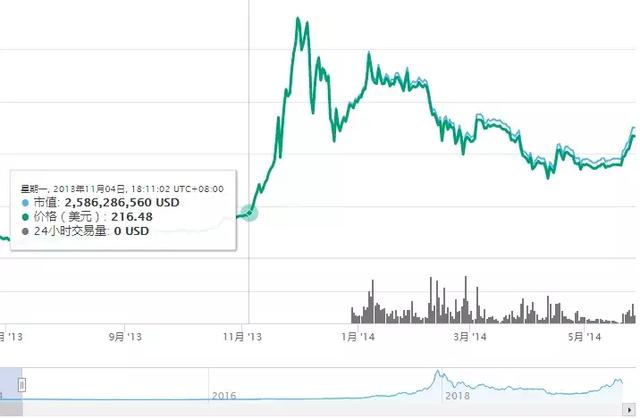 (In 2013, Wang Yang sold nearly 15,000 bitcoins at the time)
"At the time, I was complacent, digging, and buying, and it cost a few dollars, about 1400 yuan. Then Bitcoin fell to 400 yuan, rose to more than 8,000 yuan, and fell back to 900 yuan, and then rose to 130,000 yuan. Two reincarnations, the door was cleared, I re-entered the car in 2016, and I no longer dared to move."
When talking about this experience, Wang Yang said: "There is always a hurdle that can't go, but we only have one life. Really, I don't even have the impulse to sell bitcoin, because Bitcoin is the real private property. "
Since the birth of Bitcoin for 10 years, from the personal graphics card mining to the company to participate in mining with nano-scale chips, from the purchase of bitcoin to the entrance of large institutions, Bitcoin has become the consensus of more and more people, affecting the price of bitcoin. The factors are also getting more complicated.
Earlier, symbolic capital co-founder Fu Dekun once told the deep chain finance that this market is not a bull market, but the main force is to halve the 2020.
Because of the big bull market in 2017, the most concentrated range between the main and institutional roads is between $8000 and $13,000. After the big bear market in 2018, leek and unsettled cuts leave, but there are still more than 200 billion dollars in this range. The asset-allocation type and the iron-headed leeks are sticking to it. They will not pass this congestion and will not be able to pull in half of the market in March next year.
Fu Dekun believes that the consensus price of 5,600 US dollars is the price naturally supported by the market. Bitcoin will return to 6000-7000 US dollars with a high probability before the end of August.
However, Wang Qingqing does not agree with this statement: "Bitcoin can't go back to $6,800. I dare to say this. Because a lot of the main force is at 8000, they will not let Bitcoin fall to $6,800."
Wang Qingqing analysis, in fact, can be seen from the broader market, at around 8000 points, Bitcoin's trading volume is very high, and it is a lot of money. At present, there are a lot of money dealers, so I think that the most needed for the speculative coin is to study the humanity and play with the dealer.
(Wenzhong, Wang Qingqing, He Hong, and Wang Yaobin are all pseudonyms.)
[Deep Chain Original] Wenyu Wu Salt
We will continue to update Blocking; if you have any questions or suggestions, please contact us!
Was this article helpful?
93 out of 132 found this helpful