Twitter Featured: Ethereum 4th Anniversary, From ICO to DeFi, Breaking From Death Spiral
SEC plans to operate Bitcoin and Ethereum nodes
According to Trustnodes.com, the US Securities and Exchange Commission (SEC) plans to run Bitcoin and Ethereum nodes through contractors, as well as as many other blockchain nodes as possible, including Bitcoin cash, stars, Zcash, EOS, NEO and XRP and so on.
The SEC did not provide specific reasons why they needed to run their own nodes, except that it was stated to "monitor risk, improve compliance, and inform the committee about digital assets."
What are the fun things about the 4th anniversary of Ethereum?
The 4th anniversary of Ethereum, V God bless:
V God: Happy Birthday to Ethereum

Developer Nick Dodson calls for boosting morale:
To commemorate the birthday of Ethereum (4th anniversary), I want to say:
Don't (unfortunately) call the Ethereum.
We either succeeded because we really built a great system, or we failed because we didn't expand the technology and find the real use scenario.
Regardless of what others think, the establishment of this project (the Ethereum) is not just a trader's business.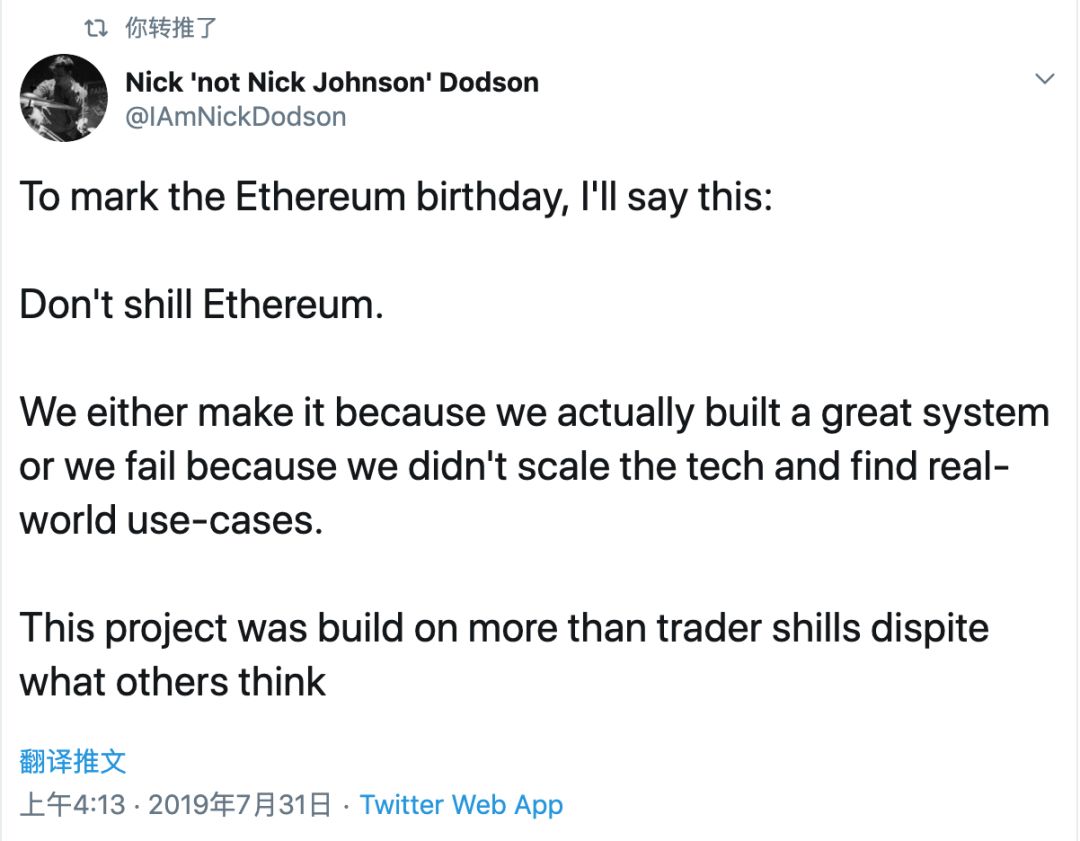 Best shouting, Ryan Sean Adams:
Last year, IC0 (projector) held about 4.6 million eth in Ethereum, and now it is 2.3 million eth.

They called this number drop called the death spiral of IC0.
Also last year, the number of Ethereum held by DeFi was about 390,000, and now it is 2.3 million.
This means that the locked eth in DeFi has made up for the death spiral.
After one year, eth's lock-in will return to 4.6 million.
Summary of the US Senate "Review of the regulatory framework for digital currency and blockchain" hearing
The well-known KOL Boxmining talks about the US cryptocurrency hearing:
After reading the US Congress' hearing on cryptocurrency today:
The United States has a long way to go from clear regulation.
The topic of discussion is too broad – still in the exploration phase.
Congress feels like a dinosaur (a person of the age)—nearly knowing the Internet, let alone the blockchain.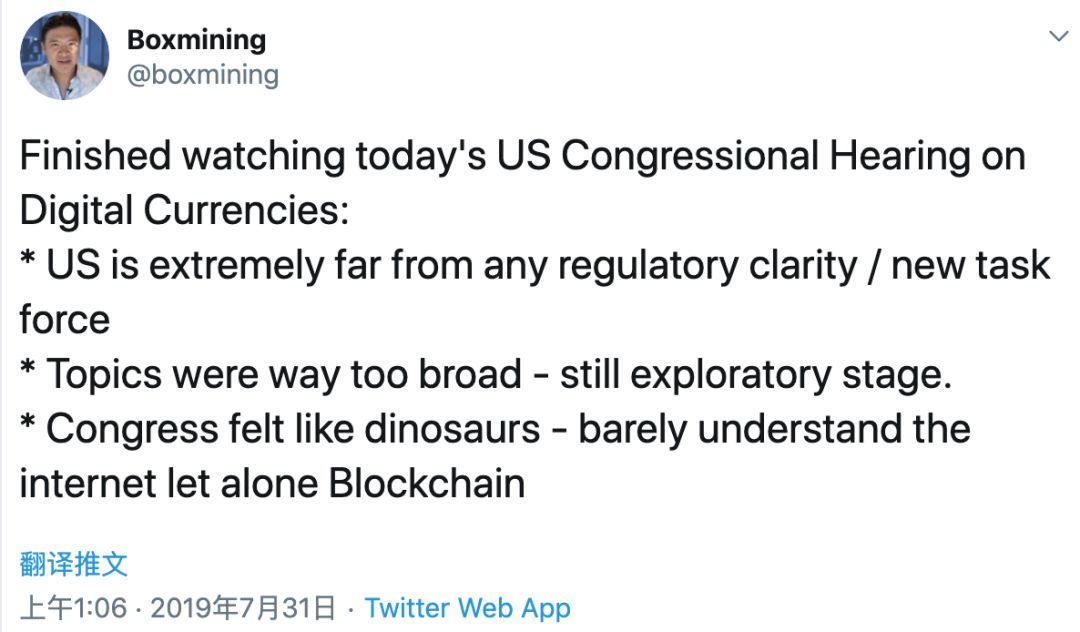 Another problem is that digital assets are a very broad topic. Currency, voting tokens, securities tokens, practical tokens, property tokens…

Everything can be tokenized, so it is impossible to treat them as a category.
1. According to The Block, Taiwan has issued the first virtual banking license to Japanese e-commerce giant Lotte and communications giant Line.
2. According to CoinDesk, Bitcoin wallet provider and blockchain browser Blockchain launched its first cryptocurrency platform, The PIT.
3. According to Cointelegraph, Samsung Galaxy S10 mobile phone users can now use the Pundi X encryption wallet XWallet and can use cryptocurrency in the Pundi X related blockchain point of sale device XPOS (XWallet can be connected to XPOS, XPOS is a deployment) Blockchain point of sale equipment in 25 countries).
—— End ——
Turn around every day and see the big coffee point of view, bringing you the freshest and most interesting points.
Author: March only hope
Source: Public No. Wildflowers
We will continue to update Blocking; if you have any questions or suggestions, please contact us!
Was this article helpful?
93 out of 132 found this helpful