MasterCard, the global payment giant, recently updated three job postings related to the blockchain on its official website, including a blockchain/cryptocurrency product management vice president and two responsible blockchain product development. Product Director, job responsibilities mainly include the development of blockchain solutions including encrypted wallets.
According to the recruitment information released by MasterCard four days ago on its official website, the three positions are: Vice President of Network Technology Product Management (Vice President, Network Tech Product Mgmt), Director of Product Development and Innovation – Blockchain Solution Director, Product Development & Innovation – Blockchain Solutions and Director of Product Management – Crypto Currency/ Wallets.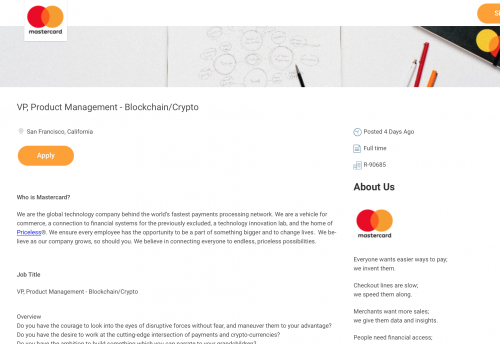 From the recruitment content, the job descriptions of these three positions include the conception, definition, design and development of the blockchain solution, and will include a "franchise, compliance, supervision, product, laboratory" Cross-functional teams, regional and technology, work together.
In addition, in the responsibilities of vice president of product management and director of product management for cryptocurrency/wallet products, the development of encrypted wallets was emphasized.
This led to media speculation as to whether MasterCard is launching a product on the encryption wallet solution or plans to launch its own cryptocurrency wallet, thereby targeting Facebook's cryptocurrency wallet Calibra, using the blockchain solution to continue to maintain its own payment. The dominant position in the field.
MasterCard has acted in the blockchain in recent years. According to 36 reports, MasterCard released the experimental blockchain application programming interface (API) in 2016. In November 2017, MasterCard applied for a blockchain new technology patent aimed at alleviating the pressure on payment settlement efficiency. The patent application also includes distributed ledger technology, block payment technology for storing payment, identity data information, and the like. Spokesperson Justin Pinkham has said that the lab has applied for more than 30 patents related to blockchain technology and digital currency.
In addition, MasterCard publicly recruited 175 new technology developers, including blockchain experts, in 2018, focusing on building more efficient payment systems.
As a large US payment company, VISA seems to be mainly focused on cross-border payment in the blockchain layout. In June, just announced the official launch of the blockchain-based cross-border payment network "B2B Connect", which aims to simplify the process of cross-border payment for financial institutions through distributed ledger technology, saving the cost and time required to complete payment. Expanded to 90 markets by the end of 2019.
China UnionPay, which is also one of the payment giants, is currently making a relatively stable layout in the blockchain field. In August 2018, China UnionPay and Bank of China launched a cross-border remittance service based on blockchain. In addition, UnionPay has also cooperated with JD.com to build a blockchain-based information sharing platform, as well as the "blockchain electronic invoice" that UnionPay Commercial has previously cooperated with Shenzhen-Hong Kong leased.
Especially in the traditional block of payment giants in the blockchain layout, the blockchain has an increasingly significant impact on the payment industry.
Source: Financial Network · Chain Finance
Author: Xi breeze