According to Cointelegraph, the Information Commissioner's Office, together with data and privacy protection authorities in the United States, Canada, Australia and other countries, issued a joint statement yesterday evening in Beijing, requesting participation in the Libra Association's company. Details about how they will "protect user data."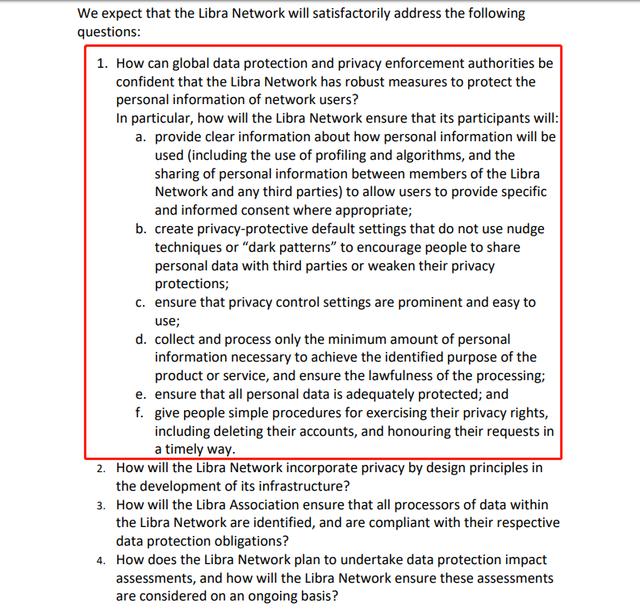 The statement states that the Libra Association will be the custodian of a large number of users' financial data, and this will lead to a series of risks, and "these risks are not limited to financial privacy, because Facebook has hundreds of millions of users, each with Different data types. This has triggered global attention to Facebook."
British intelligence commissioner Elizabeth Denham said:
"We know that the Libra network has talked to many financial regulators about how to comply with financial services product rules. However, given the rapid development of Libra and Calibra, we are concerned that there is little available (Libra) for how to protect personal data. Details."
In fact, Elizabeth's concerns are not groundless. Although the US Senate and the House of Representatives held separate hearings on the Libra project in mid-July, neither Libra's white paper nor project leader David Marcus mentioned detailed user data protection measures. Instead, more emphasis was placed on the discussion of financial risk issues. Even at the hearings held by the House of Representatives, lawmakers once focused on the previous Facebook disclosure of data.
In the same month, Facebook told investors in its latest quarterly report that although Facebook expects to launch Libra next year, regulatory pressure may significantly delay or prevent its release.
Facebook hires Senate officer assistants to persuade regulators to accept Libra
According to Politico, a well-known American media, Susan Zook, former assistant to R-Idaho, chairman of the US Senate Banking Committee, has joined Facebook's lobbying team to persuade US lawmakers to agree to the Libra project. She will then focus on lobbying Republicans in the Senate.
This is not the first lobbyist hired by Facebook. So far in 2019, Facebook has spent more than $7.5 million on Libra's lobbying activities, and Facebook has more than a dozen lobbying companies. Prior to Susan, Facebook had hired Sternhell Group and CypressGroup staff to deal with Libra's problems, and even hired DavisPolk law firm.
Previously, CryptoGlobe said that PayPal CEO Dan Schulman has confirmed that Libra will be launched in early 2020, and confirmed that PayPal is involved in the Libra project.
Regardless of whether the news is true or not, from the recent actions of Libra, the real implementation of the project should not be too far.
Source /31QU
Text / small shell