"Mobile phone mining" turned into a farce: the currency can only change the phone case, the agent lost millions
The blockchain mobile phone that was popular in 2018 has become a chicken feather.
The project side runs, the agent loses money, the user defends the rights… The chaotic "mobile phone mining" has come to an end.
But in addition to mobile phone mining, some mobile phone practitioners are still trying to implant blockchain into mobile phones.
In May 2018, HTC launched a blockchain phone called "Exodus." In 2019, Samsung built a digital currency wallet on its flagship Galaxy S10.
What other aspects of the blockchain are combined with mobile phones? What new changes will mobile phone companies bring to the blockchain industry?
Since December last year, Xi'an Wenwenkang has been very busy. He rushed west and defended his rights to "buy a mobile phone."
Wenkang bought a mobile phone called "New Cloud New Cloud", which is known as "the world's first blockchain mobile phone." The name of the person who sold him to his mobile phone is Wang Yue, who is the agent of Xi'an District of New Cloud.
Before buying a mobile phone, Wang Yue told Wenkang that the biggest difference between this mobile phone and other mobile phones is that it can "dig and make money" and "return to this in three months".
"Every day, 8-9 coins, the initial price is 5-10 yuan, and the over-the-counter purchase price is 4-5 yuan. If you can't return this three months, you can refund the machine." This is Wang Yue's commitment to Wenkang. .
Despite the so-called "the world's first blockchain mobile phone", it is almost identical in appearance to a Huawei mobile phone. However, under the temptation of huge returns, Wenkang still purchased 12 New Cloud mobile phones at a "special price" of 4580 yuan.
(A photo taken by New Cloud miners using New Cloud mining, the picture is from the network)
The good times are not long. When Wenkang is ready to sell coins, he finds that there are no channels to sell. He discussed the story with Wang Yue in the WeChat group, but was directly removed from the WeChat group.
Wenkang found himself pitted. He pointed the finger at the New Cloud Xi'an agent who sold it to his mobile phone. But New Cloud's agents believe that they are also victims of this project.
"Xi'an's agents are estimated to have lost millions of dollars." Changnan, a New Cloud agent, told a blockchain reporter, "We have lost more than 500,000 here."
On the Internet, the information left by New Cloud comes from its product launch conference held in a hotel in Xi'an in July 2018. According to Changnan, the conference was organized entirely by Xi'an agents, and it was self-financing and had nothing to do with the project side.
"New Cloud project party is a small team of only 20 people, and its headquarters is in Hangzhou. When we talk about cooperation, the project party claims that the team is only responsible for technology development, and the promotion, marketing and promotion are all done to the agents." Chang Nan said "According to the official statement, we are not called 'agents', but 'regional operations centers'."
However, the prices of these agents are surprisingly high. "The prices of different levels of agents are not the same, but they are all around 4,000 yuan." Chang Nan said, "We later learned that the market price of this hardware parameter mobile phone is just a thousand."
Chang Nan told a blockchain reporter that as agents, they hope that New Cloud officially can use the money earned by selling mobile phones to "pull" and make the project last longer. However, the New Cloud project has never "maintained" the price of the currency, but left it to fend for itself.
"There is a saying that the project side did sell money on the mobile phone, but it took the money to vote for ETH. Later, the price of ETH plummeted, and the project party had no money, and it could only 'run the road.'" Chang Nan said.
The token dug by New Cloud, named NEWC. Since there is no currency on the exchange, investors can only trade off-exchange.
According to Chang Nan, in November last year, the New Cloud project party built an exchange called "diiex" to trade NEWC coins.
"At the time, the project party asked our agents to subscribe to the exchange 'initial shares', and I also invested more than 100 ETHs." Chang Nan said. "New Cloud's trader 'General Liu' said at the time, he can retreat at any time."
And these ETHs were later drowned. After witnessing the collapse of New Cloud, Chang Nan found that "Liu Zong" asked for more than one hundred ETHs, but was rejected.
"My house, car, and family are here. Now the information is so developed. If you think that I am 'running the road,' I can come to me at any time." "Liu Zong" denied that he had "running the road." But Changnan could not find where "Liu Zong" is. He even found himself being "blacked out" by WeChat on "Wei Xin."
Changnan learned that the operator of the New Cloud project, "Liu Zong", had been operating a fund project in Hangzhou before, and even had been arrested.
Today, there are more than 20 New Cloud goods in Changnan's hands that have not been sold. And Wenkang's object of repeated rights protection – New Cloud Xi'an agent, also chose to cancel its operating entity "Xi'an Chaos Blockchain Technology Co., Ltd." in March this year.
New Cloud, which used to bloom all over the country, now only leaves a chicken feather.
In the hot air of the blockchain concept in 2018, New Cloud is not the only mobile phone that has the concept of "blockchain mining".
Among the domestic mobile phone brands, Candy and Changhong have launched mobile phones with mining functions.
Candy launched the "mining mobile phone", priced at 3,999 yuan. It was launched in January 2018. Official data said that the first batch of 10,000 mobile phones were sold out in just 5 minutes.
(Candy blockchain mobile phone sales page screenshot)
According to official sources, the phone was launched by a candy phone and an ETF. The mining currency of candy mobile phones also includes ETFs.
However, if you want to dig into the ETF, players need to add an SD card or a plug-in mobile hard disk to the mobile phone, and upload storage space to the entire network of users, the threshold is extremely high.
If you don't do this, the candy blockchain phone can only dig into the "confectionery points." The candy official claims that the candy block chain phone can get "candy points" on a regular basis without any extra operations.
But in fact, the use of "confectionery points" is limited to the exchange of products such as mobile phone cases in the "confectionery store".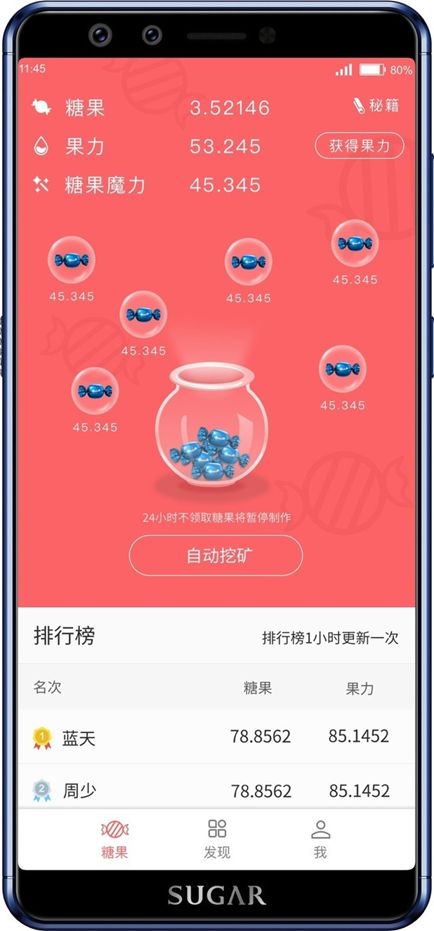 The biggest controversy in the candy blockchain phone comes from the cooperation with the etheric fog.
Ethereal fog is the fork chain of Ethereum. It has once launched a ridiculous "eld child battle" with another fork chain, EMO.
The Ethereum team temporarily announced the early forks in an attempt to change the fork height to compete for the "eldest son" of Ethereum.
However, such behavior has caused dissatisfaction among investors and exchanges.
The exchange gate.io and the wallet service provider imToken, both publicly issued a statement boycotting the ETF. imToken announced that it does not support ETF management. Gate.io pointed out in the announcement that the name of the "big son" of Ethereum, which was intended to be seized by the fog, was meaningless.
The battle ended in a farce.
As of press time, the official website of Ethereum has stopped visiting, and candy mining mobile phones have long stopped selling.
Changhong's blockchain mobile phone "Changhong R8" is more hardcore than candy mobile phones with unknown mining mechanism. The currency it supports is the Unicorn (UIC) based on PoW mining.
Changhong set a time limit of 8 hours of mining for the R8 mobile phone, and users can pause or continue mining at any time.
"The first mining, three UIC did not dig in three hours." Changhong R8 user Li Chengjun told a blockchain reporter, "There was a sudden 50."
However, the side effects of mobile phone mining are also very obvious. Changhong R8 consumes a lot of electricity and heat during mining, and even needs to use water bags to help dissipate heat.
"When Changhong R8 is mining, it cannot be used as a normal intelligent machine." Li Chengjun said, "The 'mine machine' and the 'mobile phone' are completely incompatible."
In addition, Changhong R8 users said that UIC itself is an air currency project, which can not only be traded on the exchange, but even the project's official website and white paper have nowhere to inquire.
In the sales channel, Changhong R8 mobile phone can only be purchased through WeChat public number "Youke Smart Choice". A blockchain reporter verified that the platform is now unable to register properly.
Compared with the blockchain mobile phones that are mainly targeted by "mining", Lenovo's blockchain mobile phone "Lenovo S5" released in March 2018 is more like a blockchain.
The Lenovo S5 does not support mining or a built-in digital currency wallet. However, the vice president of Lenovo Group said that Lenovo S5 has built-in encryption secure payment space "Z space", which uses blockchain technology.
A vote initiated by Sina Mobile on Weibo shows that 67.8% of people believe that Lenovo S5 is "strong hotspot speculation".
Up to now, in addition to Lenovo S5, candy blockchain mobile phones and Changhong R8 have been unable to purchase through normal channels.
The former "mobile phone mining" farce has ended.
In fact, mobile phones as mobile devices, whether using PoW or PoS mining, will face the squalor of the soil.
PoW mining requires a lot of energy as a support, and the computing power of mobile phones is hard to compare with shoulder mining machines and PCs. Even PoS mining requires mobile phone real-time networking to interact with data. This not only reduces the battery life, but also generates a lot of traffic costs.
However, the "mobile phone mining", which is difficult to establish, is still difficult to establish. The combination of blockchain and mobile phone still has an imaginary space.
In May 2018, a generation of smart phone overlord HTC, quietly launched the "blockchain mobile phone" promotion page on the official website.
This series of mobile phones was named "Exodus" by HTC. In the Bible, Moses walked out of Egypt and got rid of the life of slavery. For the unfavorable HTC, the blockchain mobile phone is named "Exodus", which is obviously full of meaning.
At the end of 2018, the first product of the Exodus series, "Exodus 1", was launched. On the official website, the founder of Ethereum V God and the founder of Litecoin Li Qiwei is its platform.
HTC claims that the Exodus 1 phone has a blockchain security module that is independent of the Android system and comes pre-loaded with a digital currency wallet called "Zion", which supports multiple currencies including BTC, ETH, and LTC.
(Zion Wallet built in HTC Exodus 1)
But Exodus 1 also encountered some controversy. According to Bitcoin.com, Zion Wallet has no significant advantage in privacy, security and ease of use compared to other digital currency wallet apps.
"Exodus 1 in terms of appearance, hardware parameters, and HTC's U12+ is exactly the same, in fact, U12+ sets a blockchain shell." A mobile phone player said.
In terms of price, Exodus 1 and HTC U12+ are also priced at $699. The only difference is that Exodus 1 supports digital currency payment purchases.
Beyond HTC, in 2019, Samsung also built a digital currency wallet service in its latest flagship Galaxy S10.
Currently, the wallet supports 18 digital currencies, including ETH and multiple ERC20 Tokens. However, the wallet does not currently support Bitcoin.
In addition to digital currency storage and transfer, the Galaxy S10's built-in wallet also supports DApp access. Four DApps, including the Mystery Cat CryptoKitties, were even pre-installed on the phone.
Some players in the currency circle commented that Samsung is one of the mobile phone brands with the highest market share in the world. Its flagship model provides blockchain related services, which is undoubtedly a positive for the blockchain industry.
"From the cottage brand mobile phone to dig the air currency, to the mainstream brand built-in digital currency wallet, the combination of blockchain and mobile phone is becoming more formal." Blockchain mobile phone operator Sun Zhixue told a blockchain reporter.
"Samsung's actions in the blockchain field may have a demonstration effect on other mobile phone manufacturers. In the future, there may be more mobile phone manufacturers to follow up." Sun Zhixue said.
Some practitioners believe that the 2018 hot mobile phone mining, but many mobile phone brands use the blockchain as a gimmick, selling mobile phones at a premium.
The essence is to cut the leek.
After the chaos of cutting amaranth, the addition of giants such as HTC and Samsung made people see a new hope.
The combination of smartphones and blockchains may just begin.
* The respondents in the article are all pseudonyms.
(Text: Ratchet Pizza; Source: A blockchain)
We will continue to update Blocking; if you have any questions or suggestions, please contact us!
Was this article helpful?
93 out of 132 found this helpful