The person in charge of the fund project BHB was arrested and brought to justice
According to the news of the Public Security Bureau of Qingshen County Public Security Bureau of Sichuan Province, the main person in charge of the BHB fund project in the name of blockchain and virtual currency has been criminally detained by the Qingshen County Public Security Bureau, and the case is being further investigated.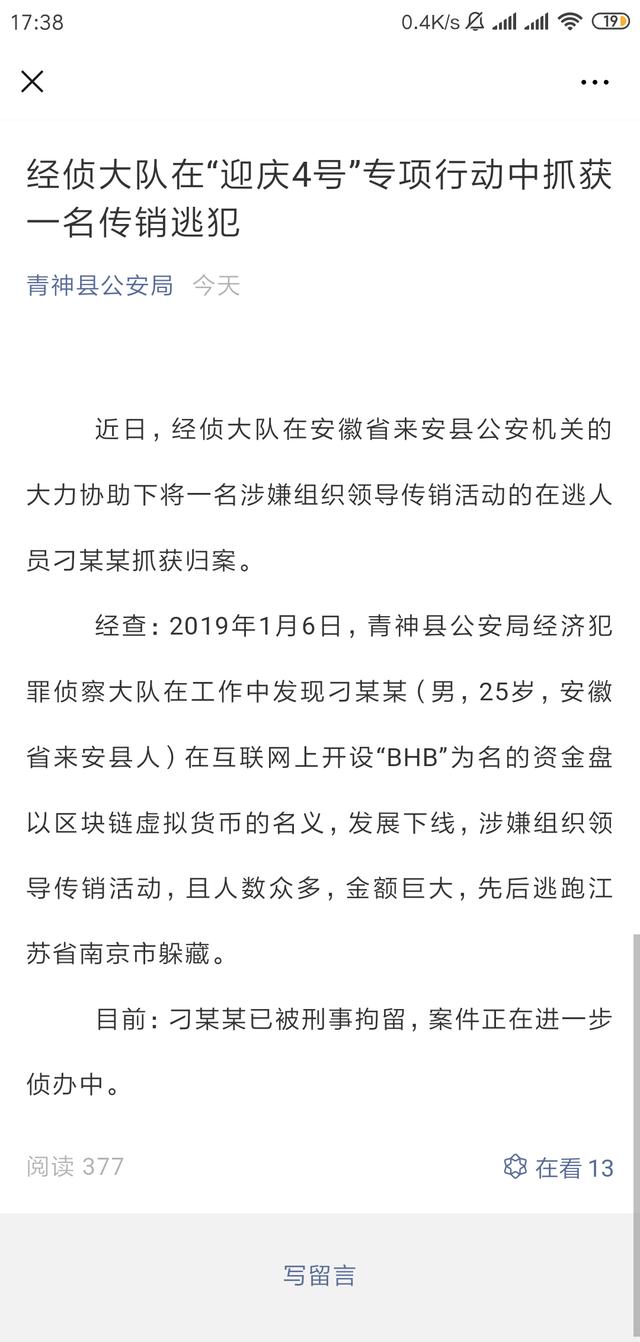 Qingshen County Public Security Bureau WeChat public number screenshot
According to previous news, BHB carried out propaganda on WeChat group on December 2, 2018. The initial investment was 8,000 yuan, and the funds were raised by head-to-head. The daily dividend was 1.3%. The daily dividend of USDB was issued by the number of BHBs held by the account the day before. Subsequent withdrawals to the trading platform BXTC.CX converted into RMB to obtain income.
According to 31QU's previous article "Bear of the Bear" BHB: Losing money in BTC, earning back from BHB? "The BHB project has been wooing Fengjie and the famous Celebrity Chen Anzhi as its platform.
However, later, the company named "Hangzhou Coin Air" closed on February 12 this year, and the company has also canceled. The platform locks all users' BHBs, stops dividends, and stops all cash withdrawal operations.
According to the media "list of funds", cryptocurrency researcher Zhang Jie pointed out that the BHB case involved more than 2 billion yuan in funds: "The initial conservative calculation of this virtual currency scam, with a bottom investment of 8,000 yuan, more than 25,000 people participated , 1 yuan issue price, then the funds raised by this BHB is 200 million yuan, then the fake exchange represented by Li Renbing and other bankers use the money to pull the disk, the price of the currency is up to 12 yuan, the entire fund The disk size is 2.4 billion yuan."
Li Renbing, who has already run the road, not only uses the currency platform and the money issued by Jinan to issue BHB money fraud, he also engaged in other four virtual currency funds called spinach, quantification, sword fund, and small secret ring futures. There are five BHBs on the list. Now these five currencies have collapsed. The actual quilt investors may be far more than 25,000, and the funds that have been circled are far more than 3 billion.
Source /31QU
Text / small shell
We will continue to update Blocking; if you have any questions or suggestions, please contact us!
Was this article helpful?
93 out of 132 found this helpful