In the past two years, cryptocurrency fraud on social media has long been commonplace.
According to reports, in January 2019, someone on Twitter scammed millions of cryptocurrencies by pretending to be a well-known blockchain character.
Now, there is a new form of fraud on the platform, where scammers use another type of encryption scam formed by technical characters or photos of companies like Coinbase.
New encryption scam on Twitter
There is a new scam on encrypted Twitter, where scammers promote so-called BTC giveaways by sharing screenshots of famous cryptocurrencies and technical celebrities. Often, these fraudsters post a seemingly popular post with hundreds or thousands of likes and a "good news" tag with a photo of Coinbase. It offers a BTC giveaway to appeal to real users. These tweets are blatant scams designed to deceive individuals and convince them that their account balances will increase.
For example, on August 12th, Morgan Creek co-founder Anthony "Pomp" Pompliano posted a letter to investors on Twitter that he would normally receive every week, where people can sign up and receive regular emails from Pomp. Under Pomp's tweet is an account called "Adam [ BTC/ HODL]". The comment says: "Thanks to Coinbase, I just received 1.90680 BTC. Anyone can participate, and the rest is not much." Under the statement is a fake Coinbase account screenshot:
To celebrate 50 million users, we decided to host 5,000 BTC giveaways. You can use any wallet or exchange to participate in our promotional website. If your participation fails, your BTC will be returned, thank you for your support. -Coinbase team

Under the tweet, another Twitter scam account "Sierra" commented: "OMG – just got 2 BTC, thanks for sharing." There are 59 people who liked her tweets. ADA's Charles Hoskinson was also deceived on Twitter by another fake account called "Charrlees Hooskiinson." The photo shared here is a photo of a fake Elon Musk account that reads: "Our marketing department at Tesla headquarters put forward an idea: special BTC and ETH giving events for all encrypted fans." Like the fake Coinbase account image, the fake Musk account shares a website that is said to double the assets, which turns out to be false.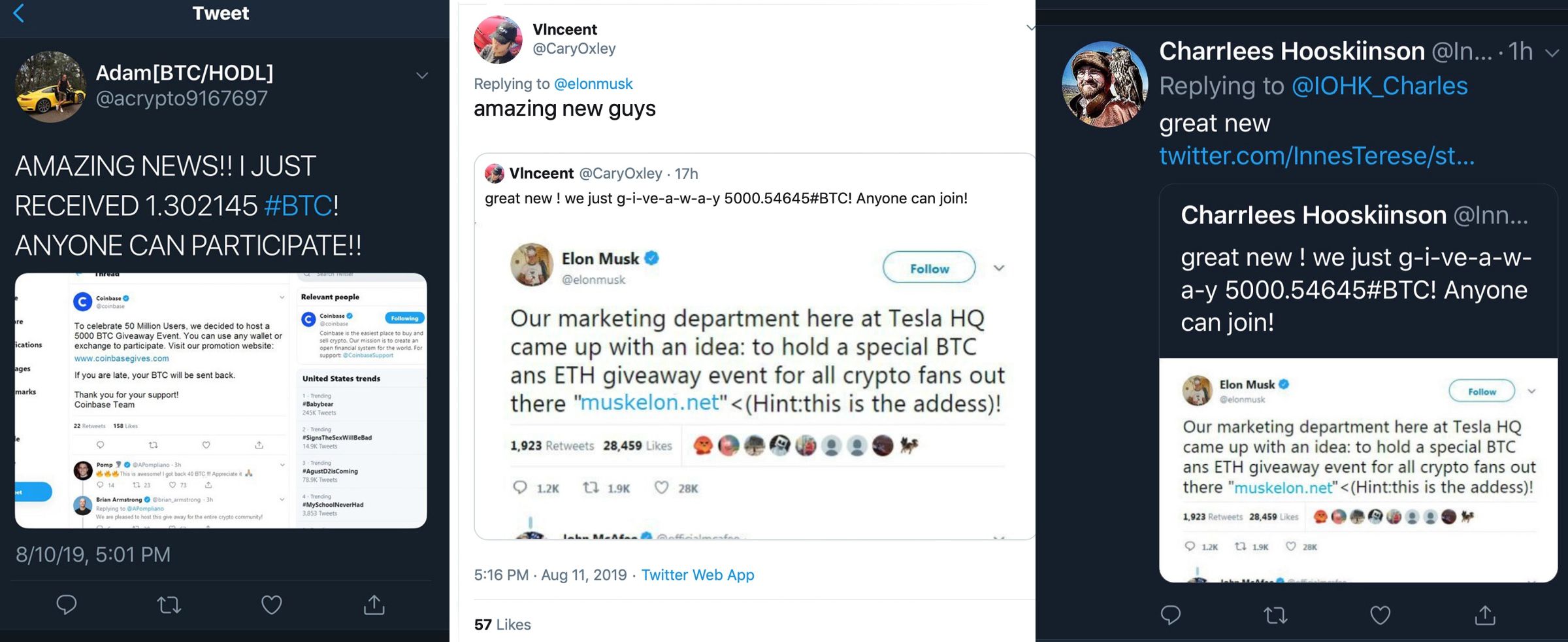 (These tweets can be seen on hundreds of popular encrypted Twitter threads)
Posing as an outstanding cryptographic influencer
When investigating the first fraudulent website associated with these scams, we found that visitors could see the Coinbase logo and a message for new customers. The website said that if a person sends 0.1 to 10 BTC to that address, they will receive a return of up to 1~100 BTC. Below is the BTC address that people can send funds to. The address will change periodically since the investigation.Bitcoin.com survey.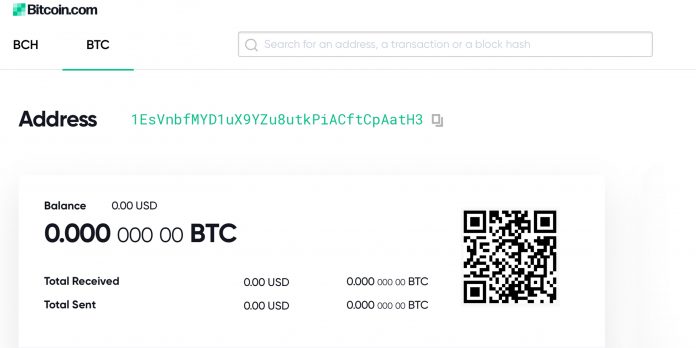 (The address provided by the fake Twitter account is empty, but the fake browser on the fraudulent website shows the transaction)
The gift website scam showed on August 13 that the current address does not have a BTC and has never recorded any transactions related to that address. However, visitors to the site received different feedback because the site displayed a virtual blockchain browser designed to deceive people's trust and make them really believe that assets are doubling. It appears on the fake browser that someone has just deposited 8 BTC and 88 BTCs have been sent back to the original address, but on a real blockchain browser, these transactions do not exist.

(The scammer Twitter post has a fake image with a URL address that allows people to find a fake Coinbase "doubler" site)
Tesla founder Elon Musk is also the target of Twitter scams, and in the photo we found another BTC doubling scam. The implementation of con is the same as that of Coinbase. Some Twitter accounts share a fake picture, while other fake accounts will comment that they have just acquired several BTCs. The website in the photo will also have a fake Tesla page that is almost identical to the Coinbase version, but it is red with the Tesla logo. As before, they display fictional BTC transactions in a virtual blockchain browser. At the same time, there is a progress bar showing how many BTCs remain in the so-called "doubling pot". The longer you stay on the site, the more BTC you miss.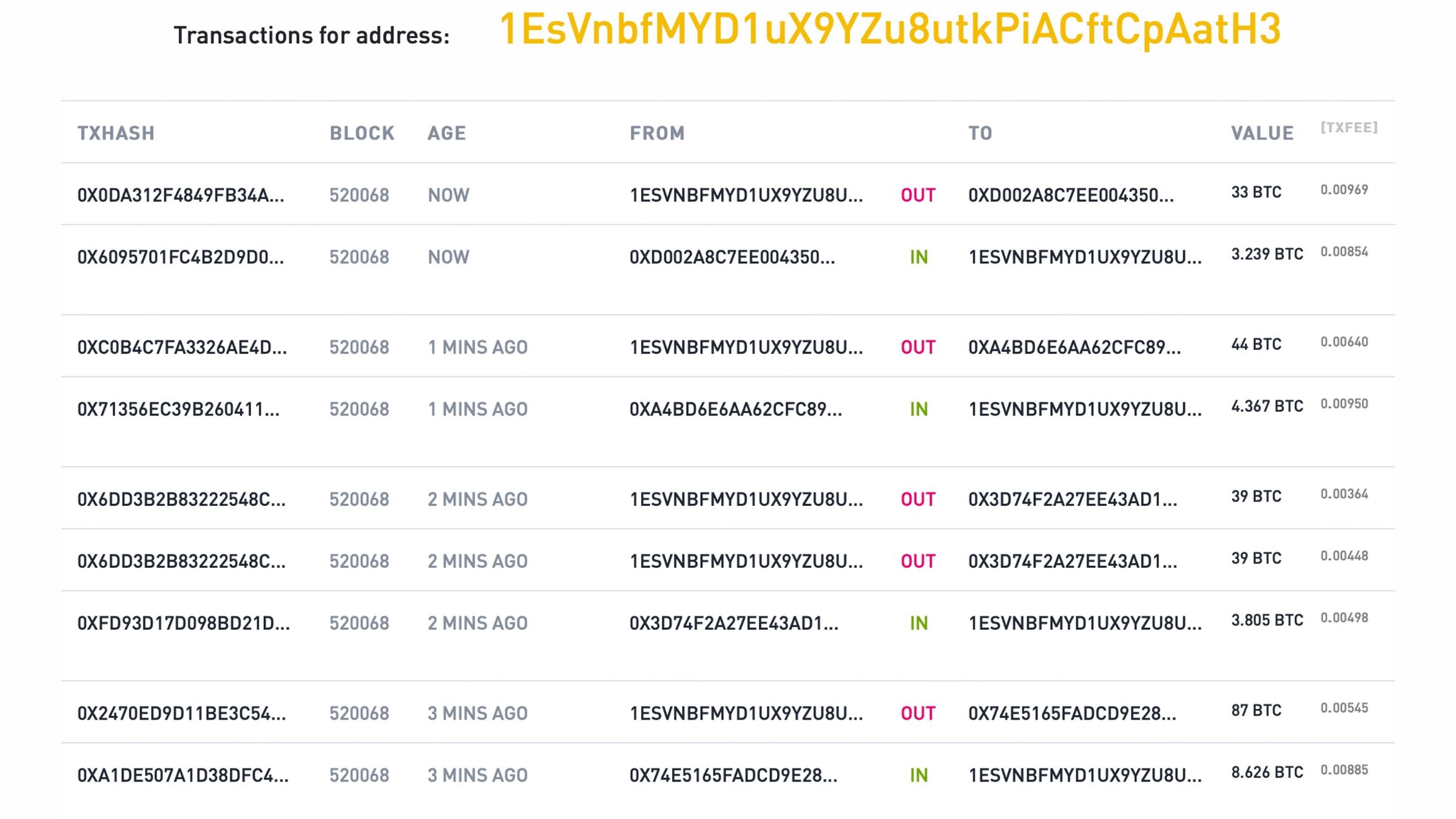 (Fake blockchain browser on the page)
Twitter scams intensify, encryption novices lose millions of dollars
It's not yet clear whether Twitter knows the latest scams around encryption. Last year, the researchers found some experimental data confirming that there were about 15,000 cryptocurrency fraud accounts on Twitter.
These tweets are still going on, and people are still complaining to Twitter about this obvious scam every day. A user said in a tweet on Monday:
It is impossible for people to say on Twitter that they will give away free money. This is a downright scam. This is already a cliché.

Another insider sent a tweet saying:
Someone has been creating accounts on Twitter and trying to defraud people's encrypted assets by constantly responding to tweets from community celebrities. This is a scam.
In March 2018, encryption influencer EminGun Sirer told Twitter owner Jack Dorsey that the scams were getting out of control and asked them: "If you can't find such a shameless scam, how do you want to improve your platform." On the same day, Dorsey responded to Sirer's post and said: "We are working hard."
Original link: Bitcoin.com| Encrypted scams are becoming more and more mad, please be careful to avoid traps!

Disclaimer: This article translates the article for the news.bitcoin.com official website, and at the end of the text, the original text link is attached, thank you for your support.