US debts are upside down, bitcoin plummets
Yesterday, the US stock market Dow Jones fell 800 points, the digital currency market also fell, bitcoin once fell below 10,000 dollars, the mainstream and the altcoin fell. For the current market, how do big Vs look?
Bitcoin trader Rhythm:
Danger signal:
– Dow Jones index fell 800 points (down 3.05%)
– The Standard & Poor's 500 Index fell 3% (the actual decline yesterday was -2.93%)
– The 2-year Treasury and 10-Year Treasury yield curves have been upside down for the first time since 2007 (financial analysts believe this may be a sign of the US recession)
– 30-year government bond yield is at a low level (current yield is 2.0738%)
– President Trump is firing at the Fed (the Fed is raising interest rates too early and the rate cut is too slow)
Bitcoin has never experienced a recession, and my advice is to pay close attention.
( Note: The Bitcoin white paper was released on November 1, 2008, and the creation block was born on January 3, 2009. Bitcoin appeared after the 2008 financial crisis, so Rhythm said Bitcoin has not experienced a recession. )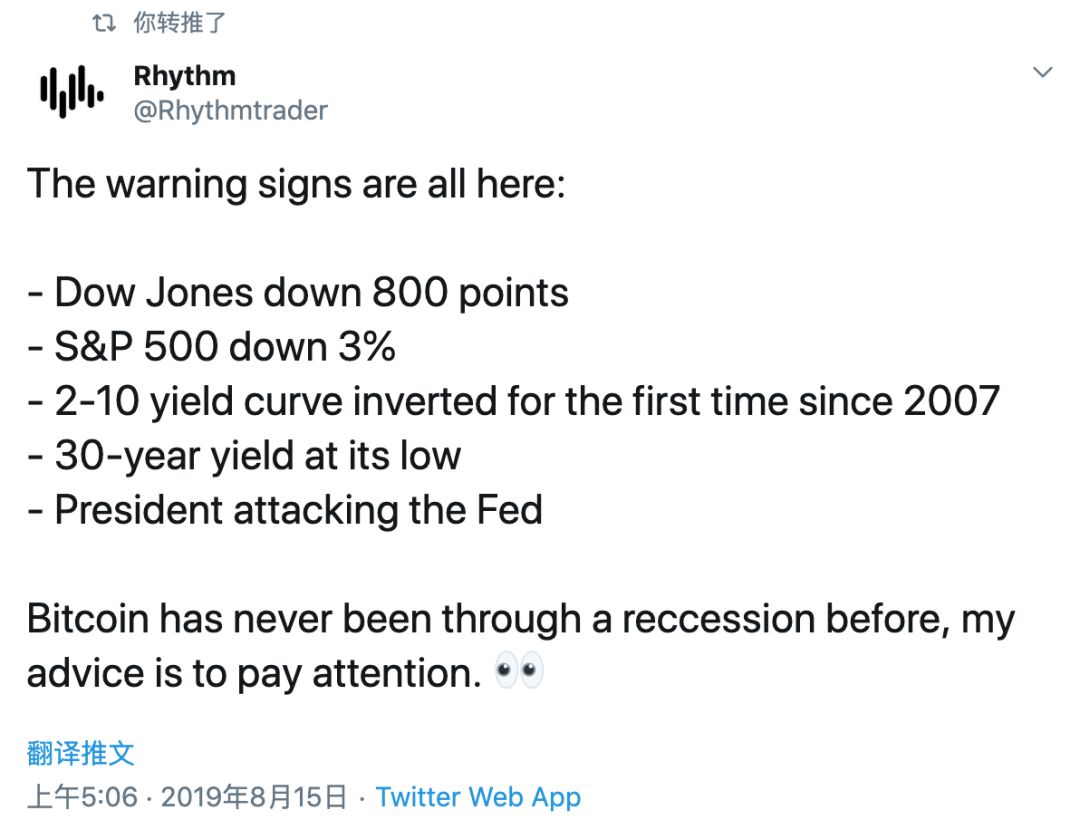 Anonymous trader, analyst Bitcoin Macro:
Bitcoin has risen 300% from this year's low.
Therefore, we can assume that we are in a new bull market cycle unless the market is completely reversed in the next few weeks.
This happened, so don't panic and make emotional decisions.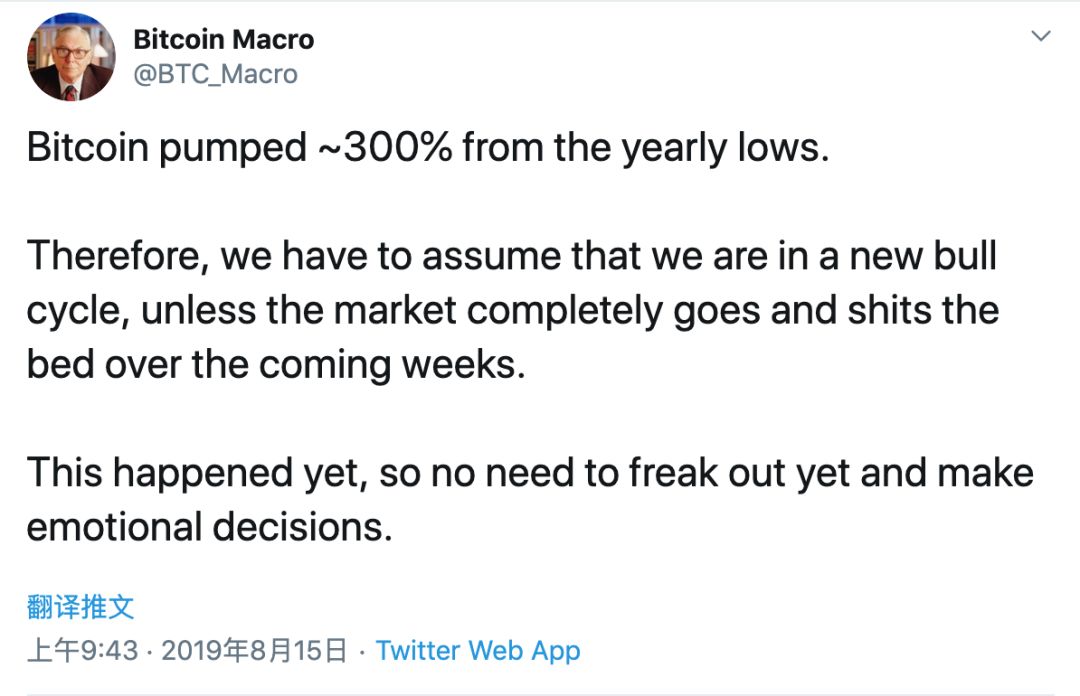 Bitcoin senior trader Peter Brandt:
Will Ripple (XRP) be manipulated to maintain $0.24? (0.24 US dollars) This position is a serious collapse, it is likely to reach 0.20725 US dollars.
( Note: XRP coins were dubbed "stabilized coins" in 2019. They have been smashed for a whole year in the case of bitcoin and the mainstream have risen. They fell below a one-year low yesterday. )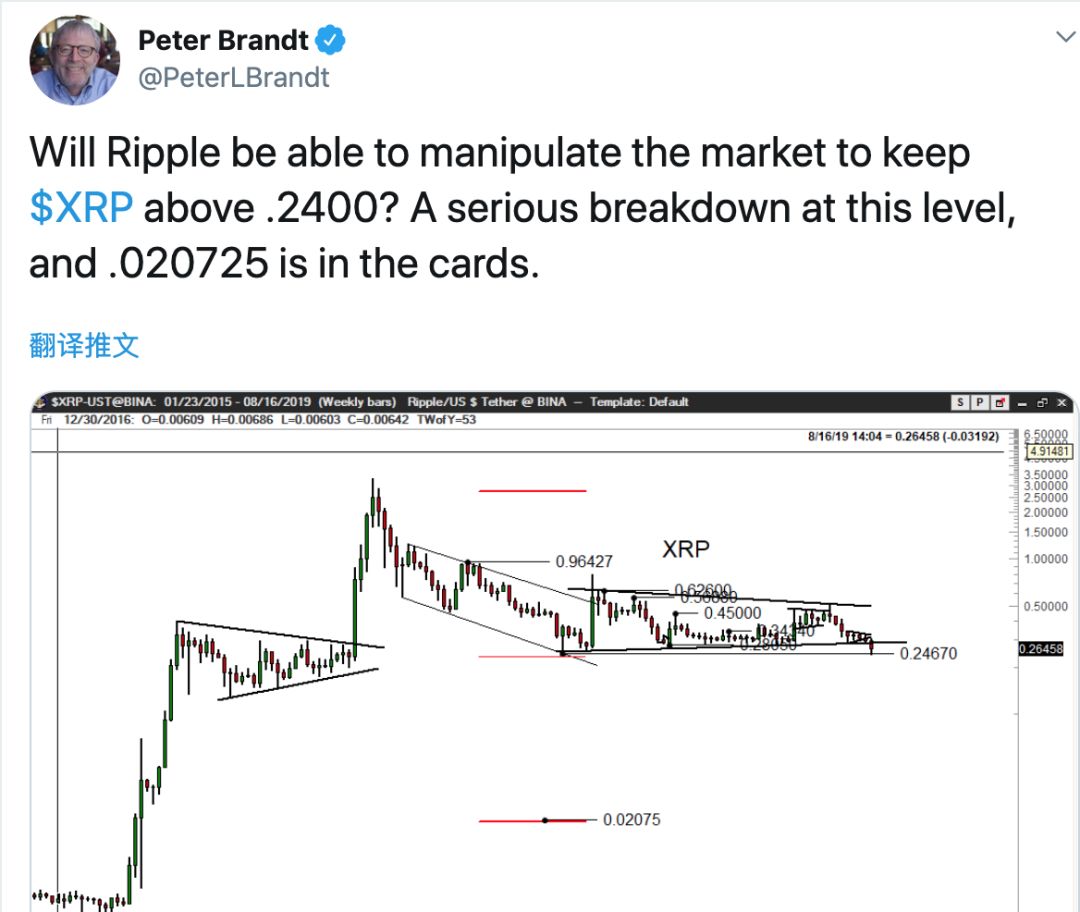 Many months of data show that Rippo distributes XRP to control prices to get support. But if the support disappears, Ruibo will be forced to fall sharply.

Banks are reluctant to serve the encryption market because risk is greater than revenue
The Block analyst Larry Cermak:
I did some research on encryption-friendly banks because Barclays Bank suspended banking services for Coinbase this week. Big banks are still reluctant to provide banking services for cryptocurrencies because compliance costs and reputational risks continue to increase beyond the benefits of the early cryptocurrency market.
The total assets of all cryptographic services banks based in the United States add up to no more than $70 billion, less than 3% of JPMorgan's total assets. ( Note: Here is the total assets rather than the market value. After verification, JPMorgan's current total assets are about 2.6 trillion US dollars and the market value is 335 billion US dollars. )
The average bank with an encrypted friend is $5.2 billion. Nearly one-third of the encrypted friendly banks offer cryptocurrency hosting services.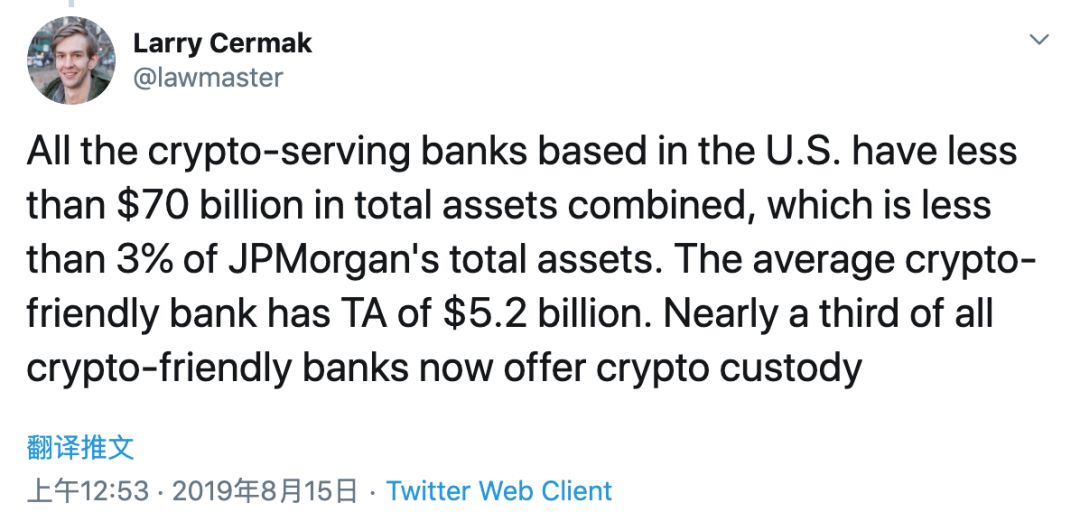 "Bitcoin King" Pomp and "Golden Bugs" Peter's online debate again
Since the beginning of this month, "Bitco Milk King" Pomp and "Golden Worm" Peter Schiff debated in the CNBC a show of gold and bitcoin, today, two believers in their respective fields are on Twitter again. Debate started, let's see if they all said 啥~
Morgan Creek co-founder Pomp:
The price of Bitcoin may fall by 50% from the price of $10,600 today, but the performance of the digital currency in 2019 will still exceed the S&P 500.
Peter Schiff, President of Euro Pacific Capital, a gold lover:
Yes, this is the case when Bitcoin only drops 50%. But the problem with Bitcoin Hodler is that the decline may exceed 50%.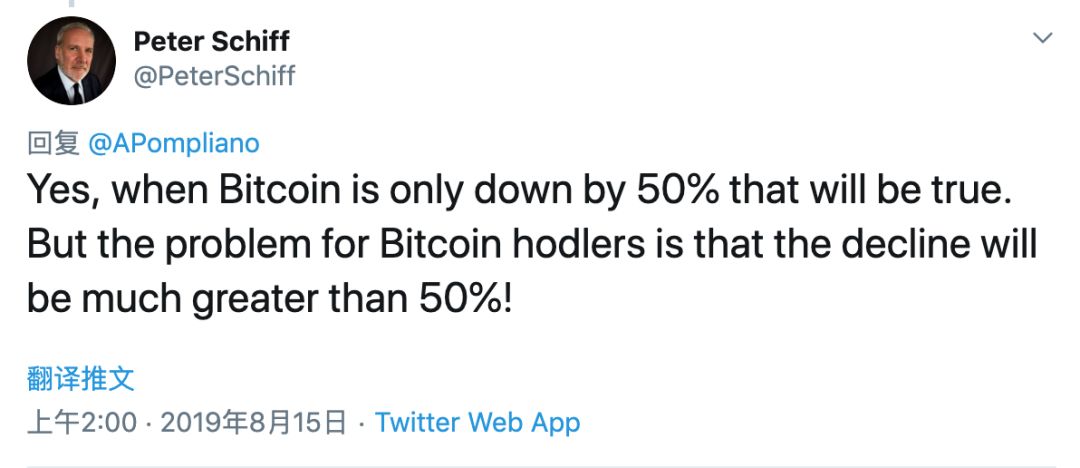 Pomp: The next 50% decline in Bitcoin is after Bitcoin has risen several times. Remember, Bitcoin has risen 200% this year.
I heard that gold has an important moment recently – up 2%. congratulate.
Peter: Your partner just ignored the sharp drop in Bitcoin today on the CNBC show, and Bitcoin failed to act as a safe haven. He said that don't care about daily fluctuations. However, when Bitcoin rose due to market weakness, he pointed out that this inverse correlation proves that Bitcoin is a value store.
Pomp: Bitcoin is the best performing asset of the past decade. In fact, Bitcoin is the best performing asset in history.
Discuss anything other than Bitcoin performance. I hope that you don't discuss topics that are too easy for me.
I may buy a gold watch, maybe not.
Peter: I admit that Bitcoin is the best performing asset of the past decade. Congratulations on having it. But it could be the worst performing asset in the next decade (other cryptocurrencies might beat it). Therefore, I should congratulate you after you sell Bitcoin.
Pomp: I want to bet $100,000 (or 10 bitcoins), and the next 10 years of bitcoin outperforms gold.
Don't make a mouth shot, use actual action?
Peter: I have already made a bigger bet than this. Half of my personal portfolio is gold and silver stocks. As far as I know, a greater percentage of your net worth is on Bitcoin. ( Note: Pomp once said that more than 50% of its net worth is allocated Bitcoin in a show. ) If the bet is true, you are likely to have no $100,000 to pay the bet after ten years.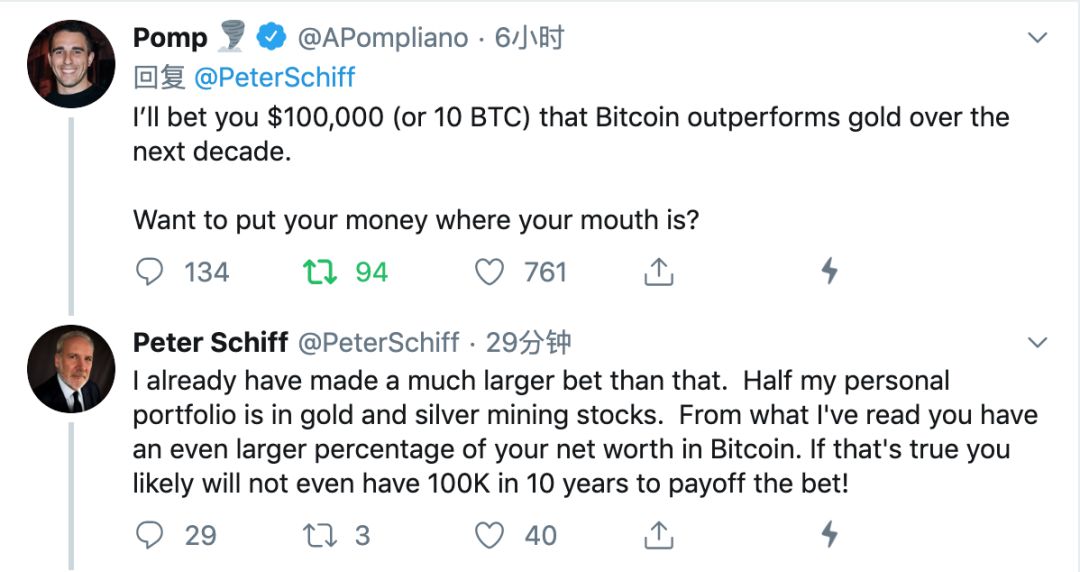 1. According to The Block, the Internal Revenue Service is issuing a new round of letters to cryptocurrency holders. The letter lists the specific tax amounts owed by these recipients.
As early as July of this year, the IRS sent letters to these cryptocurrency holders asking them to submit asset statements and pay the corresponding taxes.
2. According to Cointelegraph, the Mavericks became the second NBA team to accept Bitcoin as a ticket and merchandise payment method. The team used Bitpay's service to receive bitcoin payments from fans.
( Note: The first team to support is the Kings. The Kings accepted Bitcoin to pay for the team's promotional products and tickets as early as 2014. )
—— End ——
Turn around every day and see the big coffee point of view, bringing you the freshest and most interesting points. Welcome message, forward!