Whether Overstock can once again rely on the blockchain hotspot "secondary life" remains to be discussed.
On August 12th, Overstock's blockchain company tZero announced that its equity securities, TZROP, which was issued in private in August 2018, is now resaleable to non-accredited investors who hold the token. Investors will split the company's 10% profit quarterly, which can be paid not only in US dollars, but also in cryptocurrencies such as Bitcoin (BTC) and Ethereum (ETH).
The move means that tZero's STO token TZROP is now open to the public for secondary market transactions, and this progress is roughly the same as tZero's roadmap announced in October last year.
Analysts at TheBlock, an offshore blockchain media, believe that the opening of the TZROP secondary market will improve tZero's liquidity and increase the revenue of Overstock's blockchain segment, thereby expanding Overstock's cash flow in the coming year.
However, in view of the development trend of tZero and TZROP, it may not be significant for TZROP to open the secondary market to the public.
According to Caijing.com, it is known that Overstock, which actively embraces the blockchain industry, has relied on blockchain hotspots to "renew" once, but three years have passed, Overstock still fails to achieve substantial profit on the blockchain, and Overstock Today's main push business STO is also in the market.
Therefore, whether Overstock can rely on the blockchain hotspot again to "secondary renewal" remains to be discussed.
Overstock actively embraces cryptocurrency stocks to record highs
Overstock was launched in 1999 as a well-known online shopping site in the United States and one of the world's most famous online processing companies. But with the emergence of new giants such as Amazon and Ebay in the e-commerce sector, Overstock's competitiveness is getting weaker. Since 2009, Overstock's US stock market has continued to be sluggish. Overstock's earnings report shows that Overstock has been in a negative profit for a long time.
In 2014, Overstock first announced its blockchain-based private and joint equity trading platform, officially announced its entry into the blockchain industry. Since then, Overstock has gradually transformed into a "blockchain e-commerce";
In August 2015, Overstock revealed its blockchain trading platform project TØ (now tZero), but the trading volume of the platform is not optimistic;
At the end of December 2015, the SEC passed a prospectus submitted by Overstock in the same year, which will issue a securities pass through the blockchain. As of the end of 2015, Overstock did not rely on the blockchain to achieve any profit;
Until 2016, Overstock's subsidiary t0.com.Inc(tZero) announced the successful launch of its registered securities on its distributed ledger platform and raised approximately $1.9 million in funds;
In August 2017, Overstock announced that it has begun to fully accept Ethereum;
Overstock's efforts have been well reflected in its stock market price. Although the growth rate in the short term is not large, the market price of Overstock has been slowly rising since 2014.
At the end of 2017, Bitcoin hit the US$20,000 mark several times. In the context of the bull market, Overstock actively embraced ICO.
In October 2017, its CEO Patrick Byrne announced in public that Overstock's holding subsidiary, tZERO, will issue 500 million tokens called "tZERO", which is expected to raise more than $500 million in funds;
In addition to issuing tokens, Byrne has repeatedly stated that it is preparing to sell Overstock's retail business and is fully committed to the development of the blockchain business.
Therefore, in Q4 2017, Overstock's market price rose sharply, reaching a maximum of 82.10 US dollars, and the quarterly increase was over 200%.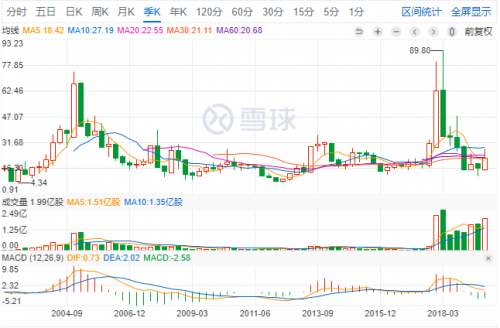 In addition to the performance in the US stock market, Overstock, which has a difficult business development, has also won the favor of traditional capital.
In January 2018, Overstock stated in a filing with the Securities and Exchange Commission (SEC) that a warrant holder had just purchased the company's $100 million stock. Later, many sources showed that the warrant holder was Soros.
In the same month, Overstock's share price reached its highest price since its listing – $89.80. Overstock even once became the representative of the traditional giants entering the blockchain industry.
After the highlights
After the high light, if there is no actual results to support, it will show up.
In 2018, Overstock entered the blockchain business for nearly four years, but it has always been a state of thunder and heavy rain. The strategy of stimulating the stock price of the secondary market through the news has gradually become invalid. The ICO model has also begun to be increasingly regulated in countries.
As the ICO dividend faded, Overstock gradually began to end his blockchain revelry.
In February 2018, Overstock began to fall all the way. Although some analysts believe that the emergence of Overstock can provide a bridge for traditional capital to enter Bitcoin, this view has not been recognized in the capital market, nor even played a role in encouraging the secondary market.
During the period, Overstock shifted its ICO strategy to STO financing. Compared to the barbaric ICO, STO is closer to regulation and more in line with regulatory requirements.
Around October 2018, STO ushered in the glory. In the bear market that has been going on for more than half a year, STO brings hope to many investors.
Overstock has set itself up as a "STO forerunner". On October 12, 2018, Overstock announced that one of the first STOs based on Ethereum, tZero, had completed the Securities Substitution (STO) on October 12.
Since then, Overstock has started to release relevant news frequently.
On January 3, 2019, Overstock announced that it will use Bitcoin to pay commercial activity tax from February this year, which will be completed through OhioCrypto.com;
On January 8, 2019, it was reported that Overstock's blockchain company tZERO has applied for a patent for the "Encryption Integration Platform";
At the end of January 2019, tZero, which is the STO trading platform, was officially launched;
On March 12, 2019, Overici's blockchain company Medici Ventures announced that it has acquired a 5.1% stake in Bankorus, a blockchain banking platform;
From January 2019 to February 2019, Overstock's secondary market experienced a brief recovery, but based on the unclear prospects of STO, Overstock did not rely on this initiative to pay for its lost ground in the secondary market. ".
By May of this year, Overstock's market price once reached an all-time low of $8.96, a drop of 90% from the highest point.
tZ ero foreground geometry?
On August 9, US e-commerce giant Overstock announced its second quarterly financial report for 2019. The report shows that Overstock's total revenue was approximately $374 million and pre-tax loss of $28 million for the entire Q2 quarter. The profit before tax depreciation and amortization was $1.6 million.
According to the financial network and chain financial inquiry, the stock price of Overstock on the day of Q2 financial report increased by 18.32%. On August 12, the highest price rose to 26.46 US dollars per share, but then began to fall back. Now it is reported at 20.58 US dollars per share, which is the highest price on Monday. The decline has exceeded 22%, and this price has fallen by 77% compared to its highest point since its listing.
Based on the financial report data, Overstock described its Q2 retail performance and blockchain performance as "strong performance" and said that its launch of tZero is a killer application in the industry, which is conducive to bringing blockchain products into the real world.
It is undeniable that tZero is indeed the head product in the STO field, but the overall value of tZERO is still open to question.
In fact, looking at Overstock's Q2 financial report chain, Finance learned that whether it is retail business or blockchain business, its transcripts handed over in Q2 is not optimistic, the most obvious is Overstock's quarterly revenue and earnings per share. The revenue is still lower than expected.
Although gross margins rose by 0.8%, the main reason for the increase was the reduction in costs and the reduction in sales and marketing activities. In Q2 2019, Overstock's sales and marketing expenses decreased by 63%.
However, the significant reduction in sales and marketing activities led to a decrease in total net income. Among its key indicators, total net revenue in Q2 decreased by 23% year-on-year, and quarterly gross profit decreased by 19%.
Unlike many blockchain concept stocks that are now in the limelight, Overstock has invested a lot of real money in the blockchain field and has focused on financial markets in the blockchain sector, but so far Its blockchain business still failed to generate higher income.
On its consolidated cash flow statement, it did not disclose its cash flow from the issuance of STO in 2019.

However, as far as its consolidated business statement is concerned, the retail business accounted for 98.3% of its total revenue, and the revenue generated by tZero business only accounted for 1.5% of its retail business income. In this case, the pre-tax loss of tZero business is The pre-tax loss of the retail business is 10% higher. In the same period of 2018, the pre-tax loss of the tZero business was much lower than the current level.
Although the marginal contribution of the current tZero business is slightly higher than the retail business, this does not mean that the tZero business is a good business.
As can be seen from the previous article, tZero successfully issued the securities-type TZROP in October last year, which is the first STO case completed on the Ethereum main website. However, after officially launched in January this year, TZROP has fallen 60% from the opening price in less than 10 days.
According to media reports, although TZROP has plummeted all the way, tZero CEO Saum Noursalehi is still confident about the future. He believes that the value of TZROP is only suppressed in a short period of time, and then will fully recover, and will exceed 10 before opening the transaction to the public. Dollar.
As far as the status quo is concerned, the beautiful vision of SaumNoursalehi has been lost. And unlike the hot environment of STO last year, STO has no sound in the market.
In addition to the market price plummeted, the tZero platform itself is also questioned.
According to comprehensive reports, tZero has experienced technical failures many times after going online, and the daily life is low. Based on the predicament of fewer STO market stock users, it is difficult for tZero to obtain a large number of new users.
According to the statistics of the interchain pulse in early August, as of August 5, the total monthly financing of cryptocurrency in 2019 was basically maintained at between 2-3 billion US dollars, but in July, the total financing amount of ICO, IEO and STO in the cryptocurrency market was insufficient. US$100 million fell to US$48 million, down 83.13% from June. Among them, STO is no more financing.
Therefore, although TZROP, the only supported currency on tZero, has opened up secondary market transactions, its trading volume is not optimistic. According to the financial verification on the chain, there is currently no transaction information displayed on the tZero official website.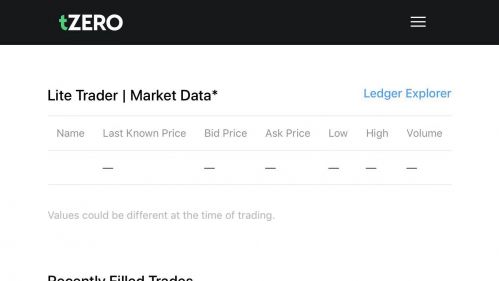 Suddenly, tZero, which is linked to the STO hotspot, may not be suitable for helping Overstock to turn over. But for Overstock, the blockchain business is becoming a low-yield product with high investment and low return, but based on the huge sweetness that was previously relied on the blockchain, Overstock, which is difficult to transform in traditional business, is also difficult to Pull out in the blockchain.
Source: Financial Network · Chain Finance