Foreword: After five years of development, what kind of transcripts did Ethereine hand over? What do you expect from the future? At present, it is a crucial period for the development of the public chain. Everyone has many different opinions. The public chain needs to further break through in terms of performance and cost, and it needs to be further explored in the landing scene. In the long run, the public chain is still in its early stages and there are many opportunities to prove itself.
Five years ago, on July 22, 2014, Ethereum opened crowdfunding, igniting the glory days of developers, start-ups, entrepreneurs and businesses. Five years later, the blockchain ecosystem has become more diverse, global, and increasingly fragmented, and has continued to increase in importance, recognition, and visibility.
To a large extent, the blockchain ecosystem has regained its nascent life after experiencing a record high of 2018 and then quickly rushing. The discussion around the controversial bear market has slowly come to the consensus that despite the volatility of market prices, the friction of the entire industry has allowed the winter of encryption to begin to thaw and grow into a strong, stable and growing ecosystem. Especially for Ethereum, 2019 is full of various activities, market interests and technological upgrades.
Network activity
Since the autonomous online line, Ethere has handled more than 500 million transactions (as of July 17, it was 500 million transactions). In 2019 alone, more than 130 million transactions have been processed, and network utilization is still fairly stable, averaging less than 90%. There are more than 70 million unique addresses on Ethereum, of which 16 million (16%) have been created since the beginning of the year.
On June 1, 616,000 active addresses were traded on the Internet, the busiest of the 19-year network. The total supply of Ethereum is 106 million, with an average of 2.28 ETHs per address. Excluding the top 500 addresses (37% of the total supply) with the number of ETHs, the average holding of each address is 1.43 ETHs.
Daily Trading Volume [Left] | Unique Address Growth [Right] | Source: Aleth.io
The Ethereum network carried out the Constantinople upgrade in February, a planned hard fork to upgrade the network and bring it closer to the multi-stage Serenity upgrade. Includes (among other things) switching to PoS. The upgrade to Constantinople includes a total of five Ethereum Improvements (EIP). It is worth noting that EIP 1234 reduced the block reward from 3 ETH to 2 ETH, a development known as "The Thirdening." (Eaiba's third block reward was halved).
Enterprise application
Enterprises have always been the forerunners in the application of blockchain technology in traditional institutions. Large enterprises help drive the development of the entire industry through investment, innovation, PoC and partnerships, and bring more opportunities for the development of decentralized technology. By 19 years, "privacy transactions" have become a theme in corporate activities.
Libra's release demonstrates people's desire for user data privacy, although there are many ideological, regulatory, and technical considerations. In April, PegaSys, supported by ConsenSys, released Pantheon 1.1, which will introduce Orion, a trusted computing and privacy component, to address corporate concerns about Ethereum privacy. In May, Ernst & Young launched a set of standards and agreements to improve privacy transactions on Ethereum. The project, called Nightfall, is released on Github as an open source, allowing any ERC-20 or ERC-721 token to be traded in a "completely private" manner.
Consulting companies and research institutions have affirmed the rapid exploration of blockchain technology. According to a June report by Gartner, by 2025, the blockchain will add $176 billion worth to businesses and will increase by $3.1 trillion by 2030. Of this increase of $3.1 trillion, less than $100 million comes from in-house innovation and improved exploration.
At the end of 2018, Deloitte published a report after interviewing 1,000 executives who are optimistic about blockchain technology, summarizing their 19-year plans. Among them, 95% of executives said their company plans to invest in blockchain technology in 2019. Nearly 40% of executives plan to invest at least $5 million. 84% of executives believe that the blockchain is scalable and will enable large-scale mainstream applications, but 39% of executives believe the technology is currently "over-hyped". In Deloitte's report, executives from the automotive, oil and gas, and life sciences industries are most promising prospects for blockchain technology, followed by executives in the financial services industry.
Deloitte source: Deloitte
From the overall trend, corporate executives are carefully exploring the opportunities brought about by decentralized technology. One example is Wall Street investment banking giant Goldman Sachs, who silently released a recruitment program for digital asset project managers to join their internal incubator project.
Countries are eager to try
In 2019, governments have gradually shifted from investing in exploring blockchains to launching related pilot projects to promote the modernization of public sector operations. For example, the Luxembourg government supports blockchain start-ups through projects such as Mind & Market, Horizon 2020, Lhoft, Letzblock and LuxInnovation; Germany supports blockchain projects through the German Blockchain Bundesverband project; the Swiss government supports blockchains through Blockchain Federation project,
Zigurat Innovation and Technology Business School
Currently, Europe is leading this trend, with 29 of the 44 European countries signing into the European Blockchain Partnership to establish the European Blockchain Service Infrastructure (ESBI). Some governments around the world are also exploring the use of blockchain technology in national government operations: for example, Georgia uses blockchain technology to streamline the land registration process, and Changzhou, China and Alibaba have jointly developed the use of blockchain technology to ensure medical care. Data security, the Australian government uses blockchain technology to trace and trace its key export commodity, sugar.
Dozens of local and central banks are actively exploring the use of blockchain technology to address the efficiency of several long-standing problems. UnionBank launched the i2i project to address high remittance costs; the Brazilian central bank is currently exploring the use of distributed ledger technology to develop an interbank emergency payment and resilience system (Project Salt), as well as a distributed information exchange platform (Project Pier); Bank of Thailand, Reserve Bank of South Africa and the Monetary Authority of Singapore plan to use the Central Bank to issue digital currency (CBDC) to explore alternative solutions for the current monetary system. At the end of 2018, the World Bank launched the first blockchain-based bond "bond-i", which raised $110 million, the first project that investors used blockchain technology to manage.
The United States is developing a wide range of definition rules and enforcement laws to allow the community to explore blockchain technology. For example, the Governor of Wyoming signed Act No. HB0070 in February 2019, authorizing the Secretary of State to develop and implement a blockchain file system for corporate entities and business documents. In March 2019, the Governor of South Dakota signed Act HB1196 to provide a definition of blockchain technology for specific purposes. Arkansas has signed a bill (HB1944) that stipulates that the terms of a smart contract involving a transaction should not be deprived of legal validity, validity or enforceability.
In general, innovation in the public sector is slower. It is expected that more governments will be able to explore more possibilities and development opportunities for blockchain projects in the future.
The VC is betting on the bet
Despite the volatility of cryptocurrency prices, VC funding has not stopped flowing to projects and development teams, and these projects and development teams are developing some more interesting decentralized applications. In April, according to Reuters, venture capital invested in blockchain startups ($850 million) was close to $1 billion, and in 19 years it is expected to surpass the $22.4 billion venture capital investment record in 2018. In 2018, 117 venture capital investment hit a record, and in April there were 13 investments totaling 850 million US dollars, which shows that the amount of single venture capital is larger, and blockchain technology is more favored in the field of venture capital. .
The report pointed out that venture capital will not directly enter the cryptocurrency or token field, which means that VCs still have reservations about entering the trading market. We may see that in the near future, high-risk funds are still concentrated in the field of individual traders and high-risk private funds. Conversely, venture capital funds will flow to projects and teams that support ecosystem development. That is, as Reuters mentioned, it is the point where venture capital firms are most interested in the potential of decentralization technology.
Source Pitchbook | Blockchain project invested by top VC [accumulated value]
Developer community and events
A development report released by Electric Capital in March 2019 tracks developer development in the encryption ecosystem. To date, Ethereum has the largest number of core protocol developers, with Bitcoin and Cardano ranking second and third respectively.
N = 78 items | Time: 1/31/2018–1/31/2019 | Electric Capital Internal Data | Exclude Codebases that have been closed Source: Electric Capital
In addition to core protocol development, Ethereum has an average of 216 active developers developing monthly total code. The number of developers in Ethereum remained strong and sustained. In January 2019, there were an average of 240 active developers, up 23% from 190 in 2018.
In the total code project, Ethereum performed the best, 8 times more than Bitcoin and 20 times more than XRP.
Truffle Suite, a powerful development tool for developing dApps and smart contracts, from idea to project. Since its launch in May 2015, Truffle's development environment and testing framework have been downloaded more than 2 million times. Ganache, Truffle's second product, provides developers with a private Ethereum client for deploying smart contracts, developing apps, testing, etc. Since the launch in October 17th, the number of downloads has reached 1,227,844, of which 19 The number of downloads in June was 79,546.
dApp battle
From the early days of the blockchain, the entire crypto community is fighting for the "killer dApp", launching a "killer dApp" that will quickly ignite the world and prove the value of an agreement. Although at present, this mentality has been slowly reduced, because few agreements are planned to expand globally, so their dApp is not. Conversely, the dApp industry has evolved into a collection of early and mature projects that are deeply researching their applicability to maximize demand, perform optimal UX, and maintain the highest levels of security. In general, financial dApps (including exchanges, DeFi, and trading markets) are the most important concerns for dApp developers in the past year.
Among the top 50 dApps ranked by dApps (ranking based on "including active users, tx capacity, development activities, profile timeliness, CTR and user suggestions, etc."), 29 dApps are based on Ethereum. .
The following is the dApp for the specified application category. The performance of Ethereum is outstanding:
Of the top 50 financial dApps, 42 are based on Ethereum, including MakerDAO and OmiseGO.
Of the top 50 exchanges dApp, 44 are based on Ethereum, including Augur and Uniswap.
Of the top 50 security dApps, 42 are built on Ethereum, including Quantstamp.
Of the top 50 development dApps, 43 are based on Ethereum, including Kauri, Golem and CryptoZombies.
Most convincingly, of the top 50 dApps in all categories and all platform development activities, 44 (88%) were built on Ethereum; in addition, a statistical data from the State of the dApp indicates that Ethereum remains Have the most powerful developer community.
Source: State of the Dapps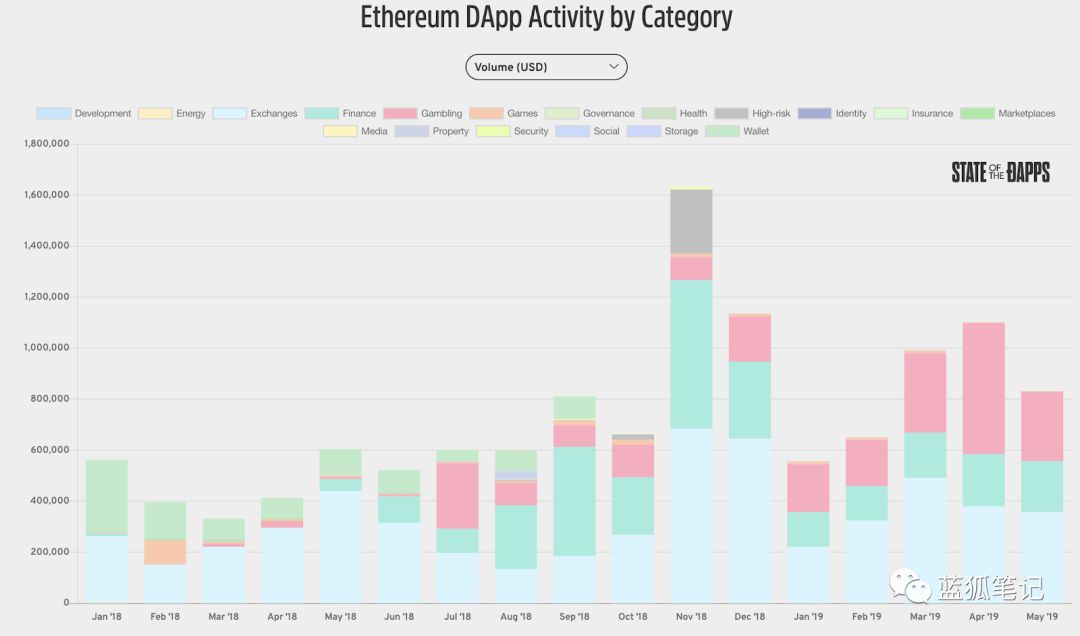 Source: State of the Dapps
Looking to the future
In the rest of 2019, Ethereum could not slow down the pace of development. In the past few weeks, the encryption market has been freed from stagnation and revived the interest of retail investors and institutional investors. As far as the Ethereum agreement itself is concerned, it is expected that the Istanbul hard fork will be carried out in October 2019. The Istanbul hard fork upgrade includes 11 Ethereum blockchain improvement proposals and is the last hard fork before the release of the quiet Serenity 0 phase in early 2020. As more and more core developers and the entire blockchain ecosystem focus on PoS and scalability, Serences will undoubtedly become the core of discussions in the Ethereum and blockchain communities in the second half of 2019.
The author of this article, "ConsenSys," was translated by the "HQ" of the "Blue Fox Notes" community.