Foreword: Bakkt will launch a Bitcoin futures contract on September 23. In the eyes of everyone, Bakkt is a cryptocurrency exchange, and the author does not think so. He thinks there is a bigger story behind Bakkt. what is it? The author of this article is Frank Chaporro of theblock, translated by the "Monchi" of the "Blue Fox Notes" community.
The Intercontinental Exchange (ICE) announced in August last year that it would launch Bakkt, a company headed by former ICE investor relations head Kelly Loeffler, who promised to bring bitcoin to the mainstream. This has caused concern in the entire cryptocurrency market.
Later, Bakkt appeared in media reports, especially this passionate image of wealth, seen as a panacea for solving the problem of the new bitcoin market. This market has been plagued by hackers and has been working hard to get the attention of professional money managers and investors.
"For Bakkt, the first thing is to make Bitcoin a robust and secure investment product for key institutions, and most organizations today, including the world's largest financial institutions, are avoiding it." Shawn Tully of Fortune Magazine Written.
He added: "The next step is to use Bitcoin to replace your credit card." He refers to Bakkt's large partnership with Microsoft and Starbucks. Details on the participation of the two companies in Bakkt have been released since August 2018.
In November 2018, Bakkt promised to launch a Bitcoin futures contract. Unlike other futures, Bakkt uses physical delivery. On August 16, 2019, Bakkt said that the futures contract product will be launched to customers on September 23 this year. In fact, the launch will be the first regulated physical delivery bitcoin futures contract offered by a US company. Many people in the market think this is an important step towards the maturity of cryptocurrencies. Of course, the premise is that ErisX or LedgerX will not be the first to introduce products.
Despite this, the two bitcoin-related futures contracts are far from what Loeffler described in 2018 as "the open platform helps unlock the potential for digital assets."
If there is one thing worth considering, then at least according to my conversation with the market makers, it is a fool to do with ICE. In fact, Bakkt's slow and firm approach is a strange concept for the native player of the encryption world. In fact, it may become a successful strategy.
But let's start with the first point. I also mentioned on Twitter that the ICE founded by Loeffler's husband, Jeffrey Sprecher, is known for making the impossible possible.
Founded in 2000, ICE (Intercontinental Exchange) is an over-the-counter trading platform for energy, finance and other commodities. It was supported by Goldman Sachs, Morgan Stanley, and Deutsche Bank. It was created to use Internet technology to improve the experience of commodity trading, especially through it to reduce prices and increase transparency.
In 2013, Nathaniel Popper told the New York Times about the ICE story from Sprecher, reflecting on his inability to help investors succeed in acquiring the New York Stock Exchange, a symbol of American capitalism, which drained his money and his life. This sounds ridiculous. A businessman from Atlanta came to New York to embark on the towering temple of the American Capitalist Colonnade. If everything goes according to plan, his $8.2 billion acquisition announced before Christmas will end later this year.
With this, the 221-year history of Wall Street will end. New York will no longer be the owner of the New York Stock Exchange. Instead, at a 750-mile away from Wall Street, Mr. Sprecher's young company, ICE, will operate the nation's and even the world's largest stock exchange.
In fact, it still sounds ridiculous. Almost as ridiculous as ICE plans to launch Bakkt as the backbone of the entire cryptocurrency ecosystem.
Don't sleep on the ICE. ICE developed rapidly in the early days and expanded with the acquisition of London's International Crude Oil Exchange (IPE) in 2001 and the acquisition of the New York Board of Trade in 2005. In 2008, ICE established a clearing house for credit default swaps after the financial crisis. Two years later, Bloomberg News called Sprecher a "transmuted Sudan" (Blue Fox note: meaning the hegemony of the credit default swaps.), because its business scale grew rapidly to $10 trillion by 2010. .
To be sure, in some respects, ICE has been a bit disappointing in recent years, more of an acquisition than a creation.
Thomas G. Thompson, a derivatives expert and contributing editor at John Lothian News, said:
"They did a good job in the growth period and made a lot of money, but since then, they have spent the wealth of their shareholders on a disappointing yacht."
According to data collected by the Wall Street Journal, the share of the US stock market after the NYSE's acquisition has been around 22%, and has not benefited from the change of ownership.
Despite this, in terms of ICE's overall share price, shareholders do not have much to complain about. Since the company went public in 2005, its share price has risen by as much as 1200%.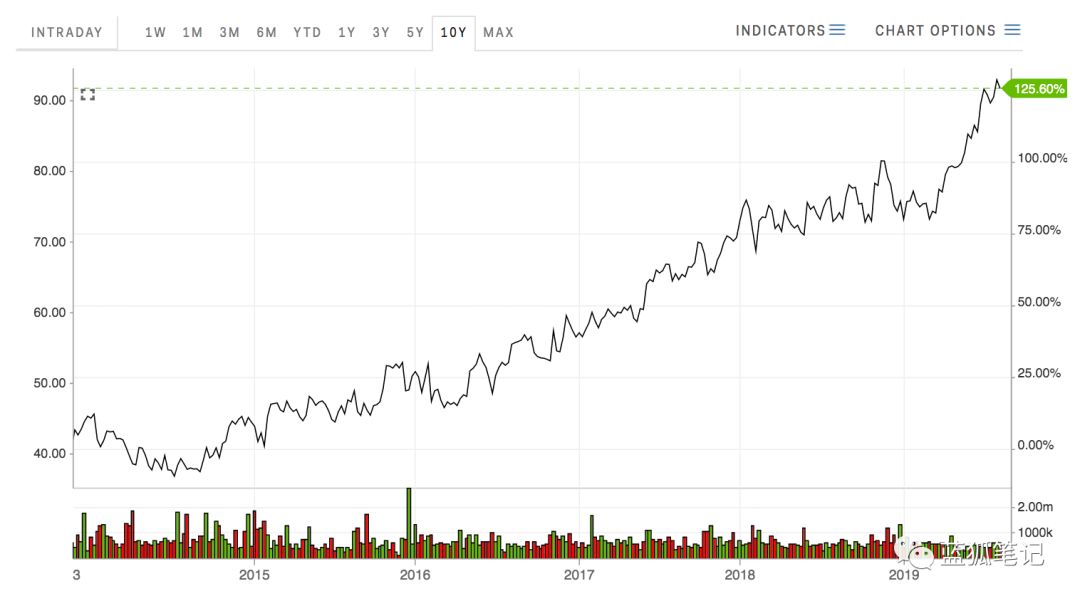 According to market makers who do not want to be named, as for Bakkt, one of its main buying points is the support of ICE. But what exactly is Bakkt?
In my opinion, its early marketing masked this. Abandoning the credit card ambition and partnership with Starbucks, Bakkt's and its current strong positioning is its status as a qualified institutional custody business, and it is supported by a $51 billion listed company. established. First, the custody business will store bitcoin to support its futures contracts, but it is certain that they will soon open their doors to hedge funds, asset management companies and other customers.
"Wait, so this is not a cryptocurrency exchange?" You might ask. No, not true. At least, not yet.
Don't let the futures distract you. Several sources told me that hosting is the core of Bakkt. So, to some extent, it is competing with ErisX, Seed CX and a range of other derivatives platforms for futures. But its real opponents are BitGo, Coinbase Custody, and Fidelity (Blue Fox notes: Fidelity has always been interested in cryptocurrencies.). The value proposition of using Bakkt as a custody is clear. This is a true institutional level product with the permission of the CFTC and the State of New York.
"With state-of-the-art physical and cybersecurity, institutional-level technology and governance, and the preservation of digital assets in cold wallets, Bakkt offers new standards for digital asset custody by leveraging the network security tools that NYSE relies on." Bakkt Revised Written on the website.
To be sure, Coinbase and BitGo have their own strengths. That is, they each have a fairly large user base.
Coinbase acquired Xapo, which allows it to control bitcoin (860,000 btc), which accounts for about 4% of total bitcoin supply. Currently, btc, which accounts for 2.5% of the total, is under its custody. Grayscale is one of the largest crypto asset management companies with approximately $3 billion in assets managed by Coinbase.
According to reports, the assets managed by BitGo reached $2 billion. At the same time, novice Fidelity's hosting business provides a complementary brokerage business to help customers send orders to the exchange when they want to trade. Hosting is only part of the business of these companies. Last summer, these costs were still around 100 basis points, and now they are close to zero. In addition to hosting, Coinbase also launched an exchange business. BitGo also plans to launch a premium brokerage business.
As for Bakkt, futures contracts may be part of a broader effort to help them achieve regulated price discovery. This is what COO Adam White hinted at during FIA Boca.
"Bakkt fundamentally believes that price discovery will occur in the end-to-end regulatory market, and most price discovery occurs in the spot market, but it will shift to the futures market," Adam White said.
As this shift may help alleviate regulators' concerns, these regulators have rejected ETFs (exchange-traded funds), which fear that ETFs will rely on unregulated spot markets.
Bakkt can also play a role in launching new tools that will be linked to its "end-to-end" regulated market. With the green light in the New York State Trust, Bakkt has more freedom to launch new lines of business than other companies. As Gibson Dunn's attorney, Arthur Long, puts it: Trust is "wider," allowing companies to do business in a broader range of financial services.
So, this may include an ETF. Perhaps the asset management manager may even be the long-awaited 401(k) entry.
——
Risk Warning : All articles in Blue Fox Notes can not be used as investment suggestions or recommendations . Investment is risky . Investment should consider individual risk tolerance . It is recommended to conduct in-depth inspections of the project and carefully make your own investment decisions.
Editor's Note: The original title is "Bakkt is called "encrypted exchange" and people will ignore what they are actually doing"