With the recent weakening of the market value of the highest cryptocurrency bitcoin market, some analysts said that the probability of bitcoin breaking through $20,000 by the end of the year is only 7%, while $10,000 is becoming the new bottom of Bitcoin.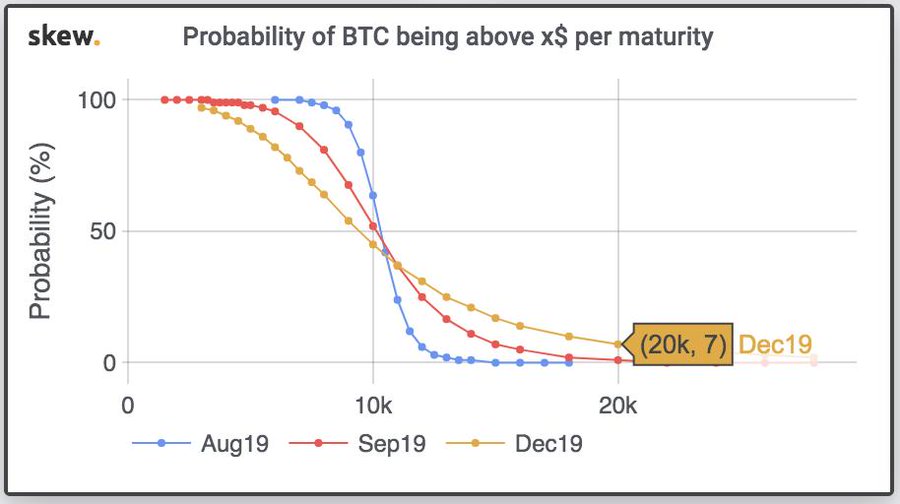 At present, the price of Bitcoin continues to fluctuate above $10,000, and the volatility tends to weaken. Encryption analyst Skew posted forecast data on Twitter that the possibility of Bitcoin hitting a record high in 2019 is declining, leaving only 7% possible.
However, he also said that in October there will be two Bitcoin ETFs applying for SEC's ruling, which may also bring variables to the cryptocurrency market. After failing several times to hit the resistance level of $12,000, the $10,000 is developing into a solid support level.
Nigel Green, CEO and founder of financial consultancy deVere Group, said in an interview with London business news media London LovesBusiness that $10,000 is becoming the new bottom of Bitcoin.
"Look at this year's performance, I believe Bitcoin's new bottom is $10,000. It will rebound from this price. If it fluctuates below this level, it will pick up again. On Monday, Bitcoin reached $10,500 in a few minutes. We have already seen this."
Just earlier this month, Green also said that "bitcoin is expected to reach $15,000 immediately." At that time, he believed that the Sino-US trade war, the Brexit, the improvement of blockchain technology, the halving of bitcoin in 2020 and the popularity in the public are all reasons for the possible rise in bitcoin prices.
Nelson Minier of the cryptocurrency exchange Kraken recently expressed similar views. He pointed out that although Bitcoin is not a safe haven asset, some investors are already using it. he thinks,
"The world is increasingly recognizing cryptocurrencies such as Bitcoin, and the new bottom of Bitcoin will be $10,000."
Image source: pixabay, Twitter
By Liang CHE
This article comes from the push bitpush.news, reproduced need to indicate the source.