China's central bank digital currency will be launched in November, Tencent Ali is involved
According to Forbes, the Chinese central bank will launch state-backed cryptocurrencies in the coming months and distribute them to seven institutions: Industrial and Commercial Bank of China, Bank of China, Agricultural Bank of China, China Construction Bank, Alibaba. Tencent and UnionPay.
Long before, the central bank said that the technology behind the cryptocurrency is ready. In addition, according to sources, the cryptocurrency introduced by the central bank may be launched on the Double Eleven Singles Day.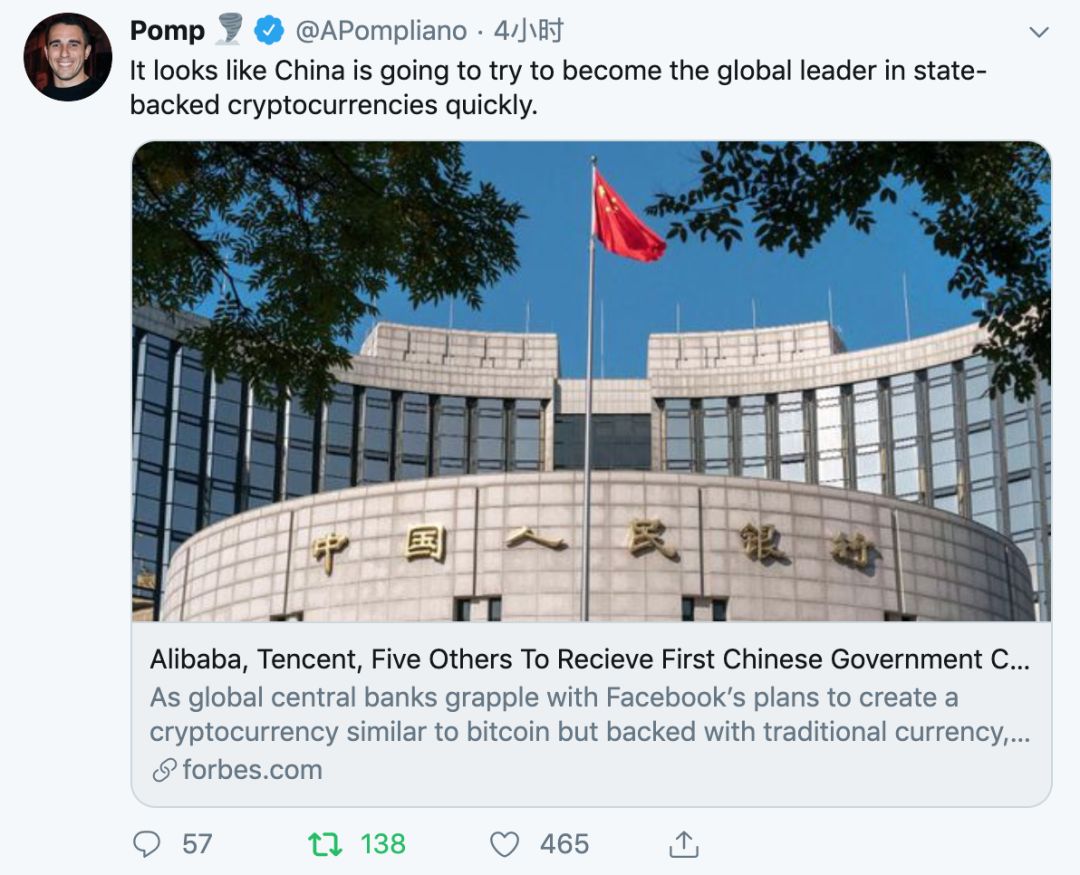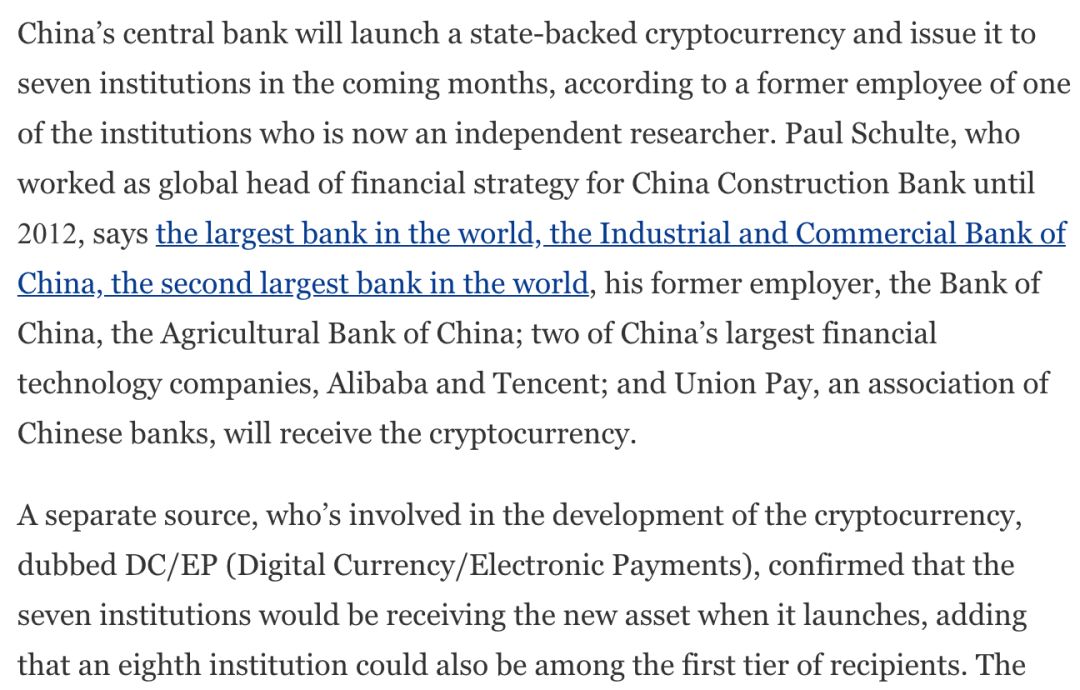 Ruibo CEO responded to litigation and sales doubts, saying that XRP inflation rate is much lower than BTC and ETH
Ripple CEO Brad Garlinghous:
I am always shocked by the suspicious news about the spread of the Swiss and Swiss currency companies FUD (abbreviation for fear, uncertainty and doubt). This has been even more so in the past few weeks (Ripple's sales of Ripple, class actions, etc.)….. Therefore, I feel it is necessary to make a statement.
1. As a defendant in a class action, I will not give a detailed response (Rippo will respond soon). What I want to say is that the US Securities and Exchange Commission (SEC) guidance is not issued by (government), it is not a law, a rule or a regulation. Obviously, XRP is not a securities, and the UK and other countries think so.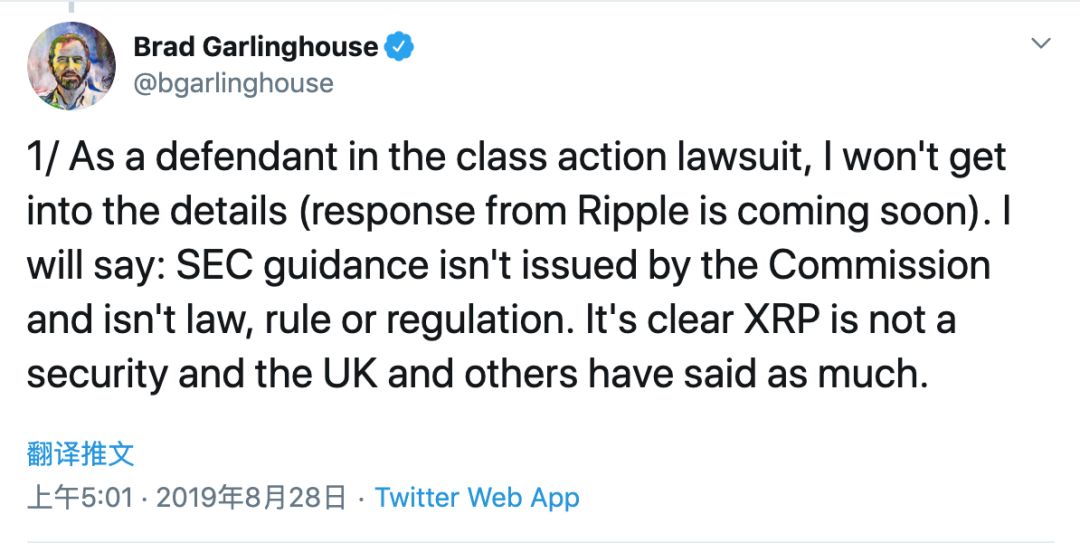 2. The sales of Ripple Coin (XRP) will help to expand the practicality of Ripplecoin – building Ripplenet (a payment and trading network based on Ripple's books) and building other businesses that support the use of XRP, such as Dharma (a decentralized center) The lending platform, Xpring has provided funds for it) and Forte (a blockchain gaming company, Xpring and its joint venture $100 million in the layout of blockchain games).
The fact is that we have reduced our XRP quarterly sales (Note: Ripple's report for sales in the second quarter of this year indicates that it will significantly reduce XRP's future sales.) Therefore, the inflation rate of XRP supply is already better than btc and eth To be low.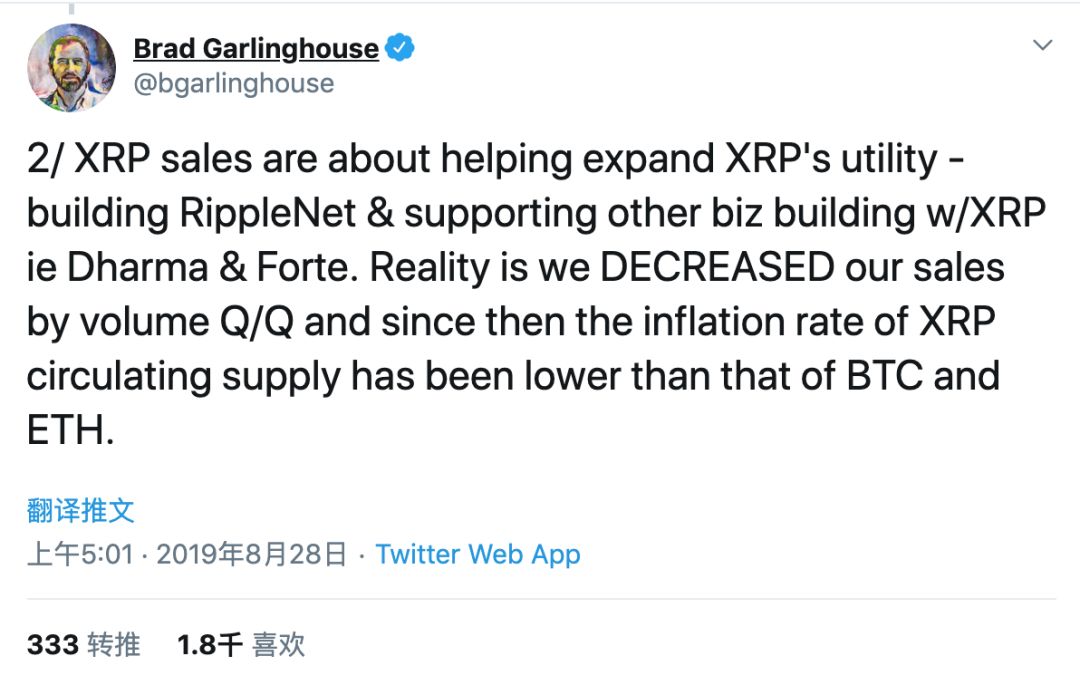 3. Ripple will continue to set industry standards for reporting and transparency (an example is our quarterly market report). We will go all out, this is not our point of view, but the fact.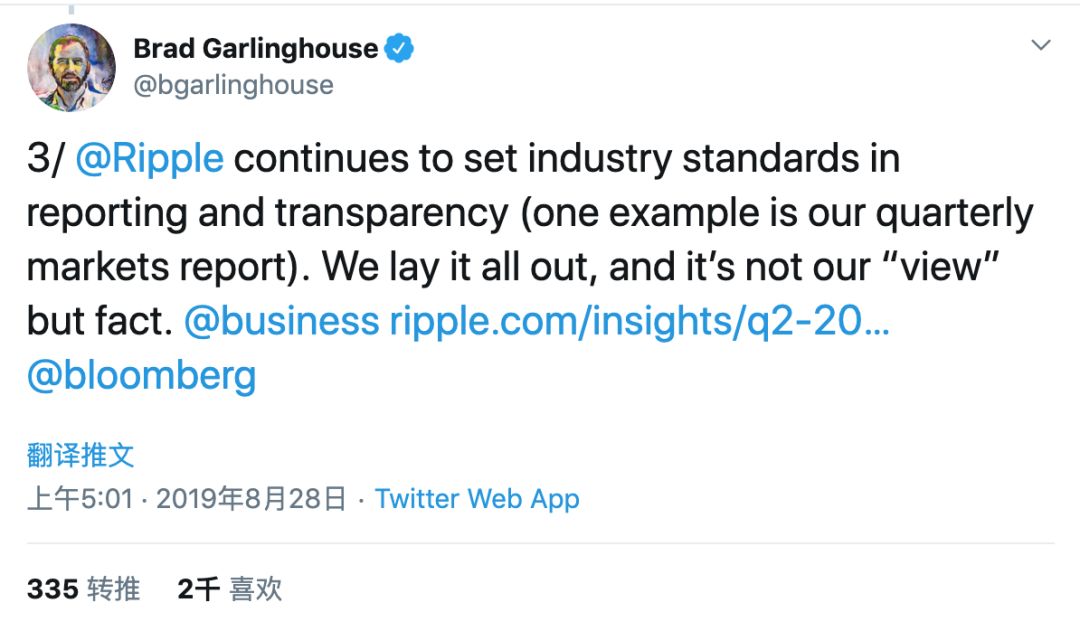 A fan called xrp-news threw a question:
Please explain why XRP is the worst performing digital asset in 2019 (the data given in the table below is -23%).
All the data points to the huge selling pressure of Ripple's XRP.
In response, the CEO did not give any response.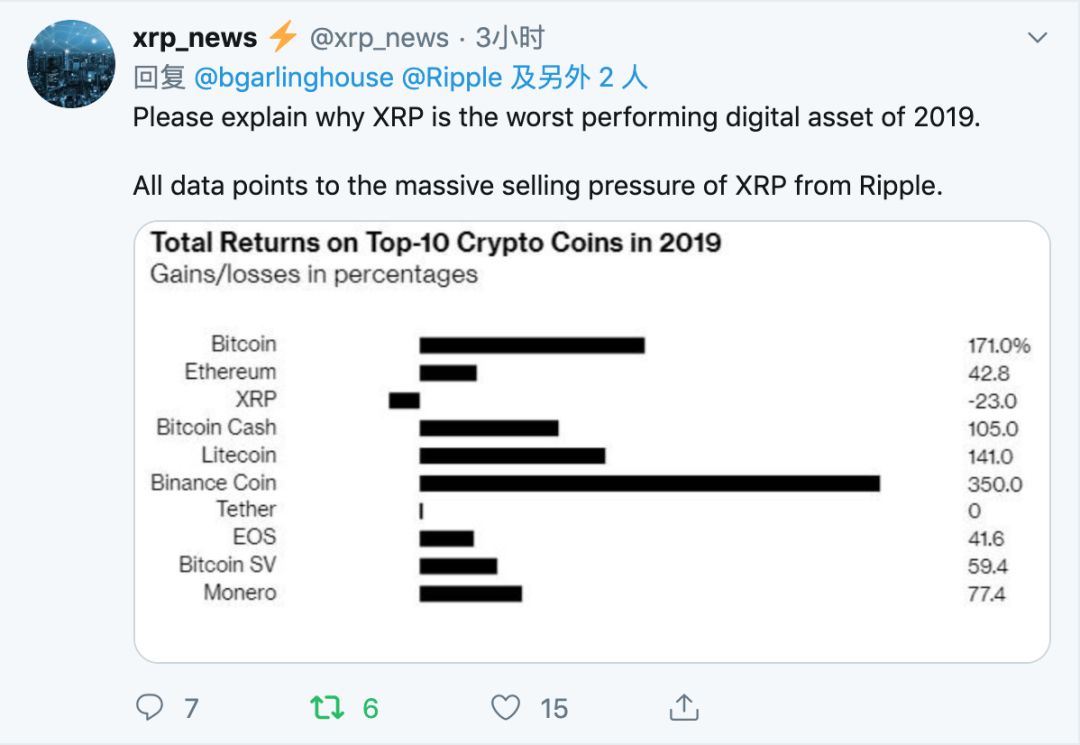 1. Algorand official Twitter announced that AlgoCapital, a financial institution focused on Algo adoption and liquidity, announced that it will close its Algo venture capital fund for $200 million, and the fund will invest in the Algorand technology platform-based business.
2. According to The Block, Brave will launch a "Metamask-like" cryptocurrency wallet to support Ethereum, Ethereum tokens and its native token BAT.
3. The wave field founder Sun Yuchen said that Wink (a spinach DApp built on the wave field blockchain) released its sports spinach yesterday, and TRX is now a deposit method of 1xbet.
1xbet is an international top gaming and technology company with more than 12 years of experience. It has sponsorship agreements with the main holders of Liverpool Football Club and Spurs Football Club.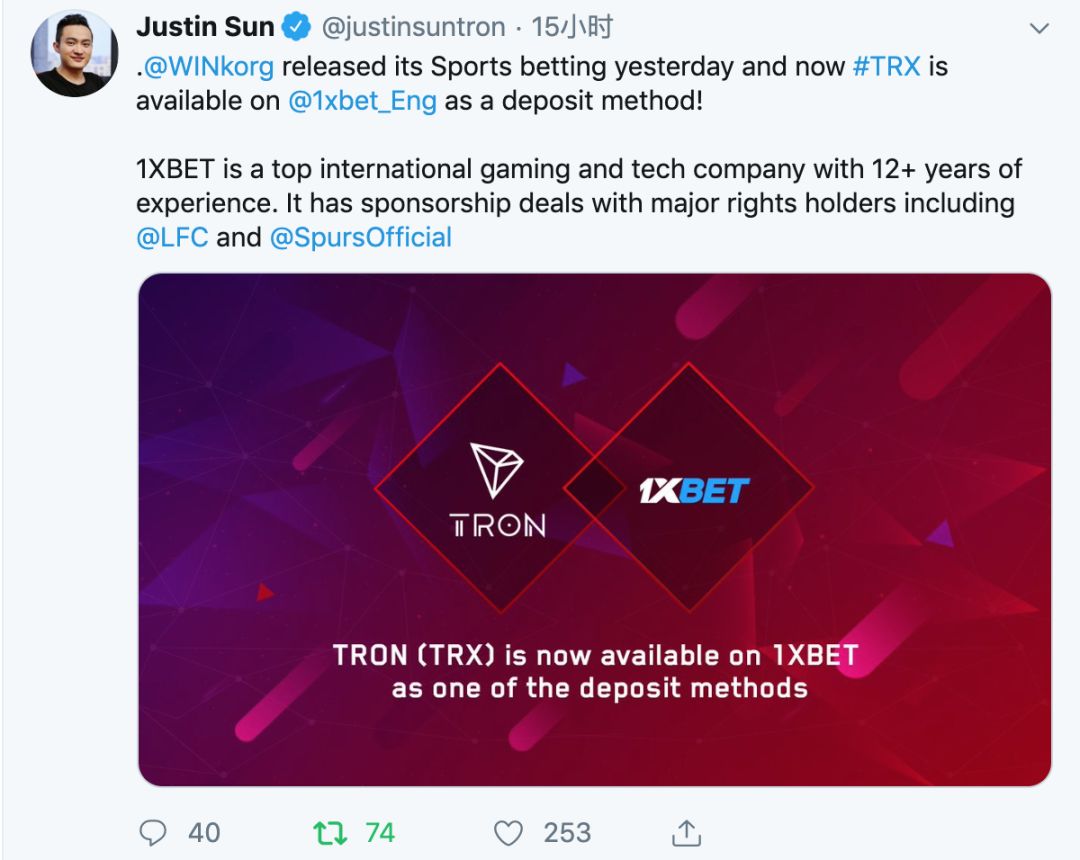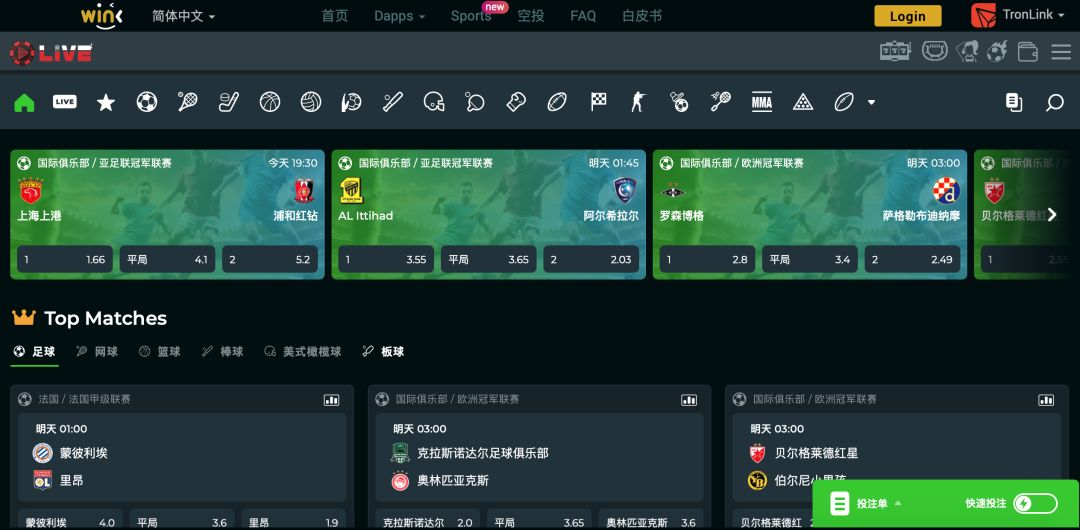 4, Morgan Creek co-founder Jason A. Williams issued a push, Bitcoin's annual trading volume in 2018 exceeded Paypal, reaching $1.3 trillion.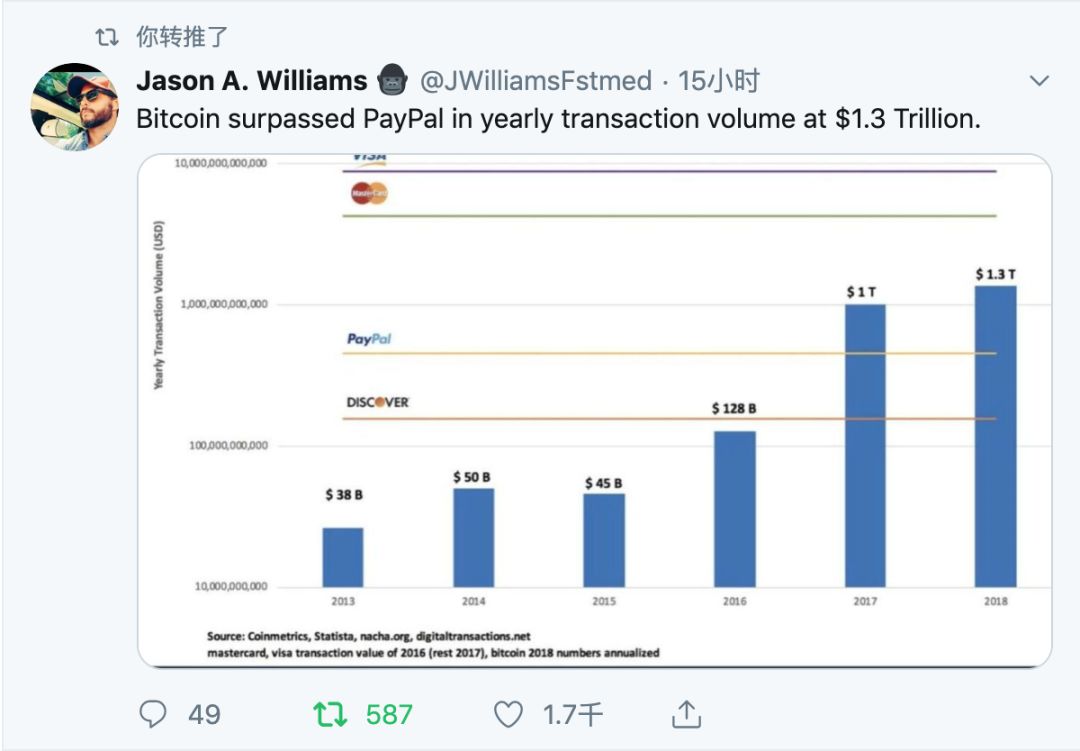 On this issue: March only hope, as a birthday with their own IP blocks from the media chain, block chain multiple programs, book author, block chain practitioners and investors.
—— End ——
Turn around every day and see the big coffee point of view, bringing you the freshest and most interesting points. Welcome message, forward!