This is a report from the famous Ethereum incubator ConsenSys, which was updated and released in mid-August, in the "2019 Stabilized Coins Development Status" report. There are more than 200 stable currencies to choose from in the market. This is all you need to know about the most active areas in the blockchain industry.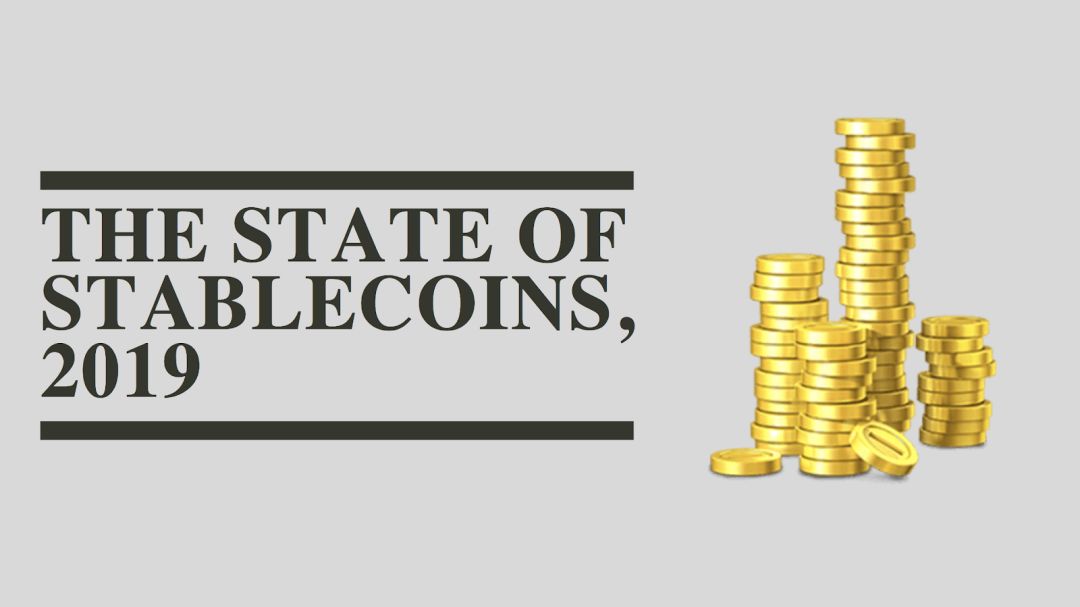 It turns out that 2019 was a very important year for the development of stable coins and decentralized finance, especially those based on the Ethereum blockchain. Based on recent work by Blockchain.com, Stabel Reports, and ConsenSys , Blockdata has completed an excellent and detailed report that has done a lot of research on the current stable currency ecosystem and offers some valuable insights.

Let's look at a few highlights:
First, since the beginning of 2017, more than 200 stable currency projects have been announced, but 30% of them have not yet been publicly launched;

As of this writing, there are about 66 open and active circulation stabilization coins on the market. The report predicts that 2019/2020 may be the "big year" for stable currency.

Of all the stable coins that have been launched, 50% of the active stable currency was developed on the Ethereum network.

In addition, dollar-backed stable currencies such as Tether, Coinbase's USDCoin, and Gemini's Gemini Dollar are the most active.

Those stable coins backed by gold are likely to fail.

Of all the current stable currencies, Tether has accumulated the most funds, and they have raised more than $1 billion through IEO this year.
Getting started with stable coins
Let's start with some background on stable coins from the SensSys report "State of Stablecoins" by Nathan Sexer
A stable currency is a cryptographic asset that maintains a stable value linked to a target price (such as the US dollar) ; the stable currency is designed to serve those specific (decentralized) applications that require lower fluctuations in volatility An application that can run on a blockchain.
The reason why cryptocurrency is difficult to be widely used as a value store is because of its volatility. They are not representative of a suitable trading instrument or account unit due to large price fluctuations. In fact, if the value of a digital currency may fall dramatically every other day, which business will be willing to accept it?
Large fluctuations also make it difficult to accept a currency as an "account unit" because the "value" of the currency and the "value" of the future cannot form a standard acceptable to everyone. By definition, a unit of measure should remain stable. Therefore, volatility transforms what is trying to become a cryptocurrency into a speculative crypto asset. If you can reduce volatility, encrypted assets can actually reach a wider audience.
There are many reasons for large fluctuations, such as:
Changing public perception

Emerging Markets

Static monetary policy

Unregulated market
scenes to be used
Application scenarios where volatility must be reduced include:
1. Remittance. In the payment process, the price difference can be covered;
2. Trade and payment. For any business that accepts daily payments, the currency or cryptocurrency should avoid large fluctuations;
3. Salary and rent. And other recurring payments;
4. Loans and forecasting markets (long-term issuance) ;
5. Trading and wealth management. In this case, the reason why you need to stabilize the coins is because they:
Make it possible to name the transaction pair in US dollars instead of Bitcoin or Ethereum;

Make risk exposures at French currency rates (instead of ETH or BTC) ;

Just show its fluctuations in French currency, you can achieve visibility and adoption;

It is possible to achieve arbitrage.
6, value storage, for long-term hedging: For example, miners can use the stable currency to cover recurring expenses to ensure a stable income.
In other words, anyone who wants to benefit from the advantages of blockchain technology (transparency, security, immutability…) but does not want to lose the guarantees (such as trust and stability) provided by the legal currency, Need some kind of stable cryptocurrency.
Various types of stable coins
There are three main types of stable coins that can be classified using the following diagram:
The picture above is from " Stablecoins: designing a price-stable cryptocurrency " by Haseeb Qureshi .
Stabilized currency collateralized by legal currency
This is an "IOU" type of "centralized" stable currency, either supported by legal currency or a commodity as collateral. This category includes Tether , USD Coin , Gemini, and Digix .
Stabilized currency collateralized by cryptocurrency
This refers to the "decentralized" stable currency of the "under-strip" type, or supported by cryptocurrency support and /or multiple assets acting as collateral. This type of stable currency includes MakerDAO , Steem and Alchemint .
Unsecured Stabilized Coins are mechanisms that use Seigniorage Shares / Decentralized Banks/Utilization Algorithms to maintain stability. This type of stable currency includes Terra , Ampleforth and Element Zero.
The favorite blockchain network in the stable currency is undoubted, Ethereum is the favorite blockchain network of stable currency, 33 stable coins are developed on the basis of the Ethereum agreement; Bitshares ranked second, with 8 A stable currency is built on its blockchain; the Stellar block chain ranks third with six stable coins.
There are many reasons why Ethereum dominates: First, Ethereum benefits from its first-mover advantage. Early projects like MakerDAO chose to issue stable currency DAI on Ethereum . Second, Ethereum 's stable currency benefited from Its powerful infrastructure and easy-to-use ERC-20 token standard.
For example, there are already many wallets, exchanges, and analysis tools (such as Alethio, Etherscan, MyCrypto, etc.) that are compatible with Ethereum . When the new stable currency tries to expand and grow rapidly, it is easier to implement on Ethereum than other blockchains. The enterprise version of Ethereum , such as Quorun used by JPMorgan Chase, has further made Ethereum the first choice for stable currency distribution.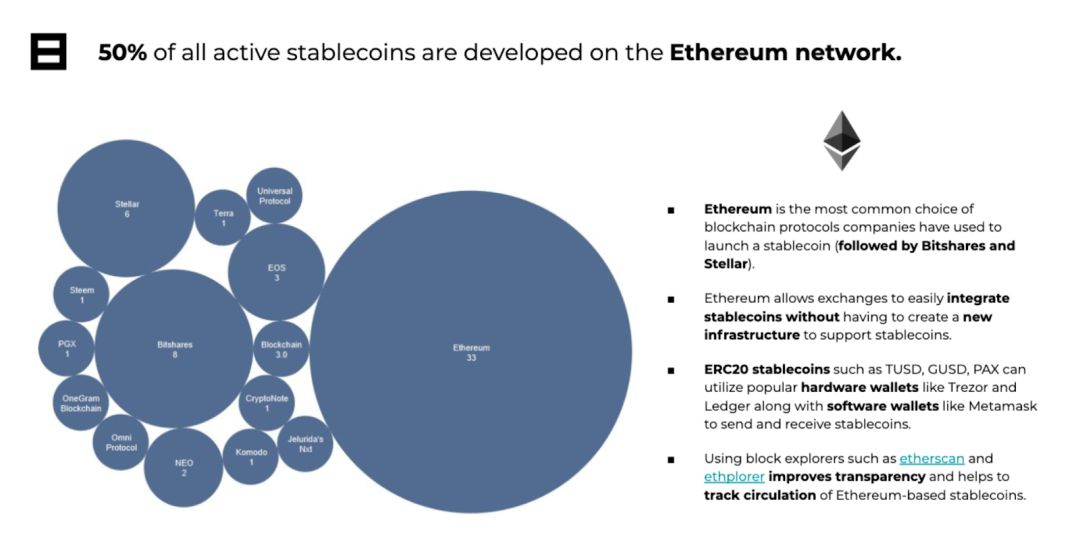 Stabilizing currency financing IEO (Initial exchange offerings) showed an upward trend in 2019, becoming a new financing method for the cryptocurrency industry. It is worth noting that Tether raised more than $1 billion through IEO.
Despite Tether's skills in fundraising, other head-stabilized currency projects and companies have raised $500 million in the past two years, such as Coinbase's stable currency, USD Coin, through three rounds of financing, raising more than 2 funds. One hundred million U.S. dollars.
Wind investing in the home is very clear, once a stable currency is successful, it can produce very substantial profits. Top venture capital firms like Digital Currency Group , Blockchain Capital and Andreessen Horowitz have invested heavily in the cryptocurrency industry, especially the Stabilizationcoin program. In fact, nearly half of the active currency in the market has been supported by venture capital.
In the past two years, the number of stable currencies has grown rapidly. While groundbreaking stable currencies such as Tether, TrustToken and DAI still dominate market share, competition is rapidly approaching. Of course, not all stable currency projects can succeed, but the dramatic increase in the number of stable currencies over the past two years clearly shows that many people, entrepreneurs and companies agree that stable currencies will have a huge impact on the world.
The following is a non-exhaustive list of stable coins that are currently active or put into production on the market:
Affordable, centralized, collateral-backed stable currency
Supported by legal currency (or traditional assets) reserves
Coinbase's stable currency anchored with the US dollar.
Stabilized currency linked to the US dollar by the Gemini Exchange.
The dollar-backed stable token (USDT) is also the leader in the stable currency market.
The dollar-backed stable cryptocurrency (TUSD) focuses on transparency and is built on Ethereum .
Gold-stable tokens (DGX), 1DGX = 1 gram of gold in the Singapore vault.
EIP-20 stable currency collateralized in euro-backed French currency with verification flow mechanism, supported by STASIS.
The stable currency GLX is anchored with a basket of legal coins that are hosted.
Stabilized currency linked to the US dollar provided by Paxos Standard.
Reykjavik-based Monerium, approved by the Icelandic financial regulator, is supported by a basket of financial instruments
A stable currency pegged to the US dollar, provided by Stronghold Financial Services.
Stabilizing coins include jUSD, jEUR… Endorsed with a variety of assets, based on the Ethereum blockchain.
PHI (launched by dfinity-network)
The debt-type stable currency PHI is supported by loan collateral and maintained by algorithms.
Saga is an asset-backed cryptocurrency (SGA) that is maintained by reserves in regulated banking institutions and is stable against special drawing rights (SDR, a basket of currencies) .
The stable currency introduced by the Bitspark exchange is linked to the Philippine peso.
A stable gold coin supported by Hellogold.
Created by Facebook and expected to be launched in 2020, supported by a "basket of financial assets".
StableUSD , supported by reserves, adjusts supply through open market operations.
The Gibraltar-based exchange launched a series of stable currencies linked to global currencies, including eToro Ruble (RUBX) and eToro Yuan (CNYX) .
Introduced by Everex, THBEX is a stable currency linked to the Thai baht.
Stronghold USD (launched by Stronghold and IBM)
A dollar token supported by a US Federal Deposit Insurance Corporation, based on the Stellar network, supported by a variety of legal currencies.
USD Coin (launched by Circle & CENTRE)
French currency token (USDC) for cryptocurrency payments and transactions (using CENTRE, a stable currency project framework involving real-world asset reserves, published by CENTER network members, audited by CENTER)
The Stabilizer X8X is supported by a basket of French and physical gold reserves.
"Semi-decentralized" stable currency with collateral support
Supported by encrypted assets
Stables (Smarctoins: BitUSD, BitCNY) whose value is supported by the use of derivatives to obtain a variety of assets , including cryptocurrencies .
The stable currency (nUSD) is supported by fees, a distributed collateral pool and distribution mechanism.
Decentralized system for issuing stable currency DAI, anchoring ETH, supported by multiple cryptographic assets (currently only ETH, but the future goal is to launch a version of multiple collateral) , maintained by MKR holders, can be assimilated As a derivative.
A stable coin supported by ETH, which has a matching system that allows speculators to buy tokens, while hedges buy StabilCoin to create stability.
The stable currency (SDUSD) built on the NEO blockchain is supported by an asset pool (French and cryptocurrency) .
The digital token A-EUR is designed to anchor legal currency and use a stable reserve and smart contracts to replicate the legal currency mechanism.
Boreal (launched by aurora-dao)
The stable encryption asset, Boreals, is backed by a combination of Ether Reserve, Loan Debt and dApp endorsement.
The Stabilized Coin is linked to the legal currency and is backed by a diversified, over-collateralized and auditable pool of cryptographic assets.
Reserve (launched by Reserve Research Team)
The stable currency is supported by cryptographic assets that are "completely" decentralized in smart contracts.
Chaincoins supported by collateral on the chain
A stable currency supported by multiple cryptocurrencies and simple reserve mechanisms.
ConsenSys The report clearly missed some of the newly emerging stable currency projects in the market, such as:
Neutral Dollar
Launched by the financial technology startup Neutral, Neutral Dollar is a safe, transparent, and volatility basket of stable coins produced by USDC, PAX, DAI and TUSD four stable coins through 100% full pledge of Ethereum Smart Contracts. Neutral completed the A round of financing led by Sequoia China last year. Co-founder and CEO Chen Guo was the founding partner of FBG Capital. The team co-founder also included former high-frequency trading company Virtu Financial technical expert Matthew Branton, former Susan venture capitalist Jason Zhang, former Lazard cross-border M&A banker Liu Yulong and other serial entrepreneurs and Wall Street traders.
USDx
The USDx is decentralized by a basket of US dollar stable coins through smart contracts, and is the first stable currency to realize the chain. The stable currency was launched by the decentralized financial and monetary agreement platform dForce. dForce was founded by Yang Mindao, founder of blockchain investment fund Blockpower Capital. The core members of the team are elites from top financial institutions such as Goldman Sachs, Standard Chartered, Citigroup, Hony and early participants in the digital currency industry.
Unsecured stable currency

This category typically uses a flexible supply mechanism that acts as a (partial) decentralized bank, often involving collateral positions, algorithmic oversight, and complex stabilization mechanisms (more materials at this address) .
The cryptocurrency BAY aims to achieve stability in a dynamic way, using "flowing" and "freezing" tokens and decentralized governance mechanisms.
The cryptocurrency USNBT is stabilized through a distribution mechanism and hosting consent.
SteemDollar (launched by Steemit)
Based on a convertible billing system, the Stabilizingcoin SBD is anchored to the US dollar at a 1:1 exchange rate on the Steem blockchain.
The cryptocurrency Carbon is monitored by the flexible supply of market participants and is supported by Hedera Hashgraph.
The price of the cryptocurrency is regulated by an automatic inflation/deflation control.
Low volatility stable token USD Fragment has an auditable reserve and money supply policy
Kowala (launched by Kowala Tech)
The cryptocurrency kCoin is stable with legal, cryptocurrency and other types of assets and is maintained by various algorithms and market-based oracles.
The stable currency Polys is backed by a basket of assets, and the Topl Foundation is responsible for issuing and redeeming tokens to maintain stability.
The Stabilizingcoin STB guarantees its stability through a mechanism of flexible supply and containment of inflation.
The price of the token is maintained by a number of stabilization mechanisms involving a DAO that uses a cryptocurrency reserve of multiple currency systems.
The stable currency is linked to a basket of currencies (such as special drawing rights) and assets, and relies on algorithms and decentralized elastic supply mechanisms to maintain value stability.