Encrypted domain names are being profitable for squatting sales and illegal possession
The cryptocurrency has been around for 10 years, and the value of the entire ecosystem is more than $250 billion.
Many edge areas of the encryption industry have grown due to the existence of third-party platforms, competing blockchain projects, exchanges, transaction services, wallets and payment processors.
These projects or businesses have a unique network domain name, and some of the top bitcoin and blockchain sites are now worth hundreds of thousands of dollars, or even millions of dollars.
Ideal encrypted domain names include Blockchain.com, Bitcoin.com, Ethereum.com, Crypto.com, Btc.com and Bitcoin.org. By using a domain value calculator, you can roughly estimate the value of a site. However, this does not mean that the holder is willing to sell these domains at such a price, the tool only gives a rough estimate based on traffic, Alexa and Google data. For example, the owner of Ethereum.com left a message for visitors to the site:
"Ethereum.com was registered on March 11, 2011. It has nothing to do with the blockchain technology of the same name, Ethereum.com is priced at $10 million."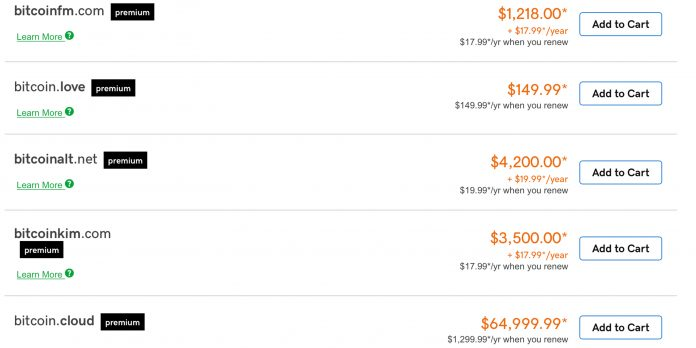 Since the domain name of the network can be traded, "domain name squatting" has begun. A person buys a list of website names associated with a particular product or industry and then waits for time to sell them. In the encryption industry, the phenomenon of preempting domain names is widespread, and individuals and enterprises in various industries are under pressure to seize domain names. As digital assets become more popular, especially after the 2017 bull market, encryption and blockchain-related websites are being sold at high prices.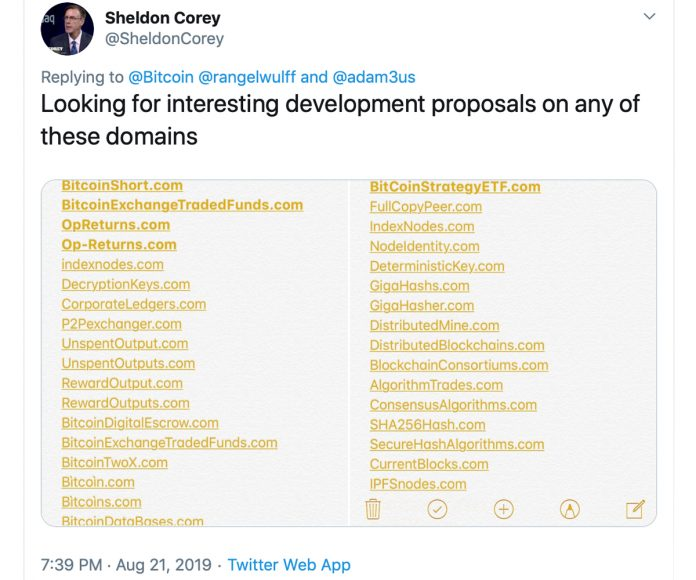 Observers witnessed the peak price of encrypted domain names in 2017
In 2009, the website Eth.com was sold to a company for less than $20,000, and the company had been holding the site until 2013, after which the owner used the Whois Historical Privacy Protection Program to hide its information.
In October 2017, the site was sold for $2 million and the site is currently dedicated to Ethereum Mining.
A few months ago, the CryptoBank.com website was sold to Triangl co-founder Craig Ellis, but the site has not yet been developed.
Binance allegedly acquired the domain name Cryptoworld.com from Domainman.com founder Mike Mann for $195,000 in 2018.
At the time, Mann told the world that he bought the domain name for only $11 in 2011.
In 2017, GlobalCoin.com sold to a Chinese for $35,516. In January 2018, CryptoTrading.com was sold to William Thomas for $35,000.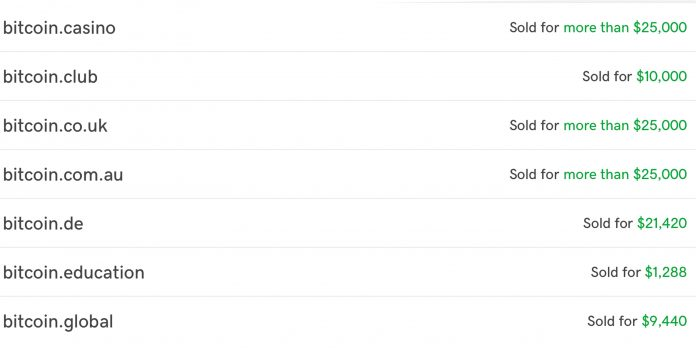 Today, a large number of domain names associated with cryptocurrencies are sold in thousands of dollars in various markets. This includes Bitcointranfer.co ($12,000), Coinsbio.com ($1,000), 360crypto.com ($30,000), Block-chain.com.de ($20,000), Btcwallet.club ($10,000) and Tokenpay.es ( $12,000). On Twitter, there are also many people selling cryptocurrency domain names. One person on Twitter said that the domain name Cointistical.com is an "excellent brand domain name that can now be sold." Another person wrote: "The domain name Bitcazino.com is on sale – the words 'Bitcoin' and 'Casino' are very interesting." Account @Dotonlydomans is a company that only sells website names and is selling the domain name Realcomyptocurrency.com.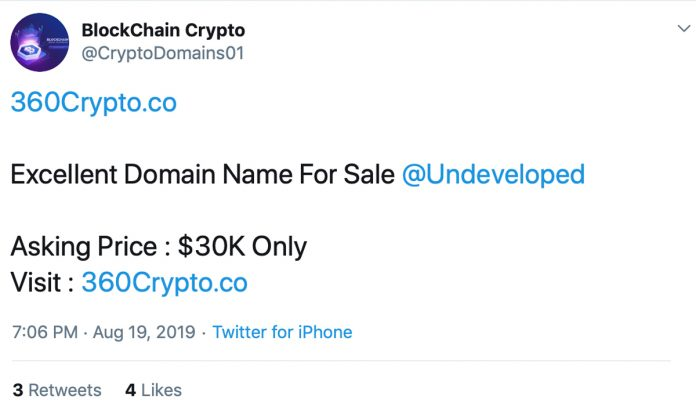 Website domain name sales related to cryptocurrency rise again
Through the in-depth search of social media and digital currency forums, it can be seen that the field of encryption is developing rapidly.
Namebio's search results show that many websites related to encrypted names have been sold in the past few months.
Just a few days ago, Runsonripple.com sold for $10,000, Bitsec.com was bought for $4,550, and Cryptoman.com was sold by Namejet for $1,350.
On August 18th, the average selling price of digital currency domain names was about $1,057.
From September to November 2017, the price of domain names involved in encryption ranged from $2,000 to $4,000, and the average price on October 22 was $75,000.
The most active and most active website currently in sale is Go Daddy.

With the popularity of digital currency, the domain name of this industry will also follow the same path. Preemptors are also gambling because they don't know if this particular name will be a good Internet brand and can attract future buyers. On the forum Namepros.com, one user said that there should be a market for buying and trading popular domain names, and another user said that digital currency domain names follow market prices.

Senior members released a detailed judgment in April this year: "The overall momentum of the encryption market has changed from bearish to bullish. We expect the price of encryption-related domain names to reach new highs. This change in the market is of great significance to domain name investors. There will be more new startups in the field, and blockchain technology will continue to develop. Investing in [.com ], [.org], [.io] keywords include [Bit], [Btc], [Bitcoin], [Crypto], [Coin], [Chain], [Block], [Blockchain], [Faucet], [Token] and [Airdrop] ."
"Today's topic"
What do you think about the need for cryptocurrency domain names?
Original link: Bitcoin.com| Encrypted domain name is being squatted, sold, illegally possessed

Disclaimer: This article is an article translated by news.bitcoin.com. If you need to reprint the content, please contact the official WeChat: BitcoinComChina, and mark the original link at the end of the article, thank you for your support.