Bitfury, an old-fashioned mining machine manufacturer and blockchain technology company, first announced the price of equipment on its official website and has opened online hardware sales channels to small and medium-sized enterprises.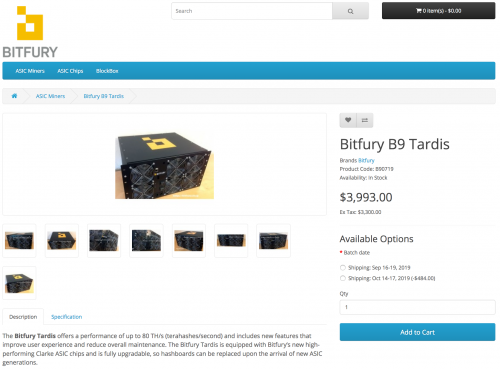 And this is the first time Bitfury has opened its sales channels directly to SMEs (and possibly even individuals). For the mining machine market, Bitfury has always been "singularly different", not only because its mining machine is different in appearance. Prior to this, Bitfury's target users were limited to sales for large corporate customers, and its equipment prices only provided " The option to apply (on application). Therefore, for domestic miners, especially the new miners, the understanding of Bitfury is far less familiar with the mining machine manufacturers such as Bitian, Jianan, and Bitwei (Shenma Mining).
According to Bitfury's official website, the online store currently offers six products, two of which are the Bitfury B9 Tardis mining machine (80 TH/s, pre-tax $3,993) and the Bitfury B8 Black mining machine (55TH/s, The price is $2,783 before tax, and includes two ASIC chips and two BlockBox AC mobile mining equipment.
At the beginning of the launch of the Bitfury Tardis mining machine, it was called the enterprise-grade bitcoin mining machine. In the whole mine revenue list, the Bitfury Tardis B8 is one of the most single-machine mining machines at present, and its mining revenue row After the Shenma M20S, it ranked fourth in the total mining revenue list.
According to public information, Bitfury was founded in Russia in 2011. In the early days, it was an ASIC bitcoin mining machine chip research and development team, and now it is transformed into a blockchain basic data service and transaction processing service. Management offices have been established in San Francisco, Washington, DC, Hong Kong, Amsterdam, and London, as well as mining data centers in Canada, Norway, Iceland, and the Republic of Georgia.
According to the Odaily Planet Daily, in 2018, Bitfury launched the sixth generation chip design Bitfury Clarke ASIC, an enterprise mining server Bitfury Tardis and a new bitcoin mining machine Bitfury Clarke. In September of this year, Bitfury announced the application of immersion cooling technology, which immersed its mining equipment in a cooling liquid to reduce power consumption and reduce mining costs. In addition to the miners' business, Bitfury also opened a variety of blockchain-based applications and services such as open source blockchain frameworks and digital currency address tracking technologies.
The whole network computing power has recently hit new highs. According to the financial network and chain financial reports, the total amount of Bitcoin's total network computing power has once again broken through its historical peak in October 2018, with a new computing power and the highest single-day calculation. The force reached 95EH/s. According to the data printed by the currency, the average computing power of Bitcoin in the last week reached 90.7EH/s, and the average computing power in the past three days reached 92.49EH/s.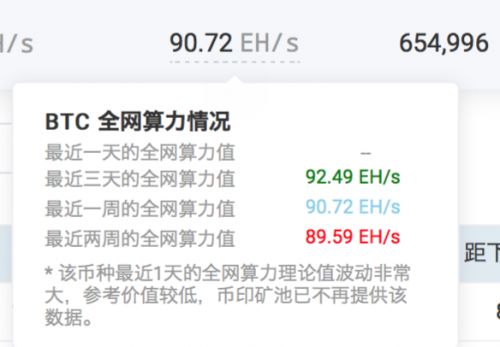 Under the huge increase in computing power, the difficulty of mining has risen. According to BTC.com data, since June 14 this year, the computing power and difficulty of Bitcoin have jumped by 60%. As of press time, bitcoin mining difficulty After the latest difficulty adjustment, the difficulty of bitcoin mining has reached 11.89 T, which has exceeded the historical peak of 7.454T last year, which is 37% higher than the highest value of last year. There are still 7 days from the next difficulty adjustment. It is expected to mine at that time. The difficulty will increase by 11.23%, or it will enter the 13T mark for the first time, reaching 13.23T.

Earlier, some analysts said that the current calculation power has risen sharply. The newly added 35 EH/s calculation power since mid-June has mainly come from the launch of more than 600,000 new mining machines in the past three months. The main mining machine manufacturers Bit China and Jianan The new mining machines that have been produced and sold in the past three months, such as Qi Zhi, InnoSilicon (Micro Technology) and MicroBT (Bit Micro), have seized the market, and TSMC has also pursued many orders from mining machine manufacturers to respond to the market. The shortage of production capacity and the shortage of mining machines are in short supply.
Under the surge of computing power, Bitfury opened up the SME online purchase channel in this round, with the intention of further expanding its market reach.
However, limited by previous user positioning, coupled with increasingly fierce competition in the mining industry, Bittury's market recognition and competitive advantage is currently suppressed by other mainstream miners.
In addition, BitFury's ASIC miner's chip mainly uses 16nm and 14nm process processes. As of press release, BitFury's ASIC miner's chip does not have any plans to involve higher process technology. In contrast, mainstream miner chips have been upgraded to 7nm. Although the current Bittury Tardis mining machine has a higher computing power, its power consumption ratio is not superior, or it will face further catch-up of new mining machines.
Author: Xi breeze
Source: Finance and Economics Network on Finance