Bakkt is finally here.
After several delays and 13 months of doubts, Bakkt Bitcoin Futures was officially launched at 8am today.
After nearly a year, Bakkt, ICE Futures US and ICE Clear US finally brought federally regulated price exploration technology to the bitcoin market. At the same time, Bakkt also brought the first physical delivery cryptocurrency contract under the federal supervision of the exchange.
This article will describe the features and benefits of the Bakkt business and what impact it will have on the cryptocurrency market.
Building the future of digital asset infrastructure
If people are interested in Bakkt in the past, the reasons are "strong background", "bull engine", "physical delivery" and other words. So, with the official launch of Bakkt, what we need to understand is the ambition of the people who are eagerly awaiting, and what kind of ambitions they have and what they are proud of.
Open Bakkt official website, which focuses on four sections: hosting, marketing, payment, and compliance.
Hosting
Block.one CEO Brendan Blumer has said:
"95% of the institutions' barriers to accepting blockchain assets are related to custody."
In the mixed currency circle, it is difficult to have a truly convincing "digital currency bank". This is not only because of the insecurities of encrypted assets, but also how to gain the trust of users and even the recognition of regulation.
However, Bakkt perfectly solved this problem based on its strong strength.
Bakkt's hosting facilities leverage the security capabilities of traditional companies behind it, including the Intercontinental Exchange's security capabilities in more than a dozen exchanges around the world.
ICE is deployed in a network security called the Bakkt Trust Co. Clearing Center, which is no less than the ICE's New York Stock Exchange. Unless the customer wishes to transfer the token from the Bakkt Trust to the competitor's site for storage, the process of transferring Bitcoin from one customer to another occurs entirely within the Bakkt managed library.
This means that in terms of hosting technology, Bakkt's digital asset hosting has reached the highest level in the traditional hosting industry. Not only that, but the custody business has also received regulatory approval. In other words, the encryption asset custody business is completely different from the traditional custody business in terms of technology, security and compliance. This is undoubtedly a solution to the worries of traditional big-name asset management companies entering the encryption market.
It is worth mentioning that in the hosting business, Bakkt Warehouse (Bakkt Warehouse) plays a vital role. The warehouse consists of a hot wallet and a cold wallet covered by a $125 million policy from the world's leading syndicate group. This coverage will be re-evaluated from time to time based on risk and updates to operational best practices. In addition, Bakkt is working with BNY Mellon, one of the world's largest custodian banks, as part of its secure custodial program.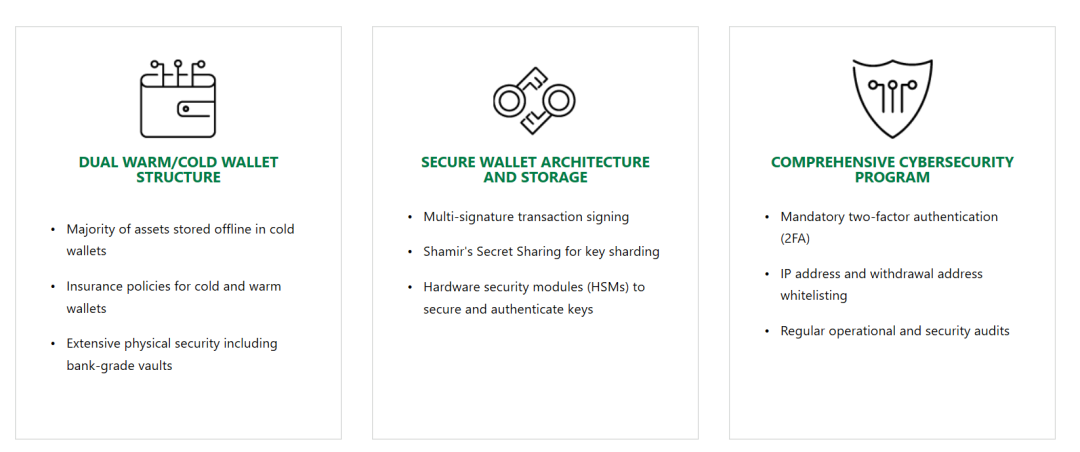 According to the figure, the warehouse adopts a hot/cold wallet dual structure, most of the assets are stored offline in the cold wallet, but Bakkt has purchased the policy for both the hot wallet and the cold wallet, and the storage security has reached the bank vault level; Bakkt's wallet architecture uses multiple transaction signatures, key shards use Shamir cryptographic shares, and a hardware security module (HSM) to protect authentication keys; finally, Bakkt's cyber security plan is also comprehensive, including mandatory doubles. Factor authentication (2FA), whitelist of IP addresses and withdrawal addresses, and periodic operations and security audits.
Not only that, but the Bakkt system uses an approved procurement process to procure to address supply chain risks. Applications developed by bakkt and applications procured from external vendors need to support multi-factor authentication and are centrally controlled by a full-time 24×7 network security team. All Bakkt managed devices (servers, laptops, network devices, mobile devices, etc.) have extensive security controls to prevent unauthorized access, restrict authorized access, and protect against local and remote attacks.
market
Bakkt is setting a new standard for institutions to enter the encryption market.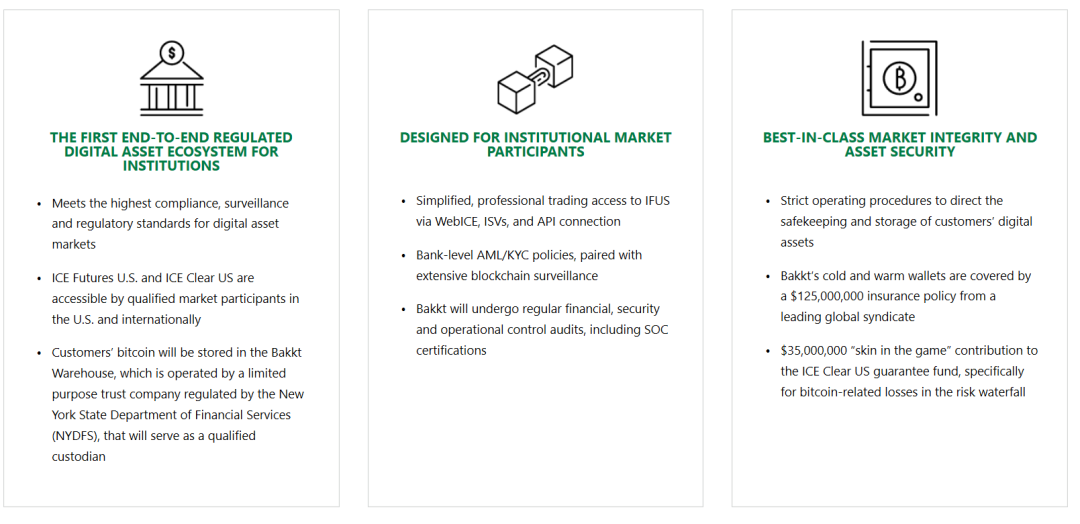 From the map, in the market business, Baktt has made three major breakthroughs.
1. The first end-to-end regulatory agency digital asset ecosystem
Meets the highest compliance, monitoring and regulatory standards in the digital asset market
ICE Futures US and ICE Clear US are markets that are accessible to qualified market participants in the US and internationally.
The customer's bitcoin will be stored in the Bakkt warehouse, which is operated by a trust company regulated by the New York State Financial Services Authority (NYDFS), which will serve as a qualified custodian
2. Designed for institutional market participants
Simplified professional transaction access to IFUS via WebICE, isv and API connections
Bank-level "AML"/KYC policy with extensive blockchain monitoring
Bakkt will receive regular financial, security and operational control audits, including SOC certification
3. First-class market integrity and asset security
Strict operating procedures to guide the storage and storage of customers' digital assets
Bakkt's hot and cold wallet has up to $125 million in policy coverage
A $35 million donation for the ICE Clear US Guarantee Fund, specifically for risky waterfall losses associated with Bitcoin
It can be seen that in the market, Bakkt's goal is clear, to provide institutional investors with a safe and well-controlled trading venue. To this end, it strives to bring the relevant business standards of digital assets closer to the business standards of traditional assets, thereby attracting institutional investors to enter the market.
Pay
For Bakkt, which is the main futures transaction, the payment of cryptocurrency is not much related to its current status.
In this section, Bakkt has only one short description:
"Either between consumers and businesses, or between peers, as these new global currencies go beyond value storage or speculative assets, with the development of distributed ledger technology, the ability to trade in digital assets There is great hope. Bakkt is working with leading companies that recognize the potential of digital assets."
However, since payment can be one of its four major businesses, this indicates that Bakkt intends to promote the popularity and development of cryptocurrency.
In an interview with Fortune magazine, Bakkt CEO Loeffler and ICE founder Sprecher said that the high fees paid by merchants are their target of attack. Today, consumers around the world buy a staggering $25 trillion in merchandise on their credit cards.
It is worth mentioning that, before, there was news of Bakkt's cooperation with Starbucks, and Starbucks is also one of Bakkt's financing institutions. Therefore, Starbucks is very likely to become the first stop for Bakkt to promote digital currency payment. To achieve, the status of the cryptocurrency will undoubtedly be falsified and truly accepted by people.
Compliance
Bakkt has always been committed to establishing new compliance standards for the encryption industry. In its official website, Bakkt has positioned its mission to "enlarge the access to the global economy by building trust and unlocking the value of digital assets." To this end, in terms of regulation, Bakkt has worked hard enough.
In the trading and clearing process, Bakkt quickly obtained regulatory licenses using its old ICE ICE futures platform ICE Futures and ICE Futures' clearing platform ICE Clear.
On the custody side, with the approval of the New York State Department of Financial Services in August this year, Bakkt Trust Company LLC has become a qualified Bitcoin custodian. In addition, Bakkt Trust is registered with the Financial Crimes Enforcement Network ("FinCEN") and complies with FinCEN's applicable regulations and guidance.
First physical delivery, Bitcoin pricing center
After reading the above series of measures and standards, the most important thing to understand is Bakkt's core business: physical delivery.
As we all know, bitcoin futures are currently trading on the Chicago Mercantile Exchange (CME), but unlike Bakkt daily and monthly futures, these futures are not used to buy and sell bitcoin. CME futures are settled in cash rather than bitcoin tokens, and the settlement price is based on the composite price index of the bitcoin spot market.
In fact, due to convenience, the use of cash delivery is currently the choice of most financial and commodity futures worldwide. Then why do you have to do physical delivery?
Cai Kailong, a senior researcher at the Institute of Financial Technology of Renmin University of China and chief strategy officer of the former Firecoin Group, said that
"Physical delivery is the most important link between the commodity futures market and the spot market. It is the most important guarantee for the commodity futures market to play the two functions of price discovery and hedging. It can be said that the operation of the commodity futures trading system is irreplaceable. Because of the arduousness and importance of physical delivery, an exchange that enables physical delivery is naturally the center of storage, trading, and pricing for that commodity."
In addition, since cryptocurrencies have also been traded on the spot market, these markets are not subject to federally regulated "exchanges", and in most cases, cryptocurrency exchanges are held by the state in which they are registered. A currency transfer license issued. Compared with the CFTC's strict and uniform standards for futures trading, investment companies are clearly less comfortable with the decentralized and immature regulation of these trading venues. More than 200 encrypted digital currency platforms dominate the transaction, and each platform has its own price. Therefore, Bitcoin does not have a clear, centralized price.
It can be seen that the reason for the hard work to launch physical delivery is actually because Bakkt wants to provide pricing standards for Bitcoin.
It is worth mentioning that Baktt's products include not only the monthly cycle of bitcoin futures, but also the ultra-short-term bitcoin futures on a daily basis, so that Bitcoin can be settled on a daily basis, and the trader will There must be a sufficient amount of bitcoin in kind to support the day's trading, which will significantly reduce the possibility that market prices will be manipulated. Due to the short time, high frequency, and the fact that the spot delivery is the real basis, plus the Bakkt brand endorsement, and the application for the license blessing, the closing price of Bakkt's bitcoin date goods can reflect the price of the bitcoin market most realistically.
Impact on the market
For the time being, although Bakkt is finally on the line, its influence is not up to standard.
As of press time, Bakkt will be online for more than 10 hours, but its trading volume is only 28 BTCs a day. Not only did it not ushered in an outbreak, but it was also a quantitative team that could not compare with the currency. At the same time, in terms of today's entire market, Bitcoin has fallen below the $10,000 mark. Bakkt's launch has not only become a catalyst, but has caused the market to fall because of the failure to cash.
Is that Bakkt cool here?
Actually it is not.
It is understood that the current users in Bakkt are only their member users. This is also the main reason why Bakkt is currently trading at a low volume. In an interview with Fortune magazine, Jeff Sprecher, CEO of Bakkt Exchange's parent company, ICE, said
"This is not a demand, but a strong curiosity. In a sense, the fund is ideally the leader of this train, not excluded. When the price of Bitcoin rises or falls, the news will be every day. Reporting, behind it, we see that professional investors are investing in infrastructure and compliance with unrelated prices. However, if we can't build the track of the train in a standardized way, these infrastructures will not be available or used. Will be truly recognized on a global scale."
In addition, Jeff Sprecher also said that Bakkt users on Wall Street can take weeks or months to judge whether their launch is a success or a failure.
"It's like a movie premiere, everyone is nervous."
Compared to Jeff Sprecher's uncertain answer, Bakkt CEO Kelly Loeffler's attitude is more optimistic. Kelly Loeffler said that as long as it is safe enough, Bitcoin can be an important part of a balanced portfolio.
"In the past decade, Bitcoin's total revenue has surpassed all of its competitors. In theory, Bitcoin should have a place in alternative assets and become the basis for a large, diversified portfolio."
Kelly Loeffler believes that the volatility of Bitcoin is currently a big negative impact on individual investment, but not for institutional investors. Many volatility funds are also used to invest in alternative assets, and oil and coffee prices often fluctuate wildly.
She said that for fund managers, she believes that the most likely to accept college endowments and pension funds, because "they are usually the forefront of adopting new investment ideas."
What is certain is that institutional investors are still on the sidelines, and what Bakkt has to do is to make Bitcoin, like gold and private equity, a popular alternative investment. Whether the two can spark the spark, so that Bitcoin is the first choice for institutional investors, we can only wait for time to verify.
Attachment: Bakkt "Frequently Asked Questions"
Overview
1. Which contracts will be traded on ICE Futures US (IFUS)?
The first two contracts that IFUS will list are:
BakktTM Bitcoin (US$) Daily Futures
BakktTM Bitcoin (US Dollar) Monthly Futures
2. How is the futures contract regulated?
The regulation of Bakkt Bitcoin date and monthly futures will be in line with the regulatory requirements of the CFTC and the compliance regime for other contracts of the CFTCregulated Designated Contract Market (DCM) IFUS and ICE Clear US (ICUS). ICUS is a derivative clearing house (DCO) regulated by the CFTC.
The customer's bitcoin will be stored in the Bakkt warehouse, which is operated by a limited-purpose trust company regulated by the New York State Department of Financial Services (NYSDFS), which will serve as a qualified custodian.
3. When will the test function start?
The User Acceptance Test (UAT) is now open.
4. When will the futures contract be put into production?
September 23, 2019.
Transactions and data
5. Are there any minimum contracts for these futures contracts?
Yes, the minimum size of a block trade is 10 contracts.
6. Will there be a spread trade? How many spreads will be listed?
Yes. All spread combinations for all listed contracts of Bakkt Bitcoin Monthly Futures will be supported.
Bakkt Bitcoin Daily Futures will support the following spreads:
Spot / next spot / 1 week spot / 2 weeks spot / 3 weeks spot / 1 month spot / 2 months spot
7. What is the spread agreement? How is the price difference calculated when the trade is executed?
For calendar spread orders in Bakkt Bitcoin daily and monthly futures contracts, the buy order is defined as the buy far month, the sell near month, the sell order is defined as the sell far month, and the buy near month.
The support price of the spread is calculated by applying the "anchor price" calculated by the exchange at the time of the transaction to the past month. The difference between the spread and the spread of the recent month will apply to the distant month.
8. What is the trading time?
Trading hours are from 8 pm to 6 pm EST from Sunday to Friday.
9. What is the relationship between Bakkt Bitcoin daily and monthly futures and the bitcoin spot market?
Bakkt Bitcoin daily and monthly futures do not rely on the bitcoin spot market.
10. What is the cost?
As of December 31, 2019, all fees are waived. The fees to be paid thereafter are as follows:

11. Will there be a market maker for futures contracts?
Yes, IFUS intends to introduce a market maker program to support Bakkt Bitcoin daily and monthly futures screen transactions.
12. What is the cost of accessing data related to futures contracts?
There will be a data fee reduction before June 30, 2020. Thereafter, if you are a subscriber to IFUS, there will be no charge for data related to Bakkt Bitcoin daily and monthly futures. If you are not a subscriber to IFUS data, there will be a data feed for the retail price.
Liquidation
13. Do I need a settlement membership to trade futures contracts?
Yes. All trading participants will need a Futures Commission Merchant (FCM) as a clearing member of ICUS to trade and settle Bakkt Bitcoin daily and monthly futures.
14. How is the margin for futures contracts calculated?
The ICUS initial margin for Bakkt Bitcoin date and monthly futures is expected to be approximately 37%. Spreads are expected to range between $400 and $800, depending on the two due dates. Like all contracts, ICUS Risk maintains the right to adjust margin levels based on market conditions.
Bakkt Warehouse (Bakkt Warehouse)
15. What role does the Bakkt warehouse play?
The Bakkt warehouse is operated by a regulated entity, including the storage and delivery of bitcoin security and software systems related to daily and monthly trading of Bakkt bitcoin futures.
16. Is bitcoin in the Bakkt warehouse insured?
Yes. Bakkt's hot and cold wallets are covered by a $125 million policy from a leading global consortium. Bakkt will periodically review its insurance plans and coverage limits based on risk and managed assets.
17. What is the storage fee for storing Bitcoin in the Bakkt warehouse?
Bitcoin stored in the Bakkt Bitcoin warehouse will have a chargeable holiday until June 30, 2020. The Bakkt Bitcoin Warehouse is associated with Bakkt Bitcoin daily and monthly futures.
18. How to protect the Bakkt warehouse infrastructure?
Bitcoin is stored in Bakkt's warehouse and will be protected with a hot wallet and a cold wallet. Bakkt's hosted solution is a secure bitcoin storage method where most client funds are stored offline and protected by powerful operational controls.
19. How do I learn more about Bakkt and launch futures contracts?
IFUS and ICUS will issue trading and clearing notices regarding the launch of Bakkt Bitcoin daily and monthly futures.
Original: Sharing Finance Neo
Source: Sharing Finance