Blockchains such as Ethereum are often positioned as independent currency networks operated by countries, financial institutions, and companies. But recent research suggests that the real situation may not be the case.
Research indicates that in fact, centralized cloud services carry most of the Ethereum network, with 61.6% of Ethereum nodes running on the cloud.
Cloud service provider Chainstack reports that Amazon's cloud service, Amazon Web Services (AWS), indirectly operates nearly 25% of Ethereum nodes, is a real worry.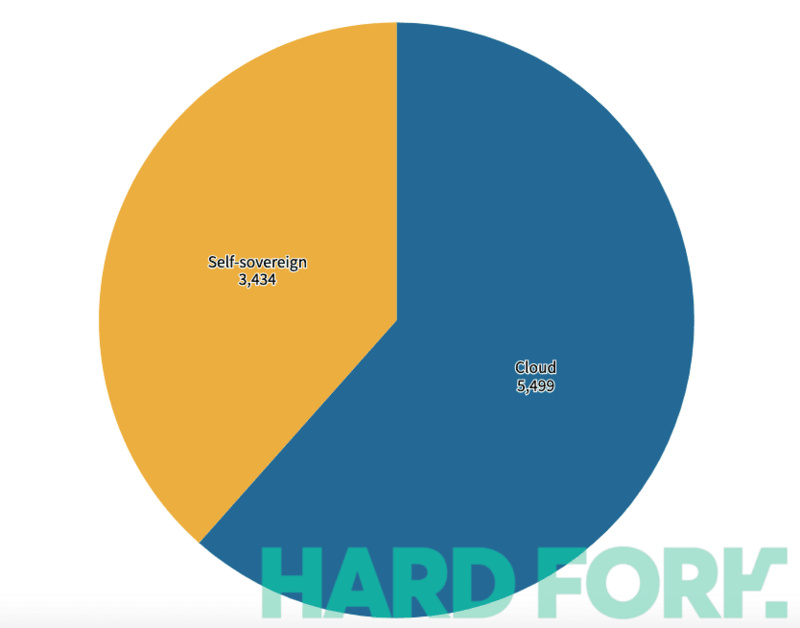 Cloud service maps out the problem of Ethereum
It is possible to analyze the Ethereum network in this way because of the existence of the Ethereum discovery protocol, a mechanism for nodes to find each other and join the network.
This process essentially forces all nodes to maintain a list of other nodes in the network in the past 24 hours.
Therefore, in order to find out which Ethereum nodes are, Chainstack extracts data from ethernodes.org (a third-party blockchain browser running its own node) and obtains a complete Ethereum node and its IP address list.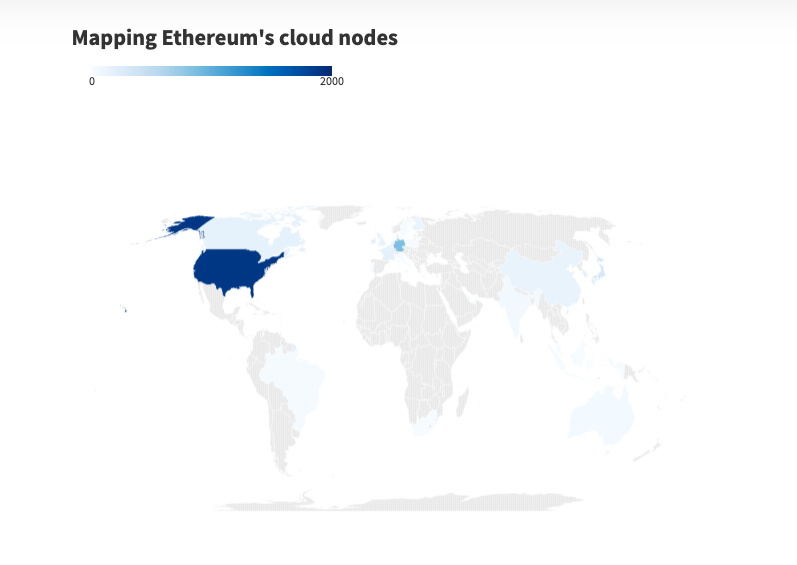 Now all Internet routing services (such as cloud providers) can be identified by their unique Autonomous System Number (ASN) and each IP address can be mapped to an ASN.
Odaily Planet Daily Note: In the Internet, an autonomous system (AS) refers to all IP networks and routers under the jurisdiction of one (sometimes multiple) entities, which implement a common routing strategy for the Internet. .
Using a free lookup tool, Chainstack cross-references the nodes' IP addresses based on a set of ASNs and then matches their ASNs with the known cloud hosting provider's ASN.
This way, analysts can easily see which node is hosted by which company, and how many nodes are not hosted by any third party at all.
Top ten centralized services for hosting Ethereum nodes
As of September 20, 2019, Chainstack analysts determined that the Ethereum network consisted of 8,933 nodes.
Only 38.4% (3434) of them are fully independent (autonomous) managed, while 61.6% (5499) of the network is running on the cloud.
To make matters worse, the top ten cloud hosting providers accounted for 57.3% of all Ethereum nodes, with AWS hosting far more than other providers.
In addition, the relatively high Alibaba Cloud, Google Cloud Platform, DigitalOcean and Hetzner also host a large number of Ethereum nodes.
There is a more serious problem: these cloud nodes are not evenly distributed around the world. Chainstack concluded that 34% of Ethereum's cloud nodes are hosted in the United States.
Is AWS hosting nearly a quarter of Ethereum nodes trustworthy?
We can boldly assume that, for unknown reasons, Amazon CEO Jeff Bezos suddenly made a fuss about Ethereum, or imagined that AWS is about to release its own blockchain and provide matching cryptocurrencies.
In this case, technically, 25% of the network hosted by AWS may suddenly collapse and damage network efficiency, which will eventually cause a serious blow to Ethereum prices.
If other cloud providers also limit Ethereum nodes, more than half of the network may disappear overnight.
This is obviously bad news for a blockchain that should be decentralized.
A broader cryptocurrency ecosystem has similar problems
Ethereum is not the only company that publicly relies on centralized cloud hosting services. Last November, due to service disruptions across AWS, local major exchanges Upbit and Coinone were once forced to go offline.
Just recently, due to the failure of the AWS Japanese machine room cache server, a large number of cryptocurrency exchanges have caused market data instability. Coin Security also reported the resulting withdrawals.
Still, the study shows that in addition to Infura, the backbone of most of Ethereum's applications, the Ethereum network relies on centralized services.
Interestingly, Chainsack CTO Eugune Aseev revealed that he estimates that one-quarter to one-half of the Ethereum cloud nodes running on AWS are operated by Infura.
In the current political environment, the relationship between Ethereum and cloud service providers may not be the main problem, but if the situation gets worse, Ethereum may find itself in a difficult situation when the world needs cryptocurrency most. Unfortunately, it is too late.
This article from at The the Next Web , the original author: David Canellis
Odaily Planet Daily Translator | Nian Yinsi Tang