One-fifth of the work in the United States is done by freelancers. Not only that, but the study also found that if this trend continues, it is expected that by 2027, half of the workforce will be transferred to freelance.
Marist and the National Public Radio (NPR) recently conducted an industry survey to determine the number of jobs that freelancers are involved in. The results were very surprising because they found that one-fifth of the work in the United States was done by freelancers. Not only that, but the study also found that if this trend continues, it is expected that by 2027, half of the workforce will be transferred to freelance.
Nowadays, freelance income has become the main source of income for more and more people, and this has become a global trend. After all, no one does not like to control their own workload, accept their favorite work, and determine for themselves. Working time and location. In fact, more than 50% of full-time freelancers say they will not try traditional jobs even if they are offered more generous salary.
On the other hand, freelancers also encounter many unfair treatments, and most freelance platforms, including UpWork, Freelancer.com, and PeoplePerHour, often "squeeze" users—for example, these platforms require freelance users to bid. Work, who has the lowest bid, and who gets the job offer. For most freelancers, they are like cheap extras. What's more exaggerated is that these freelancers also need to compete with "opponents" around the world, because freelancers from low-income countries tend to Lower bid prices also make it easier for freelancers in other countries to get jobs in time.
Also, after freelancers spend a lot of time and energy on their work, sometimes they are not able to get paid. In fact, these freelance service platforms are actually more tailor-made for employers because employers are their "golden owners" and provide them with a source of income. Therefore, even if the faulty party is the business owner, when they conflict with the freelancer, the platform often stands on the employer side and does not provide effective help and support to the freelancer.
It is worth mentioning that the freelance bidding website is also very expensive, and some platforms even draw up to 20% of the intermediate fee. Therefore, if these platforms are self-proclaimed as "the bridge between employers and freelancers", it is simply ridiculous.
In short, the freelance industry is not yet a completely "free" market, so control is in the hands of freelance bidding websites and stakeholders. However, this situation is not unchangeable, and cryptocurrency and blockchain technologies have been able to offer new alternative solutions and try to subvert the industry. Let's take a look at some of the freelance platform solutions that deserve attention.
1. Gitcoin for Developers
Gitcoin is a platform for freelancers and those who like to work on the blockchain, where they can write technical articles, find bugs in smart contracts, develop integrated applications, and more. The platform itself focuses on open source projects that help with specific tasks, or finds industry experts who can really do the outsourcing work.
As a freelancer, you can set your own bonus amount or communicate directly with your employer. If the employer agrees, the bonus will be paid directly. The advantage of doing this is that the price of the work task is fixed, and the payment is done in the form of cryptocurrency.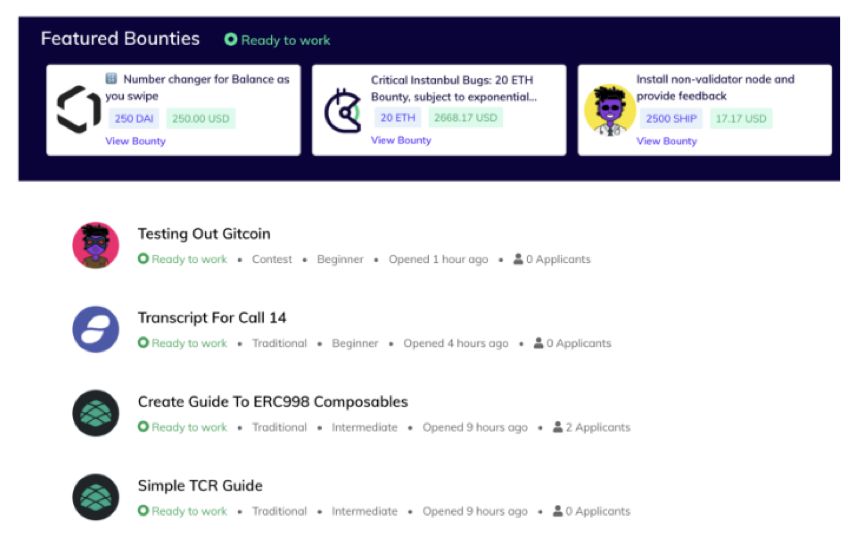 Gitcoin's mission is to provide serious and hard-working developers for open source projects, and they will be rewarded while contributing to the rapid development of open source projects. After exploring Gitcoin, you will notice that there is no native token in the ecosystem, which means that any ERC-20 token can be used as a bonus payment method for the Gitcoin platform.
2, Freelance For Coins
FreelanceForCoins.com is a newly launched website designed to disrupt the traditional freelance market and they will not charge any fees for users of the platform.
In terms of payment of labor costs, although the cryptocurrency of Bitcoin and Monero is a good choice, due to high price volatility, it may affect the actual income of freelancers. In order to provide a more stable payment solution, FreelanceForCoins.com selected stable currency payment methods such as TUSD, USDC, and USDT.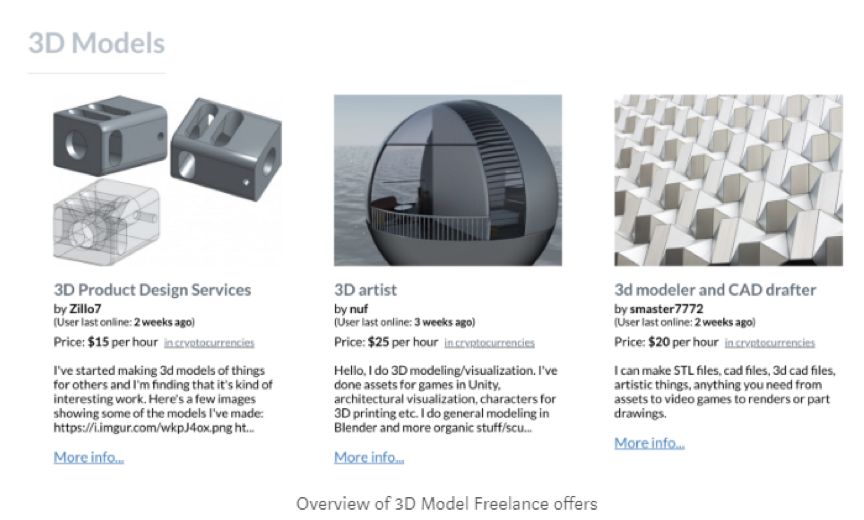 In addition, due to the launch of the platform, they are currently negotiating with several marketing channels, hoping to further expand their business. In the past two weeks, there have been more than 140 freelancers who are willing to accept cryptocurrencies as labor remuneration to provide services on FreelanceForCoins.com, including translation, website development, writing, design and so on.
In fact, FreelanceForCoins.com can be considered a good freelance platform, mainly because they provide a channel for those who don't have a PayPal account or can't access other traditional payment services, so they can easily Get paid for work. In addition, FreelanceForCoins.com places great emphasis on privacy, and as long as freelancers request it, their identity information will not be made public.
For SMEs, freelancers are a very convenient way to get talent because they have access to a broader talent pool.
3. Ethlance – working for Ether
Ethlance is a job-seeking recruitment system based on Ethereum, also developed by District0x. The system allows users to create employer profiles, list and apply for open job opportunities, provide employer rankings and employer evaluation feedback, and send/receive invoices.
What's even cooler is that Ethlance doesn't charge anything, but if the user wants to post, request an invoice, or send a message, they will have to pay a fee.
In addition, you can find the full source code of Ethlance in the District0x repository on GitHub. The project claims that Ethlance's front-end source code is written in Clojurescript, using the interstellar file system IPFS, and the back-end logic is deployed in the ether. The 14 smart contracts on the main website are managed together.
Ethlance's only "disadvantage" may be that freelancers can only get paid through cryptocurrencies, and they are currently unable to track any payment transactions or dispute resolution systems. Since employers and freelancers are informally negotiated, it is best for freelancers to see if they have enough balance in their accounts to pay for their compensation before reaching an agreement with their employer.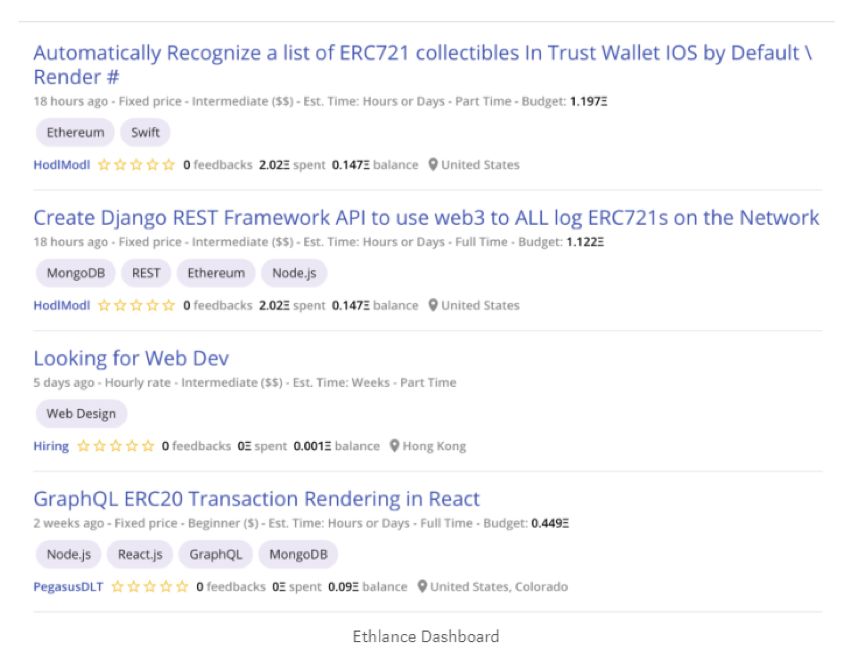 4, Blocklancer
The Blocklancer platform has a native token LNC, and freelancers who hold the token can seek arbitration if they encounter any problems. Blocklancer's "arbitral court" can resolve conflicts between freelancers and employers, and if you hold LNC tokens, you can vote when disputes arise and help freelancers through a decentralized dispute resolution system. .
It should be noted that the Blocklancer platform charges a 3% fee for each successful job and then distributes it evenly to all token holders.
5, CanWork
CanWork provides a platform for people and businesses with freelance recruitment needs and charges only 1%. On the platform, individuals and businesses can post jobs and offer public offers or inviting quotes. Inviting means that the business or individual only accepts some invited freelancers to bid for a job. This model creates a fairer platform for freelancers, and as competition becomes less, the price of compensation tends to be normal.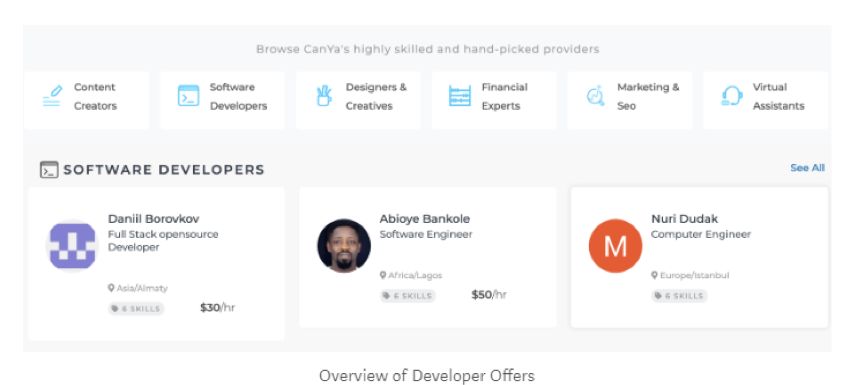 6, Cryptotask – decentralized freelance platform
Cyptotask uses Ethereum smart contracts to run their freelance service platform, and in the fourth quarter of last year, they decided to partner with Hedera Hashgraph, which specializes in providing custom blockchain solutions for high transaction throughput. This collaboration allows Cryptotask to further reduce transaction costs and improve the overall security of the platform.
For dispute resolution, the Cryptotask platform has a special resolution system consisting of a group of decentralized reviewers who receive dividends based on their contributions. The advantage of this approach is that when the dispute occurs, it does not need to rely on a third-party dispute resolution system to deal with it, but can be resolved within the platform.
7, Cryptohire – focus on recruiting blockchain developers
Cryptohire is a platform dedicated to recruiting blockchain developers, covering blockchain projects including Ethereum, Hyperledger, Bitcoin, and Interledger. In fact, Cryptohire has built a pool of blockchain professionals that can provide talent resources for a variety of blockchain projects. It's worth mentioning that Cryptohire will review every developer, which will help blockchain projects and corporate customers save a lot of time, so they can find the right developers more quickly.
In addition, Cryptohire is also responsible for various document management related to recruitment (such as signing contracts, etc.), which also makes their service scope not limited to part-time services, and the recruitment of some full-time positions can be successfully completed on their platforms.
8, CryptocurrencyJobs.co
Cryptocurrencyjobs.co is a well-known freelance portal in the industry that recruits freelancers who provide long-term work for a number of approved encryption projects. The types of jobs offered on the platform are mainly research and engineering, and of course there are some marketing and public relations jobs. The advantage of this platform is that it does not "search" the data of other websites, and all the jobs are carefully selected by themselves, so it is very reliable.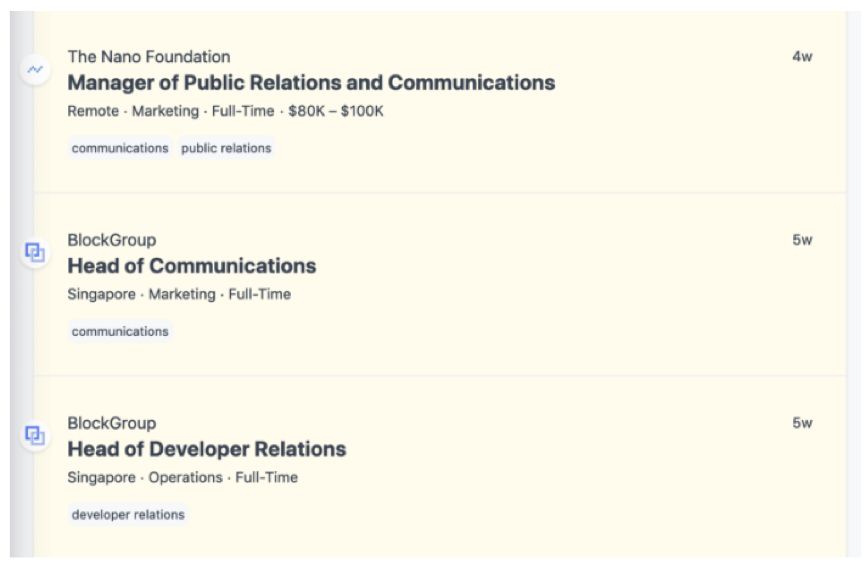 9, Reddit
If the above seven cryptocurrency and blockchain freelance platforms still can't meet your needs, you can also try your luck on the Reddit forum. Some blockchain and cryptocurrency sub-forums are available on Reddit, such as /r/Jobs4Bitcoins/. These sub-forums may charge users a small amount of bitcoin as a service fee, although some also support other cryptocurrency payments.
to sum up
It is undeniable that there are currently not many freelance service platforms in the cryptocurrency and blockchain industries, and most platforms serve specific blockchain projects. In addition, many freelancers know very little about the blockchain technology and may be another major problem facing the industry.
Of course, with the continuous development of the cryptocurrency and blockchain markets, the demand for freelancers will certainly grow larger and larger, and more and more service platforms will emerge.
Author: Michiel Mulders
Compile: 氪12