After the BCH fork, CSW once again became the focus of the cryptocurrency world.
Recently, lightning torch promoter Hodlonaut released a series of tweets, insisting that CSW is not Nakamoto, and then CSW threatened to sue Hodlonaut and also spent money to dig up Hodlonaut's personal information.
For the "Ming War" of the two, the Bitcoin community announced its full support for Hodlonaut and launched "We Are All Hodlonaut (we are Hodlonaut)" and "Legal Aid Fund Fundraising" activities, with the intention of protecting and supporting Hodlonaut.
On April 12th, Zhao Changpeng, the founder of the currency, even shouted on Twitter, saying that if CW was to be a demon again, "Coin will be removed from the BSV". At this point, the match reached its climax.
The CW that has aroused public anger has clearly become the "public enemy of the people."
In fact, in the past year, CSW has been very busy, leading the BCH to fight for power, to cope with litigation, to frequently verify identity, and to cope with public opinion attacks…
Waiting for the power of the battle to settle, a hard battle that belongs to CSW has just begun.
1
Mouth upgrade
The true identity of Bitcoin, the father of Bitcoin, has always been the focus of the cryptocurrency community.
Since the disappearance of Nakamoto in 2011, people have been searching for Nakamoto. In recent years, there have been several people who claim to be Nakamoto, but in the end they have all been confirmed to be not Nakamoto.
However, after being "punctured", he still tirelessly calls himself Nakamoto, and CSW is alone.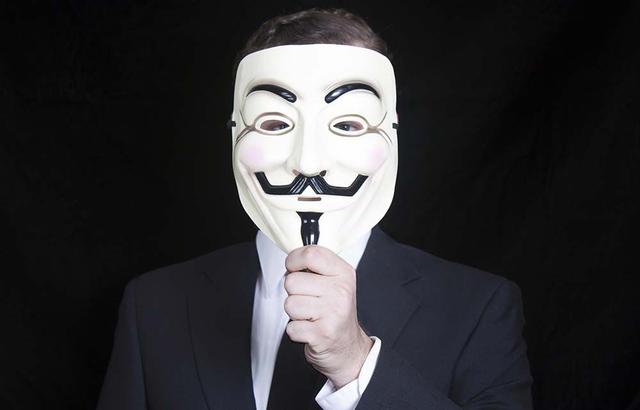 As early as 2016, CSW publicly declared that he was Nakamoto. "I don't want money, I don't want fame, I don't want people to worship, I just don't want to be disturbed by the outside world." But after a few days, he said he gave up his self-certification. Identity.
In the following years, although CSW did not give up its self-certification "Zhong Bencong" status, it was only limited to swearing until it was in a legal dispute last year.
On February 14 last year, six years after the death of CW's former partner Dave Kleiman, Dave's brother Ira Kleiman filed a lawsuit and brought CSW to court.
In a lawsuit filed with the Florida court, Ira mentioned that in the early years, his brother worked with CSW on bitcoin development, "cooperating to dig up more than one million bitcoins," and later co-founded the company and applied for hundreds of applications. Bitcoin related patents.
According to patents published by the World Intellectual Property Organization (WIPO), the number of blockchain/bitcoin patents submitted by the CSW side reached 155.
According to him, this valuable asset was taken away by CSW with "trick".
In the indictment, the nine claims filed by Ira are: 1. illegal possession; 2. unjust enrichment; 3. encroachment (bitcoin); 4. encroachment (intellectual property); 5. breach of fiduciary duty; Violation of partnership obligations and loyalty obligations; 7, fraud; 8, presumptive fraud; 9, long-term ban.
Either way, the goal is to get back some of the huge assets.
It is also because of this lawsuit that the dusty past between CSW and Dave has also been unveiled from the tip of the iceberg.
As early as 2003, CSW and Dave had known each other, and their mutual interest was in the interest of password security, digital forensics and future currencies. By 2008, CSW and Dave began using peer-to-peer file sharing cryptography. As mentioned in the lawsuit, Dave and CSW collaborated on the development of Bitcoin. "The two worked together to dig more than 1 million bitcoins."
One million bitcoins, at current prices, have a total value of billions, but now, "CSW has ownership of the above assets." According to Ira's appeal, he hopes to get back at least "300,000 pieces of his deceased brother's name. "Bitcoin, including the amount of forked coins that are later distributed.
A protracted legal dispute case opened.
In the face of the "sudden" complaint, CSW expressed shock. On February 26th, he responded succinctly on Twitter, "GREED".
Now that Ira's complaint has been passed to the court, CSW must embark on the road to respond.
2
CSW's response
It is understood that the law defense of CSW is the well-known law firm Rivero Mestre LLP. Two months after Ira filed the lawsuit, the CSW party filed a motion with the court on April 16 to request the court to reject the case against him.
In the motion, the CW side believed that Ira lacked the position to file a lawsuit—before Dave died, he knew nothing about the activities he participated in, and the complaints were completely untenable (a thin soup of supposition, speculation, conflicting). Allegations, hearsay and innuendo.).
However, the court did not buy the bill for this motion.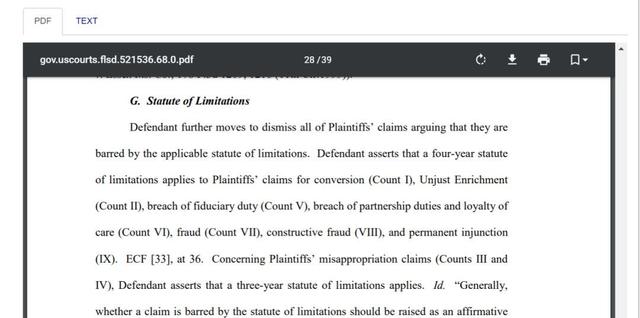 The court rejected most of the CSW motion
On December 27 last year, the court rejected most of the motions in the motion and only supported a motion proposed by the CSW.
In this ruling by Florida judge Beth Bloom, the judge found that the "invasion of bitcoin and intellectual property rights" mentioned in Articles 3 and 4 of the plaintiff's claim exceeded the time limit and was directly rejected.
However, the other seven lawsuits still need to be tried and the defendant's CW party is required to enter a substantive defense. It is expected to be officially opened from the end of September to the beginning of October this year.
3
"Dave is the Nakamoto Satoshi."
The core of the dispute between Ira and CSW is who is the real Nakamoto, and whether CW illegally encroaches on Dave's assets and intellectual property.
Just when the two men's "combats" were difficult to separate, another person was summoned by the court.
On April 15th, early bitcoin code developer Jeff Garzik (Jeff Gazik) will go to the Florida court to submit documents, and he will provide evidence for previous comments that Dave is Nakamoto.
According to the court's subpoena document, in addition to submitting "Dave is the document of Nakamoto," Jeff was also asked to provide information related to CSW, Silk Road, and Mt.Gox.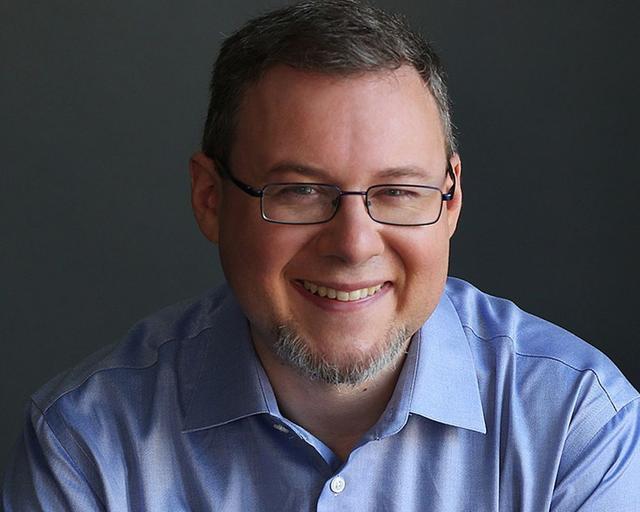 Bitcoin code contributor Jeff Garzik
The reason why Jeff was "pointed" by the court stemmed from his public comments last November. At the time, he said in an interview with Bloomberg that "Dave is Nakamoto."
"My personal opinion is that Nakamoto is Dave," Jeff said on the phone. "The (bitcoin code) is in line with Dave's style. He is a self-taught programmer." "The creator of Bitcoin is A very intelligent person, not a well-trained software engineer (can write it)."
Jeff's description is credible because he was the third-largest contributor to the Bitcoin code after Satoshi Nakamoto and Gavin Andresen, and this achievement continued until after 2014.
In the early days, Jeff had communicated with Nakamoto Satoshi through private mail. He can say that he still has a say in confirming "Who is Nakamoto."
Today, Jeff said, saying that Dave's characteristics are in line with Nakamoto, and this statement is exactly the same as Ira's. If Dave is really Nakamoto, the balance of the lawsuit seems to be tilted toward Ira.
So, a few months after the rejection of the CSW motion, on March 15 this year, the Florida court sent a summons to Jeff asking him to provide information about the ongoing lawsuit, proving his "personal Theory" – the late Dave is Nakamoto.
4
Self-certification of horses without stopping
In fact, even if the lawsuit whirls deep, the currency circle red man CSW can't stand the loneliness, and he still proves that he is the real Nakamoto.
In December last year, the US Commodity Futures Trading Commission (CFTC) issued a "Consultation Draft", hoping to learn more about Ethereum. In this opinion draft, 25 questions related to Ethereum were listed. Many organizations/companies including ConsenSys, Coinbase, etc. have sent relevant information to CFTC.
Everything seemed to be very smooth, until someone found out that CSW's comments were "mixed in".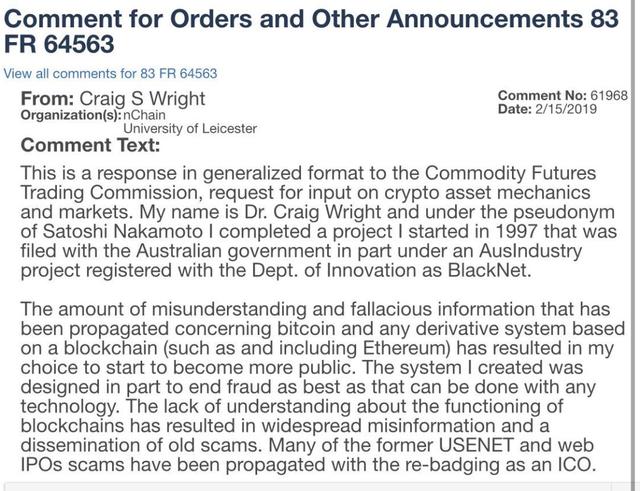 CSW commented that he was Nakamoto Satoshi under the draft
CSW commented on the opinion draft as the founder of nChain. The public had a misunderstanding of Ethereum (involving fraud). In addition, he started Bitcoin-related R&D as early as 1997, when he was involved in an official Australian project. It is just that the pseudonym "Zhongben Cong" has not been adopted.
The research on Bitcoin has long been carried out, and he himself is Nakamoto. The behavior of CSW has once again triggered questions about the identity of netizens.
CB, a cryptocurrency researcher, points out that CSW's remarks contradict the information that Nakamoto has published publicly. "I am Nomad" believes that the behavior of CSW lying to the CFTC is enough to expose him to jail.
However, CSW does not seem to care, he even suggested that CFTC can ask further questions, "I am willing to testify under oath."
To make things bigger and attract the attention of CFTC, CSW is still not satisfied. On February 8 this year, he published an article on Medium again, and once again hinted that it is Nakamoto.
Two days later, CW released two pictures on Twitter, Blacknet's abstract of the paper and Bitcoin white paper summary picture, which shows that I came up with the idea of ​​Bitcoin as early as 2001.
However, netizens found that the papers mentioned by CSW were almost identical to the Bitcoin white paper published by Nakamoto in December 2008, but in fact, Nakamoto also published a draft version in August 2008, which has multiple places. Grammatical errors.
In this regard, netizens have speculated that if CSW is really Nakamoto, why did it correct the mistakes that occurred in 2008 in 2001? In his early years, he talked about Bitcoin ideas. Isn't it a fake?
CSW's self-certification also attracted the onlookers of WikiLeaks. "In fact, CSW has been caught doing this kind of thing many times." Also attached is a GitHub file CultOfCraig, which records the history of CW forged documents.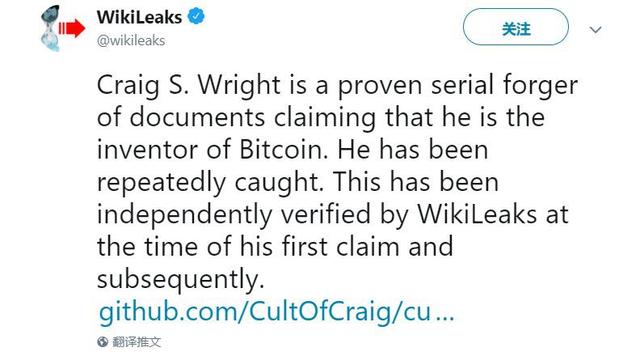 WikiLeaks said that these frauds have been confirmed, and it is mentioned that CSW has revised an article published in August 2008, saying that he is "coming soon to launch a cryptocurrency paper."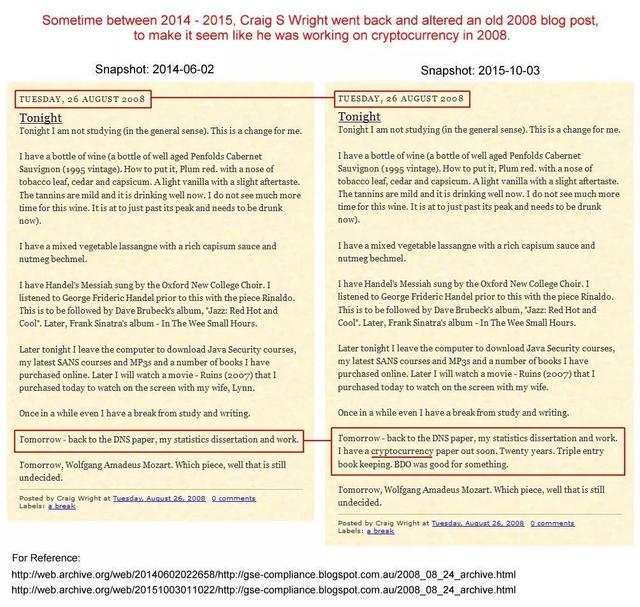 CSW actually used "crytocurrency" in his 2008 paper.
Although the Bitcoin white paper was indeed released in 2008, there has never been a word "crytocurrency", which has not been used by developers during the same period. This word is used in CSW's paper, which is obviously out of date. .
However, for the above evidence and reasoning, CSW is not motivated, saying that these are "fake news".
Conclusion
This is not the first time that CSW has fallen into a slap in the face, nor is it the first time it has fallen into a legal dispute.
From the early years, he vowed to open the identity of Nakamoto, and to the station's bitcoin fork. Later, due to the huge amount of assets, he was about to go to court with others, and then, with his own power, set off a battle of power and then to the end. The card has attracted netizens to expose it over and over again.
As long as Nakamoto's identity is not overwhelming, the dispute between CSW and the Clayman family has not been fixed. The CW, which has been savvy and arrogant for many years, will be troublesome and controversial in the future.
However, this one-time move can always touch the currency of the nerves, the unchanging fighters – CSW, seems to have not stopped to plan.
File download link for this lawsuit:
Ira Kleiman's indictment file:
https://zh.scribd.com/document/372465601/Complaint#from_embed
The court dismissed the motion:
Https://www.courtlistener.com/docket/6309656/68/kleiman-v-wright/
Court voucher received by Jeff Garzik:
https://zh.scribd.com/document/402001527/Kleiman-Wright-Document-Subpoena
Author; 31QU Lin Jun
Disclaimer: All original articles of "31QU" must be authorized by "31QU". Reproduction is prohibited without authorization.