According to four people familiar with the matter, the Central Bank of Venezuela is conducting internal tests to determine whether it can hold cryptocurrency in its national treasury.
According to people familiar with the matter, the test was in response to a request from Petroleos de Venezuela SA (PDVSA), which is seeking to send Bitcoin and Ethereum to the central bank and use these cryptocurrencies to its suppliers. payment. Central bank officials are also studying proposals to include cryptocurrencies in international reserves. It is reported that the current international reserves of Venezuela is 7.9 billion US dollars, a new low in the past 30 years.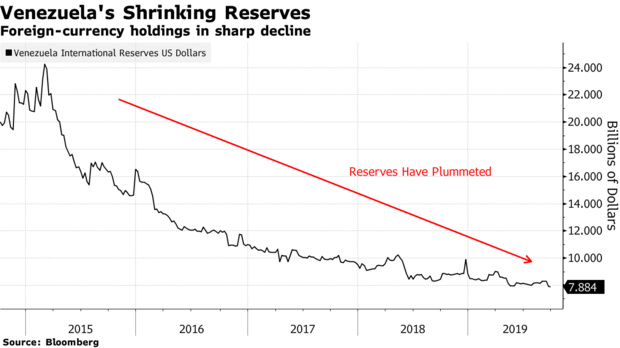 The United States' sanctions against Venezuelan President Nicolas Maduro's dictatorship largely separated Venezuela from the global financial system, exacerbating one of the world's worst economic crises, forcing officials to use a variety of methods. Transfer funds. Although Maduro's previous attempt to open the world's first sovereign cryptocurrency (Petro) basically failed, he still did not give up – repeatedly introducing a number of measures to promote the use of digital currency shows how much the government is There is an urgent need to find a way to circumvent the shackles of US sanctions.
The press officer of the Central Bank of Venezuela did not respond to the request for comment.
It is unclear how PDVSA owns Bitcoin and Ethereum, and it is not clear how much it holds. But because large banks are reluctant to do business with a sanctioned entity, the oil producer has struggled to get customers' payments through traditional channels. Last month, after all parties worked hard to find a financial institution that could facilitate the transaction, the company received $700 million in payments, of which the yuan accounted for the majority.
PDVSA may be reluctant to sell its cryptocurrency in the open market as this will require the company to register with the exchange and accept due diligence. Therefore, it hopes to use the cryptocurrency to pay the entity through the Central Bank of Venezuela. There is a reason for this choice, and PDVSA officials believe that the potential for a central bank to be blocked is small.
Bitcoin and Ethereum use blockchains to verify and record transactions. In some cases, it allows relatively anonymous transfers without the need for a middleman. Few banks will be willing to contact digital tokens as this may raise KYC and money laundering concerns and lead to compliance issues.
After a 2018 retreat, cryptocurrency rebounded this year, perhaps thanks to expectations of more institutions using cryptocurrencies, and Facebook's plans to issue cryptocurrency Libra, but the volatility of cryptocurrencies is still quite large. . Although Bitcoin has plunged nearly 20% in the past four days, it has risen more than 130% this year.
In order to be immune from further sanctions, the Venezuelan government has also been considering switching to an international payment information system operated by Russia as an alternative to the SWIFT system used by most financial institutions.
This article from Bloomberg , the original author: Alex Vasquez & Patricia Laya
Odaily Planet Daily Translator | Nian Yinsi Tang