In the process of launching Libra, Facebook's biggest obstacles may be lack of trust and opposition from global regulators who worry about Libra's potential impact on privacy and financial stability, and Facebook's role in managing Libra.
For these criticisms, Facebook responded that the Libra Association, a Swiss-based independent organization responsible for managing its cryptocurrency, is a consortium of companies and non-profit organizations that serves as a link between Facebook and its development projects. Transitional organization. Facebook said it will ensure that it and any other company will not have an impact on Libra. The organization has 28 "founding members" but plans to increase it to 100 in the future.
However, many of these founding members have close personal, professional, and investment relationships with Facebook and members, which has caused Facebook to question the nature of the association. These intricate relationships touch even the organization's top leadership, experts say, which raises questions about Facebook's continued influence on the project and who's values ​​will apply to Libra.
Katharina Pistor, a professor, corporate governance and financial expert at Columbia University School of Law, said: "When the Libra white paper says that Facebook is just one of 100 members, you can see for yourself that this is not entirely true."
This is crucial because Libra's goals and Libra's responsibilities will be borne primarily by the government and the central bank.
Libra is a cryptocurrency based on open source blockchain technology developed by Facebook. Unlike most cryptocurrencies, it is designed for trading, not for investment. People can use Libra to send money to friends, or by online payment methods such as e-mail—free (or at least cheaper), easily through the digital wallet app, and Facebook's affiliates will offer the first digital wallet app. Facebook says Libra can improve financial services around the world.
Many experts and legislators believe that Facebook's billions of users will make Libra the most widely used cryptocurrency and potentially make it possible to compete with government-backed currencies such as the US dollar, potentially threatening the stability of traditional financial systems. Sex. The Libra Association will be responsible for regulating this currency: ensuring its value, determining how to work with regulators and how to protect the privacy of users.
That's why regulators are particularly worried that Facebook will have a major impact on the Libra Association. Some people don't believe that it will give up managing such an ambitious project, let alone Facebook has many black history, including infringing on user privacy and using its platform by foreign criminals. The most notorious accusation is to interfere in the US election. In July of this year, many members reiterated this concern at the two hearings held by the House Financial Services Committee and the Senate Banking Committee on the project.
"Facebook CEO Mark Zuckerberg and executives have proven time and time again that they don't understand management or accountability," said Senator Sherrod Brown of Ohio's Democratic Party. At the time of the Libra battle, Facebook and other large technology companies also faced bipartisan investigations due to antitrust issues.
So according to Facebook, the Libra Association aims to help people build trust in this project.
"The reason we designed Libra this way is that Facebook is just one of the 100 different members of the Libra Association and has no privilege, which means you don't have to trust Facebook," Libra founder David Marcus told legislators at the hearing.
Although Marcus has promised to wait for approval from the regulatory authorities, he has publicly stated that he plans to launch Libra next year. Logically speaking, the establishment of the Libra Association outside the United States does not require the approval of US regulators, but without US users, it will be difficult to gain attractiveness. Although the association is still in its early stages, the links between its founding member companies may make it harder to gain the trust of parliamentarians.
Centered on David Marcus, the Libra Association "clothes" a network
This connection largely began with Marcus himself.
Marcus is the founder of Libra. He currently manages Facebook's subsidiaries that develop Libra-related products and services, and is a member of the Libra Association's executive leadership team. Marcus was a director of Coinbase, a member of the association until last year, and was the president of another member company, PayPal.
Although Facebook claims to have no control over Libra, most of the Librarian's current 28 managers have close personal, professional and investment links. As shown in the following figure, this network includes 11 executives, board members, founders or personal friends of the founding member companies.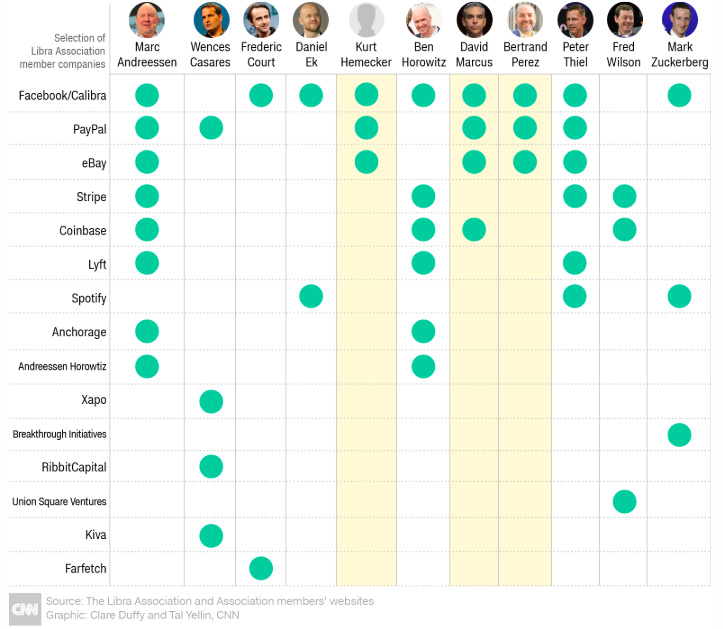 "So, what we are talking about is a currency controlled by a non-democratic selected coalition composed of large companies?" New York Democratic Party member Alexandria Ocasio-Cortez asked at the hearing.
Facebook said that in the months leading up to Libra's disclosure, the company had contacted a number of agencies to join the association. The last 28 founding members include Facebook and other payment, technology, venture capital and telecommunications companies, as well as four non-profit organizations.
Marcus explained to lawmakers at the hearing that these companies all want to "build this network to solve problems," adding that any organization that meets a set of public guidelines can join. These member companies themselves have raised various reasons for joining the association, including interest in the commercial application of blockchain technology, and the desire to improve access to financial services. Others say they just don't want to miss the opportunity to participate in a potentially revolutionary project.
Facebook has said that the association will be Libra's independent monitor, and after Libra's development phase, Facebook's influence will be the same as any other member. However, many of the founding members of the Libra Association have other connections with Facebook, Marcus or others. Here are a few examples:
Peter Thiel founded PayPal and sold it to Ebay.

He is Facebook's first major investor and is now a board member of the company.

Thiel also invested in Spotify, Lyft and Stripe, members of the association, through his venture capital firm;

Mark Zuckerberg is the founder of Facebook and one of the three directors of the association's Breakthrough Initiative.

He is also a personal friend of Spotify founder and CEO Daniel Ek – in 2016, Zuckerberg also attended Ek's wedding;

Venture capital firm Andreessen Horowitz is a founding member of Libra and an early investor in Facebook.

The company also invested in Lyft, Stripe, Coinbase and Anchorage.

Its co-founder, Marc Andreessen, is a member of Facebook's board of directors. When Ebay owned PayPal, he was a director of Ebay.

Another co-founder, Ben Horowitz, is a director of Lyft;

Association member Union Square Ventures has invested in Coinbase and Stripe;

Frederic Court is a director of the association's Farfetch and the founder of Felix Capital.

Felix Capital previously invested in David Marcus's startup Zong;

Wences Casares is the founder and CEO of Xapo, a member of the association. He is also a director of PayPal and a director of Kiva, a non-profit member of the association.

Xapo has also received investment from Ribbit Capital, a member of the association.
Although these people may not be directly involved in the Libra project, the links between them indicate that the Libra Association may not be as "diversified and globalized" as Facebook claims. These connections even touched the top leadership of the Libra Association.
So far, three leaders have been identified in the documents submitted to the Swiss government: David Marcus, Bertrand Perez and Kurt Hemecker.
Marcus began researching digital payments long before Libra. He founded Zong, an online mobile payment provider based in Geneva. When he sold Zong to Ebay in 2011, Ebay appointed him as the head of the mobile division for PayPal (then Ebay) and appointed him as the president of PayPal the following year. In 2014, he left PayPal and joined Facebook.
Perez and Hemecker previously served as executives at Zong and later worked at PayPal during Marcus's tenure as president. According to their LinkedIn, Perez is now the Managing Director and Chief Operating Officer of the Libra Association, and Hemecker is the Head of Business Development.
According to Libra's white paper, the Managing Director will lead the executive team, reviewing Libra's cybersecurity, monitoring Libra's economic trajectory, and recruiting new members of the association. Marcus was identified as a board member in the official document, as was the managing director.
Pistor of Columbia University School of Law says that having Marcus and two long-time colleagues lead the association from the start may give Facebook a strong influence on the future culture of the organization. Board members are appointed for a term of one year, but may be re-elected indefinitely.
"They move quickly and put their people in place," Pistor said. "The managing director will set the tone for the company from the start, which gives them a lot of control."
The association disagreed with this view. Dante Disparte, director of policy at the association, said that although Facebook played a key role in developing the Libra Association and developing the Libra network, the company "will not have more rights, obligations or voting rights than any other member."
Why is Libra's management so important?
Libra's white paper and documents submitted to the Swiss government show that the association will lead an organization similar to other non-profit organizations.
All member companies will form a "Council", which will meet twice a year to make major decisions, such as adding new members or changing the technical foundation of Libra. Due to the large number of Libra members and the low frequency of meetings, the other two groups will manage Libra more regularly. The board selected by the committee will be responsible for Libra's broader strategic direction. The executive committee appointed by the board of directors will be responsible for Libra's day-to-day operational controls.
The Libra Association's charter has not yet been approved and is expected to provide more details about the organization's complete, formal leader list and how it works.
Marcus emphasized that the association will promote an important public good that will make the transfer faster and cheaper. To achieve this goal, Facebook subsidiary Calibra will launch a digital wallet for users to save, store and send Libra. Other companies can develop similar services, but experts agree that because Facebook has a large global user base, it is the fastest and most widely adopted company. Facebook said that Calibra will operate independently and the two companies do not plan to share user data.
Danny O'Brien, director of strategy at the Consumer Frontier Foundation, a consumer privacy advocacy group, said he is concerned that the relationship between members of the association may make it difficult for Libra's other digital wallets or other encryption projects with the same vision to compete.
"Encouraging your use of Facebook's software and services may be in the interest of all of these companies because they are already involved," O'Brien explained. "They want Facebook's services to win, even if other projects may be better for consumers. "
Another key role of the association is to manage reserves, a set of government-issued financial instruments that will be anchored to Libra in a 1:1 ratio and fluctuated as needed to stabilize the value of Libra.
If Libra's growth is fast, legislators worry that such reserves will have a major impact on governments and economies around the world. They are also worried that this may focus on the already dominant Facebook or a close-knit group of big companies.
House of Representatives Maxine Waters said at the hearing: "If Facebook's plan is realized, the company and its partners will have a huge economic impact, which may undermine the stability of the currency and the government." Marcus said that Libra's goal is not Sovereign currency or government competition.
Libra's member companies must invest $10 million to join. Facebook says they will get a return on investment in the form of deposit interest. The funds will be used first to pay for the association's operating costs and then to the member companies. Some experts worry that this may prevent the committee from approving new members and further diversifying the organization.
"If you make a lot of money with Libra, why are you willing to share?" Pistor couldn't help but ask.
Despite Libra's goal of vanism, some experts and legislators believe that public goods, such as currency and payment systems, and the consumer investment data generated by them, can be better handled by public agencies. The French and German finance ministers have recently publicly opposed Libra's operations in Europe. Also paying close attention to Libra's Fed is also developing an instant transfer system that may give American consumers some convenience similar to Libra.
"We can summon Mark Zuckerberg to Congress and even openly embarrass him, but we can't vote for him to quit, and at the Federal Reserve, we have public accountability." University of California, Irvine (University of California) Mehrsa Baradaran, professor of banking law at Irvine, said, "Why do we trust Facebook, not our own public institutions, on such sensitive matters?"
This article from CNN , the original author:
Odaily Planet Daily Translator | Nian Yinsi Tang