Editor's Note: Given the retail-driven nature of crypto-transactions, an organization-oriented company like Bakkt is unlikely to have a significant impact on the overall BTC market in the short term. But the magic is that, shortly after the start of the Bakkt futures trading, the HTC rate of the BTC network has experienced an incredible decline.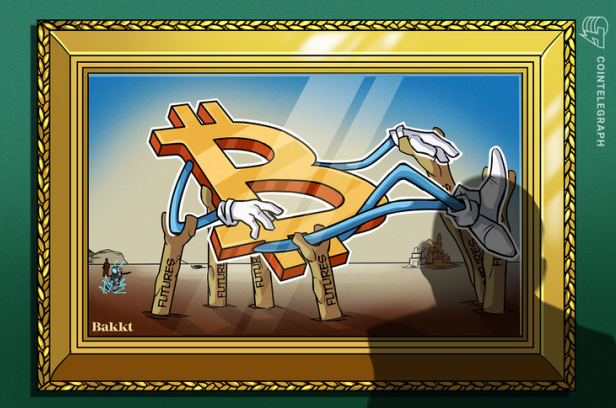 Bakkt's week
After spending more than a year ensuring full compliance with US authorities' regulations, Bakkt was the first bitcoin futures trading platform regulated by the federal government, which was finally launched on September 23.
Behind Bakkt is the global trading giant Intercontinental Exchange (ICE), and has received support from a number of large investors such as Microsoft's venture capital fund M12 to Starbucks. This strong background provides institutional traders with a strong background. A new investment option. The platform focuses on physical settlement of BTC futures contracts and a well-established hosting service approved by the US Commodity Futures Trading Commission (CFTC).
Previously, people tend to think that the volatility of digital assets and the regulation of regulation have prevented large institutional investors in the traditional financial sector from investing heavily in bitcoin. Therefore, the launch of Bakkt is considered to be an important milestone, and many people are looking forward to it. . However, the first week of Bakkt's end, the trading volume of the platform is still very low .
To make matters worse, the launch of Bakkt coincides with a sharp drop in the bitcoin market price, and some analysts suspect that there is a causal relationship between the two. Bakkt's vision of being a platform widely adopted by institutional investors will it end soon?
Let Bitcoin comply with regulated Bakkt futures
The Intercontinental Exchange (ICE), headquartered in Atlanta, USA, operates more than a dozen regulated mainstream exchanges and markets around the world, including the New York Stock Exchange (NYSE) and the ICE European Futures Exchange. In August 2018, ICE announced plans to create a bitcoin futures market that is fully compliant with the CFTC regulations and said it is expected to be launched by the end of the year.
As we all know, the Chicago Mercantile Exchange (CME) has been selling Bitcoin futures contracts on the market since December 2017. But Bakkt is different. Bakkt's idea is to create a tool that delivers in real bitcoin during liquidation. CME futures contracts are delivered in cash equivalents and match the BTC price index based on the spot market at maturity, while the owner of the Bakkt futures will receive a "physical" form of bitcoin in their escrow account .
This adjustment is considered to be the first step in "enhancing investor confidence in new asset classes" . It is speculated that as traders increasingly value Bitcoin and its potential, they are more willing to invest in actual bitcoin rather than investing in a tool that is purely nominally linked to the underlying asset.
However, to maintain this confidence of investors, you need to add another fire: reliable hosting . It is impossible to expect conservative institutional investors to queue up to buy an ambiguous asset that they don't know how to handle safely. Reliable hosting methods are bound to add cumbersome procedures to meet the stringent requirements of regulators for "entities operating as cryptocurrency custodians". Negotiations with the CFTC around regulatory issues have stalled, delaying months before ICE's original plan.
It was not until June 2019 that Bakkt received approval from the CFTC. Finally, on August 13, the platform's clearing house, Bakkt Trust Co., obtained a license from the New York State Department of Financial Services to operate as a custodian, marking the platform's regulatory efforts. The end.
On the day of launch, Bakkt offers traders two types of derivatives: daily contracts, where buyers can receive bitcoin at the end of the day, as if they were trading on the spot. And the monthly contract, I hope to use this tool to promote BTC price discovery for a longer period of time.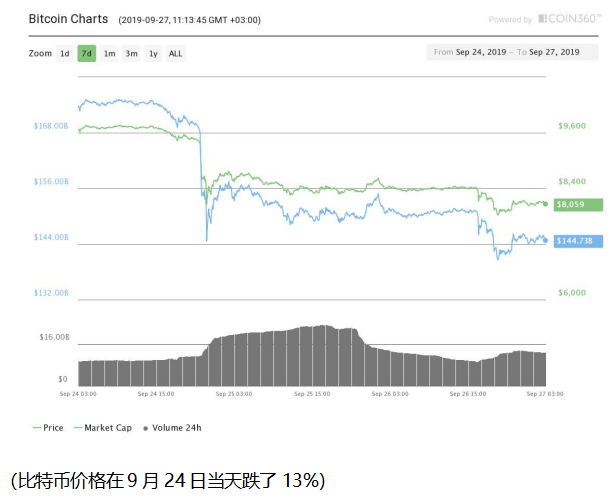 Short-term: the first show that is not warm
Driven by Twitter and media hype, the market's overall expectations for Bakkt were high, but in the first day of trading, Bakkt sold only a negligible 71 contracts, and the volume of transactions rebounded very slowly in the next few days. To make matters worse, on the second day after the launch of Bitcoin futures, bitcoin prices showed the biggest intraday decline since January this year, falling by about 13% in one day.
Soon some observers pointed out that Bakkt's disappointing debut performance was the culprit in the collapse of bitcoin prices. Mati Greenspan, senior market analyst at eToro, a digital asset trading platform, told Barron's Weekly: "The catalyst for today's bitcoin plunge seems to be Bakkt's bland start. This is when the market buys in the concept of hype, the concept is implemented. The best example of selling ' .
Others pointed out that there are significant differences between Bakkt's 71 transactions on the first day and CME's first 24 hours of 5298 transactions . However, there are some ominous similarities in the launch of these two platforms. On the second day after the launch of the Chicago Mercantile Exchange (CME) futures, the price of bitcoin plummeted from around $19,000 to less than $17,000 .
From a larger perspective, Bitcoin skeptics may conclude that the much-anticipated regulatory platform has performed so poorly that institutional investors have a real interest in cryptographic assets, which has caused market participants to suddenly realize that The "big money" of investing in encrypted assets has not come yet .
Long-term: a bigger picture
However, the situation is probably not so absolute. First, it is not quite appropriate to compare Bakkt's first day trading with futures trading on the Chicago Mercantile Exchange (CME). The derivatives offered by the Chicago Board of Trade are Bitcoin listed at the peak of the cryptocurrency boom in December 2017 after months of price increases.
Bakkt started the business in a more stable, calm, and even "bear market." In addition, not only the entire encryption market, but also the encryption futures market has undergone tremendous changes and become more tense. Alex Lam, CEO and co-founder of Digital Asset Services Platform RockX, said: "Although the launch of Baktt is a highly anticipated milestone for the entire cryptographic community, its unpopularity proves that there is fierce competition in this market. And the obstacles to large-scale capital entry."
There is a general demand for BTC derivatives trading , and many unregulated platforms provide good services here. These platforms are still the mainstay of trading volume. For example, markets such as BitMEX and OKEx are highly mobile, with traders having a leverage ratio of 100:1. Christophe de Courson, CEO of Olymp Capital, a blockchain asset management fund, said: "Since the launch of Bakkt Bitcoin futures, the intraday trading volume has remained between 70 and 100 bitcoins, with unregulated Compared to the Bitcoin Bitmex, this number is really small. Bitmex traded more than 270,000 bitcoins on September 23, 2019."
Most experts believe that, given the retail-driven nature of crypto-transactions, an organization-oriented company like Bakkt is unlikely to have a significant impact on the overall BTC market in the short term. Fran Strajnar, founder and CEO of cryptocurrency research firm Brave New Coin, said: "Bitcoin and cryptocurrency transactions are still dominated by retail investors. In the short term, Bitmex and other futures trading platforms and Binance and other spot trading platforms provide Accessible products may continue to dominate and drive most of the volume."
The recent decline in the price of Bitcoin may be partly a response to Bakkt's initial performance. But if Bakkt is indeed the key driver behind the observed price fluctuations in bitcoin, then this effect should not last long. Other developments this week may also lead to price collapses, but most notably, shortly after the start of the Bakkt futures trading, the BTC network's hash rate has dropped dramatically. There is still a lot of unsolved mystery about the performance of Bitcoin in this category. One explanation is that Kyrgyzstan suddenly cuts off the power of dozens of encrypted mining entities at the same time – it seems not convincing.
Suppressed market expectations
Even though Bakkt's "physical" delivery is indeed a major competitive advantage, it is not enough to overcome the inertia of traditional asset management companies and fund companies that are unwilling to take immediate action. Tom Maxon, head of US operations at blockchain security company CoolBitX, said: "For institutional investors, Bakkt's initiatives may not have much impact on the price of Bitcoin at first. This is because Bakkt products face two major obstacles. Bitcoin is still too much uncertainty for institutional investors. Second, the board of directors of institutional funds continues to believe that Bitcoin is a high-risk asset."
Jonathan Speigner, founder and CEO of Encrypted Wallet Co., said: "The main reason for the low volume of Bakkt transactions is that they don't have a customer base, and it may take a few months to see a wider range of institutional customers using the platform. Remember, institutional investors have been skeptical about Bitcoin."
Brave New Coin's Fran Strajnar is also willing to give Bakkt more time to prove the value, because he believes that Bakkt's grasp will spur the current institutional investment field's demand for crypto-transactional instruments, which takes time to achieve. "Bakkt is likely to develop into a portal, and it's too early to conclude that Bakkt is a failed product."
Most industry experts are also willing to praise Bakkt for bringing a unique product to the market, which is "a bold step toward the future of Bitcoin." Bill Shihara, chief executive of Bittrex, a cryptocurrency trading platform, said in a statement: "Bakkt's regulated futures market is an exciting milestone that marks how far the blockchain industry has gone. These types of markets take time. Establishing and contacting institutional traders, a few days of trading does not represent long-term potential or performance. As an industry, this is a step in the right direction."
At this moment, the busy market that Bakkt has just entered will become more busy: The Chicago Board of Trade (CME) recently announced plans to replenish its options futures contract in early 2020, while competitors LedgerX and ErisX will soon be approved by the regulatory authorities to launch their own efforts. Futures products delivered. As investors pay more and more attention to regulated encryption derivatives, we will soon see competition among different players in this field.
Original: https://cointelegraph.com/news/first-week-of-bakkt-slow-start-unlikely-to-dampen-long-term-prospects Source: https://first.vip/shareNews ?id=2257&uid= 1This article is from cointelegraph.com, the translation is provided by First.VIP Maggie, please keep the information at the end of the article.