For those who don't care about the cypherpunk ideology of Bitcoin's underlying technology, Bitcoin's main selling point is to provide a monetization model for online business (usually black market transactions). These businesses will no longer exist due to the limitations and regulations of the legacy financial system.
When it comes to using Bitcoin for online financial activities, most people think of things like the dark market, online gambling or pornography. Another potentially overlooked digital economy that has been boosted from Bitcoin is online piracy.
The World Intellectual Property Organization (WIPO) announced a new blacklist earlier this year that would help advertisers stop pirated websites from profiting from copyrighted works. In recent years, in order to make it more difficult for pirated websites to profit from pirated content (or existing content), major intellectual property organizations have vigorously cut off the revenue sources of pirated websites.
As the peer-to-peer digital cash system is anti-censorship, recent efforts to limit the advertising revenue of these sites may drive these sites into a more bitcoin-centric experimental monetization model. In fact, many pirated websites have turned to cryptocurrencies to fund website operations in one way or another.
Pirated websites have used bitcoin
The most widely known way for pirated websites to switch to cryptocurrencies is to donate and use the cryptocurrency in the browser to mine, usually using the Monroe Coin (XMR) in the altcoin. Recently, the bottom of The Pirate Bay (TPB) page wrote: "If you agree to use the CPU to dig XMR, please enter TPB. If you do not agree, please leave or install adBlocker immediately."
The mining model in the browser basically represents the website owner, using the computing power of the website visitors to dig the cryptocurrency. All well-known malware has cryptocurrency miners, and hackers profit from controlling the victim's computer. A report released earlier this year stated that an organization used malware for mining, which accounted for more than 1% of the total supply of Monroe (XMR).
As we all know, pirated websites also offer traditional subscription services to access copyrighted content. Many of these sites even offer access to live sports programs at a much cheaper price. As people access the latest shows and movies, and the number of streaming services continues to increase, it's not a bad thing to pay $15 a month to access all the content on the platform—as long as you allow others to be from the copyright owner's content. Profit.
Some platforms require a fee to fully access certain services on the platform, while others require additional fees to enjoy advanced features such as priority support for customer needs when requesting access to new content or higher video quality.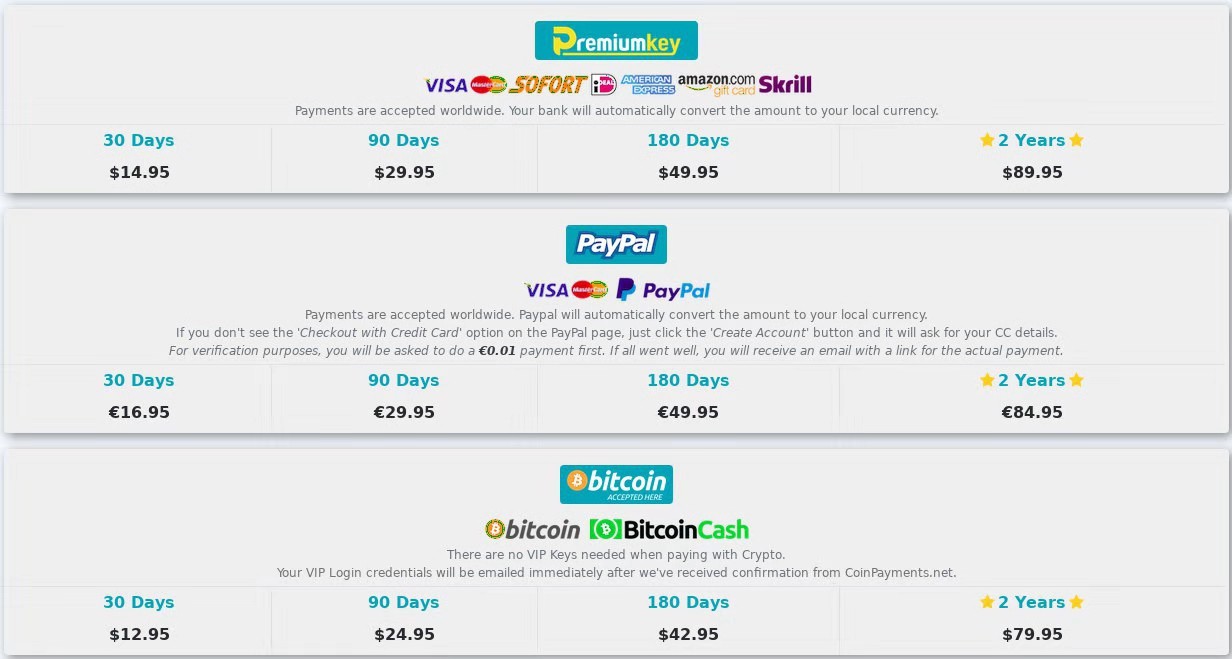 As shown in the screenshot above, the website offers discounts for users who pay with Bitcoin. Other pirated live sports streaming services such as those found on Reddit will only be able to pay via Bitcoin.
Such services do not expect the benefits of their online platform to be ultimately owned by service platforms such as PayPal. When using Bitcoin, network operators do not have to worry about counterparty risk in terms of being confiscated for the nature of their online business.
In fact, a report issued by the European Intellectual Property Office in 2016 pointed out that Bitcoin poses a threat to anti-piracy work.
Related to this, hacked accounts sell various streaming services online through the dark market and online forums in exchange for bitcoin.
The effect of lightning network
With the development of the lightning network, online pirate websites have the opportunity to further carry out the monetization practice of Bitcoin.
These sites use Lightning Networks, not through subscription models, but through micro-transactions. Some users of the site may be more willing to pay $25 worth of bitcoin to watch a movie than to purchase a month or a year subscription.
Those who sell access to pirated live events (such as UFC combat or Premier League) may be more interested in lightning networks. Users use the lightning network to make streaming payments, instead of paying in one lump sum, they pay a small amount of money per second to watch the video.
It is unclear whether these special uses of Lightning Networks make sense for pirate site operators. But the key point is that when it comes to the monetization of such sites, those payments related to the second-tier agreement are faster and cheaper, which will open up a new path for experimentation.
Source: Longhash