What is the most widely used cryptocurrency in the world? If you think Bitcoin, which has a market capitalization of nearly 70%, the answer may be wrong.
Many industry insiders criticize the cryptocurrency transaction data is not accurate enough, especially the transaction volume of some exchanges is "catty", but the data obtained from CoinMarketCap shows that the current daily and monthly transaction volume of the highest cryptocurrency is actually Tether. The market value is only 1/30 of Bitcoin. As the industry's more recognized provider of cryptocurrency data, CoinMarketCap said that Tether's transaction volume exceeded Bitcoin for the first time in April this year, and has exceeded $21 billion per day since the beginning of August.
In addition, Tether's monthly transaction volume is about 18% higher than Bitcoin, so it is no exaggeration to say that it is the most important cryptocurrency in the entire cryptocurrency ecosystem. Tether is also one of the main reasons regulators are cautious about the cryptocurrency industry, and the US Securities and Exchange Commission (SEC) has suspended the approval of cryptocurrency exchange-traded funds (ETFs) for fear of market manipulation problems.
Lex Sokolin, head of global financial technology contact at ConsenSys, a blockchain technology development company, said:
"Without Tether, we lose about $1 billion or more in transactions per day, which of course depends on the data source, but some potential trading patterns in the market may fade away."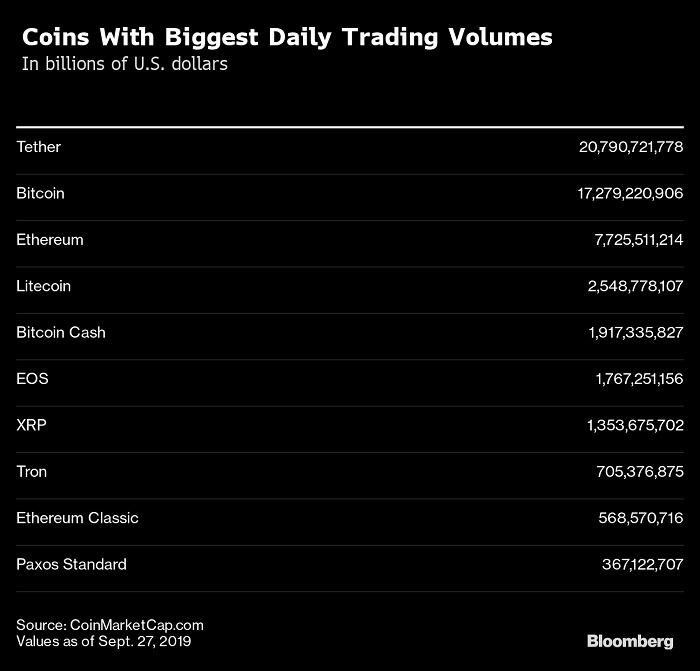 Tether is the most widely used stable currency in the world.
Stabilizing coins are special tokens that are usually linked to fiat currencies or have a certain amount of reserves to avoid price volatility and are the easiest way for most active traders in the world to enter the cryptocurrency market. One. Lex Sokolin, for example, in countries that ban cryptocurrency transactions, explains that traders in these countries can pay Tether through the over-the-counter trading platform and then use Tether to exchange bitcoin and other cryptocurrencies. There won't be too many problems.
Jeremy Allaire is the CEO of Circle, which has another stable currency, USD Coin, which he said:
"For many people in the Asian market, they like the offshore concept provided by Tether, which is beyond the reach of the US government. Stabilizing coins is a function, not a problem."
Previously, due to suspected abuse of reserves, Tether was sued by the New York State Attorney General's Office, and the company appeared to have problems in the KYC compliance process, token issuance and redemption.
According to Jeremy Allaire, Asian investors' cryptocurrency transactions account for about 70% of all cryptocurrency transactions. According to data disclosed by Coin Metrics earlier this year, Tether deals for the world's two largest cryptocurrency exchanges, currency and fire coins. The amount accounted for 40% and 80% of the total transaction volume of the two exchanges, respectively.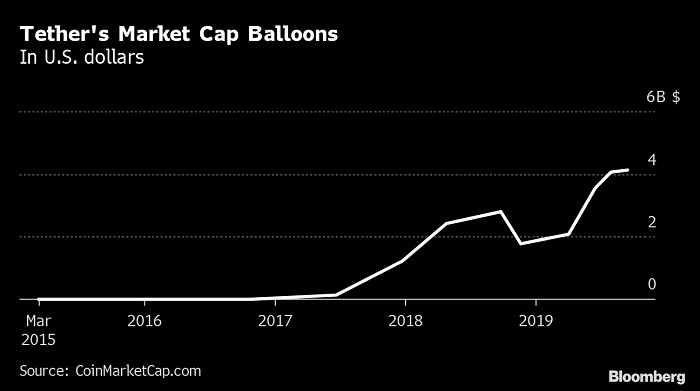 MIT researcher Thaddeus Dryja said that many people don't even know they are using Tether. Because traditional financial institutions worry that they can't adequately screen offenders and money launderers, most cryptocurrency exchanges still don't have legal bank accounts, so they can't To hold dollars on behalf of customers, you can only choose to use Tether as a substitute. Thaddeus Dryja explains:
"I don't think people really trust Tether, but investors don't realize that they are using this stable currency when they use Tether. They think Tether has the actual dollar in a bank account somewhere. That's it. In fact, some exchanges Deliberately 'posting the wrong label' conveys the wrong impression to the customer, thinking they hold the dollar, not Tether."
Tether's management and governance is like a "black box". Bitcoin is completely decentralized and does not belong to any entity, but Tether is actually issued by a Hong Kong-based private company that also owns the Bitfinex cryptocurrency exchange. . So far, Tether has not disclosed the exact mechanism of supply increase and decrease. Since they have not been independently audited, the amount of token supply covered by the statutory reserve is also a concern. Tether had previously stated that it had a 100% reserve, but in April this year it changed its position to say that 74% of Tether is tied to cash and short-term securities. As soon as this news came out, it immediately caught the attention of the Office of the Attorney General of New York and became part of their investigation. The New York Attorney General accused companies behind Tether of allegedly covering up information to make up for their $850 million funding gap.
Convenience vs. risk
John Griffin, a professor of finance at the University of Texas at Austin, revealed that half of the bitcoin price surge in 2017 was the result of Tether's manipulation of the market. Bloomberg also reported in 2018 that the US Department of Justice is investigating what role Tether has played in market manipulation.
John Griffin added:
"The original intention of the centralized control to destroy the blockchain and the decentralized cryptocurrency is to avoid the problem of centralization. The stable currency transfers trust to some large high-tech companies, although the idea is theoretically good. However, in practice and with no small risks, it is easy to cause abuse and the inherent problems of other legal tenders."
On the other hand, because Tether is the key to the growth of cryptocurrency exchanges, many exchanges will be battered when necessary. Dan Raykhman, who was the head of trading technology at Galaxy Digital, is now developing a platform for distributing digital assets, he said:
"Many cryptocurrency exchanges are secretly supporting Tether to help it make a living."
In the past year, although dozens of stable coins have appeared, and many of them have passed regulatory and independent audits, so far, the most popular cryptocurrency market seems to be Tether.
Aaron Brown, a cryptocurrency investor and a columnist for Bloomberg Opinion, concludes:
"Tether has existed since 2014 and is considered to be an old predecessor in the cryptocurrency industry, and its value is relatively stable. I am not saying how perfect Tether is, but it is very convenient to use. For many people, they are willing Say some convenience and choose its convenience."
This article from Bloomberg Medium , original author: Olga Kharif
Translator: Odaily Planet Daily Moni
Source: Planet Daily
This article was translated from https://medium.com/bloomberg/the-worlds-most-used-cryptocurrency-isn-t-bitcoin-8df6c92a90b4 .
Please indicate the source if you reprint.