With the development of blockchain technology, its application has become the focus of everyone's attention. More and more head companies, emerging industries and official institutions are trying to solve some technical problems with blockchain, and NASA is no exception.
At the recent 46th Annual Space Congress in Cape Canaveral, Florida, Bankcoin Reserve presented a report to NASA . (The Bankcoin Reserve is a self-regulating reserve that meets all national and international regulations.)
The report presents a stable value storage cryptocurrency project. This indication indicates that NASA is very interested in the blockchain . So in this article, let's talk about what NASA is looking for.
NASA is looking for blockchain solutions
NASA's interest in the blockchain can be traced back to January 2018, when it was reported that NASA had provided $330,000 (approximately RMB 2.35 million) in funding to the University of Akron. The money will be used to study the potential of the blockchain and how it can be used to improve space communications.
Dr. Jen Wei, Assistant Professor of Computer Engineering at the University of Akron, will lead a research team to develop the Elastic Network and Computing Paradigm (RNCP) for space exploration. According to the research summary, the team will " use blockchain technology to design a secure and decentralized infrastructure to handle the massive amounts of data from space exploration and related sciences. "
According to reports, in January 2019, NASA studied whether blockchain technology could be used to protect the privacy and security of aircraft flight data . Aeronautical computer engineer Ronald Reisman explained the project in a research paper:
"The innovation of this design is the use of an open source licensed blockchain framework that makes it possible to protect the privacy and anonymity of aircraft. At the same time, to communicate with air traffic services, operational support or other authorized entities. Provides a safe and effective method."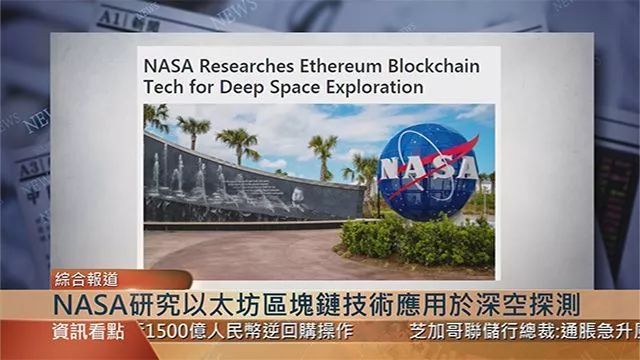 Eventually, in early September of this year, NASA posted a recruitment notice on Linkedin to find multi-functional talents, which mentioned that candidates with experience in cryptocurrency and blockchain would be given priority.
From the above news, it is clear that NASA is very interested in blockchain technology. Below, the battalion commander will introduce eight patents held by Bankcoin Reserve, perhaps it is these patents that caught the attention of NASA.
8 patents owned by Bankcoin Reserve
To date, Bankcoin Reserve has granted eight patents to AAA Blockchain Limited and Gary McAlister.
1. Foreign exchange innovation
The new foreign exchange is based on the blockchain and can be used for international funds transfer through foreign exchange such as AMLFX. Funds do not need to leave the country, and they can be transferred and settled locally.
Suppose there are two friends, Alvin and Kelvin, chatting in the cafe. Kelvin said he was waiting for Japan's Aki to send him $1,000. Coincidentally, Alvin told Kelvin that he was planning to send $1,000 to Akio, who lives in Japan. After hearing the conversation in the same cafe, John suggested that Alvin transfer the $1,000 to Kelvin and then let Aki transfer the $1,000 to Kelvin to Akio.
In this way, the two transactions do not have to leave the country when they settle. Although there will still be a handling fee, the cost is very low and it is a small incentive for the bank.
To achieve this goal, banks need to access equity certification mechanisms built on the blockchain. This mechanism acts as a bank reserve and guarantees the normal operation of the network.
Innovative forex trading provides a solution to this situation by using an algorithm that matches the four squares involved in the equation.
The blockchain sends the value as an asset or message to a payment processor such as V2Pay, which processes all requests from senders and receivers from a particular country and sends them to all countries in different countries. The party matches the receiver.
2. Innovation in franchise
This is an innovation in the discovery of franchise rights in the blockchain digital mining pool, which makes it possible to discover and develop an unlimited number of main digital pool franchises.
These major digital pool franchises can also find countless sub-franchises, while sub-franchises can find their own sub-franchises, and so on.
New mines that are constantly being discovered provide liquidity for the "franchise market" and can be sold, traded or exchanged before entering the public market through the exchange.
3. Islamic banking and innovation in Shariah
This innovative technology aims to eliminate savings and deposit interest using blockchain technology. This will be possible by using the Islamic Banking Business Innovation Revenue Sharing model.
This innovative technology is in line with Islamic banking law, ensuring that deposits, savings, finance, ethical loans, stocks, bonds and private placements do not have high interest or any other interest component. This will cater to the needs of banks, other financial institutions and money funds.
This will be achieved through the use of digital currency for savings, deposits, custody, trusts, remittances, intermediaries and safe custody.
4. Loans and finance
This innovation allows banks, financial institutions and money funds to provide interest-free ethical financial loans. Instead, these institutions can earn interest by casting new coins and earning transaction fees by relying on the internal processes of the blockchain. This can be done with Bankcoin.
When the lender applies for a loan, the bank approves the loan and at the same time obtains Bankcoin equivalent to the credit amount. The bank can then leverage the required tokens 2x, 5x, or even 30x. The leveraged Bankcoin was used to create the legal currency that was lend to the lender.
Because Bankcoin is a blockchain-based cryptocurrency, the blockchain can cast new tokens and obtain transaction fees across the Bankcoin network, so the process is interest-free. Banks and other financial institutions can explore this new approach to determine what they want to earn a few percent through the mining/casting process.
5. New monetary system
This new monetary innovation allows governments, corporate bodies, corporations, SMEs, NGOs and any other entity to use cryptocurrencies such as Bankcoin to generate revenue by using wallets that cast/mined new token assets.
This process helps reduce corporate costs, government taxes, NGO grants, and donations from non-profit organizations. Take the government as an example, it can acquire or develop crypto assets that generate revenue, such as Bankcoin, which uses blockchain to generate revenue by casting/mining new assets.
In addition, the asset can be used to cast/mind transaction costs compared to systems that currently pay taxes, fees, or even rates as their form of income.
6. Private placement of high-yield investments
Bankcoin is more than just a virtual asset, it is also a digital mining asset. This means that it exists on the blockchain with a fixed contract value or a floating mining contract value.
After mining, digital mining assets like Bankcoin are called principals. Once this principal has entered your wallet, it will begin to mine/cast Bankcoin at a rate of 10% per year. Therefore, it is called a digital mining asset and is different from the digital mining assets.
After the original principal token was mined, there was an additional digging function. This creates a new ethical market for private equity high-yield investments, each lasting 40 weeks.
7. Savings and deposits
This new approach allows financial institutions to use the funds deposited by customers to enter the cryptocurrency market, while eliminating costs, interest and related expenses, as well as opportunities to increase profits.
When a customer enters a bank with statutory funds and asks for a time deposit, the bank can purchase the equivalent Bankcoin and distribute it to the customer's Bankcoin time deposit account.
The bank can then use its bankcoin as part of the reserve and leverage it three or five times or leverage it according to the rules of a particular bank.
All in all, this is a way for banks and other financial institutions to enter the encryption market, ensuring that they benefit from the many advantages offered by the encryption market without experiencing high costs or risks.
8. Stock and bond management
This is a new stock/bond innovation that uses the mining of encrypted digital mining assets to mine stockholders through a blockchain used in encrypted exchanges.
For example, in a new company holding stocks/shares/bonds, the company will have digital mining assets that can be sold to traders by applying digital mining assets/goods. Investors buy the main stock/stock/bond for secondary mining and then sell the new assets on the blockchain exchange.
to sum up
All of the above patents seem to be very cleverly designed, which explains why NASA may be interested in Bankcoin Reserve.
But unsure, it is looking for a specific blockchain solution from the encryption platform. Perhaps NASA will soon release some announcements related to the blockchain, let us wait and see!
Produced | Blockchain Base Camp (blockchain_camp)