Editor's note: This article is from Coindesk , Blockonomi , Offdevcon , author Leigh Cuen, William M. Peaster; compiled by Odaily Planet Daily Qin Xiaofeng, edited by Lu Xiaoming, please be sure to indicate the source when reprinting.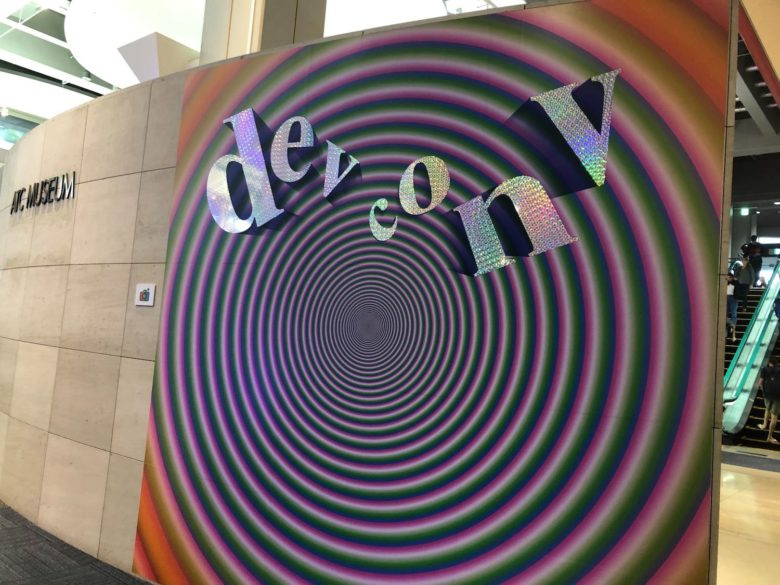 (Image courtesy of Coindesk , Leigh Cuen)
On October 8th, the Ethereum Annual Developers Conference DevCon 5 (fifth) was held in Osaka, Japan. The event will last for 4 days and will end on October 11.
1. What are the arrangements for DevCon 5?
The conference was hosted by the Ethereum Foundation (EF) and is aimed at various practitioners of the Ethereum Ecology.
"This is a conference for all types of builders: developers, designers, researchers, client implementers, test engineers, infrastructure operators, community organizers, social economists and artists." Devcon 5 website explains Say.
Although the former Ethereum co-founders Joseph Lubin and the founders of ConsenSys have said that the original version of the Ethereum network was not built for large-scale adoption and could not be expanded.
But this does not hinder the participants' enthusiasm for Ethereum. According to Coindesk statistics, the current Devcon 5 conference has attracted about 3,000 participants.
Due to limited energy, the most difficult decision for participants is to choose one of the many activities to participate. Let's take a look at DevCon 5's on-site activities (click onlookers) , including but not limited to the following: exchange specials, traders' specials, DEFI specials, OTC specials, market makers and liquidity providers…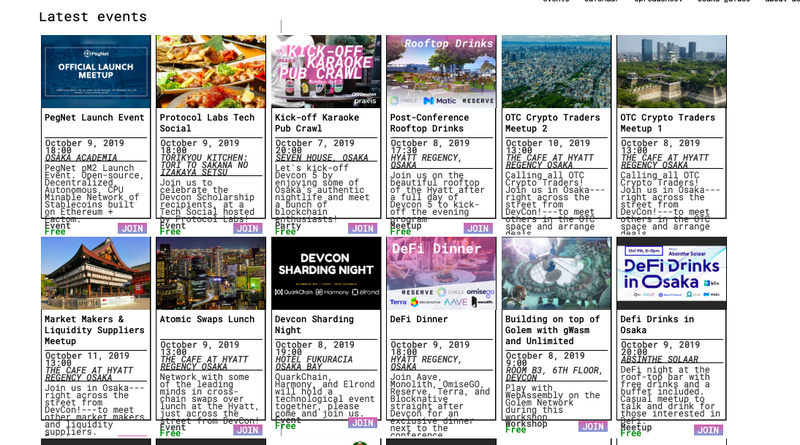 ( conference event arrangement )
Speakers attending the conference included some people who have been influential in the Ethereum ecosystem, such as EF Executive Director Aya Miyaguchi, Ethereum founder Vitalik Buterin (V God), Ethereum core developers Vlad Zamfir and Karl Floersch, EF Community coordinator Hudson Jameson, economic theorist Zoe Hitzig, Gitcoin founder Kevin Owocki, encryption researcher Benedikt Bunz, hacker expert Amir Taaki, MyCrypto CEO Taylor Monahan, etc.
In addition, the conference will arrange some "Lightning Speakers" to give some short speeches, including Augur founder Joey Krug and Ethereum 93⁄4 founder Wanseob Lim; topics covered include smart contracts, decentralized derivatives, and whether Use the new Lira coding language
(Odaily Planet Daily Note: Ethereum 93⁄4 is a proof of concept system that uses Mimblewimble and zero-knowledge proofs to hide Ethereum token transactions.)
Second, Ethereum is an application consensus
During the first day of the event, the guests also shared their views on the Ethereum ecology.
1. ETH1.0 expansion problem
The original version of the Ethereum blockchain could not be expanded and could only be upgraded to ETH 2.0. Participants expressed understanding. They think that version iterations can solve the problem and it is normal, there is no need to entangle it. In comparison, Bitcoin fundamentalists are always struggling with the original white paper and will not change it.
"Bitcoiners are a bit like hardcore fascist Catholics and think everything else is wrong," said Dean Eigenmann, a researcher at Ethereum startup status. "I don't think (Ethereum) has fulfilled its promise, but it (Bitcoin) has been cashed."
Devcon 5's optimistic atmosphere also highlights the difference between Bitcoin and Ethereum: Bitcoin is a monetary asset, while Ethereum is widely adopted, valued more.
It is the application value of Ethereum that has attracted thousands of developers into it. According to startup Dappros, Ethereum Eco currently has more than 17,000 developers worldwide.
More importantly, the Ethereum platform has also spurred billions of dollars in economic activity, from token sales to DeFi lending, and has influenced regulators' perceptions of "decentralized" cryptocurrencies.
2. ETH 2.0 development
For the future development of Ethereum, the participants of Devcon 5 also actively discussed.
According to Peter Mauric, Head of Parity Communications at Ethereum Client, most of the funding projects related to Ethereum will now be created on the new blockchain (Eth 2.0).
"No one really knows what Eth 1.0 will look like once Eth 2.0 arrives," Mauric said. "The current Ethereum client doesn't have much new development, and most of the ongoing work is maintenance."
Currently, there is still one or two years before the actual arrival of ETH 2.0. The first phase of Eth 2.0, Phase 0, will go live before the first quarter of 2020.
"The Ethereum moved to Phase 0 will be converted to a new token. These tokens cannot be transferred over the chain for at least six months after the new currency comes out. Until then, the user has been in a locked position."
There are currently no clear plans on how to move hundreds of Ethereum-based tokens and smart contracts (including DeFi projects) into the new chain.
In the panel discussion of Eth 1.0 transition to Eth 2.0, V God said that "final" will have a roadmap to transition tokens to the new system, "nearly without any disruption". The audience also raised several questions about Eth 2.0, including the price of new tokens, the price changes of these assets on the open market, and how exchanges support liquidity during the transition period.
The Ethereum core developer team, including V God, did not give a clear answer.
Currently, there are 9 teams working for Eth 2.0 clients, including Protocol Labs, Chainsafe and ConseSys' PegaSys, but each is a government.
The Ethereum Foundation signing developer Jamie Pitts expressed concern at the opening ceremony of Devcon 5.
"I feel that they lack strategy. I think there are a lot of teams working on their ideas, but there is a lack of coordination," Pitts said.
In addition, most of the funding for Eth 1.0 and Eth 2.0 development is still mainly from the Ethereum Foundation or ConsenSys.
However, a member of the ETH 2.0 team named Eigenmann said that the ETH 2.0 development work was not his focus because he did not get enough money.
Therefore, a Parity staff member bluntly stated at the opening ceremony that "more ways to obtain the funds needed for the (ETH 2.0) protocol design must be found".
3.V God has something to say
V God said that Eth 1.0 is a successful experiment that paved the way for Eth 2.0, which requires POS (proof-of-stake) to motivate before real-time trading.
"I think it (ETH 1.0) has done a lot of good things, and the prosperity of ICO (the first token issue) is almost caused by Ethereum." V God said that the ICO exploded in 2017, many of which were used in Taifang The token is carried out.
As for the Layer 2 solution, V God said that the progress of some programs was "slower than expected", and Raiden and Plasma did not make much progress. "But people are still trying and trying to do it."
(Odaily Planet Daily Note: Layer 2 is also a type of expansion plan, which advocates placing a large number of transactions outside the chain, and only settlement on the chain to increase the transaction speed and expand the block capacity.)
V God also mentioned the pressure from business people who did not encourage him to openly talk about the challenges of expanding.
"You shouldn't say that your own platform has limitations." V God said it was helpless.
Finally, V God also talked about the Ethereum Foundation. He said that the non-profit foundation (deposit) led by Aya Miyaguchi can also support community development for at least six years.
He added: "There are many new faces. Most Eth 2.0 R&D teams have not been established until 2018."
Third, some interesting things
In addition to guest speakers, DevCon 5 also has some project roadshows and presentations, the most notable of which is the Enterprise Ethereum Alliance (EEA).
EEA was born in March 2017, and its founding members include JP Morgan Chase, Microsoft, Intel, Accenture, Santander, Spain, BP, Credit Suisse, UBS, BBVA, and Bank of New York Mellon. More than 20 companies including Thomson Reuters and ConsenSys. The main purpose of the EEA is to standardize the development of standards and technologies to make it easier for companies to use the Ethereum blockchain code to move toward the era of distributed ledger systems.
At the DevCon 5 site, the EEA demonstrated the reward token system it created. In this system, affiliates can earn, share, and redeem token-based rewards. There are three types of corporate tokens: "reputation", "reward" and "punishment". The new system uses Hyperleger Besu, an EEA-based enterprise to Ethereum client.
The system was developed by the EEA Trusted Computing Working Group, and EEA member and ConsenSys expert Dr. Andreas Freund said: "This work proves that seven completely different EEA members can successfully collaborate and combine emerging technologies in novel ways to bring Come to new economic benefits."
In addition to the new system, the EEA has released new specifications on privacy and licensing. "EEA brings together standards-based token and off-chain computing methods to define the blockchain needed to drive global interoperability," said Marley Gray, board member and Microsoft chief architect at EEA.
Another interesting point is that at the conference site, the OmiseGo team announced that the number of ecological developers has reached 400.
However, this figure conflicts with a data released by Consensys two months ago. According to the report at the time, as of June 30, 2019, the number of eco-developers in blockchain projects ranked first, and Ethereum ranked first with 1,156 developers, far exceeding other blockchain projects. The report did not find OmiseGo in the list of developers with more than 50 people.
The OmiseGo team previously mentioned in the Medium announcement: "Since the 0.1 version was launched in April this year, the test network has achieved 2.6 million transactions. We have opened up the developer program for everyone to apply, and we have more than 400 so far. Developer."
Therefore, the 400 developers mentioned at the conference site may not be developers who have already developed on OmiseGo, and may be developers who have already applied for it.
Of course, it's also possible that the OmiseGo team has been developing very well in the recent past, attracting a large number of developers in the past 3 months, and just not within the scope of Consussys reporting data collection.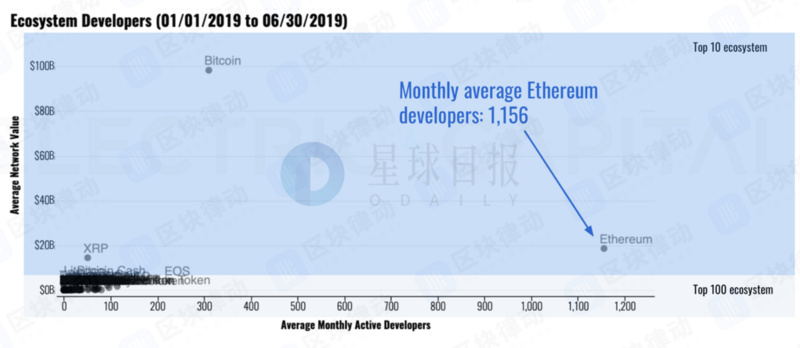 DevCon 5 is still in progress and the Odaily Planet Daily will continue to pay attention.
Source: Planet Daily