On April 25, 2019, Microsoft's market capitalization exceeded $1 trillion and became the world's highest market value company.
At the end of the last century, relying on the self-developed computer operating system, Microsoft became the world's leading software company, and also the Microsoft CEO Bill Gates was ranked first in the world's billionaire list.
However, Microsoft in the era of mobile Internet has not caught up with the search engine, social network and other industry trends in time, leading Apple, Facebook, and Google latecomers.
And Microsoft, who knows the post-knowledge, announced the "All in" blockchain in 2018. Can this move help Microsoft return to its peak? What opportunities will the former industry giant bring to the blockchain field? How does Microsoft, the operating system, get married with the blockchain?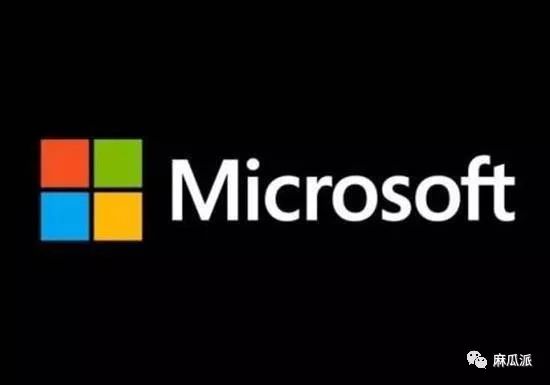 Winding source – cloud service
The connection between Microsoft and the blockchain will start from 2014. This year, Microsoft ushered in the third CEO, Satya Nadella.
Before Satya took over as CEO of Microsoft, the "Microsoft decline" theory prevailed. At that time, the old American magazine "Vanity Fair" published a long report, pointing out that Microsoft's internal system was bloated, the management model was rigid, and the degree of innovation was too bad, which led to the opportunity for new technology such as Facebook.
A cartoonist created a picture in 2011, which shows the situation of the internal organization structure of Microsoft at that time, "the mountains are standing together" and "the mountains and kings are facing each other with guns."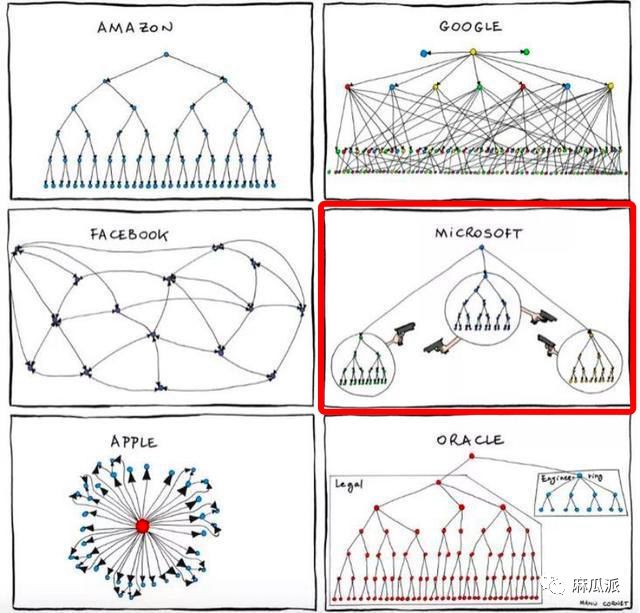 Source network
Microsoft is at the point where it must change.
On February 4, 2014, to everyone's surprise, Microsoft's veteran Satya defeated Nokia (acquired by Microsoft) CEO Stephen Elop and Skape (acquired by Microsoft) CEO Tony Bay Strong candidates such as Tony Bates were appointed as the third CEO of Microsoft.
How to change the rules of Microsoft is what Satya has been thinking about. Before becoming CEO of Microsoft, Satya accepted the invitation of Netflix CEO Reed Hastings to watch Netflix (the world's largest paid video website, once produced the American TV series "House of Cards"). Internal meeting. "Netflix will make a quick transition based on new data, which is much more interesting than the bureaucratic Microsoft." Satya summed it up.
When it was the turn of Satya to take over as CEO, the new official took on three fires. At that time, Microsoft, which had missed the mobile revolution, started to work under the leadership of Satya. He proposed the strategy of "moving first as the cloud first". Focusing on Microsoft's main business in the future – cloud services, and the core product of this business is the Azure cloud platform.
The Azure cloud service platform dates back to 2008, when it was designed to better serve Windows systems and later became a separate product.
Previously, I have been sticking to Office and Windows. I have been criticized for lack of innovation and self-restraint, so that Microsoft, who missed the mobile phone, search engine, social network and other industries, has finally embraced and embraced more new things. It is precisely because of this change in attitude that it laid the cornerstone for Microsoft to explore the blockchain road since then.
In the blockchain world, a major event occurred in 2014. On January 23, Ethereum founder Vitalik Buterin released the first white paper of Ethereum, Ethereum: The Next Generation Smart Contract and Decentralized Application Platform. Announced the official launch of the Ethereum blockchain project, the "blockchain 2.0 era" opened.
At the same time, the Bitcoin network, which has been in operation for five years, has also spread from the dark network to the real world. According to public data, in 2014, only the well-known companies such as game giant Zynga, retail giant Overstock, and travel giant Expedia accepted bitcoin payments.
Microsoft, which is in a period of change and looking for the next slogan, is keenly aware of the potential of the blockchain.
At the end of 2014, Microsoft accepted bitcoin payments to support all users of Windows 10 systems in the United States to pay for applications, games, etc. via Bitcoin.
In November 2015, Microsoft launched the "Azure Blockchain as a Service (BaaS)" program, based on Ethereum, applying blockchain technology on Azure to provide "cloud-based" for enterprise customers, partners and developers. A key blockchain development environment helps them quickly create blockchain environments based on public, private, and hybrid clouds.
This is also the first blockchain basic service launched by Microsoft Azure Cloud Platform, which also marks Microsoft as the "world's first IT enterprise to enter the blockchain technology field."
It turns out that Microsoft, who came from behind, made a thing that seemed completely correct at the time. Marley Gray, then head of Microsoft's financial services technology strategy, said that for the full expansion of the blockchain, "we are almost gambling on the entire cloud service."
By June 2016, Microsoft introduced the new blockchain project Bletchley, an architecture and solution for a blockchain ecosystem that is open to all platforms and users, with the goal of creating "open, modular districts". The blockchain framework interacts with identity and key management to quickly expand.
In 2015-2016, Azure's blockchain platform absorbed members such as ConsenSys, Ripple, BitPay, and LibraTax, and grew rapidly. At the same time, Satya began to work in the blockchain field to form Microsoft's "revival." "the road.
Comprehensive expansion – financial ecology and acquisitions
The previous article by The Economist shows that Microsoft previously "followed partners as a competitor."
For example, Satya's predecessor [Steve Ballmer, Microsoft's second CEO] once called the Linux operating system and Linux-based open source software "cancer."
But under the leadership of Satya, Microsoft has become more inclusive and open. Even though the Linux operating system competes with Windows, Microsoft's operating system for Azure cloud computing is based more on Linux than on its own. Later, Microsoft even joined the Linux led-led Hyperledger blockchain open source project.
This also maps out Microsoft's blockchain play – two benefits, two points. On the one hand, through the establishment of cooperative relations with the B-end customers, based on their own platform to create a blockchain ecosystem; on the other hand, through the acquisition of existing enterprises, thereby strengthening technical support.
In addition to joining the super-book, Microsoft has also actively promoted a number of blockchain technology cooperation.
In January 2017, Microsoft partnered with Los Angeles blockchain company Mojix to launch the Manifest project to help factories, distribution centers and retailers track shipments;
In February, we established a partnership with blockchain company Tierion to seek to establish a permanent ecosystem that can sign data, statements, and agreements to maintain information security;
In June, Microsoft and Accenture reached a partnership to develop a blockchain solution that supports the ID2020 project to address identity issues.
By January 2018, according to a report by WinterGreen Research, the blockchain market totaled more than $700 million, with Microsoft accounting for 19% of the market, second only to IBM.
In addition to blockchain technology, cryptocurrency and digital assets are also the direction of Microsoft's external cooperation.
"If the currency chain is separated, it makes no sense. The currency-free blockchain lacks many dimensions and possibilities." Microsoft China CTO Li Jiang said earlier.
In January 2018, Microsoft's cooperation with SYSCOIN can be regarded as the first time that Microsoft is involved in the currency ecology. By providing SYSCOIN wallet, the latter helps companies create "a distributed and flexible online market that can compete while competing."
In April 2018, Microsoft began accepting Bitcoin Cash (BCH) payments, and users could find BCH payment methods in their Microsoft account balances, and the transaction details were handled by Bitpay.
In August 2018, Microsoft partnered with ICE, the parent company of the New York Stock Exchange, to establish the "digital asset ecosystem" Bakkt, and Bakkt recently launched a physical delivery bitcoin futures contract.
In October, Microsoft and Nasdaq will establish a partnership, Nasdaq will introduce Azure blockchain technology into its financial framework to improve operational efficiency.
While expanding to the financial and currency ecosystem, Microsoft has not slowed down the pace of blockchain technology.
Although Microsoft's blockchain patents are only a fraction of Alibaba's, Microsoft has a more open source R&D blockchain approach – the acquisition of Github, the world's largest social programming and code hosting site.
On June 4, 2018, Microsoft announced the acquisition of GitHub for $7.5 billion, and Microsoft Vice President Nat Friedman served as CEO of GitHub.
Microsoft's move sparked a huge controversy in the Github community. Bitcoin core developer Wladimir van der Laan believes that "this will make Github fail and is the beginning of Github's long and painful journey"; another bitcoin core developer Peter Todd Even said that it would be migrated to other platforms: "Gitlab (Github's competitor) may be our best choice."
Still, it can't stop Microsoft's acquisition of Github. Nadella said,
"This transaction shows our determination of 'All in' open source."
  This acquisition also means that Github's blockchain code in Shanghai has been included in Microsoft's revenue, and Microsoft's blockchain infrastructure technology has more reference targets in the future.
On November 21, 2018, consulting firm ABI Research said in a report that Microsoft has beaten IBM to become the world's largest blockchain cloud service provider.
From the beginning of the layout to the beyond IBM, it took Microsoft less than two years to find the right direction. Nowadays, Microsoft, which has "opened up", has also harvested the fruits of careful layout over the years.
"The dance of dancing"
Under the leadership of Satya, Microsoft regained the top spot in the technology industry. On April 25, 2019, Microsoft's market capitalization exceeded the trillion mark, surpassing Apple's $946.3 billion and Amazon's $973.8 billion to return to the top of the world. As of press time, Microsoft's market capitalization was $1.05 trillion.
Netflix CEO Hastings even lamented, "In the history of technology, I don't know which software company can recover so well after being in trouble."
"If someone praises our market value, I will be disgusted because it is meaningless. Any celebration of such an arbitrary milestone will mark the beginning of the end." In the face of the great achievements of Microsoft after the successful transformation, Satya is extremely calm.
Microsoft continues to move forward, how much will the blockchain help?
Since May 2018, Microsoft CTO Kevin Scott announced that "Microsoft decided to link All In blockchain", this year, in addition to continuing to establish partnerships with global companies and traditional institutions, Microsoft is more Intensify the reality of the application of the blockchain application scenario.
In fact, as early as 2017, Microsoft has begun to provide detailed blockchain services to C-end users. In April 2017, a blockchain document authentication and verification application called Stampery was added to the Office program, and users can use Bitcoin or Ethereum blockchain to prove and validate documents.
In May of this year, Office also added "bitcoin" to the Excel spreadsheet currency option. Many people said that this is a huge advantage for the blockchain and cryptocurrency industries.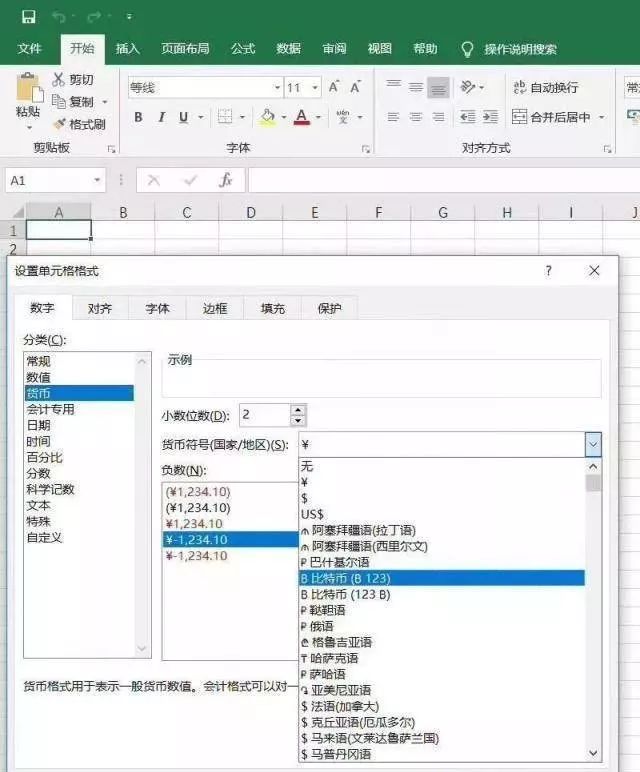 Source network
In addition to adding support for blockchain technology and bitcoin in its own ace business, Microsoft is also planning to introduce a new blockchain business.
On May 13, 2019, according to coindesk news, Microsoft intends to launch a Decentralized Identity (DID) solution, codenamed ION (Identity Overlay Network), by the end of the year. Run on the Bitcoin main network.
According to the coinelegraph article, Microsoft intends to bring this service to billions of people and terminal devices around the world. But it must be admitted that it is difficult to fully realize this.
First, in the process of advancing the DID program, Microsoft invited Facebook to participate, but the latter did not respond. This means that if some Internet giants do not open ports, Microsoft will lack the channel to promote services. Even if you can find other partners, you will still face problems such as a small population of terminals and insufficient service promotion to users.
Secondly, the "account + password" mode of traditional Internet services has been deeply rooted in the minds of Internet users. How to make users truly aware of the privacy and convenience of using public and private keys is also a pain point that Microsoft and even the entire blockchain industry need to solve;
Finally, even companies that have a relationship with Microsoft have a competitive relationship. For example, PayPal chose a startup called Cambridge Blockchain to cut into the DID business circuit, but the startup is partnering with Microsoft. Not to mention the fact that companies in the cryptocurrency sector (such as Coinbase, ConsenSys) are competing for Microsoft.
Now, in 2019, it has already passed 3/4. In addition to the operating system and Office, can Microsoft, which has "All in" blockchain, help the blockchain to further mainstream and achieve more scenarios? How much bite force will the traditional enterprise and the blockchain and cryptocurrency industries form? We will wait and see.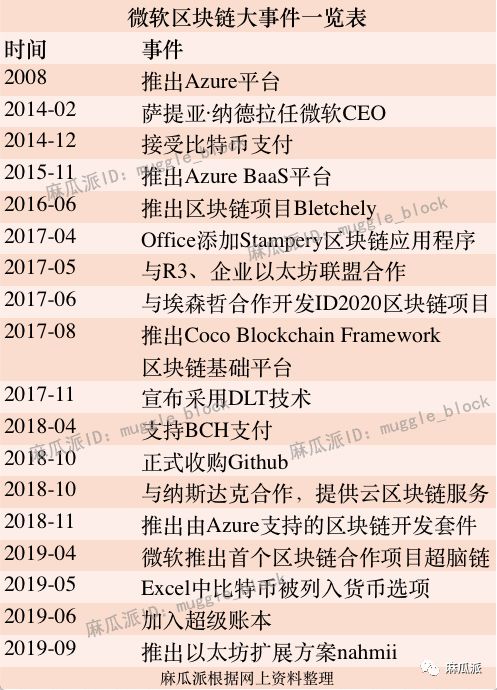 Reference articles and links:
1, Microsoft's blockchain technology decentralized identity project introduction http://m.elecfans.com/article/947629.html 2, Microsoft Decade Azure Road: changed a lot, but not all https://www. Sohu.com/a/272016252_700450 3, Microsoft CEO Satya Nadella: want to become a big business, the first bitter https://www.sohu.com/a/197848370_629694 4, Satya Nadella: Microsoft's endogenous outsider http://baijiahao.baidu.com/s?id=1602480951354903676&wfr=spider&for=pc 5. Why did Microsoft return to the blockchain? Https://baijiahao.baidu.com/s?id=1634280708111226728&wfr=spider&for=pc
Text / one
Source / Muggle Pie (ID: muggle_block)
Original article, unauthorized reproduction is prohibited.