The global economy is in a recession, and there is basically a market consensus.
"I think we are in the pre-bubble stage and may enter the bubble stage… The probability of a recession before the next (2020) presidential (US) election is relatively high, possibly reaching 70%." — Bridge Water Fund   Ray Dario
From the small to the largest asset volatility, we look at the performance of various global assets in the past year (2018-10-10 to 2019-10-10).
National debt
US one-year government bond yield +1.69% (source: US Treasury),
China's one-year government bond yield is +2.56% (source: China Bond Information Network).
Treasury bond investment is generally favored by institutions. For our retail investors, this rate of return is basically invisible.
Foreign exchange market
Figure 1: Currency yield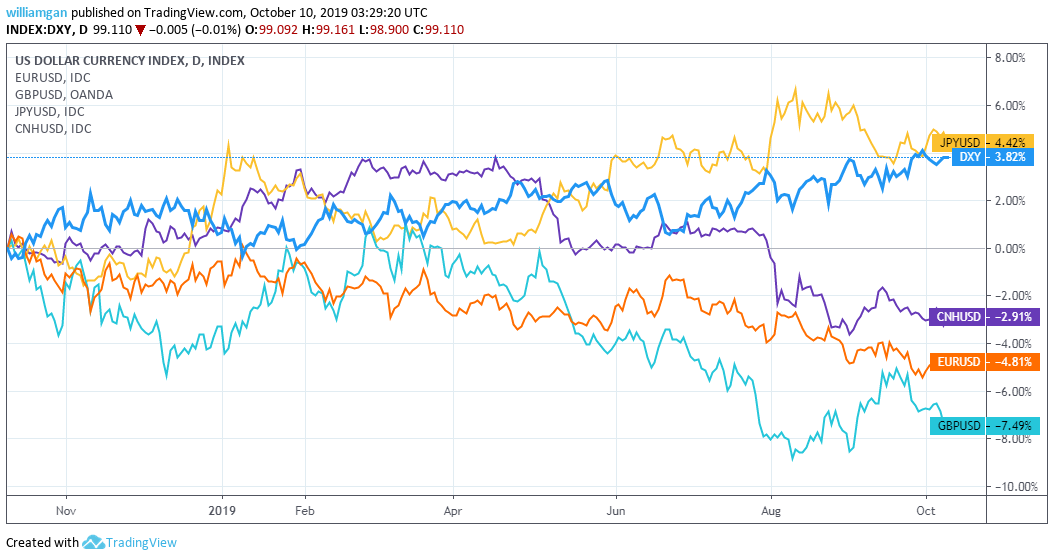 Source: TradingView, FineWallet Learning Society
-DXY US Dollar Index: +4.07%
-EURUSD EUR: -4.81%
– GBPUSD GBP: -7.49%
CNHUSD RMB: -2.91%
-JPYUSD yen: +4.42%
Among them, the US dollar and the Japanese yen recorded positive returns. Especially in the case of the US dollar index rising, only the yen's return was positive, confirming the market's concerns about the recession, risk appetite falling, and buying the yen to hedge .
Real estate
Take Shenzhen Real Estate as an example
Figure 2: Shenzhen property prices
Source: creprice.cn, FineWallet Learning Society
In the past year, house prices in Shenzhen rose from 60,213/m 2 to 63,410/m 2 , an increase of 5.3%; while the value of real estate rose from 28,576/m 2 to 28,993/m 2 , an increase of 1.45%.
The increase in house prices has slowed down or even stagnated. The probability of falling house prices in Shenzhen as a first-tier city is not large, but it is difficult to rise sharply as in the past.
In addition, the price of the property is about 60,000 / m 2 , but the actual value calculated according to the rent * is only about 30,000 / m 2 , it is very obvious that the price bubble can be seen.
(* Value = average monthly rent (yuan/month/m2) x 12 months x 30 years, model source creprice.cn)
Stock / Commodity / Precious Metals Market
Figure 3: Stock Index / Commodity / Precious Metals Yield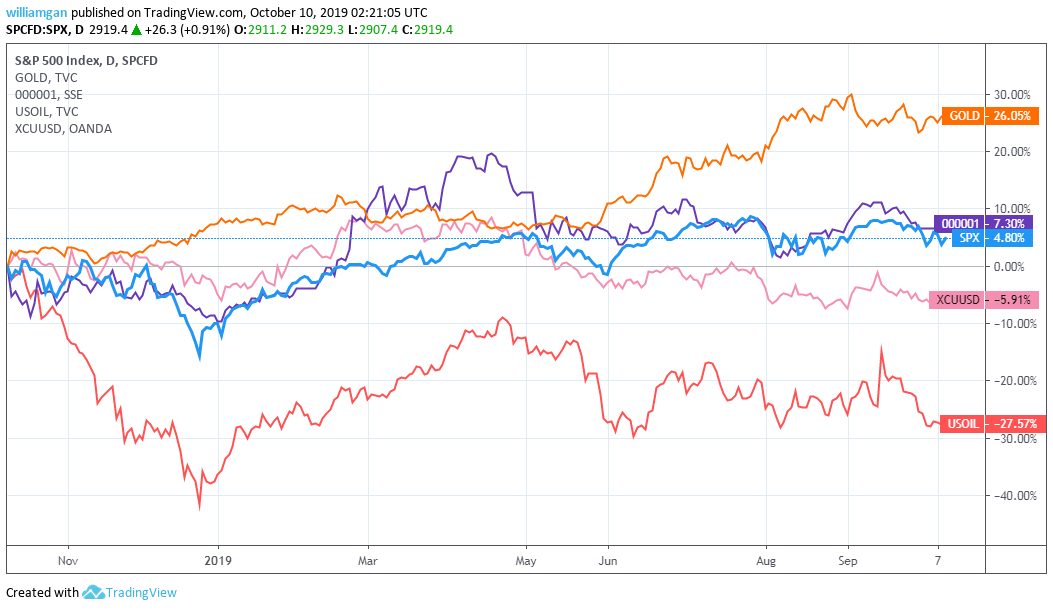 Source: TradingView, FineWallet Learning Society
-S&P500 S&P 500: +4..8%
-SSE Shanghai Composite Index: +7.3%
-XCUUSD copper: -5.91%
-USOIL crude oil: -27.5%
-GOLD Gold: +26.05%
The stock market recorded a slight increase in the past year. The Shanghai Stock Exchange Index rebounded in the first half of this year after a sharp fall in 2018, but the follow-up trend is still weak.
The copper and crude oil, which characterize the economically active commodities, are all negative, especially the demand for crude oil is expected to drop very high, and the price drop is very obvious.
As a safe-haven asset in the context of economic recession, gold has been sought after in the past year and has risen above $1,500 per ounce.
Gold, Bitcoin comparison
Figure 4: Gold, Bitcoin Yield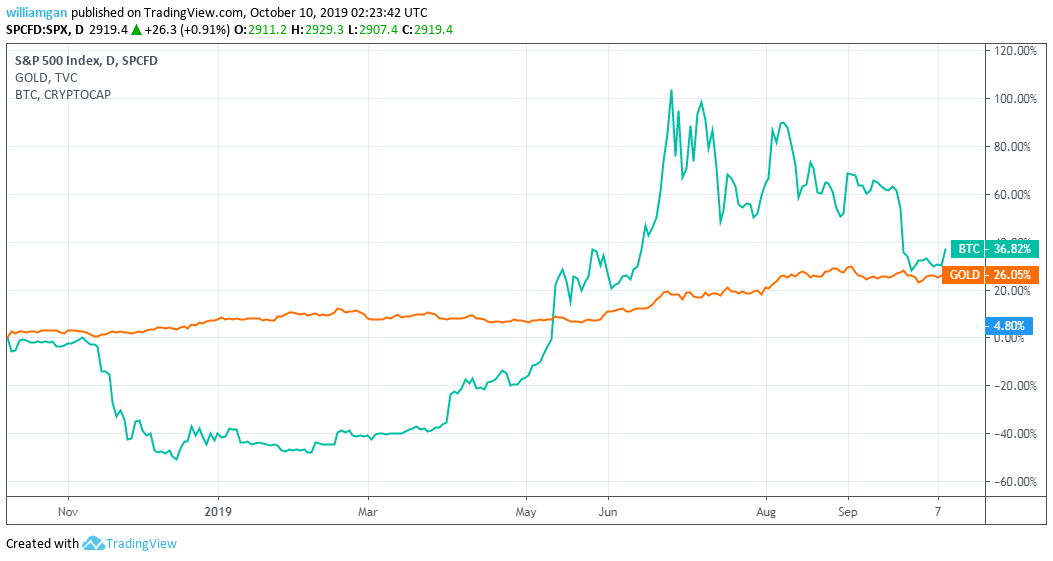 Source: TradingView, FineWallet Learning Society
-GOLD Gold: +26.05
-BTC Bitcoin: +36.82%
We are very surprised to find that the price of gold in the past year constitutes a moving average of bitcoin prices, which fully confirms the value storage property and safe-haven properties of Bitcoin.
According to the IMF International Monetary Fund, a new round of global economic recovery will not begin until 2021. In the next 2020, we are still optimistic about safe-haven assets. At present, there are two good investment directions, one is gold and the other is bitcoin. As a product of the new world, Bitcoin is expected to be deployed in the future.
FineWallet Research Institute Principal Analyst William Gan, CFA, FRM
(WeChat public number: FineWallet Institute)
2019-10-10