Foreword: In addition to currency and finance, the blockchain field has always attracted attention. From the beginning of encryption cats, it has ignited people's enthusiasm for blockchain games. However, due to user experience and scalability issues, blockchain games have been on a smaller scale, so to what extent is the current blockchain game going? Will there be hope for its future? No matter what, there is a undeniable fact. Compared with two years ago, the research and development and funding of the current blockchain games have greatly increased, and the number of users has increased a lot. With more fun blockchain games coming in, it will let players gradually realize that blockchain games are different from traditional games, and slowly it will open up its own territory. Blockchain games cannot replace traditional games. But because of its unique attributes, such as prop ownership, cross-game asset trading, etc., one day, it will grow. The author of this article is DappRadar, translated by the "SL" of the "Blue Fox Notes" community.
Although DeFi has become the most important direction for dApp growth in 2019, blockchain games have not been weak.
Some new games have been released this year. According to the number of active wallets, some of them have rapidly developed into the most popular dApps.
In addition, some older games are still competing for the top spot. As a result, when we entered the fourth quarter, there were at least four games with more than 2,000 daily wallets.
Five most popular blockchain games (based on DAU's 30-day rolling average)
Rise and land
In 2019, starting with a blockchain game leader. Developed by a small Korean team, EOS Knights is a casual RPG game in which all game operations are traded on the EOS blockchain.
EOS Knights is popular in South Korea and China, and it continued to grow in the first quarter of 2019 and reached its peak of 7,000 days in early March. Since then, it has steadily declined, which may be due to two reasons: first, it lacks long-term retention, and second, it takes more aggressive anti-robot measures.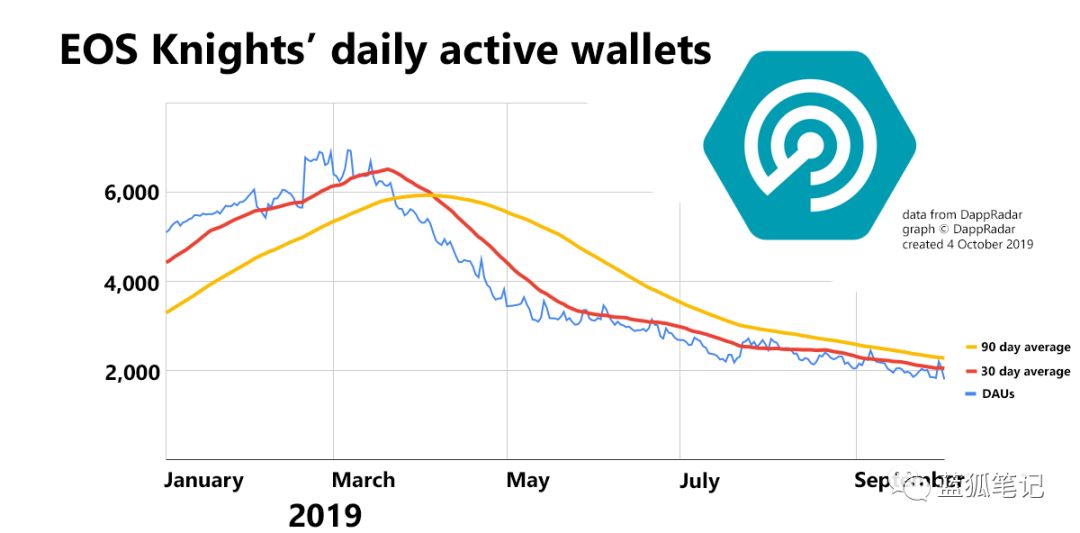 EOSKnights daily activity statistics (calculated by original, 30-day and 90-day rolling averages)
In the blockchain world, it is difficult to clearly distinguish how many active wallet addresses are real players. It can vary widely, depending on the specific design of the game and the blockchain in which it operates. There is no doubt that casual games running on EOS attract higher-level robots than collectible games such as encrypted cat games running on Ethereum.
However, with the launch of other meta-game features, EOS Knights has now stabilized its users at around 3,000 a day.
It is worth noting that the new version of the game, "Klaytn Knights", will be launched on the Klaytn blockchain of Korean instant messaging giant Kakao, which will also be supported by Korean mobile phone manufacturers Samsung and LG.
In other words, EOS Knights is best seen as an experiment, and its improved version will likely be used by thousands of people. (Blue Fox Note: Thanks to Kakao instant messaging and the powerful channel capabilities of Samsung and LG phones, it can reach more users, that is, Klaytn Knights based on Klaytn blockchain improves on EOS Knights' successful experience , upgraded to a better work, and can be touched by more people, thus achieving a wider user adoption.)
It's time to upgrade
Another blockchain game from Asia, the Japanese-developed "My Crypto Heroes", runs on the Ethereum blockchain and experienced different take-offs in 2019.
At the beginning of 2019, it had about 200 daily wallets per day, but by February it had increased its subscription service, and the number of daily wallets suddenly soared to nearly 2,000. With a monthly payment of 0.1 ETH, players receive daily rewards, including experience enhancements, new characters, in-game currency, and unlocking new arenas.
Indeed, such rewards are very generous. For players who are interested in playing this game at any time, this is effortless.
In combination with one of the most active NFT role markets, My Crypto Heroes has steadily grown to around 3,000 DAU, which was only suppressed by the increase in the price of gas in the Ethereum blockchain trade in September.
As the price of gas has dropped, users of the game have rebounded to the level of August.
MyCryptoHeroesDAU statistics (calculated by original, 30-day, 90-day rolling average)
It's worth pointing out that you can play the "My Crypto Heroes" game as a traditional centralized game without having to use any blockchain features such as role ownership, trading and subscriptions.
The developer of the "My Crypto Heroes" game, Tokyo Double. Jump, claims that only one-third of gamers have interacted with its blockchain elements.
This has nothing to do with this article, but it also reminds us that future blockchain games may be games on the hybrid chain and under the chain.
The rise of EOS games
When it comes to the new blockchain game that has been successful in 2019, it has a clear trend.
The following games all run on the EOS blockchain, including Prospectors (Explorer, released in June), EOS Dynasty (EOS Dynasty, released in May) and Crypto Sword & Magic (encrypted sword and magic, released in June).
In addition, they also have different experiences.
Prospectors is an economic simulation of the Wild West theme, developed by developers from Eastern Europe. EOS Dynasty is a Chinese medieval kingdom theme similar to EOS Knights. Crypto Sword & Magic is a blockchain version of the Facebook game successfully developed by Korean developer NOD Games.
Prospectors and EOS Dynasty were the most successful of the three games: in every respect, each ranked first in the most popular blockchain game rankings, with a maximum of 3,000 DAU.
You can see that the players of Crypto Sword & Magic are growing, but in the order of magnitude. It currently has about 800 DAU.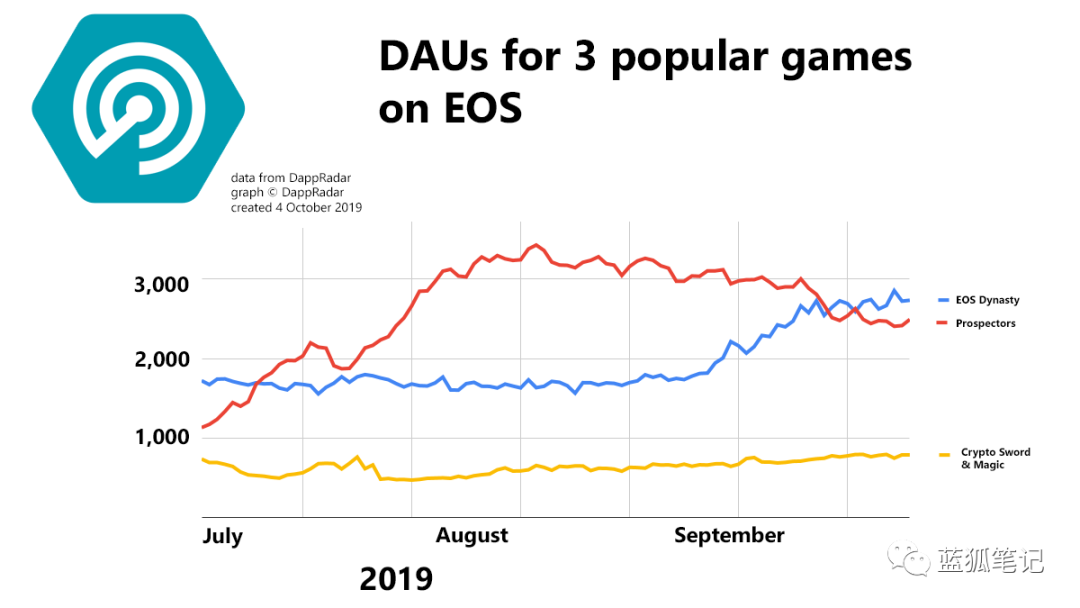 Original DAU statistics for three EOS games, Prospectors, CryptoSword & Magic and EOSDynasty
There is one more thing worth noting. As mentioned earlier, because Prospectors and EOS Dynasty use their own tokens, they can be realized from the game economy, which will motivate players to use the robot to gain economic benefits. This is different from the case of Crypto Sword & Magic, which uses EOS only as the project currency.
DappRadar now values ​​this uncertainty. We filter the raw data and remove the traffic we think is steerable. More features will be introduced in the future to further mark such activities, especially on the EOS chain.
Some dApp developers are also very open to zero tolerance. For example, "My Crypto Heroes" developer Tokyo Double.Jump said: "We always focus on robots by using Google reCAPTCHA and other tools, and once detected, we will immediately ban them."
What is the next step?
There is no reason to end this article with frustration.
The blockchain game field is still very active. The current game is only a small part of the total number of projects in each development phase, and 2020 will be a very important period for this emerging industry.
High-profile project releases include the Neode District of Blockade Games, The Sandbox of Pixowl', F1 Delta Time by Animoca, and CryptoWars of Experimental (all running on Ethereum) and the Blankos Block Party running on EOS.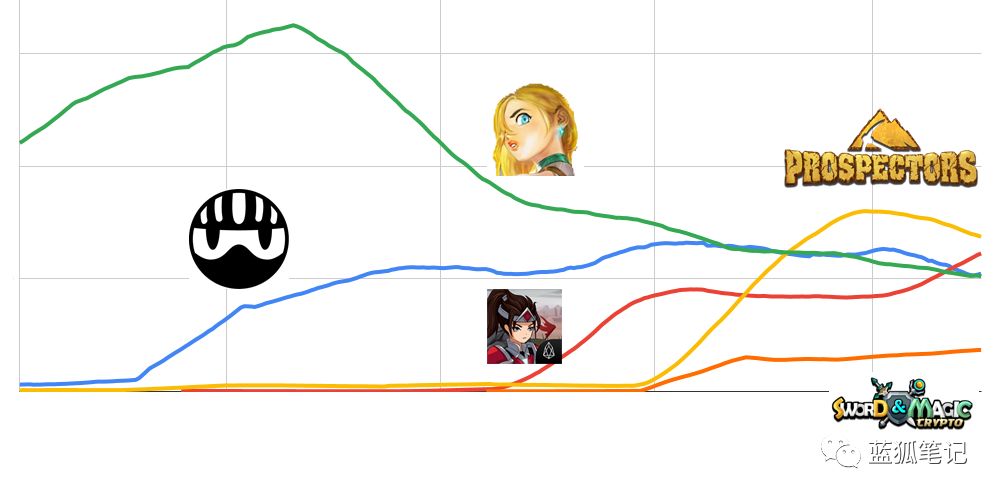 Even in the late fourth quarter, Lucid Sight's Crypto Space Commander and Immutable's Gods Unchained games entered the beta stage, and Decentraland's release will support games like Battle Racers.
And these are just some of the blockchain game projects we talked about. There are many other projects under development, but we will not disclose them for the time being.
——
Risk Warning: All articles in Blue Fox Notes can not be used as investment suggestions or recommendations. Investment is risky. Investment should consider individual risk tolerance. It is recommended to conduct in-depth inspections of the project and carefully make your own investment decisions.
Editor's Note: The original title is "A Text on the Status Quo of Blockchain Games."