Original: Bloomberg , original author Leonid Bershidsky
Source: Odaily Planet Daily
Translator: Azuma
Due to regulatory pressures, large companies in multiple payment sectors have withdrawn from Facebook-led cryptocurrency project Libra. The top financial media, Bloomberg, said that if Facebook really wants to bring financial services to people who don't have a bank account, it should first test it in a smaller scale than its promise. However, even then, the probability of failure will be high.
The reasons for PayPal, Stripe, eBay, MasterCard and Visa to give up participating in Libra are obvious. Hawaii State Senator Brian Schatz and Ohio Senator Sherrod Brown recently warned that given the membership of these payment companies (if they participated in the project), it is foreseeable that regulators will not only target Libra-related payment activities. There will also be a rigorous review of all of the company's payment activities. The cryptocurrency used in conjunction with encrypted communications may be used for illegal transactions, which is worrying. Any unit involved in creating such opportunities will be suspicious."
US regulators are fully capable of destroying large cryptocurrency projects. On October 11, the US Securities and Exchange Commission (SEC) just sold Telegram, a star encryption project that had completed the $1.7 billion ICO, claiming that its token, Gram, was "illegally issued" and did not comply with long-term disclosure obligations. Telegram ICO's investors include mainstream US venture capital firms such as Benchmark, Sequoia Capital and Lightspeed. The same thing can easily happen to Libra.
This is the problem that will be faced by large-scale start-ups. Telegram's token transactions are the largest ever recorded. In contrast, Libra, when the program was officially announced, listed a list of partners on its official website, which read like a celebrity list from all walks of life. Libra envisions launching its cryptocurrency globally. Regulators and politicians will of course be shocked.
In order to avoid this result, Facebook could have tried to use the strategy that its partner Vodafone Group Plc had tried to achieve its goal of providing affordable payment services and loans to people who are temporarily unable to enjoy financial services. .
In 2007, Vodafone launched a product called M-Pesa, which is Kenya's famous "mobile currency". One of the main advantages of the project is that the Central Bank of Kenya agreed to launch M-Pesa without any formal regulations. . Vodafone's local mobile operator Safaricom Plc quickly established a network of stores where people without bank accounts can pay and receive cash, and old-fashioned mobile phones become wallets for money transfers and shopping. With no need to worry about regulatory interventions, coupled with a large physical network and relatively generous commissions, by 2019, M-Pesa has 37 million active customers in seven African countries.
But when Vodafone tried to port the service to other markets, it failed. Vodafone has closed down M-Pesa services in India (partly due to regulatory barriers), South Africa (low customer interest), Romania and Albania (obviously unprofitable). Vodafone found that there is no one-size-fits-all solution. In different countries, lending institutions, retailers and mobile operators offer competing services, and regulatory reviews vary.
To find a country that launches this e-money service, you need to carefully study the list of countries with large populations without bank accounts. According to World Bank data, the top 20 include China, India, Indonesia and Brazil.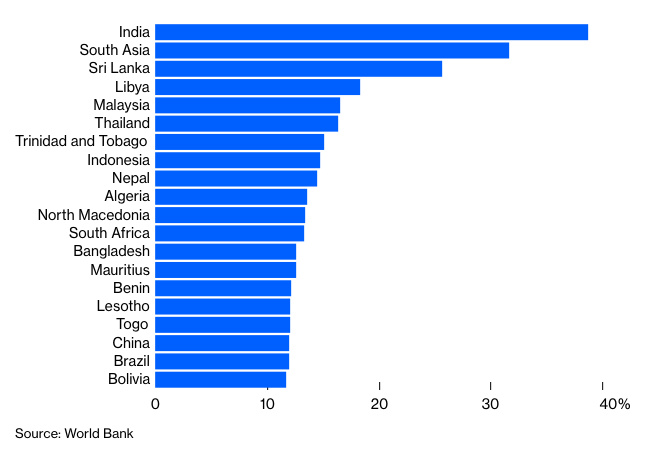 Emoticon: In the past year, the proportion of the population aged 15 and over who have not used financial institution accounts (high to low)
But in these countries, most people are already using some form of digital currency rather than dealing with traditional financial institutions. This is why the situation seems completely different in the 20 countries with the lowest percentage of people who have recently or have received digital payments.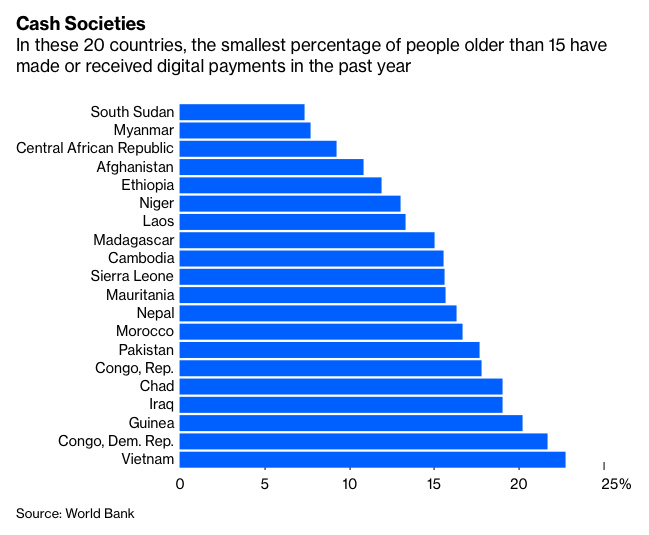 Emoticon: In the past year, the proportion of the population over the age of 15 who have not used digital payments (low to high)
In other words, it is not easy to find a country where many people have neither bank accounts nor access to other financial services. In addition, cash users in certain countries may wish to maintain this status. One potential reason why M-Pesa does not work in Albania and Romania is that these countries have a large informal economy, with as much as one-third of gross domestic product (GDP) in the "shadow", traceable electronics Trading is less attractive than cash.
Finding good and regulated target markets is quite difficult, which should explain why Facebook wants to launch on a large scale, throwing everything out and seeing what can be done. But the risk of this approach is that its original intention – to provide cheap financial services to people without bank accounts – seems to be an excuse to establish unregulated large banks in developed countries – and this is the regulation of Europe and the United States. The organization is most worried.
Facebook should not be as troublesome as Telegram, like Telegram, and continue to advance the project with other partners. Instead, start from scratch and start thinking about tailoring small projects tailored to the needs of a particular country. Expansion will be slow, and there will be failures and misjudgments in the process, but it may be easier to convince regulators in various markets that Libra does not represent evil.