Harvesting 30% of the market share, IBM's enterprise-level blockchain strategy is still questioned?
Text / a source / Muggle pie
Centennial IBM is the real hegemon of the computer industry.
In the 1930s, with the sales of card counting machines, IBM accumulated a lot of financial resources, and then sharply grasped the hardware ports of transistor computers, semiconductor integrated circuits, large computers, etc., IBM became a world-class "blue giant."
However, since the 1990s, the "Blue Giant" has been in a state of fatigue. Missing a few transitions has lagged behind the trend of the times. With Microsoft, Apple, Intel, etc., IBM has gradually lost its position as the industry leader.
But IBM has experienced multiple distress, self-help, and hegemony in a hundred years, and now IBM is in a transitional phase. Blockchain technology has also become one of the boosters of this transformation.
From the 2014 blockchain, IBM not only reorganized the supply chain globally, but also rebuilt the industry with blockchain; it also developed a payment system that benchmarked SWIFT. This year, IBM announced in March that it would issue stable currency, and in September it revealed its intention to cooperate with Facebook on digital currency.
How far can the Big Blue go in the blockchain world?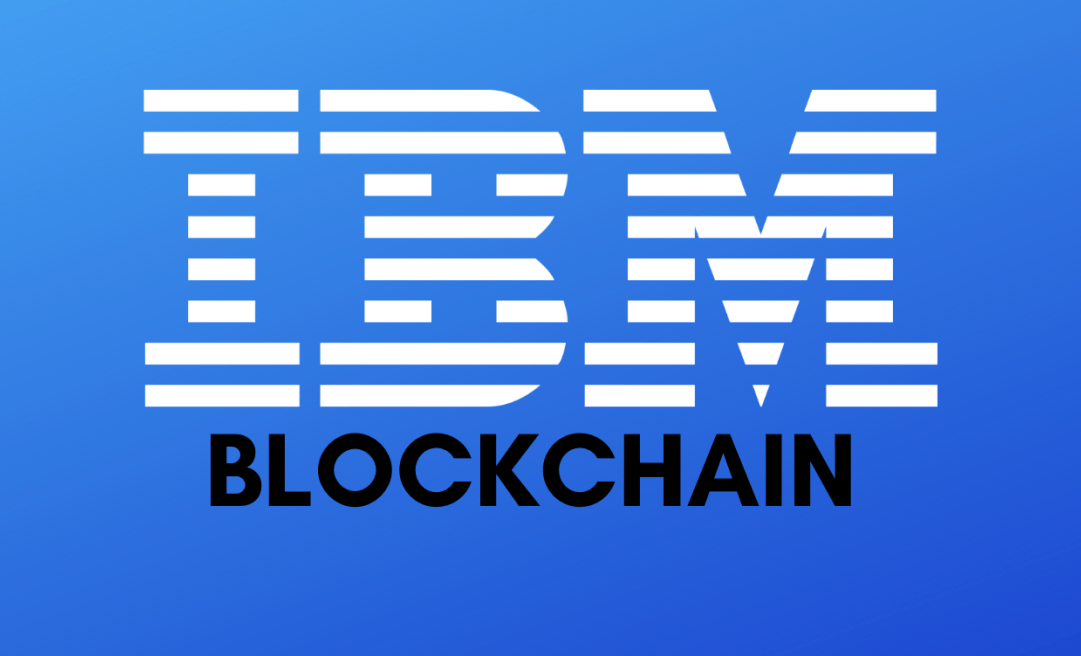 Blue Giant encounters "Bright Guns"
According to Jerry Cuomo, vice president of IBM blockchain technology, IBM's blockchain exploration can be traced back to 2014. When the Ethereum white paper was released, the blockchain began to become more familiar. .
Compared with IBM, the IT giants of the same level are obviously slower. For example, Microsoft launched the "Azure Blockchain as a Service (BaaS)" program at the end of 2015.
All along, in the face of emerging technologies, IBM can always catch the wind. From perforated card data processing equipment to research and development computers, and later to "ignite the raging fire in the PC market," IBM's sensitivity to emerging technologies has been strong.
In the 1950s, IBM's founder's eldest son, Thomas J. Watson Jr (hereafter referred to as Little Watson), succeeded his father, led IBM to transform, from traditional business to full computer research and development. In particular, it provides services to government agencies and the US military. This shift has led IBM to achieve more than $2 billion in annual revenue.
In the 1960s, the new company leader, V. Learson, under the guidance of Little Watson, seized the opportunity of integrated circuits to develop the epoch-making IBM "System/360" large-scale computer to make computers more commercial. Chemical.
In the 1980s, IBM's fifth leader, John R. Opel, led IBM to develop the world's first personal computer (hereafter referred to as PC), which led to the official birth of the PC market concept.
In the 1990s, IBM's eighth leader, L. Gerstner, first proposed "network-centric computing," and led IBM to develop a supercomputer "dark blue." Since then, IBM, which is based on the dark blue background, has officially been called the "Blue Giant."
But along the way, IBM, which seems to be able to accurately grasp the vents every time, has also encountered "the dark moment."
In the late 1980s, IBM followed the market opening policy to open up some computer R&D technologies, which led to many counterfeiters. But at the time, IBM's sixth leader, John J. Akers, adopted a new structure in the newly introduced computer in order to prevent the latecomers from continuing to "cool down", which is not compatible with previous versions of the computer. Leading to the dissatisfaction of the original IBM users;
At the same time, the nine compatible machine manufacturers led by Compaq announced that they will adopt new standards compatible with previous computers, which has greatly affected the IBM market.
In addition, with the gradual popularization of personal computers in the early 1990s, the demand for large computers has dropped sharply, and there has been a large backlog of products and no one cares. IBM's market has begun to shrink. According to Muggle's query data, the most direct consequence of this phenomenon was that IBM lost more than $16 billion in 1991-1993.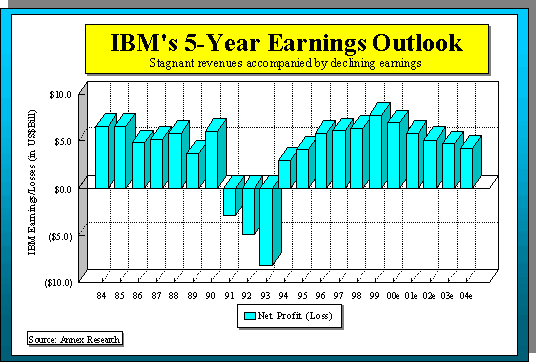 Source: Annex Research
Although the concepts of personal computers and the development of the Internet were first proposed, in the case of internal leaders' decision-making mistakes, bloated bodies, rigid management, and external "tigers and wolves", IBM is still irreversibly beginning to show a downward trend.
The representatives of these "tiger wolves" are Apple and Microsoft. Apple is a "bright gun" and Microsoft is a "dark arrow."
Apple, which started the PC business from the beginning, is naturally the number one enemy of IBM. But Microsoft is a bit different. At first, in order to solve the PC operating system business, IBM found Microsoft cooperation, and the solution given by Microsoft at the beginning was satisfactory.
However, after Microsoft abandoned IBM and developed the Windows operating system, IBM could only develop OS/2 independently. But the OS/2 system "drives very hard, generally not as good as Windows"; at the same time, Microsoft's Windows is bundled with Intel's hardware, and once it is launched, it is widely praised by ordinary consumers.

The software has not played Microsoft, IBM can only stop here, and in 2005 gave up sales and support OS/2. But the miscalculation in the field of cloud services is a vivid manifestation of IBM's gradual loss of innovation.

Amazon launched the AWS (Amazon Web Service) cloud service in 2002, and IBM also launched the "Blue Cloud" cloud service plan at the end of 2007.

However, according to previous articles in the Planet Daily, it was not until 2013 that IBM acquired SoftLayer Technologies for about $2 billion. IBM officially entered the public cloud market, and IBM did not cultivate it as a major development business, but actively deployed a private cloud.

Under multiple factors, IBM's cloud computing is far behind Amazon's AWS. In 2017, AWS Cloud Service has a global market share of 45% in IaaS, which is higher than the sum of Microsoft, Google and IBM. In Q4 2018, IBM's cloud computing services still rank behind Amazon, Microsoft and Google, accounting for only 7.5%. market share.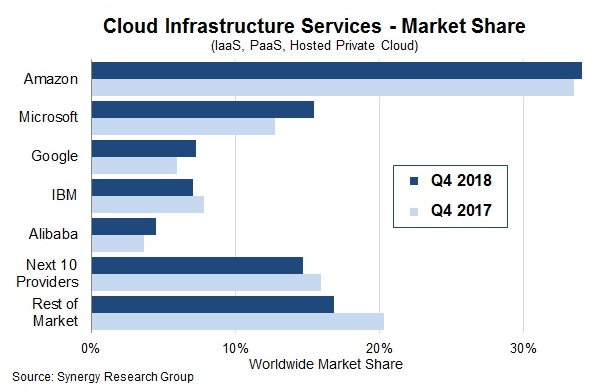 Source: Synergy Research Group
In the 1990s, the software market was not able to seize the market, but Microsoft took the lead. In the new century, it lost to Amazon in the cloud service. Now, the old enterprise IBM, how to open a new era and return to the peak?
Crazy into the blockchain
IBM's investment in the blockchain is obvious to all.
In 2018, according to Marie Wieck, general manager of the IBM blockchain business, IBM has recruited about 1,600 employees to explore blockchain technology. 36Kr's previous article analysis, based on an average annual salary of $100,000 per person, is conservatively estimated. In terms of manpower alone, IBM spends $160 million annually on blockchain projects.
Even so, IBM continues to attract blockchain talent. In March 2019, according to a survey report released by the American workplace community Glassdoor, among the top ten companies in the blockchain, IBM has nearly 110 jobs, more than 50 more than the second-ranked Ernst & Young. . This also indirectly indicates the ambition of IBM to bet on the blockchain.
Not only is talent recruitment, IBM's annual investment in blockchain patents is also huge. According to public data, in 2018 and 2019 H1, IBM applied for 89 and 104 patents respectively, and both ranked among the top five global blockchain patent companies.
Top 20 companies in the global blockchain patents of 2018 (Source: IPRdaily)
Top 5 global blockchain patents in the first half of 2019 (Source: IPRdaily)

According to Larry Cermak, chief analyst at blockchain research firm Diar, IBM ranked first in the number of blockchain patents pending in 2019, becoming the R&D blockchain. The most patented company.

In addition, according to a report published by WinterGreen Research in January 2018, IBM has the largest share of the blockchain market, 32%, and the second Microsoft is only 19%.
Three blockchain blocks
IBM has launched a number of blockchain projects.
According to IBM CEO Ginni Rometty (Chinese name Luo Ruilan) in March 2018, at least 53 IBM customers are running more than 400 blockchain projects, including Nestlé, Wal-Mart, and United Lihua and other industry giants.
These blockchain projects have the core logic of the IBM layout.
According to the Muggle faction, IBM's blockchain business is divided into three major segments: alliance chain, supply chain and finance.
When exploring the enterprise-level blockchain in 2014, IBM tried to work with Ethereum; but because of the "restriction of licensing model," IBM could only build its own blockchain.
At the end of 2015, IBM announced support for the blockchain open source project Hyperledger (hereinafter referred to as the super-book) established by the Linux Foundation and became a founding member of the project.
IBM contributed 44,000 lines of code to the Linux community, and this code constitutes the most important of the superbooks, the Hyperledger Fabric.
For the landing scene of the blockchain, IBM has the most layout of the supply chain.
James Wallis, vice president of IBM blockchain, publicly stated that "there are many challenges in supply chain and supply chain financing, but this is a very suitable place for blockchains."
In June 2018, IBM partnered with Wal-Mart, Nestle, Unilever and other top ten companies to create a blockchain IBM Food Trust to track global food supply, and then officially commercialized the blockchain project in October.
Wal-Mart has now added the shrimp supply chain to the IBM Food Trust platform to help customers trace the source of shrimp products.
And Thailand's freight, coffee traceability, etc. can be traced on the IBM Food Trust platform.
In October, IBM spent $34 billion to acquire Red Hat (Red Hat), a well-known open source solution provider. Luo Ruilan said that the acquisition of Red Hat will help optimize the supply chain.
It turns out that with the help of Red Hat, IBM's supply chain has been implemented more smoothly.
In October, IBM launched a new Sterling Supply Chain Suite based on its own blockchain platform and Red Hat's integrated supply chain, allowing developers and third-party applications to integrate traditional enterprise data systems into a distributed ledger. Help companies view order shipments, alerts and optimization recommendations in real time.
In addition to helping companies trace their products, IBM has also launched blockchain network TYS (trust your suppliers) with well-known companies such as Lenovo, Nokia, and Cisco to help suppliers create a digital identity passport and promote information between B-side companies. Communicate and reduce management costs.
Microfinance services in the financial sector are also one of the priorities of IBM's layout.
In April 2018, IBM partnered with Kenya Food Wholesale to provide a microfinance solution for Kenyan retailers through a blockchain-driven financial lending platform.
At the Bitcoin Consensus Conference in May 2018, Bridget van Kralingen, senior vice president of IBM blockchain business, said, "My dream is that microfinance and business can expand. Scale, through the blockchain, we can do that."
Compared with the layout of the peers, IBM has been on the same starting line with them.
Whether it is Alibaba or Microsoft, the layout of the blockchain field is the first to be combined with traditional enterprises to carry out chain reform.
Cross-border payment and stable currency
However, IBM's layout in the blockchain finance sector is not just microfinance, but more importantly, cross-border payments and stable currencies.
As early as October 2017, IBM has established a strategic partnership with XLM (Hanging Coin) as part of the IBM Blockchain platform strategy.
Then Jesse Lund, head of the IBM blockchain market development and cryptocurrency strategy, revealed more details of the collaboration: XLM has been adopted at IBM to provide cheaper, faster payments across borders.
He also said that XLM is intended to be "the main bridge asset in IBM's all-round payment solution" and will compete directly with XRP (Ripple).
IBM began to get involved in cross-border payments.
In August 2018, IBM officially launched IBM Blockchain World Wire, a global payment system, based on the Stellar network running XLM, enabling financial institutions to achieve cross-border payments in seconds.
In an interview, Jesse said that the World Wire system is based on SWIFT-developed standards, and IBM's role in it is "network operators" and infrastructure providers.
SWIFT, the traditional institution that also makes cross-border payments, sees this move by IBM as important.
Harry Newman, head of banking at SWIFT, has publicly stated that SWIFT faces enormous challenges from Ripple, Stellar, and IBM.
In addition to cross-border payments, IBM also tried to issue "stabilized coins."
On July 17, 2018, IBM announced that it will cooperate with the startup Stronghold to launch the stable currency Stronghold USD, which is guaranteed by the Nevada Prime Trust Trust.
Jessie said: "The stable currency starts with payment and then moves to areas such as food tracking, global trade and supply chain. Let the digital currency be close to everyday transactions, not just transactional digital currencies."
But perhaps because of regulatory problems, there has been no major project progress in IBM's stable currency program since the news was released.
Until July 2019, Todd Scott, IBM's vice president of global blockchain, said that the stable currency to be launched would be released on World Wire and is currently communicating with regulators.
At the same time, IBM is also considering "cross-industry collaboration," specifically referring to Facebook's cooperation on digital currency business.
In September 2019, Jason Kelley, IBM's general manager of the blockchain business, told CNBC, "Our customers are ready to work with (Facebook) to achieve this goal." But Jason It is not disclosed whether IBM is interested in joining the Libra Association.
It turns out that IBM's move is wise.
According to the Muggle (block) query, as of press time, seven of the 28 Libra Association members behind Facebook's digital currency project Libra have officially "retired", including credit card brand Visa, payment company MasterCard, E-commerce company eBay, payment system Stripe, payment system Mercado Pago, payment system PayPal, Internet subscription service platform Booking.
Cross-border payments are good, and stable coins are not good.
In order to seize the stable currency market, both IBM and Facebook must first solve the regulatory problems before they can be implemented.
From the alliance chain to the supply chain, from cross-border payments to stable currency, IBM has also established its own blockchain ecology, which also shows the ambition of heavy block betting blockchain.
On May 16, 2019, IBM Japan Digital Innovation Business Development Director Tsuyoshi Hirayama pointed out that IBM maintains the highest blockchain technology adoption rate and has the best financial customers. Giants like Microsoft and Oracle are not IBM. Competitors in the blockchain field.
In the era of software, I ate Microsoft's losses. Can IBM, which was robbed by Amazon in the era of cloud services, return to its former peak by the blockchain?
Enterprise-level blockchain faces controversy
According to Juniper Research's September 2018 survey, at the enterprise blockchain solution level, IBM is most trusted by US companies, and 65% of respondents will choose IBM Blockchain to deploy distributed ledger technology (DLT) and similar. The solution, compared to the runner-up Microsoft, only got 7% ​​of the votes.
Although there is a good reputation in the B-end enterprise, IBM is still being questioned by many professionals who are mainly "original" blockchain related technologies.
First of all, IBM suffers from the criticism of "too much marketing and too little doing".
Because more than half of IBM's leaders are salesmen, pilots and other non-technical industries, the general public has a stereotype of IBM, always feel that "IBM is not engaged in sales?".
For example, Emil Skandul, founder of American start-up Capitol Foundry, said that IBM "does not do much marketing in the supply chain."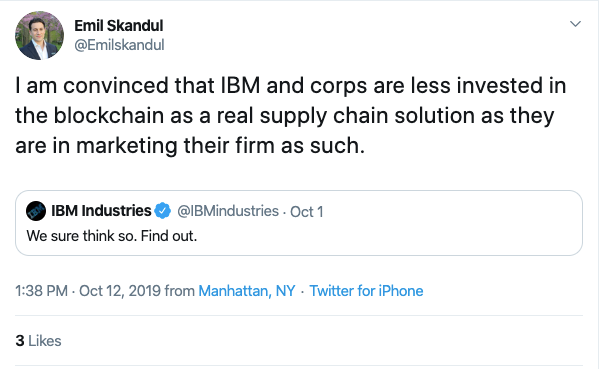 As a purely technical Ethereum founder V God, in an interview in 2018, IBM's enterprise bureau blockchain project was "not at the point."
Many organizations have used Ethereum as a marketing gimmick and have not used blockchain technology.
IBM's enterprise-level blockchain applications are not at the point.
IBM's blockchain is a specific project that wastes time. They suddenly come out and say, "Hey, we have all the IP, this is our platform, you can join in. Like (IBM)… Not at all the core of the blockchain.
However, V God recognized IBM's food supply chain project to achieve traceable certification of food, which is helpful to consumers.
But Alex Isaiev, founder of blockchain retail project OSA DC, bluntly said, "The blockchain application of large companies like IBM and Wal-Mart is more like a hype. They say too much and do limited. These big companies are private. The data on the chain is neither open nor transparent, and it is difficult for consumers to benefit from it. "
Perhaps, IBM needs to solve the "faults" left over from the previous era, and at the same time achieve greater open source, in order to gain more professional recognition.
Second, it has been pointed out in the industry that the Hyperledger Fabric project that IBM contributed to the superbook is not a true blockchain, and IBM is also accused of leading the superbook.
In July of this year, Stuart Popejoy, who had 15 years of experience in building a trading system in the financial industry and was responsible for the JPMorgan blockchain project Juno, said that on the one hand, IBM's "blockchain" "Technology is flawed in many ways, including security, performance, and reliability. The Hyperledger Fabric is also less resistant to tampering and attacks. On the other hand, Hyperledger Fabric has no consensus mechanism, but "no it, IBM's." The blockchain 'is nothing more than a time-stamped list."
A blockchain without a consensus mechanism is like a country without order. Can a blockchain project that loses its consensus mechanism be called a blockchain project?
In addition, according to CoinDesk's previous article, among the 11 members of the new member of the Hyperledger Technical Steering Committee (which focuses on technical issues and is responsible for approving projects and reviewing updates, hereinafter referred to as TSC), announced in September this year. There are six from IBM. Only two of the TSC members were from IBM.
Todd Little, Oracle's blockchain platform architect, wrote in the TSC email: "Obviously, IBM is now controlling TSC. Is this the direction that superbooks want?"
Brian Behlendorf, executive director of the super-book, said in response to the query that IBM was not questioned for the first time because IBM's contribution to technology exceeded any other company associated with the alliance. Have excessive control over the superbook.
The project was questioned by the property, and the association was accused of having too much discourse power. IBM must solve these problems in order to continue the alliance chain business. Finally, it was pointed out that IBM bundled the business model with open source.
In November 2018, the academician of the Norwegian Academy of Sciences, Rong Yiming, said that in fact, IBM bundled the business model through open source. At the bottom of the superbook is open source, but IBM will provide customers with a packaged service at the upper level, including platform services, solutions, and ecosystems.
Although providing a one-click service for enterprises can save a lot of trouble, it also weakens the autonomy of enterprise development. How to help the B-end users to operate conveniently while helping them to create a personalized interface is an issue IBM needs to think about.
In the face of today's fast-changing, complex and diverse blockchain industry, what kind of game will IBM play next? The Muggle will also continue to pay attention.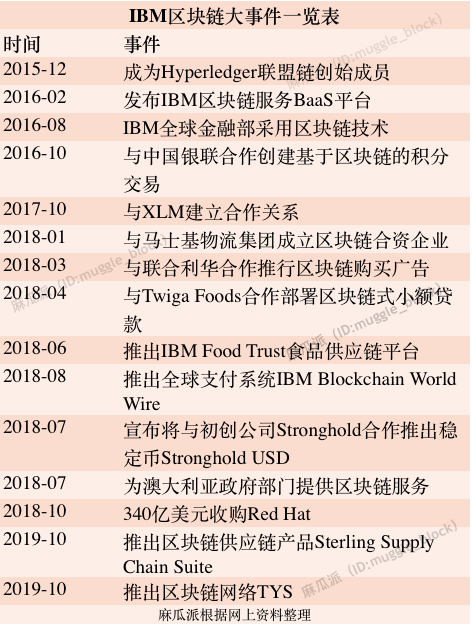 1. Why is IBM's blockchain not a true blockchain?
Http://www.sohu.com/a/325537940_723632
2, missed IBM in two eras, can use the blockchain to seize the next era
Https://36kr.com/p/5187965
3, the blue giant hundred years of events – IBM is not completely history
http://zt.blogchina.com/2011zt/IBM/
4, the rise and fall of IBM
Https://sloanreview.mit.edu/article/the-decline-and-rise-of-ibm/
Original article, unauthorized reproduction is prohibited.
We will continue to update Blocking; if you have any questions or suggestions, please contact us!
Was this article helpful?
93 out of 132 found this helpful