Text: Mutual chain pulse · Yuan Shang
Source: Interconnected Pulse
On October 15th, Libra official Twitter announced that 21 members formally signed the Libra Association's charter, established the Libra Association Board of Directors, and sponsored Facebook. At present, Libra's alliance members are only 22, compared with 28 when the white paper was released. There are six fewer homes.
In particular, the influential multinational giants such as PayPal, Visa, MasterCard, eBay, Stripe, and Booking have left Libra's first board of directors eclipsed.
Because Libra has entered the sensitive financial payment arena, many traditional multinational companies have taken into account regulatory opt-out. But apart from Libra, multinational giants have also established blockchain organizations in all walks of life, and their development has been smoother.
The interchain pulse combs the six blockchain organizations formed by multinational giants. These organizations are actually "Libra" in their respective fields. Don't underestimate their subversiveness.
Giant alliance
On October 14, while the founding members of Libra retired, another blockchain organization, MOBI, released a blockchain-based vehicle identification standard (VID).
MOBI (Mobility Open Blockchain) was established in 2018. It is a blockchain cooperative organization that brings together the world's top automakers. Its members mainly include three categories:
1. Automobile manufacturers: such as BMW, Ford, General Motors, Renault Group, Honda, Hyundai, etc.;
2. Auto parts: Bosch, ZF, etc.;
3. Blockchain related institutions: R3, Superbook, Chain, IBM, Accenture, etc.
According to the official website, there are more than 85 member organizations, and the Chinese side only participates in the chain.
The goal of MOBI is not to drive a specific type of distributed ledger, but to create common standards and APIs for payment and data sharing between cars that are designed to drive the new digital mobile ecosystem – from shared cars. Go to a driverless car.
According to current data, the blockchain technology used by its organization is based on Fabric.
This year, another blockchain organization, TradeLens, which has almost entered the global shipping giants, is also very active. TradeLens was jointly created by Maersk and IBM in 2017. In July of this year, Hapag-Lloyd and Singapore-based Ocean Network Express/ONE announced that they would join TradeLens. Hapag-Lloyd and ONE are the fifth and sixth largest shipping companies in the world. At this point, TradeLens can provide more than half of the global shipping container cargo data. The number of members of TradeLens has also been broken.
TradeLens was launched to help modernize the global supply chain ecosystem. The cost of many cargo transportation and cargo transactions is high, in part because of the operational systems of manual and paper instruments. The TradeLens platform replaces these point-to-point and often unreliable exchanges of information, enabling participants to digitally connect, share and collaborate across the entire shipping supply chain ecosystem.
Last year, Peter Wolf, general manager of CMA CGM, the world's fourth-largest shipping company, also publicly opposed TradeLens, but in May this year, the company joined the second Swiss-Mediterranean Shipping Company (MSC). But China's shipping giant COSCO Shipping has not yet joined.
TradeLens is also the underlying technology built on Fabric technology.
In 2017, two industry blockchain alliances were born: one is Mediledger for medical data, and the other is Marcopolo for supply chain data.
First talk about mediredger, in June this year, large retail giant Walmart joined MediLedger. MediLedger's members include Pfizer, Genentech and other pharmaceutical manufacturers, as well as three major pharmaceutical wholesalers: McKesson, Amerisource Bergen and Cardinal Health. According to the inter-chain pulse query its official website, the current membership is around 25. Mediledger is a blockchain alliance designed to track the source of medicines.
Mediledger uses the enterprise version of the Ethereum blockchain, which is built from a modified version of the Parity client and a consensus mechanism called a proof of authority.
In the same year, the blockchain-based supply chain project – Marcopolo, Chinese is Marco Polo. It was created by the tradex company in conjunction with R3, and it is natural to use R3's CORDA technology.
Many famous western banks have participated in this project. This year alone, including Commerzbank, Mastercard, Bank of America, and Sumitomo Mitsui Banking Corporation. Early members such as BNP Paribas, Dutch International Group, etc., currently have more than 30 members.
Marcopolo is mainly addressing trade finance issues. A test in August this year enabled third parties in the transaction to make payments to suppliers in real time on the way to the destination. Significantly improved financing efficiency.
Earlier, in 2016, two blockchain projects emerged in the financial sector, and today they all develop into blockchain alliances of multinational giants.
One of them is Fnality. The Fnality company has been developing blockchain financial systems since 2016, but this year they have turned salty fish and received large investments from traditional financial institutions. In May of this year, including 14 banks including Barclays, State Street, Japan's Mitsubishi UFJ Financial Group (MUFG), Sumitomo Mitsui Banking Corporation (SMBC), UBS and Credit Suisse Investing in fnality, totaling $63.2 million. In September this year, Mizuho Bank of Japan also joined the company.
Fnacity is mainly engaged in the wholesale currency business. It will set up accounts in the participating central banks, issue USC as the digital equivalent of the main currency, and then convert it into the corresponding currency in a one-to-one manner. The current plan is to cooperate with the UK, the United States, Canada, Japan, the European Union (Euro) commercial banks and industries to issue digital currency. Compared to Libra's regulatory concerns, Fnacity is currently not subject to regulatory boycotts because the currency is a traditional financial institution.
In the insurance industry in the financial sector, B3i is the largest blockchain organization. B3i originated in October 2016 by the Allianz Insurance Group, Swiss Re Group, Aegon (Netherlands Global Life) and Zurich Insurance Group. In April 2018, it announced the establishment of B3i Services Ltd. in Zurich, Switzerland.
The blockchain products of the first phase of the B3i Alliance are reinsurance trading platforms driven by blockchain technology. In view of the high mediation of the reinsurance industry, high operating costs and the inability to update information in real time, B3i proposes to maintain the same transaction book by using the distributed ledger technology (blockchain) to reduce repetitive reconciliation between parties. Work and reduce the dependence of insurance and reinsurance companies on intermediaries, reduce transaction costs in the reinsurance industry, and improve the efficiency of reinsurance transactions. From the perspective of financial accounting efficiency, the financial accounting of reinsurance transactions generally takes more than 10 days, and blockchain technology can shorten this time to 5-10 minutes.
It is understood that there are currently more than 40 members of the B3i Alliance, and the underlying technology of the blockchain is also the CORDA using R3.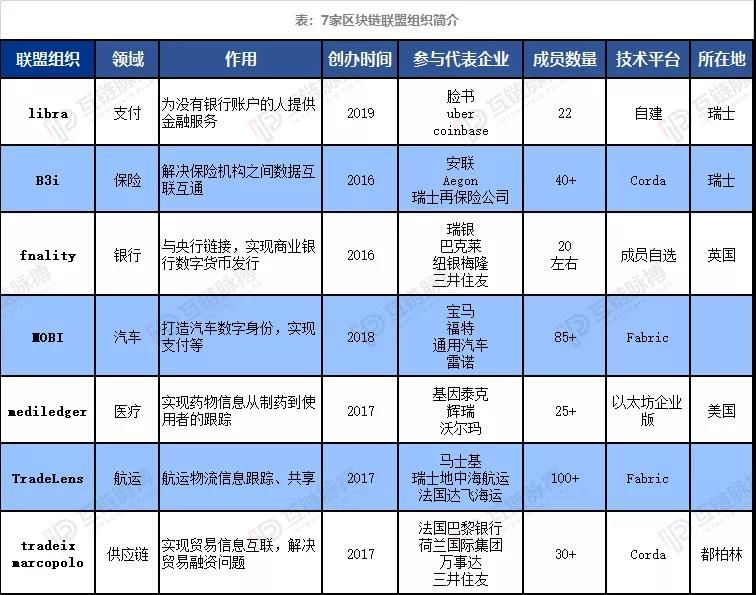 (tabulation: interchain pulse)
Where is China's blockchain alliance?
The above-mentioned blockchain alliances in six different fields and Libra, which was born this year, have many things in common:
1. The members are all from the multinational giants of the traditional industry, and the world's top 500 are gathered. In some alliance organizations, the original blockchain company provides some technical support. This shows that when the blockchain technology is applied to the application, at least at this stage, it is difficult to leave the support of traditional enterprises.
2. These organizations are very active because of the participation of multinational giants, and the membership of the alliance continues to increase. It can be seen that multinational giants continue to input funds, scenarios, and manpower to the alliance. This year, when the original blockchain projects were shut down, these alliance projects are still undergoing technical iterations, application attempts and new members' absorption.
3. Basically, Western companies are involved, and companies in developing countries, including China, have almost no access to these alliances. It can be seen that even though the proportion of Chinese companies in the global top 500 has surpassed that of the United States (129 Fortune 500 companies ranked first in China, the first time in history surpassed the United States 121), but the above blockchain alliance organization There are still no "waiting to see" Chinese companies. There may be two reasons for this. First, Chinese companies are not invited; second, Chinese companies are not willing to participate.
In summary, when these alliances use blockchain technology, they are addressing the needs of multinational giants, especially the needs of Western multinationals. The essence is still to safeguard the interests of Western central enterprises.
However, China's blockchain has also emerged with similar structures when it comes to exploration and application. It is composed of credible central enterprises and industry organizations to promote the application of blockchain.
For example, on October 15, the National Information Center, CMDI, China UnionPay, China Mobile Financial Technology, Smart Government, and Jujube Technology released the Blockchain Service Network (BSN). The application scenarios that BSN has already put on shelves are public utility contributions. Chain, government food and drug traceability supervision. Today, BSN is officially released, and at the same time, the internal test is started. The internal test time is March 2020, providing 1,000 internal test places, including 400 enterprise developers and 600 individual developers. At the BSN launch ceremony, the Blockchain Service Network Development Alliance was announced.
On August 26th, China Guoxin Holdings Co., Ltd., together with China National Nuclear Corporation and Aerospace Science and Technology, established a total of 51 central enterprises to establish a mutual recognition alliance for commercial acceptance bills in Beijing. The establishment of the alliance marks the official launch of the "China Merchants Pass", a commercial paper circulation platform built by China.
Another case is that on March 25 this year, the China Copyright Protection Center and Weibo, Thunder, etc. announced the joint launch of the China Digital Copyright Unique Mark (DCI) standard alliance chain, using blockchain technology to provide authors with "release and confirmation". Copyright registration service. After the author posts the original content on Weibo, the author can complete the confirmation of registration in real time. The first members to join the DCI standard alliance chain include China Copyright Protection Center, Weibo, Zhongyi Digital, Jingdong, Alibaba Word of mouth, Guanglianda, Thunder, China Judicial Big Data Research Institute, Petal Beauty, and Brother-in-law.
This article is [inter-chain pulse] original, reproduced please indicate the source!