Grayscale Grayscale report: investment inflows broke record in the third quarter, institutional investors increased interest
According to Cointelegraph, the total inflow of grayscale in the third quarter of 2019 was 254 million US dollars (compared to the growth of 84.8 million US dollars in the second quarter), 84% of which came from institutional investors (mainly hedge funds). . In the third quarter, the average weekly inflow of Bitcoin Trust was $133.2 million.
Since 2019, the cumulative investment in grayscale investment has been $382 million, and the average weekly inflow of bitcoin trusts has reached $7.1 million.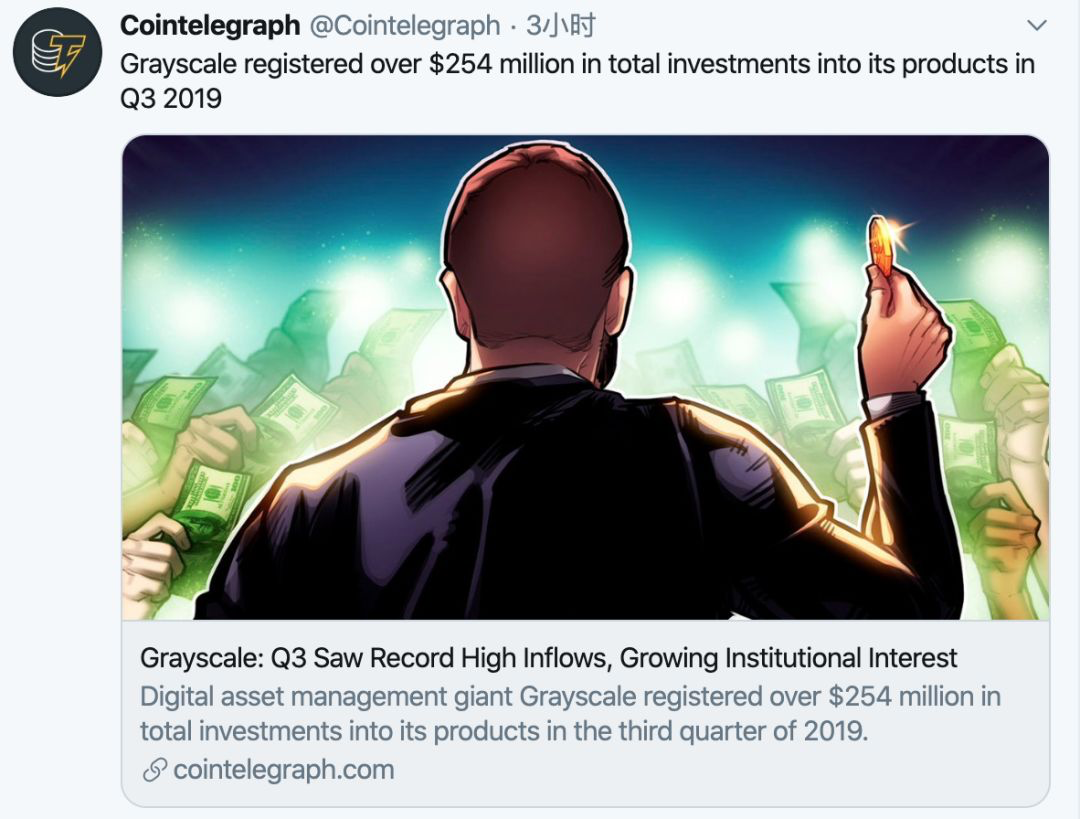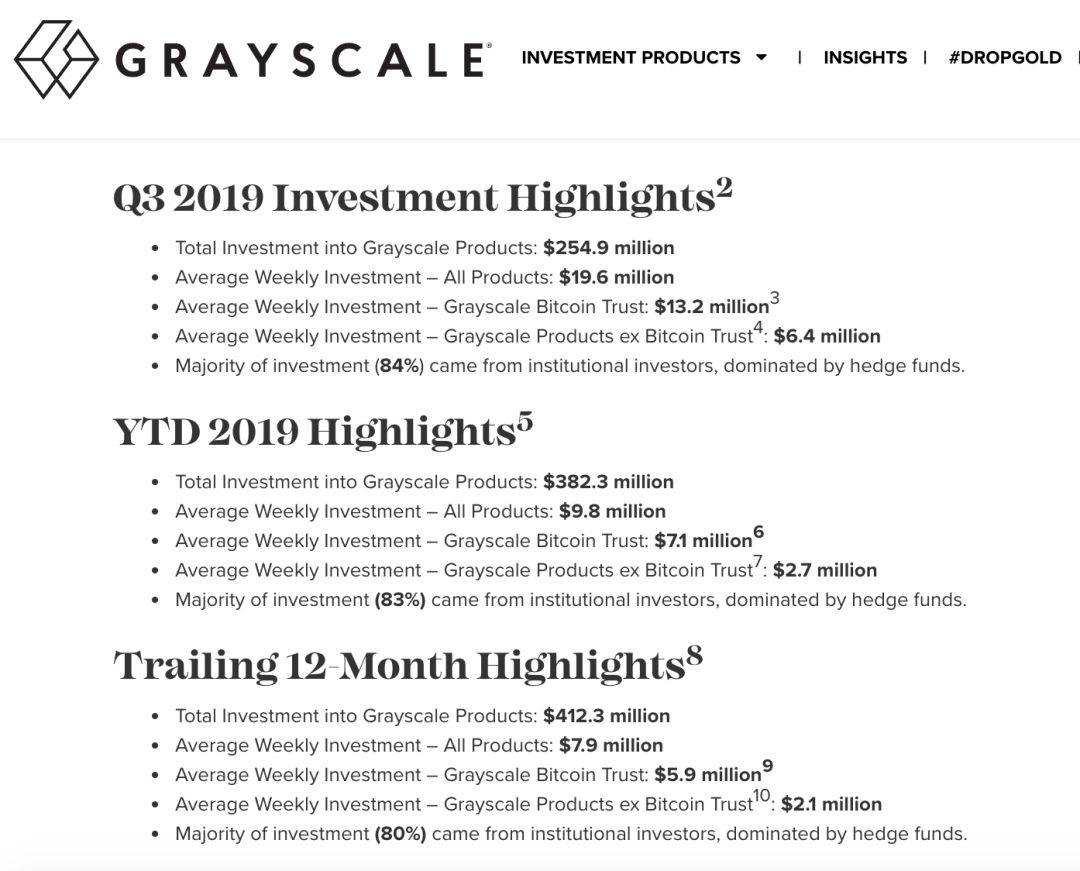 Up to now, the total asset management scale of the grayscale trust is 2.1 billion US dollars, of which the bitcoin trust scale is 2 billion US dollars, accounting for more than 90%.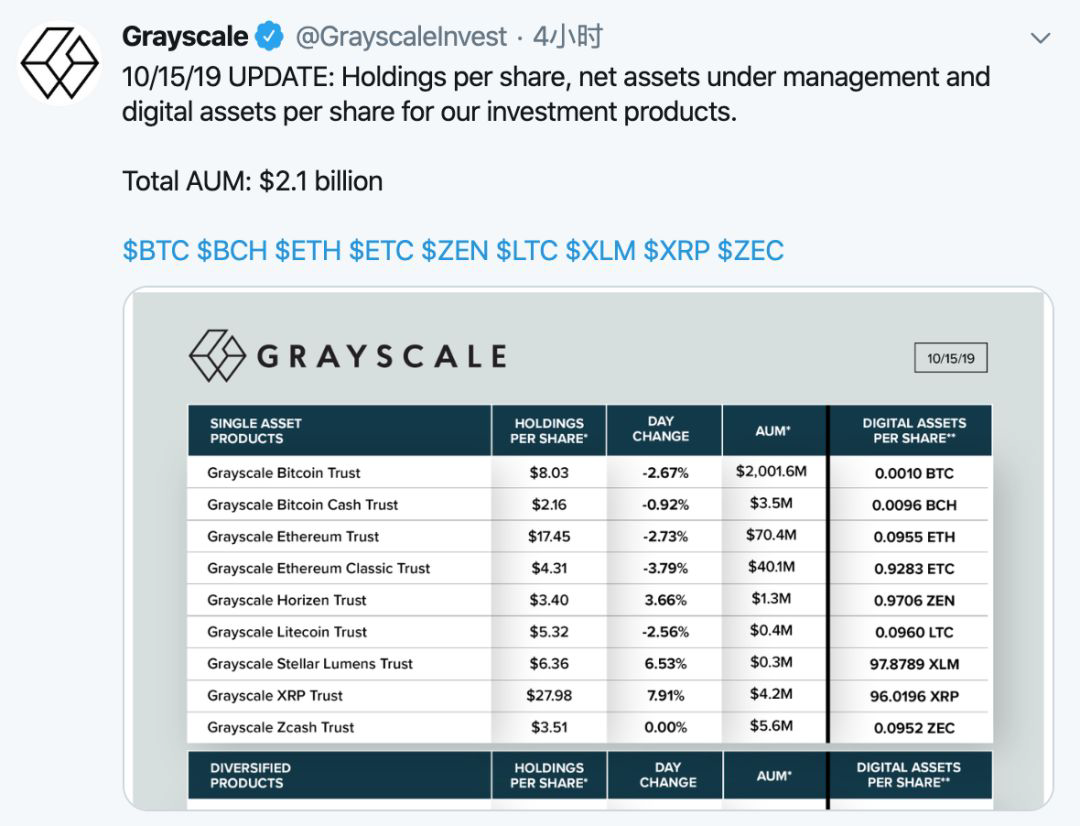 Ethereum progresses in a week
Anthony Sassano, Product Marketing Director, SetProtocol:
Ethereum this week's big event:
– The chairman of the US Commodity Futures Trading Commission said at the summit hosted by Yahoo Finance that Ethereum is not a security but a commodity.
– Ethereum founder Vitalik has published a new Ethereum 2.0 study.
-MakerDao multi-mortgage will be launched on November 18 (transformed from a single ETH mortgage to a multi-asset mortgage)
– Metamask introduces the Web3 plugin system: Snaps
MyCrypto new website began testing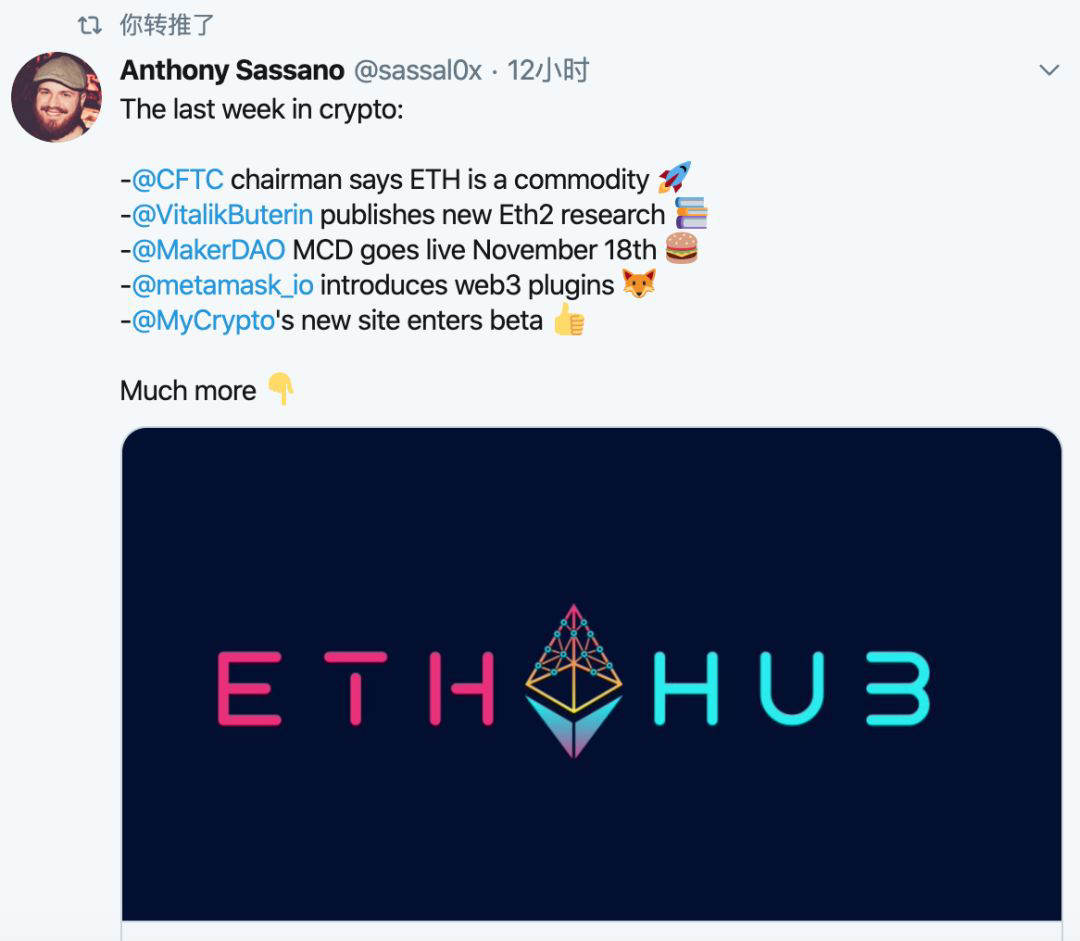 Coin launched an exchange-traded product (ETP) that tracks the performance of the BNB market
Coin's CEO Zhao Changpeng tweeted:
Last 24 hours:
– BNB Exchange Trading Products (ETP) launched on the Swiss Stock Exchange
– Futures contract volume ranked third
– Added BUSD leveraged trading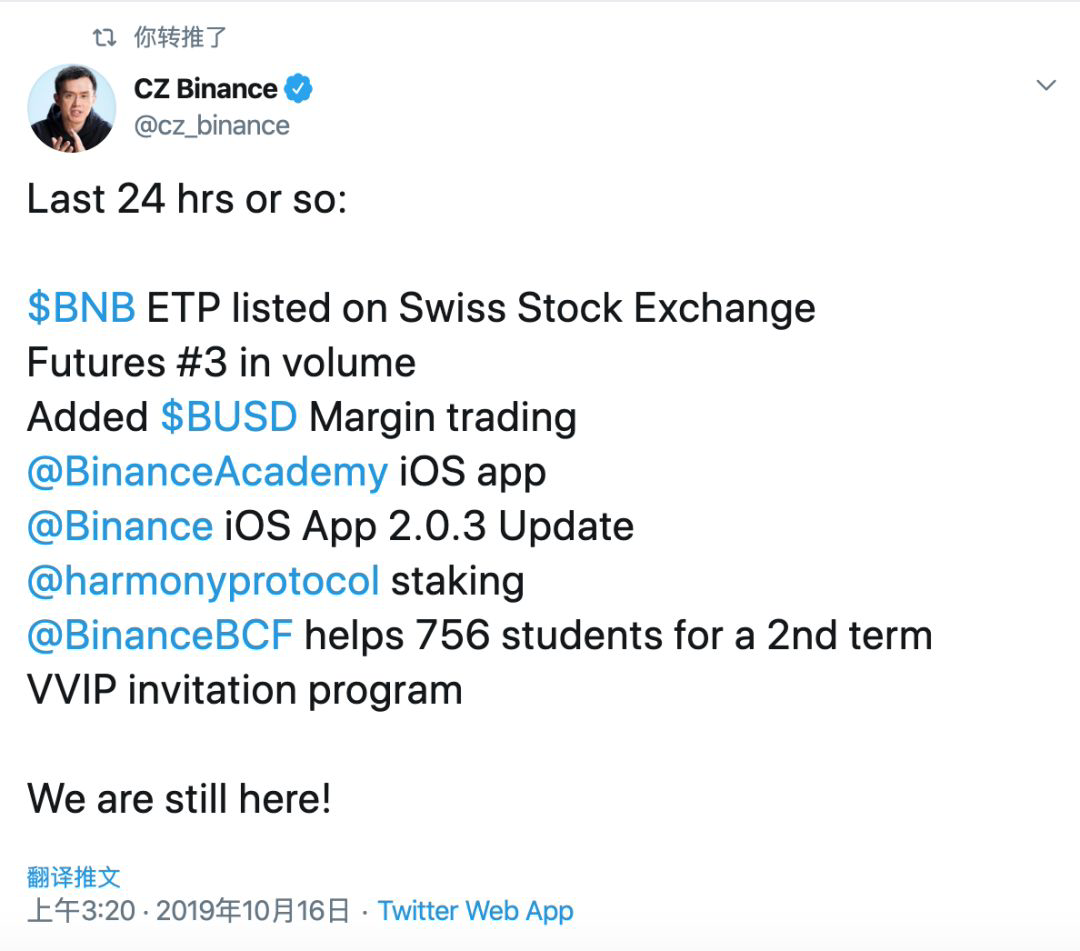 According to Coindesk, Champion has partnered with Amun, a provider of cryptocurrency products in Switzerland, to launch an exchange-traded product (ETP) that tracks the performance of the BNB market on the Swiss Stock Exchange (SIX Swiss Exchange).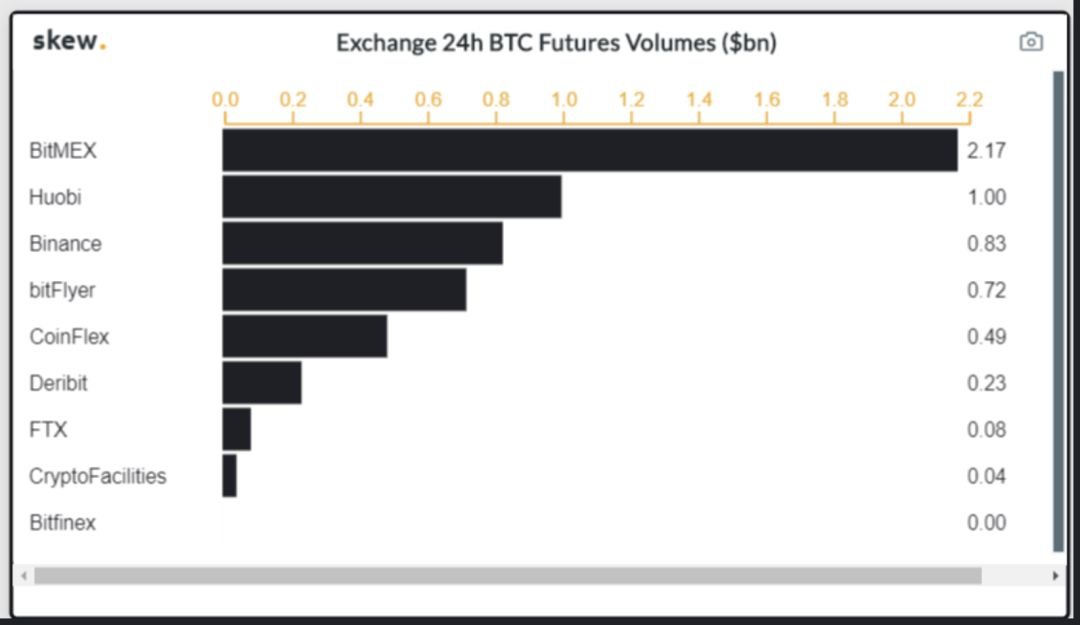 1. According to The Block, the smallest bitcoin unit, Satoshi, is now added to the Oxford English Dictionary, which is defined as "the smallest unit of currency in a bitcoin payment system, equivalent to one billionth of a bitcoin."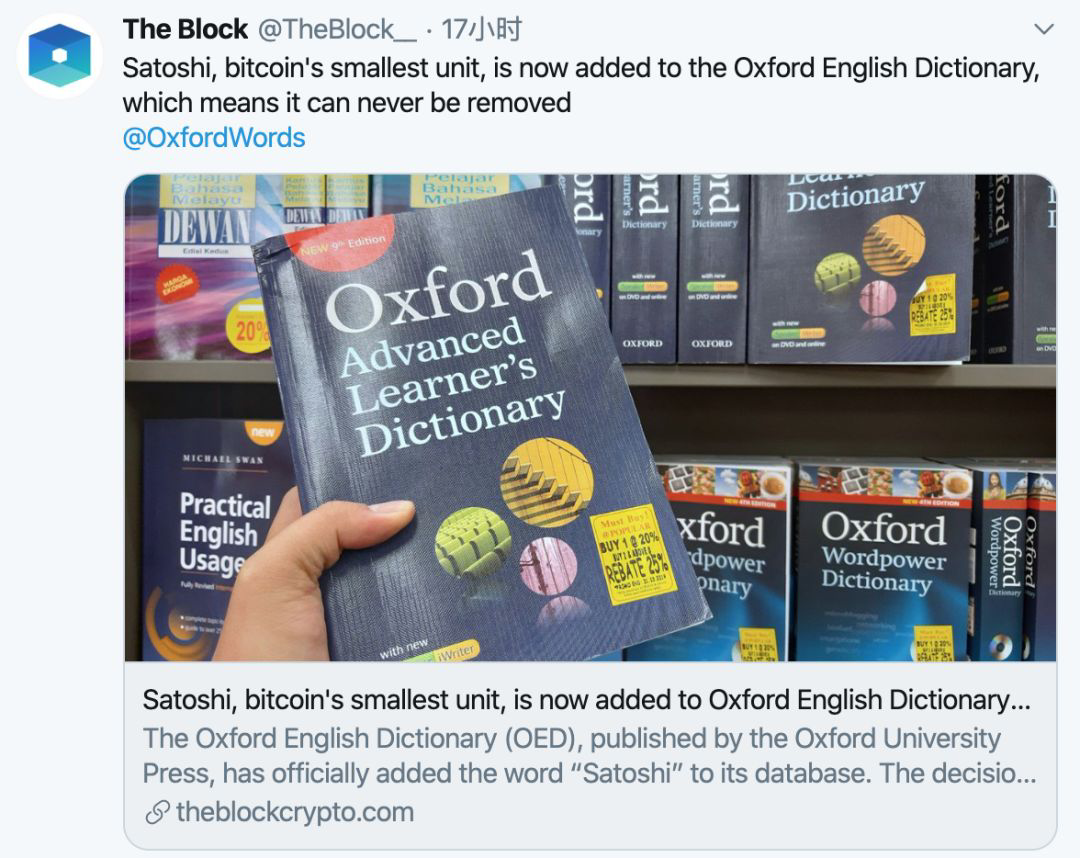 2, Cocos-BCX test network plug-in wallet Cocos Pay Firefox version online, Cocos Pay Firefox version supports basic wallet function and DApp call.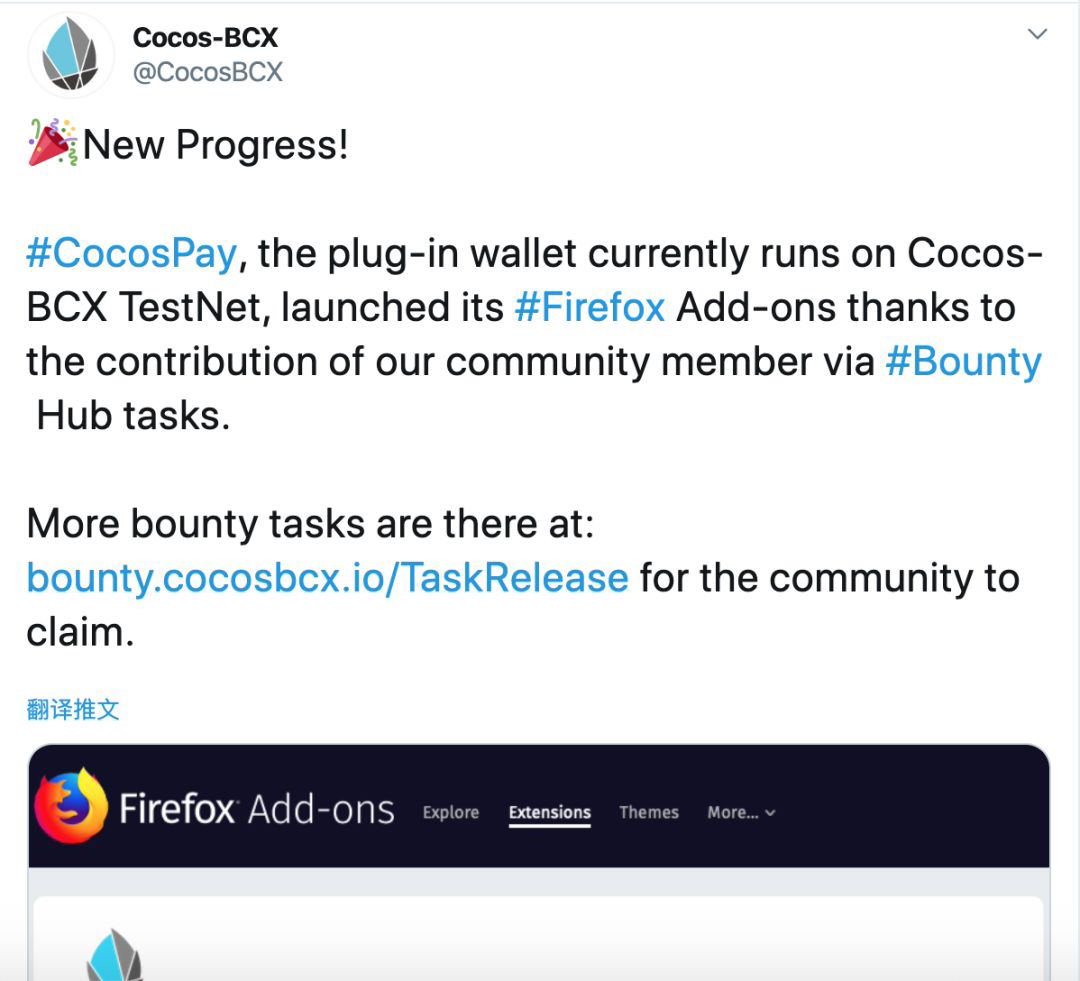 3. Weiss's encryption rating is pushed, "The number of wallets holding more than 1,000 bitcoins has increased by 500 compared to last year. This means two possibilities: more people hold more than 1000 bitcoins in their wallets; whales They are spreading their holdings."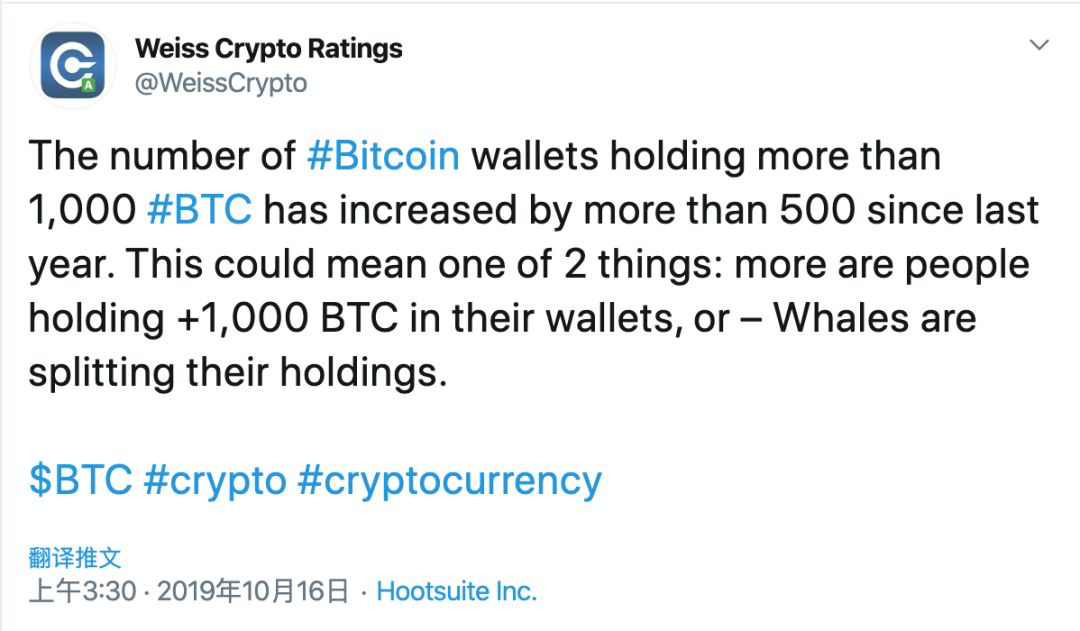 —— End ——
Turn around every day and see the big coffee point of view, bringing you the freshest and most interesting points. Welcome message, forward!
On this issue: March only hope