Author: Azuma
Source: Planet Daily
On October 19th, Beijing time, Ripple released the company's third-quarter market report in an abnormal manner. Previously, Ripple's practice was to publish a report on the 23rd of the following month after the end of each quarter.
The most critical data in the report is that XRP sales have fallen sharply this quarter (from $255.1 million to $66.24 million). Since the third quarter, Ripple is under the suspicion of "dumping" and "manipulating the market". Imagine that Ripple urgently needs to come up with some practical data to alleviate market doubts.
The secondary market seems to be more satisfied with this report. As of the date of publication, CoinMarketCap data shows that XRP reported 0.2936 US dollars, a 24-hour increase of 1.29%.
The following is an excerpt from the Ripple Q3 Market Report:
Q3 highlights:
Ripple's XRP sales in the third quarter were $66.24 million, and quarterly sales fell by 73.7%.
The total market value of digital assets fell by 30.4% in the third quarter. The price of XRP decreased by 35.4% compared with the previous quarter.
3 billion XRP was released from hosting and 2.3 billion XRP returned to hosting.
XRP is currently listed on more than 140 exchanges worldwide.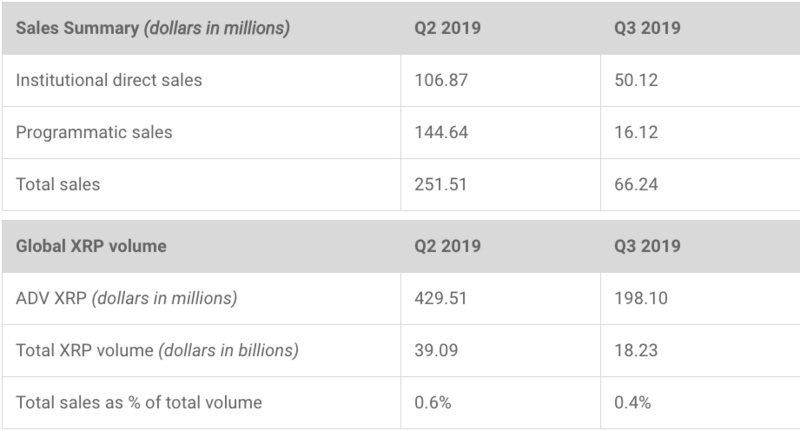 Ripple mentioned in the second quarter market report that its plan began to adopt a more conservative basis, which is to change the XRP sales benchmark from CoinMarketCap to CryptoCompare's top exchange list (CCTT).
In the third quarter, Ripple's total XRP sales were $66.24 million, a significant decrease from the $251.51 million in the previous quarter. As mentioned in the Q2 report, Ripple's programmatic sales target for the third quarter is approximately 10 basis points for the new sales benchmark (CCTT), while the actual programmed sales at the end of the third quarter is lower than this target. 8.8 basis points. In fact, during part of the third quarter, Ripple decided to suspend programmatic sales altogether and concentrate off-exchange (OTC) sales on several strategic partners that are in the strategically important areas of Ripple (including Europe, Middle East and Africa) Building XRP utility and liquidity. Total sales of programmatic and OTC transactions accounted for 36 basis points of the CCTT benchmark during the quarter.
Due to the self-discipline of sales, Ripple's XRP allocation rate has been lower than the ETH and LTC inflation rates since the beginning of the quarter, and is similar to BTC, as shown in the figure below.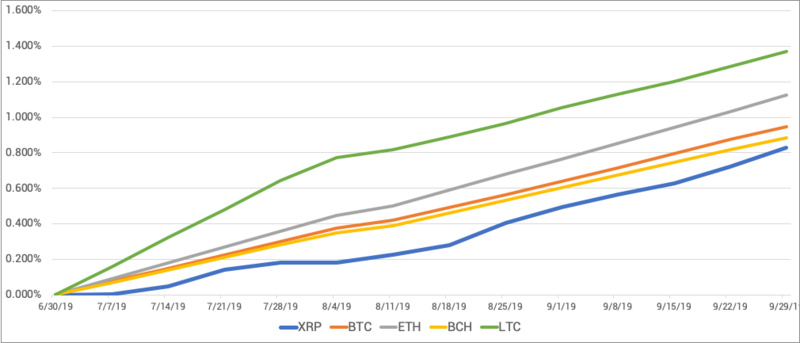 Odaily Planet Daily Note: After the creation zone, no new XRP will be created, and some XRP will be consumed due to transaction fees, so XRP will actually have a slight negative inflation rate.

Therefore, the above line reflects Ripple's XRP allocation, not the asset inflation rate.
Looking forward to the fourth quarter, Ripple will continue to closely monitor the volume of transactions and plans to maintain a sales approach similar to the third quarter.
Trading volume
In the third quarter, the XPT daily trading volume reported by CCTT decreased from the previous quarter. The average daily volume of Q3 was US$1.981 billion, and Q2 was US$429.51 million, but it was still higher than Q1's US$150.61 million.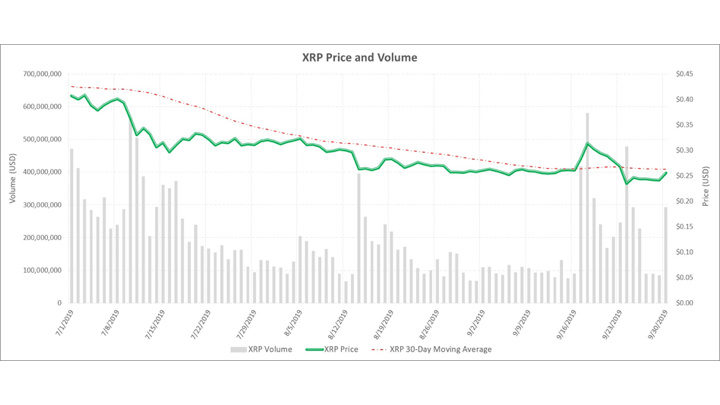 Volatility
According to CCTT report data, XRP's daily earnings volatility for the quarter was 3.6%, down from 5.0% in the previous quarter. In the third quarter, XRP's volatility was lower than other top-level digital assets. BTC's daily earnings volatility was 3.9% and ETH was 4.3%.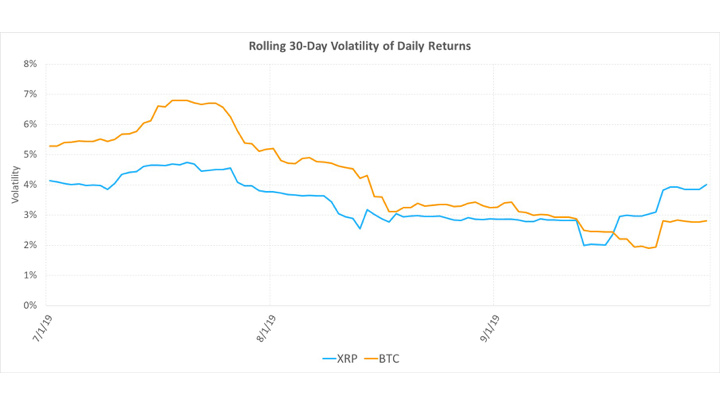 Hosting status
In the third quarter, 3 billion XRP was released again from hosting (1 billion per month). Of these, 2.3 billion XRP returned to hosting. Of the remaining 700 million XRP, most of the unused ones are still stored in the operational wallet. All data is reported based on transactions executed during the quarter.
Error message dissemination
In the third quarter, FUD (fear, uncertainty, and suspicion) increased, and misinformation about XRP was also spreading, especially on topics such as XRP dumping and Ripple manipulating the market.
Although Twitter is not the only place where FUD exists, the robot account on Twitter promotes the spread of FUD throughout the digital asset industry. Specifically, (robot accounts) accounted for 49% of the discussions on BTC, 71% in discussions about ETH, and 50% in discussions about XRP.
In the third quarter, robots became more active in discussions around XRP, the number of robots continued to increase, and participated in the discussion of the following topics:
1. Dumping allegations:
Discussions on Ripple "dumping XRP" and "flooding the market" from robot accounts increased by 179% from the previous quarter.

Compared to other topics, "dumping" allegations are the most common topic of FUD in recent months.
Ripple official explanation:
These topics attempt to support their argument by pointing out XRP's large transfers, but these transfers are actually between Ripple Treasury and the escrow account.

In other words, these transfers do not involve Ripple's XRP allocation.

Critics have further focused on the big XRP, the so-called "big whale."

This is the case in many digital asset communities such as Bitcoin and Ethereum.

Ripple did not see evidence that the XRP "whale" is essentially different from the BTC or ETH "whale".
2. Price manipulation:
Almost half (49%) of the discussion about Ripple "decreasing the price of XRP" comes from robot accounts.
Ripple official explanation:
Need to clear a bottom line – Ripple can't control the price of XRP.

XRP is traded in a fully functional, independent digital asset market with more than 140 exchanges listed, and Ripple has a very limited role.

XRP exists independently of Ripple.

XRP Ledger is a free, open source, decentralized technology.

Anyone can develop and use.

If Ripple disappears tomorrow, XRP Ledger will continue to exist and XRP will continue to trade.

As an XRP stakeholder, Ripple is aligned with other XRP stakeholders and is committed to supporting a healthy XRP community.
At the end of this episode, Ripple said that he believes that as the industry matures, discussions about the use cases, commercial appeal, and impact on humans of digital assets will dominate.
product
1. On-Demand Liquidity (ODL) / original xRapid
The original xRapid has now been renamed to On-Demand Liquidity (ODL). From Q2 to Q3, Ripple customers who use ODL increased by 75%, and ODL's dollar traffic increased by more than five times. In addition, Ripple has acquired the Algrim team to support the continued development of ODL. In order to meet strong customer demand, Ripple is rapidly expanding its team worldwide – Iceland will become one of Ripple's engineering centers and plan to introduce more technical talent in Europe.
2. Xpring
Last quarter, Ripple announced Xpring's new developer platform to make it easier for developers and entrepreneurs to build and use XRP on XRP Ledger. This platform leverages open source technologies, protocols and networks to make it easy for 23 million developers worldwide to pay for their products and services.
It is worth noting that Ripple acquired Logos and has been incorporated into the Xpring team. The team will focus on the DeFi project and explore an XRP-centric system that will also look at other ideas for improving digital assets and revolutionizing payments and finance. Xpring continues to innovate in new use cases, such as transactions, content micropayments and games.
Other notable news include:
Xpring invested in Coinme, a leading global cryptocurrency ATM and blockchain financial services company, to promote the adoption of cryptocurrencies such as XRP.

Coil is a streaming micropayments tool that uses the Interledger protocol (ilp), which has partnered with Mozilla and Creative Commons to launch a network license.

Bitpay has partnered with Xpring to support XRP, which will allow more businesses to accept XRP payments.
Ripple official summary
In the third quarter, Ripple demonstrated continued self-discipline in XRP sales, and the growing expansion of ODL products and the development community demonstrates the significant appeal of XRP. These activities underscore the continued maturity of the digital asset market. Ripple will continue to take proactive steps to address error messages and FUD, while becoming a responsible and transparent stakeholder for XRP.
Violation of the law will be investigated.