When the pie fell below $7,500, Zuckerberg was being besieged by a group of parliamentarians.
At 10 o'clock on October 23, US time, the US House Financial Services Committee held a hearing on Libra, and Facebook CEO Mark Zuckerberg was the only witness.
After a lapse of 18 months, Zuckerberg returned to the hearing, and the theme of the hearing was "Reviewing Facebook and its impact on the financial services and housing industries". But the real focus of this hearing is Facebook's cryptocurrency project Libra.
On the eve of the hearing, Libra faced the dilemma of successive withdrawals from partners and continuous pressure from various countries. Libra's voice was constantly emerging. Zuckerberg's battle at the hearing was also considered Facebook's desperate fight for Libra.
Under the dilemma, Facebook made a killer, and Zuckerberg succeeded in attracting the attention of a number of members on the grounds that "Libra does not do it, the Chinese central bank's digital currency will do it".
6 hours, 47 members of the legislature took turns, Xiaozha nervous to forget the problem
At 10 o'clock, the hearing live broadcast officially began.
In the picture, Zuckerberg dressed in a blue and black suit, sitting alone at the witness table, surrounded by many photographers holding long guns and short guns, this scene seems to completely overlap with the picture 18 months ago. stand up.
(live screenshot)
In the last hearing, Zuckerberg's performance was beyond everyone's expectation, and he cleverly dealt with the torture of 44 members. Even in the worst privacy breach, Xiaozha circled a wave of powder. In just 5 hours, Facebook regained its reputation and made Facebook's stock price soaring.
In the United States, the attitude of regulators to Libra has always been unfriendly. Libra's hearings have long been held in countless games, but Zuckerberg never showed up. This hearing was the first time Zuckerberg was Members of Congress are fighting for trust in the Libra project.
The hearing has not yet officially started. In the live video, the sound of the shutter is constantly being transmitted. The careful netizen found that this time, the small tie changed the tie from sky blue to dark red. Facing the fanatical photographers, Xiaozha seemed to be somewhat uncomfortable. He put his hands on his lap and continued to rub several times. Next, it seems to be alleviating the inner embarrassment.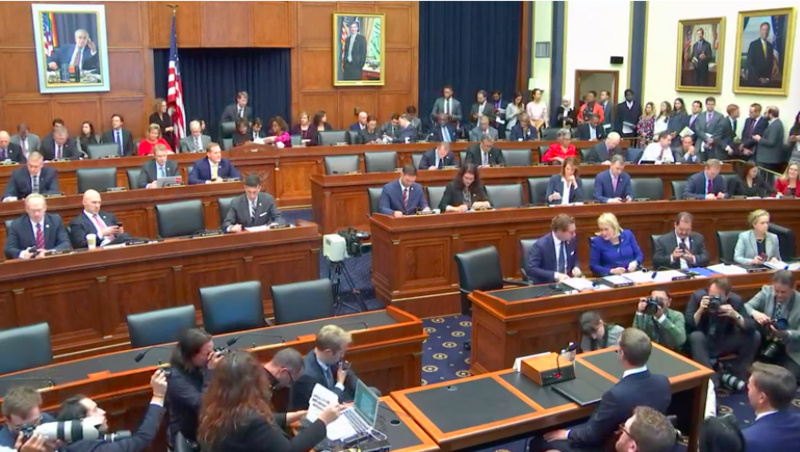 (on the eve of the hearing)
Subsequently, a gun-flavored 1 V 47 "debating game" kicked off.
Maxine Waters, chairman of the US House Financial Services Committee, opened the door and said that Libra is a digital currency that challenges the dollar. She reiterated that Facebook should immediately suspend Libra development before all questions are answered.
47 members, each with 5 minutes of conversation with Zuckerberg. This time, the members facing Xiaozha are no longer "squeezing" with old and inconsequential problems, and each is prepared.
Some Members have asked Libra for questions on Twitter on Twitter. Some members have only allowed Xiaozha to answer "yes" or "no" to controversial issues after a long discussion; others have pointed out Libra's pain points. It is said that Facebook can't make the mail or even the phone number with confidence, not to give the money to them. In a word, Xiaozha is speechless.
Under such a tight and compact agenda, Xiaozha also answered the questions of the members seriously, but it was difficult to hide the tension.
In the 34th minute after the hearing began, when answering a question from a member, Xiaozha said that he was silent for a few seconds. Then he smiled and said that he had forgotten the question of the member of the parliament. However, he was beaten and poked the laugh of the members and the audience. point.
Three and a half hours after the opening of the hearing, Xiaozha broke the meeting again and said that he had drunk too much water and applied for a break of five minutes.
Shaped China as an "imaginary enemy", Libra is set to trigger dissatisfaction in Switzerland
Although the topic discussed at this hearing is not limited to Libra, in the pre-disclosed Zuckerberg hearing testimony, Zuckerberg's most prepared content is related to Libra.
It is worth noting that at this particularly critical hearing, Zuckerberg played a national identity card to US lawmakers. Zuckerberg said: China is quickly taking action to promote projects similar to "Libra."
Zuckerberg stressed that Facebook-backed cryptocurrency Libra will enhance US financial leadership and help the United States export its democratic values ​​around the world.
In fact, Zuckerberg really wants to let the parliamentarians regard China as an "imaginary enemy" and force the lawmakers to make decisions on Libra. Members of the legislature have also been hooked up, and they have seriously considered the threat China poses to the United States. This has become one of the hot points of the members of the hearing.
When a Member asked how other countries other than China are exploring the digital currency field, Zuckerberg did not list other countries' cases. Instead, he pointed the finger at China.
Zuckerberg said in his reply: "Chinese companies will be the main competitors. I am fully convinced that such projects will affect American leadership in the financial sector and our ability to impose sanctions worldwide. China's financial system has become the standard of more and more countries, and in the future we will have difficulty implementing sanctions and various protection measures."
Subsequently, Zuckerberg also sold "anxiety" for the members of the parliament. He said: After the release of the Libra white paper, China immediately experimented with the digital version of the renminbi, and plans to launch it as part of the Belt and Road Initiative, which will be launched in the next few months. . If the United States does not innovate, its financial leadership will not be guaranteed.
"I just think that if we don't innovate, we can't guarantee that we can continue the same rules and keep the future in the same sphere of influence around the world. As a country, we need to innovate," Zuckerberg said.
Libra's vision for Zuckerberg's vision is to innovate the US's old financial infrastructure, consolidate its position as a global financial leader, and promote financial development in the United States.
Libra claims that his innovation is to help the United States, but has set up its headquarters in Switzerland. In response, many members of the House of Representatives expressed strong resistance.
Patrick McHenry, vice chairman of the House Financial Services Committee, first raised questions about Libra's establishment in Switzerland:
"Why is the digital currency driven by the blockchain developed in Sweden?"
Zuckerberg responded with an understatement:
"The Libra Association chose Switzerland because the local system is more forward-looking."
Patrick McHenry is obviously not satisfied with this answer. When Xiaozha finishes, Patrick McHenry bluntly, I prefer Libra to stay in the US instead of going to Switzerland. We need to understand what this is and need to control it.
Gooden and Patrick McHenry share the same view. He said:
"In combination with the current situation, including the fact that you also mentioned willingness to comply with US regulatory approvals, I think if Facebook really wants to achieve such an innovation, why not bring Libra back to the US?"
Another member is even more straightforward:
"If you want to follow our rules, why are you going to Switzerland? To be honest, you are the big player in this battle. If you decide to bring this thing to the United States, it is ok."
On the issue of Switzerland, Zuckerberg apparently did not give a satisfactory answer to the US lawmakers.
Don't do the Facebook version of Alipay, but want to hold the US regulatory thighs
At the hearing, there was also a discussion on whether Libra needed to be decentralized.
Patrick McHenry, vice chairman of the House Financial Services Committee, believes that China has successfully made convenient digital payment software such as Alipay and WeChat payment. He asked Zuckerberg why he didn't make a Facebook version of Alipay to solve Libra's problem.
Zuckerberg explained that he saw other competitors around the world creating his own payment platform. Facebook did not do this because Facebook believes that the US financial infrastructure is out of date . Libra is a project that tries to help rethink the foundations of the modern financial system, rather than building on outdated systems.
This is in fact a discussion about whether Libra should or should not be centralized. Previously, the launch of Libra was able to shake the Internet and the currency circle, and more people were expecting the decentralized system. But parliamentarians do not fully hold the same view.
Some MPs think that it may be easier to link only one currency dollar behind Libra, and Zuckerberg considers that such a scheme is simple, but it is certain that if Libra is 100% linked to the dollar, Libra is in other Places may not be as popular.
When asked about Facebook's position on whether to decentralize, Zuckerberg's answer is full of positive energy: if the center can't meet the highest protection standards, it can't maintain financial stability or fight terror. Crime, fraud, then we will not create a decentralized thing. We want to work with regulators to ensure we are able to create the highest standards of quality.
Looking back at Zuckerberg's speech at the hearing, he reiterated many times that Libra products will not be released, even if they are part of it, until they have the full support of US regulators.
In addition, Zuckerberg made an additional commitment that if the Libra Association wants to release Libra without the approval of US regulators, Facebook "will be forced to leave".
Perhaps from the beginning, Zuckerberg may have thought about the path of embracing supervision.
After six hours of tit-for-tat, the MP still does not pay the bill.
Even with this proactive approach to regulatory requirements, Libra still failed to hand over a response that would satisfy everyone.
At the end of the hearing, the lawmakers also concluded very sincerely: Encouraging innovation in the United States is very important, and creating a regulatory environment is also important, so that we can innovate here, especially in digital currency and new Aspects of the way money is transmitted.
But then CNBC's report came with relatively negative news. According to CNBC, after Zuckerberg submitted the latest testimony, the lawmakers were still worried about Libra as usual. A number of lawmakers said in an interview after the hearing that they did not see any progress.
The two-party members of the House of Representatives expressed dissatisfaction with the lengthy testimony. Members of the House Finance Committee said they did not see what progress Zuckerberg had attended.
Patrick McHenry said:
"Frankly, I am not sure what new things we have learned here."
At the same time, several other members also agreed with this view.
The chairman of the board, Maxine Waters, told CNBC reporters:
"We need to get together and fundamentally review everything that happened today and make some decisions on how to implement the strategy."
Maxine Waters also said that she did not support the plan at all, did not understand what Libra wanted to achieve, and the project did not receive a "full explanation."
The six-hour statement could not impress the members. It seems that waiting for Facebook has a long way to go.
Attachment: Twelve wonderful speeches of Xiaozha Hearing
1. Libra does not intend to replace sovereign currency and will expand US financial leadership.
According to Zuckerberg's testimony, it said that China is taking swift action to come up with similar ideas in the coming months. Libra will be mainly supported by the US dollar and will expand the financial leadership of the United States. Libra is not an attempt to create a sovereign currency. Just like existing online payment systems, this is a way for people to transfer money.
2. The dollar ratio in the Libra reserve is not certain whether it is 50%.
Member's question: How does Libra avoid weakening the dominance of the dollar?
Zuckerberg: Because Libra's reserves will be mainly in US dollars, I think such a project may extend the US economic leadership. However, it is not yet possible to finalize whether the dollar ratio in the Libra reserve is 50%.
3. Libra is a risky project
Member's question: What do you think of the founding members leaving the Libra Association, why did they leave?
Zuckerberg: I ​​think it's because it's a very complicated and risky project that needs to go through a lot of scrutiny.
4. Libra is a payment system, not a bank or a currency.
Member's question: What is Libra and Calibra, is it a bank? Or is it a currency?
Zuckerberg: Member, I think Libra is just a payment system. It is difficult for us to get rid of the impact of the dollar now, and as we talked about in many places, we will not try to weaken the dollar, but hope to expand the financial leadership of the United States. .
Member: So Libra is not a currency?
Zuckerberg: It is a payment system.
Member: Libra is a currency built into the Calibra wallet, just like I put my money in the bank.
Zuckerberg: You can think so, but we are not banks.
5. If Libra fails to progress, Facebook will quit but will not control other Libra members.
Member's question: If you can't see its development, are you willing to stop this project?
Zuckerberg: If this happens, Facebook will choose to give up, but Facebook does not have full decision, and whether the project will continue to be decided by members of the Libra Association.
6. The Libra Association is recruiting a new independent head, David Marcus is not on the list.
Zuckerberg: David Marcus is running Calibra but not running Libra. The Libra Association is recruiting a new independent head, and Marcus will not appear on the recruitment list of this independent person.
7. Libra trading is a vision for free, but Zuckerberg has not confirmed Libra transfer free
Member's question: If Libra is fully implemented as a global stable currency, is its transaction transfer free? Can Facebook do not charge any fees?
Zuckerberg hesitated and did not give a clear answer to yes or no. He said: This is our vision, but Libra's real implementation will involve international rules.
8. Libra is anchored by a basket of highly liquid currencies that contrast with most banks.
Member's question: Someone called Bernard Madoff, who had pretended to be a successful person and is now serving 150 years in prison. His Ponzi scheme involved a total of $64.8 billion. Then those who support the free market have joined this Ponzi scheme because they are self-proclaimed "laissez-faire." But once they lose money, they will come to the court, hoping to seize the initiator. So that's why we have to care if you are the second Bernard Madoff. When things go wrong, we are the ones who get everything back on track. But I want to praise you as an innovator.
Zuckerberg: There are two processes. The first is what we and other members of the association are doing is designing systems to eliminate those risks. The second is to work with regulators on issues they care about to ensure compliance. The key part of this is that Libra anchors a basket of highly liquid currencies, which contrasts with the way most banks use partial reserves because banks may run on. We need to work with regulators to address their concerns and concerns and ensure Libra operates under the most stringent financial stability conditions. So we won't start without approval.
9. If Libra is only linked to the US dollar, it may not be as popular elsewhere.
Member's question: Would it be easier to make this digital currency a digital token for the US dollar?
Zuckerberg: My understanding is that there is considerable disagreement in society at this point. From a US regulatory perspective, this is indeed much simpler because we are trying to build a global payment system that works elsewhere. But what is certain is that if Libra is 100% linked to the dollar, it may not be as popular elsewhere.
10. Commitment not to provide Libra with any other anonymous wallet, Calibra can work with regulatory agencies
Member's question: Will you promise not to provide Libra with any other anonymous wallet?
Zuckerberg: We are trying to establish a safe and secure alternative, and we believe that digital payment requirements have the same or exceeded standards on AML and CFT as all other world-class payment systems. I want to make sure that Facebook will do what you say, and our wallet will have a strong identity and can work with regulators. I can't represent the entire Libra association, but you have my commitment to Facebook.