Editor's Note: The original title is "Ethereum Foundation: ETHEREUM STUDIO officially launched"
Ethereum Studio is officially online!
We are pleased to announce that the Ethereum Studio 1.0 version is online!
This is an easy-to-use web-based IDE (integrated development environment) that can be used directly online via ethereum.org.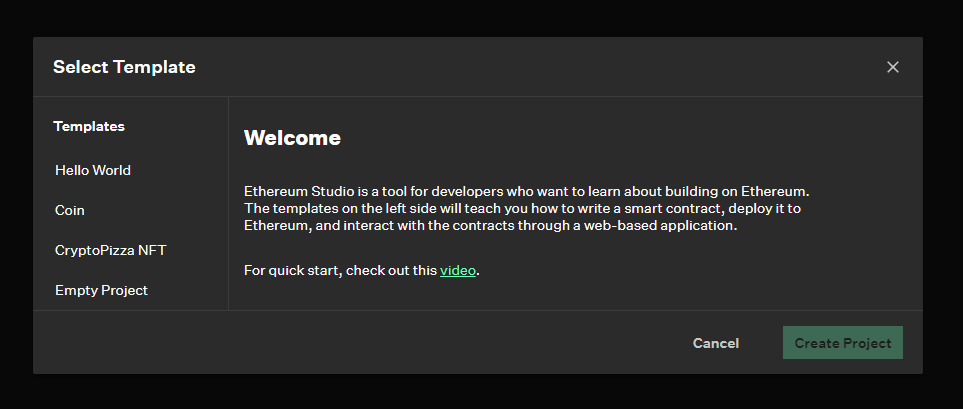 About Ethereum.org, one of the most vocal suggestions we've received so far is to improve the developer experience.
Although the site introduces users to a wide range of third-party resources, it lacks the path to attract developers to get started with Ethereum.
The goal of Ethereum Studio is to enable developers to build on Ethereum in a matter of minutes and to minimize obstacles as much as possible. Users can use Studio to:
Write and test smart contracts in the browser

Connect smart contracts to front-end web applications

Guide the app through three template tutorials

One-click sharing project
In addition to Studio itself, we've added a new "Getting Started" entry page to the developer section. For developers, this new landing page is more friendly to beginners, providing a introduction to Studio and links to other web-based learning experiences.
The role of Studio is not to replace Ethereum's existing extensive web-based learning experience, nor to compete with it. Instead, we want Studio to be the first step to attracting developers and then provide them with other learning resources, tools, or activities to continue their Ethereum journey.
We worked with Superblocks to develop Ethereum Studio. Here, we are grateful for the hard work of Superblocks! Thanks also to every contributor who made the Ethereum Studio project possible: Andreas Wallendahl, Chris Ward, Robbie Bent, Martin Tellechea, and participants who provided feedback and suggestions.
Ethereum Studio is completely open source and all the code can be found here . We will continue to improve Studio and have plans to optimize for version 1.1. If you want to get involved, click here to find out! If you would like to provide feedback, please fill out this short survey .
Website user role reorganization
In the past few months, we have been working hard to better understand the user roles of Ethereum.org.
This means analyzing the keyword search volume, analyzing website traffic, considering user roles for the same type of website, and talking to our users.
Finally, we decided to simplify the role organization of Ethereum.org, including three core roles:
Individual: ETH individual holders, users and community members;
Developer: Developer or any user interested in Ethereum technology;
Business: Companies, businesses, and other organizations that want to learn how to use Ethereum to benefit.
This simplified form of organization covers almost all of the users we considered in our research. Currently, this is just a reorganization of existing content, but it provides us with the basis for future expansion of the site.
In the next few weeks, we will also publish a research report as the basis for our restructuring. We hope to have a reference to the community and propose improvements.
Participation in website construction rewards
Two weeks ago, we set up 10 bounty projects on Gitcoin, hoping to speed up the development of the website with the help of the community.
As of now, great success has been achieved, we have received submissions for each project, and most of these changes have been integrated into the site.
Thanks to all the participants who submitted the work!
We expect to open more bounty projects for the Ethereum.org website in the future. Please pay attention to the @ethdotorg Twitter account for project release information.
Here are the things we plan to do in the next few weeks:
Website design improvements and adjustments to introduce a consistent design system for new pages;

Introduce new resources to provide a better community experience for new and existing users;

Share our user role research report;

Translate third-party resources;

More work.