Source|Medium
Translation|First Class (First.VIP)
This article is a list of prices and development progress of major anonymous currency projects.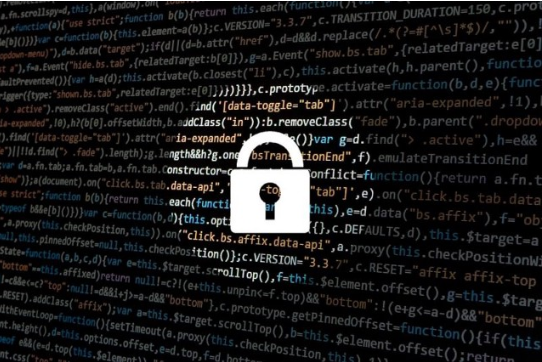 Current ranking
Ranked according to the income/loss situation from October 1st to November 1st.
1. ZEN: Buying $100 Horizen, which was worth $73.22 last month, is currently worth $104.46, up about 42%.
2. XVG: Buying $100 Verge, valued at $71.25 as of the previous month, currently worth $83.30, up about 17%.
3. XMR: Buying $100 Monero, which was worth $78.59 last month, is currently worth $86.04, up about 9%.
4. DASH: Buying $100 DASH, valued at $88.43 last month, is currently worth $90.68, up about 2%.
5. ZEC: Buying $100 Zcash, which was worth $84.72 last month, is currently worth $83.50, down about 1%.
6. DUSK: Buying $100 DUSK, valued at 45.49 last month, is currently worth $42.89, down about 6%.
7. KMD: Buying $100 Komodo, which was worth $90.70 last month, is currently worth $84.97, down about 7%.
8. BCN: Buying 100 US Bytecoin, valued at $72.91 as of the previous month, the current value of $68.22, down about 7%.
9. LOKI: Buying $100 LOKI, valued at 309.38 last month, current value of $277.90, down about 10%.
10. XZC: Buying $100 Zcoin, which was worth $96.52 last month, is currently worth $86.84, down about 10%.
11. GRIN: Buying $100 GRIN, which was worth $75.14 last month, is currently worth $53.21, down about 31%.
12. BEAM: Buying a $100 BEAM, valued at $77.88 as of the previous month, is currently worth $52.28, down about 32%.
Maximum return
This month, Horizen rose from $73.22 to $104.46, up about 42%.
Maximum loss
This month, Beam fell from $77.88 to $52.28, down about 32%.
to sum up:
Compared with last month, more than half of the project prices have fallen, and only ZEN, DASH, XMR and XVG have achieved profitability this month.

LOKI and ZEN are the only projects that have risen in value since the beginning of the Anonymous War in September.

LOKI and DUSK are ranked first and last respectively.

MimbleWimble's tokens GRIN and BEAM are in line.

OKEx removed DASH and ZEC last month, which has little impact on prices, as the prices of these two tokens have risen this month.
Project news and progress
Loki Network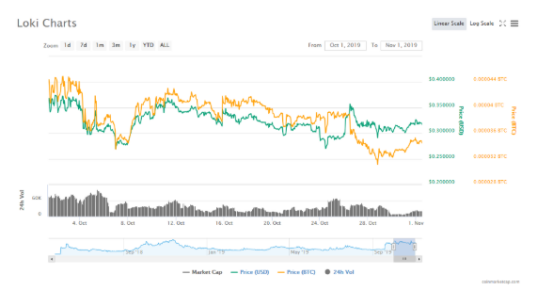 The Loki team announced this month that they will no longer use the POW and POS hybrid system and will switch to a full POS system.
A number of updates were released this month, including voice messages, attachments, replies, and some updates mentioned on Loki Messenger. The Loki Network Service node now performs an inspection indication every 4 blocks, which means that the Loki blockchain is essentially locked and unchangeable every 8 minutes. The development of the Loki name system has begun, which will enable people to customize the Loki address.
Simon Harman, CEO of the Loki project, was interviewed by the CryptoKreamers podcast.
A member of the Loki community has also begun development on LokinetAP (access point), which will allow users to easily and anonymously browse the Internet via Lokinet.
Horizen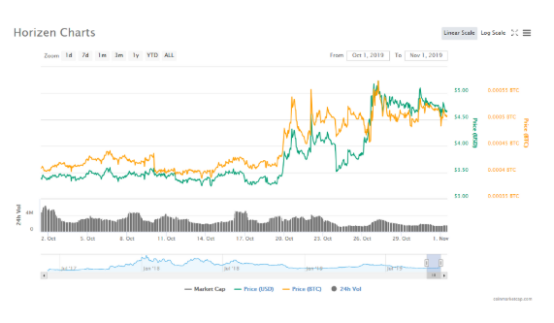 Horizen has released version 2.0 of its white paper, which will be reintroduced into Horizen as a blockchain platform for fully customizable decentralized applications that can be hosted on Horizen's network of more than 30,000 nodes.
Horizen's sidechain alpha has evolved significantly, allowing users to quickly and economically create their own blockchain.
Horizen also upgraded the ZEN faucet, Sphere application, and Horizen platform, a revolutionary blockchain system with decoupling consensus through the Common Cross-Chain Transfer Protocol (CCTP) link.
Now you can buy ZEN in sterling and euro on BC Bitcoin.
Dash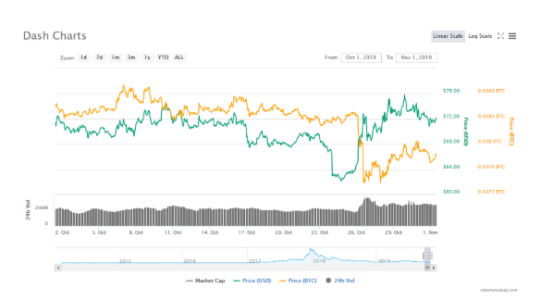 Dash has been innovating and has announced a new DApp that will run on its primary node network.
The use of DASH continues to soar, with an annual growth rate of 178%. This figure does not include transactions between coinbase and PrivateSend. The effective wallet address of DASH also exceeds the effective address of LTC.
In the past three months, DASH is the most used cryptocurrency in Latin America on CryptoBuyer, and you can also donate to UNICEF in DASH.
It is not surprising that DASH is listed as the largest position in eToro and TIE based on the Twitter sentiment trading portfolio. According to reports, the deal uses an artificial intelligence system to monitor 850 million tweets per day.
BinanceUS has launched DASH trading, and OKEx is rethinking the decision to remove DASH before.
Zcoin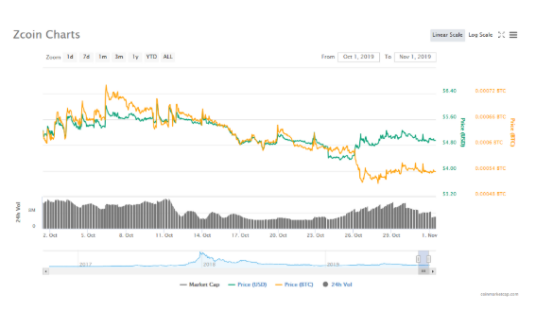 Zcoin's next-generation privacy protocol, Lelantus, has undergone some upgrades to enable direct, untrackable anonymous payments, ie, hidden senders, recipients, and transaction amounts. Only shows that a valid transaction has occurred.
The Exodus tokenization layer with Sigma support has been completed. This layer will allow anyone to create their own tokens with Sigma privacy features using Zcoin's blockchain.
Zcoin has opened the door for further adoption, and now you can use Zcoin with the PlusBit service.
In an interview with RT America, Zcoin's CIO Reuban Yap talked about the importance of not reviewing private funds. Aram Jivarnyan gave a presentation at the cryptocurrency economic security conference at the University of California, Berkeley.
Monero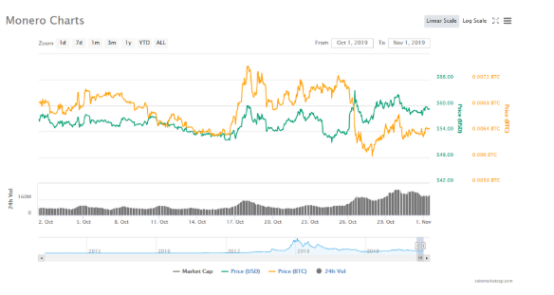 BTSE launched the XMR-free KYC deal.
Monero's CakeWallet has installed 20,000 on iOS, and "Mengomo Monroe" has sold more than 1,000 copies this year. Initial support for XMR on BTCPayServer has been merged this month.
The Monero Outreach Department is looking for merchant and customer feedback on Monero's user experience. If you don't know Monero, Blokt has published the Monero Beginner's Guide.
Members of the Monero community have developed a tool that generates Monero addresses and subaddresses offline without the need to install core Monero software.
Komodo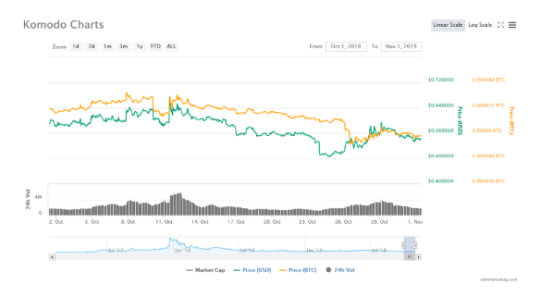 Komodo's AtomicDEX conducted a stress test on the Halloween theme, allowing users to switch between Rick and Morty's stress tests. Komodo also published an overview of AtomicDex.
CoinCodeCap published an analysis of the Komodo code base.
Komodo's first-tier game SDK is nearing completion. The team is already using it to make tutorials and how-to games.
You can use KMD to book travel accommodation through Travala (one-stop travel booking platform), you can choose from nearly 2 million rooms in more than 90,000 destinations.
Zcash
OKEx is also rethinking their decision to take Zcash off the shelf, which is a good three-year birthday gift for their community. ZEC is also available on BinanceUS. Bitcoin IRA will begin to support Zcash lending.
The Zcash Foundation has released a Cypherpunk Privacy reading list.
The new Zecwallet-CLIv1.1 now supports encrypted wallets. This means you can encrypt the private key on your disk/memory and use the view key to receive incoming transactions.
Tails OS has begun accepting ZEC donations.
Verge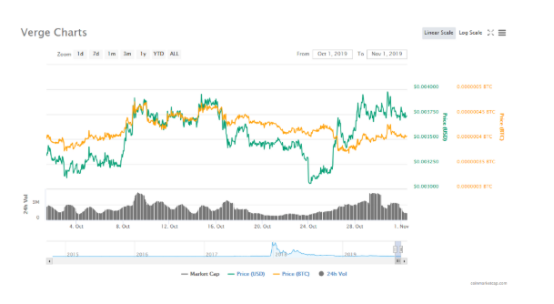 Verge has partnered with the Manny Pacquiao Foundation to become the official digital currency of the foundation. The Manny Pacquiao Foundation struggles for the unfortunate people of the world.
Ellipal Hardware Wallet has announced XVG compatibility, making it the first XVG offline wallet.
Verge has been added to the Atomic and Voyager applications.
Bytecoin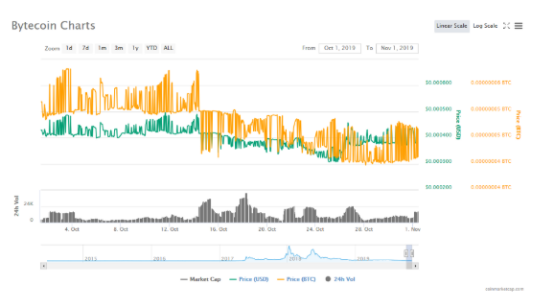 Members of the Bytecoin community expressed concern about communication or lack of communication between the Bytecoin team and the Bytecoin community.
The Bytecoin team stated that they are currently in the research and development phase to evaluate the market and technology to develop a new roadmap. They think this is a critical moment in the project and don't want to make any major decisions in a hurry.
Even with the Bytecoin Zero web wallet making some progress, the team recognizes the need to continue to improve their technology stacks to maintain a valuable market position, which may take some time to figure out.
You can now use BCN to purchase free accounts and anonymous VPS hosting through the BitVPS service.
Grin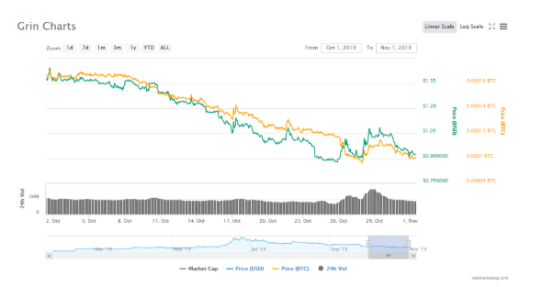 Grin's new official website was established and running.
GRIN conducted a second security audit.
Poloniex has donated nearly four BTCs to the Grin Foundation to help support the development of open source projects.
The Grin team has merged transaction builds onto TOR hidden services, which will improve privacy during the transaction build process.
What do you think of Grin next year? Submit your vision for the 2020 roadmap. Speaking of 2020, Core Dynamics recently announced the extension of the ASIC mining machine, and it is expected that the first batch of mining machines will be launched in 2020.
Beam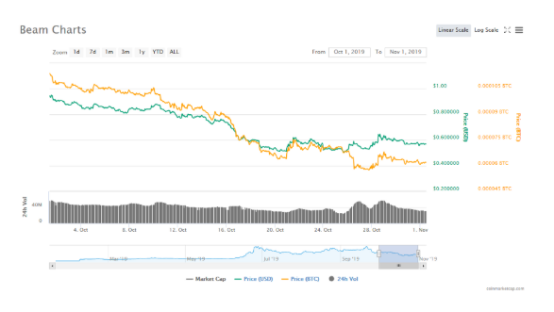 Beam's website is now available in other languages ​​in Chinese, Russian, Spanish and World Health Organization. This will help to expand the scope of the Beam project.
Beam's chief developer Valdok spoke about Lelantus-mw at the ZKProof community workshop in Amsterdam this month.
Clear Cathode wallets are updated for both iOS (v3.1) and Android (v3.2). The BEAM team has now begun to develop BEAM's new web wallet.
You can use the Indacoin exchange to purchase BEAM with a credit card. Use the InstaSwap and SimpleSwap services for BEAM transactions.
Dusk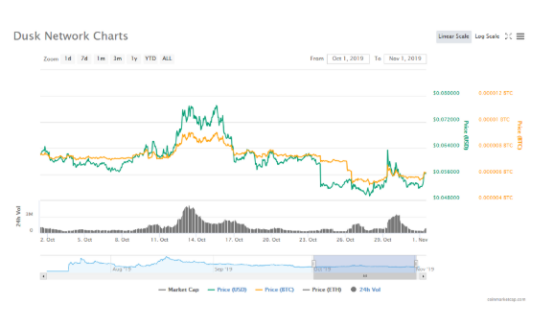 At the Hardfork Summit in Amsterdam, DUSK was mentioned in the BlockState Global Digital Securities Ecosystem Study. The study discussed the issue of redesigning the financial sector and getting rid of intermediaries/intermediaries.
The DUSK Foundation released the second part of the Dusk Network economic model, discussing the challenges and design choices that make up the backbone of the DUSK network protocol.
DUSK cryptographer Luke Pearson made some comments after attending the ZKProof community event held this month by Deloitte and QEDIT.
original:
Https://medium.com/altcoin-magazine/battle-of-the-privacy-coins-two-month-update-ed00758cf7b8 Source: https://first.vip/shareNews?id=2406&uid=1