On November 18, the People's Daily reported that the Slovak Ambassador to China said in an interview that the China-Central and Eastern Europe blockchain center of excellence had recently held an unveiling ceremony in Beijing under the joint efforts of Slovakia and China.
It is reported that the center is committed to bringing blockchain technology from the early market to the mainstream application market, providing more application opportunities for new technologies and new products in the fields of new energy smart cars and electronic consumer services.
Mutual chain pulse is concerned that this is not the first time China has applied and developed blockchain technology in international cooperation. With the continuous improvement of China's blockchain strength, China's international technology radiation power has also become stronger.
On the one hand, in international cooperation, China's blockchain technology has gradually "goed out" and continuously exported overseas; on the other hand, many overseas countries are "bringing in" and borrowing from China's blockchain development model.
Among them, the first countries affected are China's neighboring countries, Russia in the north, Thailand, the Philippines, and Cambodia in the south. They have all been supported by China's blockchain technology in cooperation; in addition, European countries such as San Marino and Germany. Latin American countries such as Brazil have also been affected by the development of China's blockchain.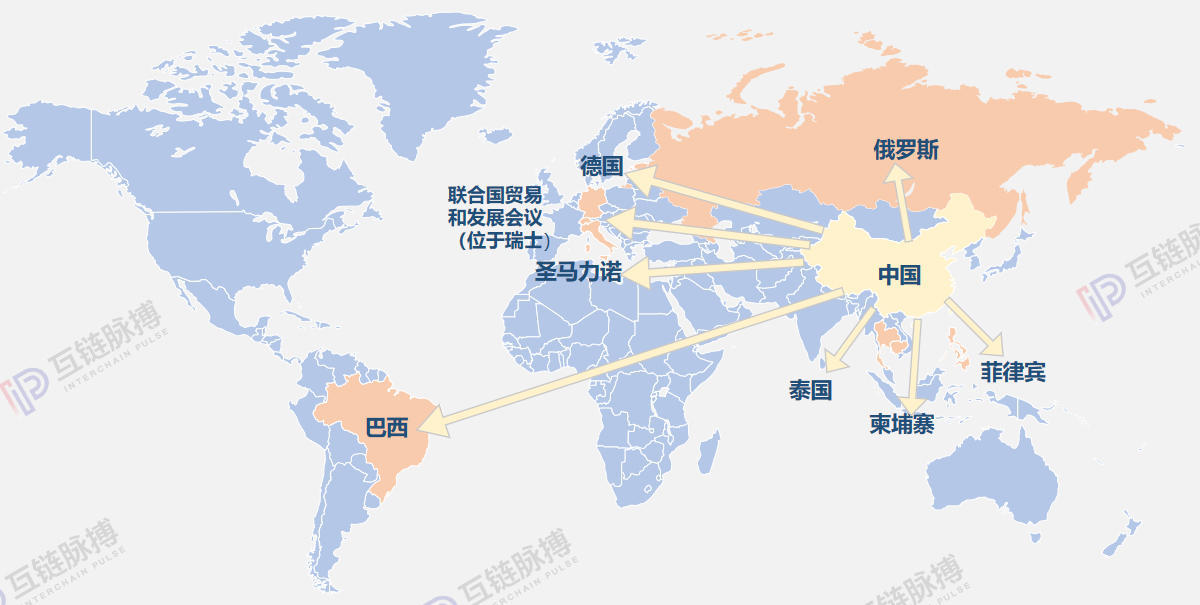 (Cartography: Interchain Pulse)
China blockchain technology: 5 months to radiate 6 countries, organizations
Mutual chain pulse observation, in the second half of 2019, Chinese companies have cooperated with six countries and organizations to promote the application of blockchain technology in various countries and internationally.
The most recent is the cooperation project with Inspur and Russia. On November 7, 2019, Inspur, the Russian National Export Center, and the Russian-Chinese Chamber of Commerce and Industry signed an agreement. Based on the Inspur quality chain platform, the three parties will display the product's total factor quality big data, provide quality improvement and intellectual property protection services for enterprises, assist the cooperation of food and agricultural products in the whole industry chain, and promote the construction of "One Belt and One Road" and "Eurasian Economic Union". development of.
In the north, China and Russia use blockchain to promote cross-border trade development. In the South, cooperation between Chinese companies and Thailand and the Philippines falls on medical and financial aspects.
In August of this year, Xunlei Chain applied blockchain technology to more than 490 medical institutions directly managed by Nalixuan University in Thailand, which enabled its case information to be chained and realized data exchange between different hospitals based on user authorization. This technology has greatly promoted the medical experience and medical level in Thailand.
It is reported that the Lixuan University Hospital plans to expand its services to five provinces in Thailand in the future, increasing the number of cooperative medical structures to 750, and the number of patients received daily will reach 10,000. This means that Thunderbolt's blockchain technology will serve nearly 1,000 medical institutions and millions of patients in Thailand.
Prior to this, in July, Ping An's financial account book announced that it would cooperate with UBX, a subsidiary of Philippine United Bank, to build the first technology platform driven by blockchain technology in the Philippines to meet the financing of small and medium-sized enterprises in the Philippines. demand. This is another financial technology platform service project in Southeast Asia after the financial credit has successfully developed cooperation projects in Thailand, Malaysia, Indonesia and other countries.
Not only the above-mentioned neighboring countries, but also in Europe, Germany and San Marino, there are also companies that cooperate with China to provide blockchain technology.
Just in October of this year, Chengdu Bureau Group Co., Ltd. took the lead in coordinating with Tietie Cargo, DB Schenker and Chengdu International Train Company, and applied the unified waybill for the first time in the Central European class train from Bavaria, Germany to Sichuan, China. All of them entered the "one-unit" blockchain platform of the China Railway Chengdu Bureau Group.
It is reported that the platform was independently developed by the Chengdu Bureau Group Corporation, and it was put into trial operation in August this year, and the country's first blockchain railway waybill was issued. In October, the platform added the "International Intermodal" module to generate the first China-Europe train queue block data.
On the other side, San Marino started cooperation with China's only chain in July this year. .
In addition to the above-mentioned countries, the United Nations Conference on Trade and Development has also cooperated with Chinese companies to develop cross-border e-commerce in the form of blockchain technology.
In July 2019, China Silk Road Group and the United Nations Conference on Trade and Development signed a cooperation agreement, pledged to cooperate in cross-border e-commerce, and use blockchain technology to build a platform for evidence-based and evidence-proven for cross-border e-commerce. Protect consumer rights. According to the agreement, China Silk Road Group provides technical support for programs such as blockchain technology, while UNCTAD provides corresponding legal support.
China Blockchain Model: Forming Chinese Blockchain Magnetic Field
Mutual chain pulse observed that the above-mentioned countries and organizations cooperate with Chinese enterprises, mostly using China's blockchain technology to develop cross-border commerce and trade. In fact, in addition to the application of blockchain, China's blockchain development model has also received attention from many overseas countries.
Shenzhen is one of the earliest special economic zones in China. In contrast, the Sihanouk Port Special Economic Zone, known as the "Shenzhen's Shenzhen", has also become a test field for new development models.
According to media reports, the Garlic Chain in Cambodia follows the Chinese routine and adopts a strategy from pilot promotion to comprehensive promotion. Garlic Chain introduces Chinese technology, incubates digital finance and trade systems in special economic zones, and chooses tourism, entertainment, and international trade as the starting point for experimental application.
In addition, there were reports in September this year that the Central Bank of Brazil has decided to abandon the payment system that is currently considered slow and expensive. The new blockchain-based instant payment system will be launched in November 2020 and fully wound up. Blockchaining. The user can directly realize the functions such as transfer, etc., which need to be supported by the bank account through the QR code (a type of two-dimensional barcode). This goal coincides with China's upcoming "digital RMB" plan.
At the end of October, after China announced its focus on blockchain technology, South Korea also added investment.
On October 29th, the Ministry of Science and Information and Communication Technology confirmed that the government will invest about $12.8 million in blockchain projects by 2020. At the same time, the Department outlined a range of spending plans that would help to promote blockchain programs in the public and private sectors and hope to train a new generation of blockchain experts.
The development of China's blockchain seems to be constantly forming a strong magnetic field that affects the development models and strategies of countries.
This magnetic force is based on the continued accumulation of the Chinese blockchain based on the international market.
For example, in May 2018, the Guangxi ASEAN-led China-ASEAN blockchain industrial park landed, and Qi Aimin, dean of the Blockchain Big Data Rule of Law Strategy Research Institute of South China University of Guangxi University, served as an industry consultant. Because Guangxi has the strategic position of radiating ASEAN, Guangxi is a China-ASEAN blockchain industrial park that can well accommodate ASEAN's capital and make China-ASEAN blockchain industrial park a major channel for China's ASEAN digital economy.
On the basis of such accumulation and practice, the voice of China's blockchain in the international market has gradually "reverberated", and China is moving toward "technical self-confidence".
Text | Mutual chain pulse · Gold car
This article is [inter-chain pulse] original, the original link: https://www.blockob.com/posts/info/29045, please indicate the source!