-1-
On October 24th, since the policy of supporting the development of the blockchain was clear, the regular army that had been lingering in the blockchain officially announced and entered the blockchain industry.
On November 8th, the second world blockchain conference was held in Wuzhen today. Cai Weige, general manager of the blockchain business of Tencent District, delivered a keynote speech at the conference, "Into the Digital Era New Era", revealing that Tencent Virtual Bank has I got a Hong Kong license and are preparing a blockchain virtual banking team.
In fact, as early as May 9 this year, the Hong Kong Monetary Authority announced that it would grant a virtual banking license to Tencent's joint venture company Infinium Limited (贻丰有限公司). Fufeng is a joint venture between Tencent, Industrial and Commercial Bank of China, Hong Kong Stock Exchange, Gaochun Capital and Hong Kong businessman Zheng Zhigang. The company is headquartered in Hong Kong. It has now been renamed as Fusion Bank Limited.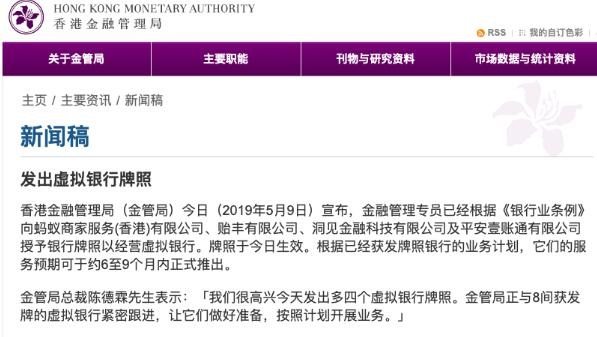 Hong Kong's virtual banking licenses have been awarded to eight institutions, including local Hong Kong companies and mainland technology giants.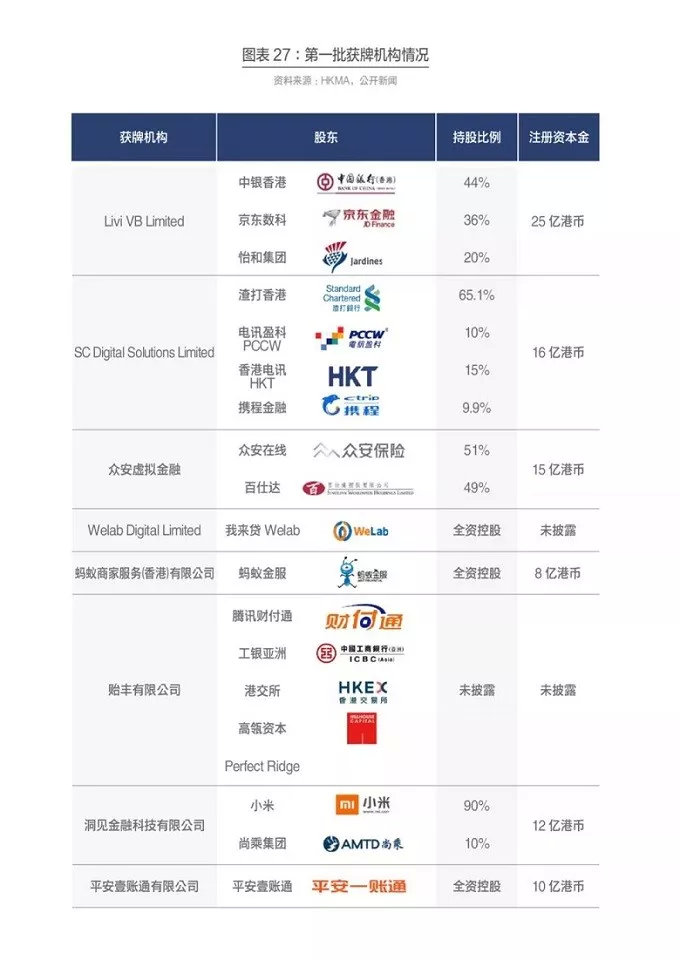 -2-
There are three problems in the above news:
First, what is virtual banking?
Virtual banking mainly refers to banks that provide retail banking services to customers through the Internet or other forms of electronic channels rather than physical branches. This is the type of bank that is similar to the mainland's online merchant bank, which does not develop physical business online.
Virtual banking and Internet banking are actually a meaning similar to Weizhong Bank, Network Merchant Bank, and Suning Bank. The characteristics of these banks are all private, and there is no offline business. All business can be handled online, convenient and fast. The most important business model is to absorb deposits and settlements and rely on the network.
Tencent's virtual bank is the application of blockchain, big data, Internet, artificial intelligence and other high-tech means to complete the acquisition, including lending. The blockchain virtual bank with full bank execution capability can develop DAPP to complete the seamless connection between the legal currency business and the blockchain currency.
Virtual banks will initially focus on basic services such as deposits and loans.
Second, why is it in Hong Kong?
Hong Kong is an international financial centre with a mature financial market and a good financial ecosystem. It has an unparalleled advantage in attracting institutional investors.
Hong Kong will become a step for blockchain companies to enter the capital market. The two major mining giants of Bitian and Yibang Technology have applied for listing on the Hong Kong Stock Exchange, and the fire currency is listed in Hong Kong by Tongcheng Holdings, which illustrates the attractiveness of Hong Kong's capital market to mainland cryptocurrency companies.
Most importantly, at the regulatory level, in 2016, the Hong Kong Monetary Authority launched a sandbox and released the first version of the blockchain white paper, and then updated the white skin quickly. Hong Kong has accelerated the maturity of virtual currency regulatory policies and the compliance operations of the industry. After the Hong Kong Securities and Futures Commission (SFC) approved a new permit, the Hong Kong government began to regulate digital virtual asset transactions, giving the blockchain and digital assets sufficient attention.
The virtual banking service that obtained the license in Hong Kong is limited to Hong Kong residents.
Third, why is Tencent?
Tencent is one of the few Internet giants with a market capitalization in China, and its technology is mature.
Tencent has a long-term layout in the blockchain: Tencent has already implemented digital asset practices in supply chain finance, asset and capital allocation efficiency, such as McDonald's cooperation in supply chain finance and Tencent's own blockchain electronic invoice.
In addition to Tencent, "three horses and one meter" are on the list. From the perspective of layout, Ma Yun and Ma Mingzhe are even better.
-3-
The application of blockchain technology in banks mainly addresses information, trust and credit issues.
For example, if a person borrows money from a bank and the bank does not borrow it, it depends on credit. If he can't afford the big money, this doesn't have a credit basis. Why should the bank lend him money? But if he has a good job and a stable income, he just needs to be in a hurry. After he still has the ability to repay and is willing to make a promise, then he thinks there is a certain amount of credit.
Therefore, the blockchain can share and solidify information, become trust, and generate credit that can be used to assess and control risk.
In addition, blockchain can improve the efficiency of interbank clearing. Banks and banks cooperate, and banks and non-bank institutions may have to reconcile each other. Previously, they used batch reconciliation, which usually takes 1-2 days to complete.
With the support of blockchain technology, digital currency is no longer a number that can be arbitrarily falsified in the server. If each transaction, whether it is a loan or a detail, it is sent to the blockchain transfer to settle. The cumbersome liquidation process is gone forever, which will greatly improve the bank's execution efficiency and reduce operating costs. The reconciliation speed can be shortened to within a few seconds.
In general, blockchain virtual banks can solve some of the pain points of traditional banks. In addition to Tencent Virtual Bank, as of February 2019, nearly 40 traditional banks in China have carried out more than 40 projects in the blockchain field. Blockchain related exploration and practice, application scenarios cover digital wallets, trade finance, rent leasing, public welfare, cross-border payments and digital bills. There will be more institutions in the future to apply the blockchain to everyday life that we can see and see.
(End of the article)
Thanks for reading
Public number: Rossa private thoughts