Source: Wildflowers
01
Card game Gods Unchained is hot, or jams Ethereum network
Data Analysis Platform CoinMetrics.io:
1. On November 17, Ethereum ERC-721 token transfer exceeded 3.7 million, four times the highest record two weeks ago (846,000).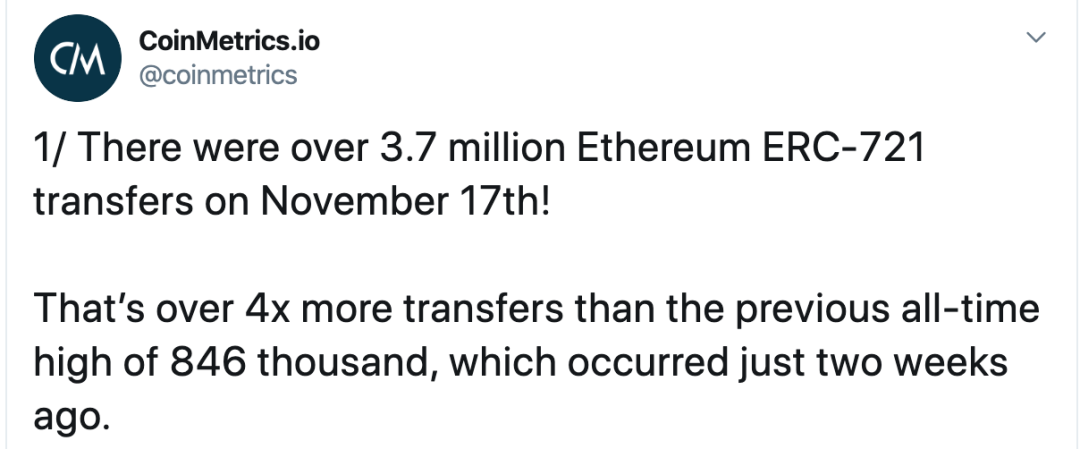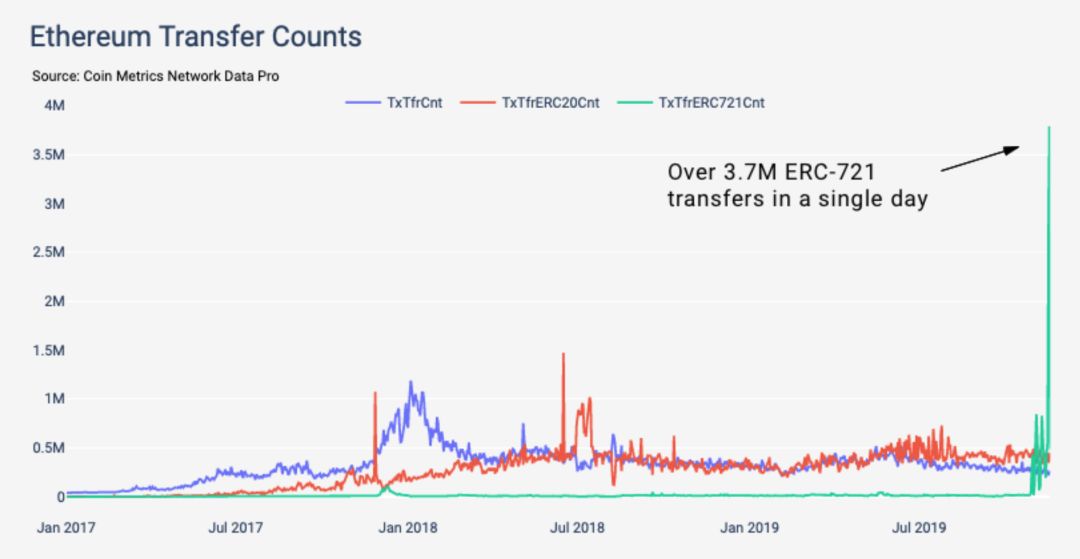 2. The popularity of the card game Gods Unchained is the main reason for the increase in data. In the past three days, 6 million cards have been transferred.

3. However, the network of Ethereum is not congested. Since October, the (average) filling of the Ethereum block is less than 85%. (Note: Ethereum network block data can go to the browser to query related links )
4. The main reason is that Gods Unchained will process hundreds of transfers in batches in a single transaction, but Gods Unchained is activating an operation that makes each card a token that can be traded.
5. Gods Unchained plans to activate the above operation this month, which means that each transfer will become a transaction.
6. The total number of transfers of Cryptokitty during its life cycle is 4.7 million, including original purchases and secondary sales. Gods Unchained created 6 million tradable Tokens, more than any other Ethereum game.
The Gods Unchained game trades ERC-721 Token (Non-Fungible Token). According to Blockchain Daily, the cryptocurrency exchange Gemini parent company acquired Nifty Gateway and entered the virtual goods with an annual output value of 50 billion US dollars. market. (Note: Nifty Gateway is a platform for trading ERC-721 non-homogeneous tokens. Credits for games such as Cryptokitty, Gods Unchained, Opensea, etc. are traded on this platform)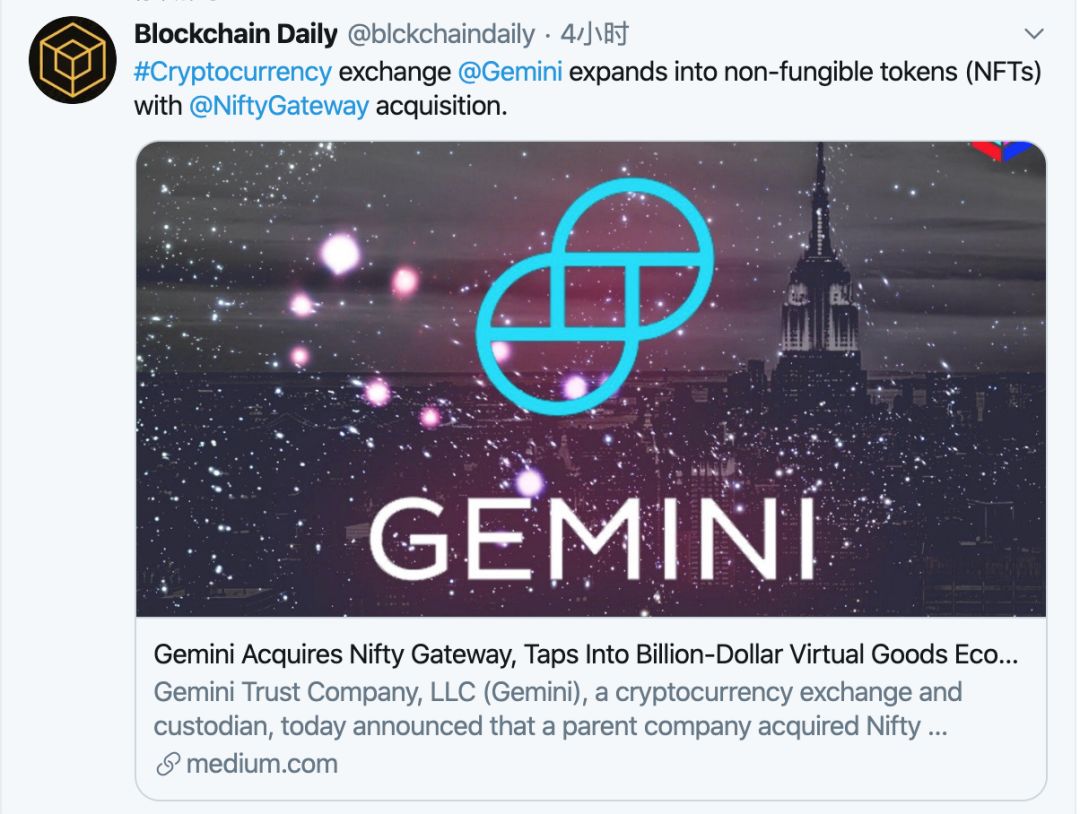 Gemini CEO Tyler Winklevoss said:
Non-homogeneous tokens and encrypted goods (collectibles) will play an important role in the next era of digital economy. They are the ideal form for encrypting collectibles and works of art, laying the foundation for the emerging multi-billion dollar industry.
Gemini is building a future for money, and we will work with companies that share our mission and values. We are pleased to work with Nifty Gateway to extend the reach of encryption technology to more areas and bridge the gap between creators of non-homogeneous token NFT and everyday consumers. "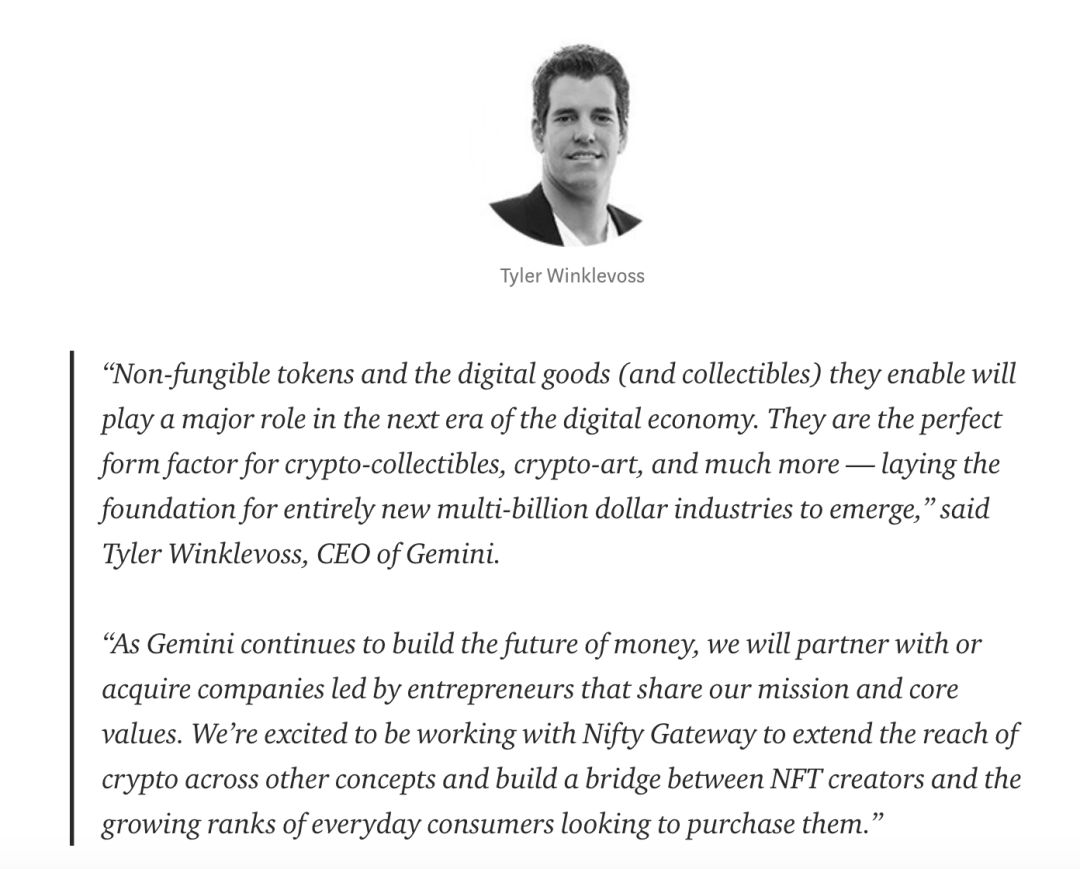 Fidelity Digital Asset Services opened hosting service, Bakkt monthly turnover exceeded 100 million US dollars
According to Cointelegraph, following Bakkt, Fidelity Digital Asset Services was authorized by the State of New York to operate cryptocurrency services, and institutions and individuals were able to store, trade and transfer bitcoins through Fidelity.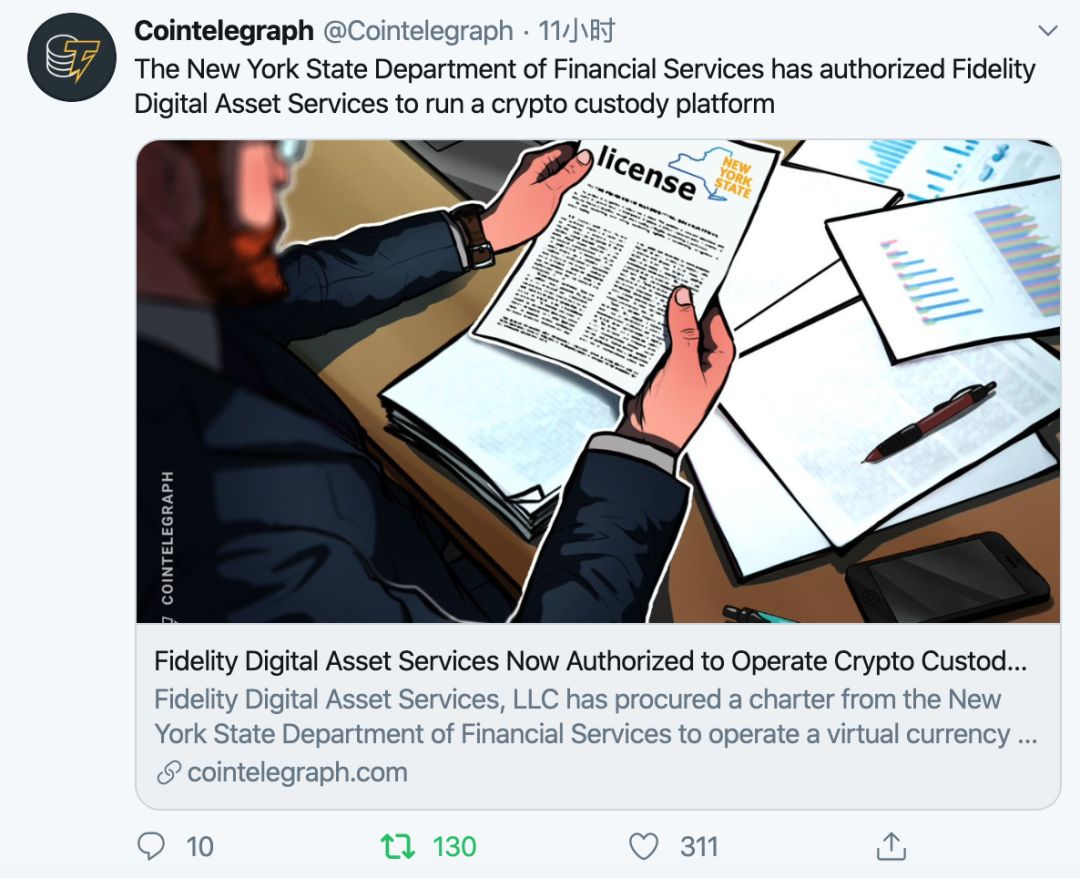 Bakkt has previously received regulatory approval to provide hosting services to any institution. According to the data analysis platform Skew, the accumulated turnover of Bakkt in the past month (October 19 to November 19) exceeded 100 million US dollars.
Bakkt volume tracking robot statistics also show that since late October, Bakkt volume has increased significantly, and the average daily turnover in recent days is at the upper limit of 10 million US dollars. (Remarks: Bakkt's first day of trading was bleak, with only 24 btc in 24 hours)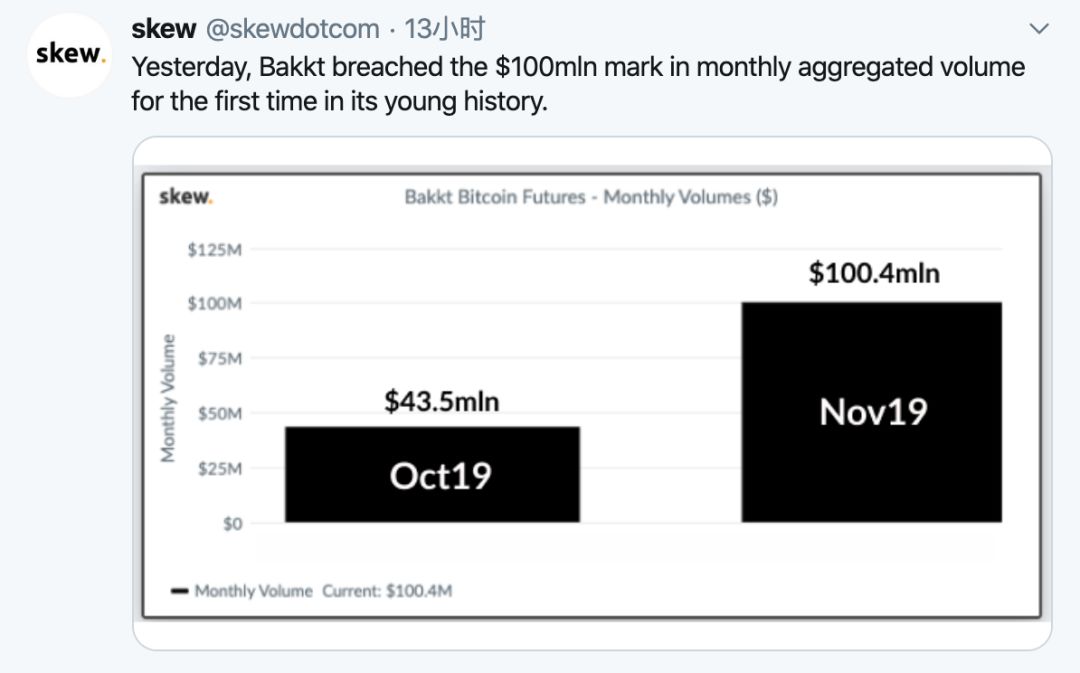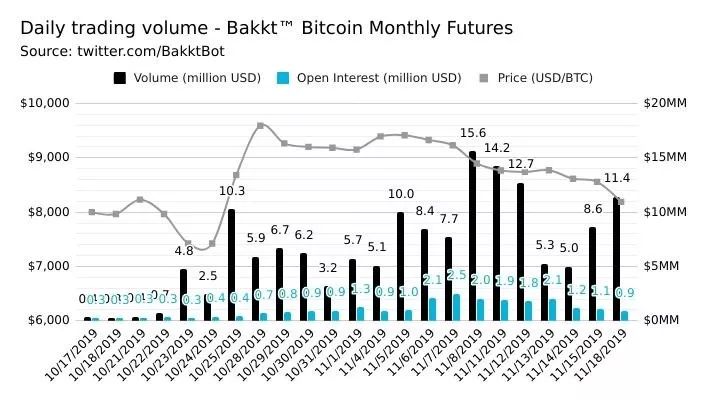 A total of 6,000 cryptocurrency ATMs worldwide, leading the United States
The Daily HODL reports that there are currently 6,000 cryptocurrency ATMs worldwide, including 3,834 in the US, accounting for more than 60%, and Canada, with 642. In terms of new installations, the United States ranked first in all countries with 239 new additions in October, followed by the United Kingdom and Greece.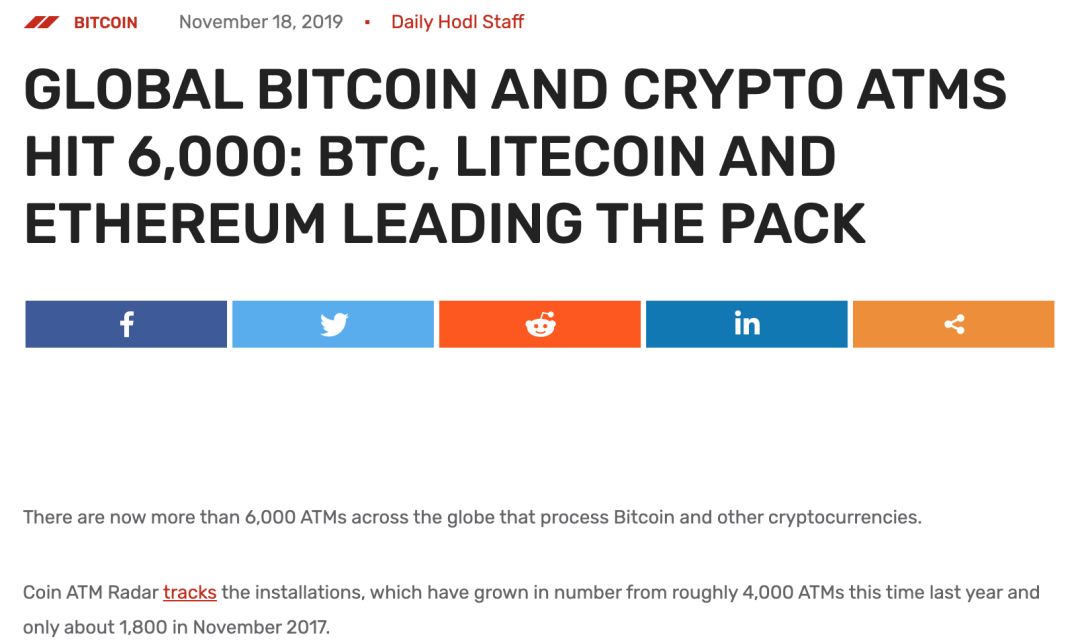 Of the 6003 ATMs, 5,999 support Bitcoin, 4,101 support Litecoin, 3,565 support Ethereum, 2,053 support Bitcoin cash, 1,304 support Dash, and a few ATMs support Monero, Zcash and Dogocoin.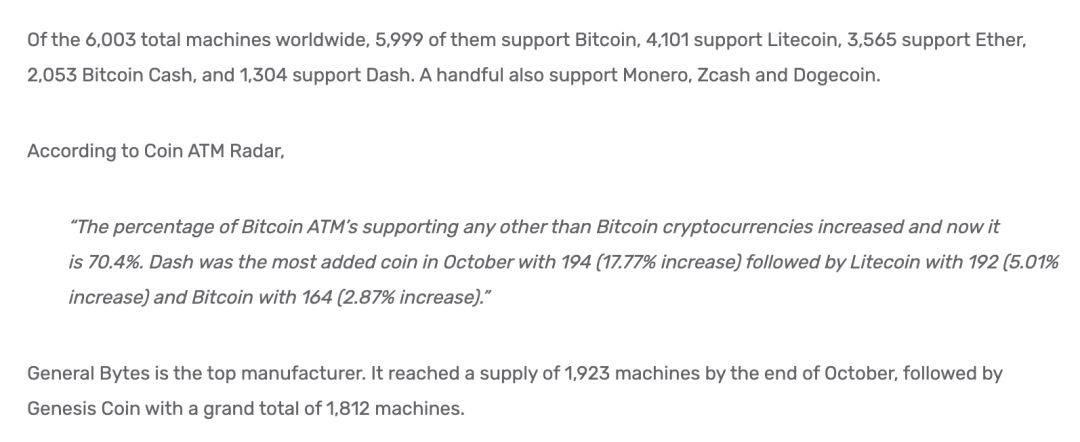 Industry important information
1. CryptoSlate reports that according to CoinMetrics' latest research report, it is conservatively estimated that at least 1.6 million bitcoins have been lost forever (including stolen and unclaimed).
—— End ——
Turn around every day and see the big coffee point of view, bringing you the freshest and most interesting points. Welcome message, forward!