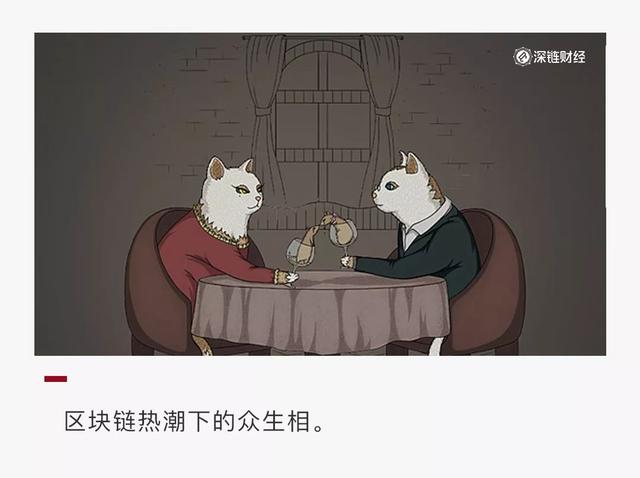 Author 丨中本愚三一
Editor's door
Operating a hundred small stones
"What is a blockchain?" Perhaps the most questioning Chinese have asked in the past month.
Since October 25th, the "blockchain" has successively boarded the major central media such as Xinhua News Agency, News Network, and People's Daily. "Accelerating the promotion of blockchain technology and industrial innovation" has become a new focus from the central government to the local government. .
The blockchain surges.
In the face of the hot and unfamiliar blockchain, people from all walks of life begin to engage and learn.
Deepchain Deepchain interviewed a number of blockchain followers, some of them are bankers who use speculative coins as investment, some are traditional media people who change their views on blockchain, and others are teachers who regard bitcoin as a scam…
From their experiences and opinions, they may be able to see the sentient beings under the blockchain boom.
"I never dare to encounter active admissions."
"Brother, isn't it a popular news pull? Is there the latest news?" Every time he meets Xiao Li (a pseudonym), he will ask such a sentence.
As a staff member working at a bank's head office, Xiao Li often claims to be a "professional financial person." Usually it is gold, futures or dollars. What kind of market is good to speculate.
"90% of my savings are in investment products." Xiao Li told Deep Chain: "But despite this, I still didn't dare to touch the cryptocurrency at first."
Xiao Li said that he knew the blockchain and cryptocurrency in 2017, and also sniffed some "business opportunities" from it.
However, on September 4 of the same year, the central bank united seven ministries to stop ICO. Faced with this form, Xiao Li chose to stop and not further understand the cryptocurrency.
"Later, a high school classmate came to Beijing and entered the (blockchain) circle." Xiao Li told Deep Chain: "Under his introduction, I have more or less bitcoin and blockchain. To understanding."
Almost at the same time, Xiao Li saw the central government's speech on the blockchain. "Overwhelmingly, on the TV, on the mobile phone, all about the blockchain." In addition, some colleagues shared a document about blockchain learning.
Xiao Li feels that she can no longer stay out of it.
"In 2019, I entered the currency circle." Xiao Li finally said: "I bought a lot of coins, bitcoin, and altcoin."
However, it is worth noting that Xiao Li did not enter the currency circle because he recognized the cryptocurrency, but only considered it to be investment.
"The central bank does not recognize it, and I don't approve it."
On March 9 this year, Zhou Xiaochuan, governor of the People's Bank of China, answered questions from Chinese and foreign journalists on issues related to "financial reform and development."
In answering questions about digital currency, Governor Zhou Xiaochuan said that virtual currency such as Bitcoin has not been recognized as a retail payment instrument. Currently, the central bank does not accept or recognize related services.
In addition to investing in some cryptocurrencies, Xiao Li did not show much interest in blockchain technology from beginning to end.
"The central government has spoken and learned."
And Xiao Li's enthusiasm for cryptocurrency is different. Field (a pseudonym) is more cautious about blockchain and cryptocurrency.
"I am not active, I have seen too many people suffer." Tian said the deep chain Deepchain.
As a reporter from a newspaper in Hunan, Tian Ye witnessed too many pyramid schemes in a short three-year career.
"80% of MLM fraud is under the banner of the cryptocurrency." Tian Ye has a lot of trouble: "I don't understand the blockchain, but I don't like the cryptocurrency."
From the earlier "Bitcoin" pyramid schemes, to the recent years of Vicat coin fraud. Fraud, these two words are the first impression of the field on cryptocurrency.
But with more and more reports on cryptocurrency pyramid schemes, the attitude of the field has slowly changed.
"Affected by the usual cases, I initially thought that this thing was a pyramid scheme, but through online search, I felt that this thing has two sides."
At the same time, Tian said that blockchain and cryptocurrency involve computer and financial knowledge. For "outsiders", the threshold for learning is relatively high, so I don't really want to take the initiative to learn.
"But the next thing broke my resistance to blockchain and cryptocurrency."
Tian said that on November 4th, the editor asked him to write a report about the combination of blockchain technology and the local housing provident fund system.
"I feel very surprised." Tian told the deep chain Deepchain: "But the task of leadership arrangements can't be done."
When collecting data, Tian Ye found that the Political Bureau of the Central Committee conducted the eighteenth collective study on the status quo and trends of blockchain technology development on October 24.
"The central government has spoken and learned." Tian said: "I can't help but learn."
"As soon as the spring breeze comes, the blockchain instantly fires all over the country." This is the first sentence written by Tian Ye in this article.
Through in-depth understanding, Tian has a new perspective on the blockchain and cryptocurrency: the blockchain can do very well as long as it is used on the right path, but it feels very difficult.
But for the cryptocurrency, Tianye still showed a vigilant attitude.
"It's not a fool to be a bitcoin to be a liar."
As a teacher, the most important thing is to "know it, know why."
"But the principle of the blockchain, I can't understand it." Lou Jia (a pseudonym) said to the deep chain Deepchain.
As a junior high school language teacher, the work of nine-to-five, worry-free, let Loujiashi take some of his savings from time to time to make some investment.
"In our small county, there are very few stocks to talk about, let alone cryptocurrencies." Lou Jia told Deep Chain: "Occasionally, one or two young people will say something about distributed, blockchain, bitcoin. vocabulary."
"But they can't attract everyone's interest. Even more, they will be considered by relatives to be a pyramid scheme."
Lou Jia said that she also happened to hear relatives say cryptocurrency when she was eating with relatives. Out of curiosity, she collected some information and wanted to make a comprehensive understanding.
"I don't know if I don't know, I'm scared." Lou Jia told Deep Chain: "There is very little cryptocurrency that is less than 10% per day."
Lou Jia believes that the fluctuations in the volatility are not in line with the value trend. "In the stock market, a stock that has risen to 10% has already burned incense and worshipped Buddha; it is only a shock in the currency circle."
It is exactly the same as the tulip foam. This is the first thought in Lou Jia's mind.
In the 17th century, Dutch tulips once sparked an unusual madness in the flower market. Tulip bulbs were in short supply and prices soared far beyond the real value range.
"So, people who promote bitcoin are not fools or scammers." This is the first impression of Lou Jia on cryptocurrency.
For the blockchain technology, Lou Jia couldn't understand it on the one hand. On the other hand, Lou Jia did not care about the documents issued by the school about the central promotion of blockchain learning.
"It's not a new idea to talk about it."
At the end of the conversation, Lou Jia said that she suddenly remembered a joke: when talking about computers and Internet technology, killing pigs is still killing pigs, pancakes are still pancakes; once you talk about bitcoin, blockchain, The killing of pigs has become a technical expert, and even pancakes can be talked about.
"The blockchain is on fire, and few friends who have contacted have found me."
"I am very grateful to the country for the importance of the blockchain." Blockchain media practitioner Zhang Ming (pseudonym) told Deep Chain Deepchain.
Zhang Ming said that he saw Bitcoin on Weibo in the early 2018 and began to learn about the blockchain from Bitcoin.
"Because of my hobby of technology, I came to the blockchain industry." Zhang Ming told Deep Chain Deepchain.
Zhang Ming, who first entered the blockchain industry, initially showed a contradictory attitude toward the cryptocurrency.
"We don't want to report money related to the weekly election."
But later Zhang Ming discovered that articles about cryptocurrencies are far more hot than technical articles.
"In order to pay attention to the flow and traffic, I can only understand the cryptocurrency with my scalp." Zhang Ming said truthfully.
Later, Zhang Ming, in his work, slowly put his mind on the cryptocurrency. "After all, media practitioners can't refuse new things, and the blockchain is also discovered and recognized by Bitcoin."
"But, although I have adjusted my mindset." Zhang Ming told Deep Chain Deepchain: "But the people around me have not adjusted their minds."
For the industry that Zhang Ming is engaged in, the friends around him look at the colored glasses. "Is this a pyramid scheme? You will play too much in the currency circle." Zhang Ming told Deep Chain: "Many friends call more exchanges. It's like irony and ridicule."
Go home, when family members ask about work. Zhang Ming will also be vague. "I will definitely not understand the blockchain with them, but they will worry them."
Since the blockchain boarded the news broadcast, the People's Daily and other major media have reported the blockchain, Zhang Ming found that the situation has changed.
"My friends who had a scornful attitude towards the blockchain ran quietly and asked me how the industry is going, and whether there is room for development." Zhang Ming said: "It feels quite different, a feeling of being respected."
"Now there will be some people who don't contact friends very much and ask me about Bitcoin and blockchain." Zhang Ming told Deep Chain: "There are people who sort out what I said."
"It turned out that some institutions require employees to learn the blockchain knowledge." Zhang Mingbian said with a smile.
At the same time, Zhang Ming also said that the speech of the central government does not reflect the bull market that the users of the individual currency circles are saying. The state advocates the study of blockchain technology. At the same time, the state will also strengthen the supervision of cryptocurrency. .
"So, don't be too blindly optimistic," Zhang Ming said.
Nowadays, the blockchain learning boom is in full swing throughout the country, and perhaps in the near future, the blockchain will be more widely deployed. At that time, the blockchain will truly enter people's vision and life, and will be confronted and valued by people.
This article is original for Deep Chain Finance (ID: deepchainvip). Unauthorized reproduction is prohibited.